Photo Credit: Alexandria Ballrooms
There's no shortage of sophisticated locales in Tinseltown, taking into consideration all the gorgeous hotels, legendary theaters and members-only clubs. But if you really want to impress guests at your private events, consider giving them a closer look at a real-life location seen in the movies. Whether your guests work in the industry or not, they'll no doubt enjoy the opportunity for a closeup on one of these Los Angeles venues — all of which are stars in our book.
Alexandria Ballrooms
Photo Credit: Alexandria Ballrooms
If you're looking for a place with a long legacy and want to make everyone feel like royalty for the evening, the Alexandria Ballrooms should top your list. This historic building in downtown was once a luxury hotel, originally constructed in 1906 for a then unheard of cost of $2 million. In its heyday it hosted notable public figures like Charlie Chaplin, Mary Pickford, Winston Churchill and Theodore Roosevelt. Although it's since been converted to rental units and was even given a neo-Victorian renovation in 1970, the building's vintage appeal remains.
Fortunately, the Alexandria's magnificent ballrooms have been well maintained and are frequently used for filming and photo shoots. You may recognize the venue from the films Dreamgirls, Water for Elephants and Spider-Man 3; music videos by Beyoncé, Pharrell Williams, Nick Jonas, Rachel Platten and Nicki Minaj; and a photo shoot with Natalie Portman for Vogue.
Photo Credit: Alexandria Ballrooms
When it comes to reserving space for private events in Los Angeles, the Alexandria offers three options. The Palm Court (260 guests reception style, 500 standing), with its Tiffany stained-glass skylights, is a showstopper and boasts an adjacent cocktail lounge with a built-in bar. Want to make a memorable entry? There's a private grand entrance hall that begs for a red carpet.
The King Edward Ballroom (200 guests reception style, 400 standing) is truly fit for a king, boasting gold-leaf ceilings, crystal chandeliers, a fireplace, tall windows and a balcony terrace. At 14,000 square feet, The Mezz (500 reception style, 800 cocktail style) is the largest of the three available spaces, boasting a marble staircase, exposed brick walls, pillars outfitted with electric candles and pretty views from the second floor.
The Alexandria Ballrooms are located at 501 S. Spring Street, Los Angeles
The Huntington
Photo Credit: Jodee Debes Photography
The Huntington is the ideal choice for those envisioning a private event with a cultured, indoor-outdoor atmosphere and exceptional cuisine. Founded in 1919 by philanthropists Henry and Arabella Huntington, The Huntington Library, Art Collections and Botanical Gardens offer 30 unique venues, including fine art galleries and beautiful gardens. The most picture-perfect are the Rose Garden (150 guests banquet, 200 cocktail), the Rose Hills Foundation Garden Court (160 banquet, 250 cocktail), and the Huntington Art Gallery South Terrace (300 theatre style, 300 banquet, 400 cocktail).
Many television shows and films have made good use of The Huntington's stately structures and gorgeous landscaping, including The Good Place, Parks and Recreation, Bridesmaids, Memoirs of a Geisha, The Wedding Planner and Charlie's Angels.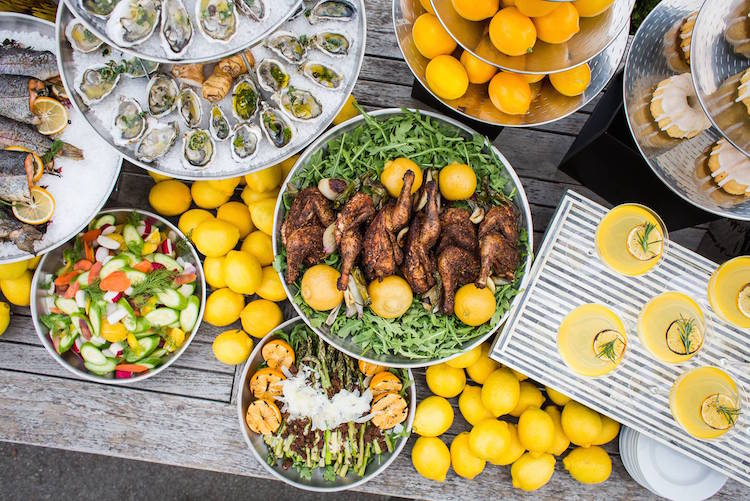 Photo Credit: Bon Appetit / The Huntington
When it comes to selecting nosh for your private events, prepare to be delighted. Bon Appetit is the exclusive on-site caterer for all The Huntington's venues and can turn any dining experience you envision into a reality, whether it's a charming hors d'oeuvres reception with private gallery viewing, sophisticated dinner among the gardens or elegant evening gala. All food is prepared from scratch with an emphasis on locally sourced and sustainable ingredients.
The Huntington is located at 1151 Oxford Road, San Marino
Paramount Pictures
Photo Credit: Paramount Pictures
If your party requires space or unforgettable special effects, go with Paramount PIctures. Calling itself "the longest operating and only remaining major studio in Hollywood," the campus today boasts 65 acres and 30 stages. The Los Angeles Times' annual The Taste culinary event has been held here in recent years but if you have a generous budget, you too can throw private events at this landmark venue.
Even if your guests are in the industry, it will be a thrill to dine or mingle among the same sets and stages that brought to life Mr. and Mrs. Smith, Frasier, Charmed, 24, Nip/Tuck, Mission: Impossible III, Seinfeld, Monk, Elizabethtown and many others.
Photo Credit: Paramount Pictures
Options include sound stages, parks and theaters for events ranging from small to large. Some of the most expansive locations include: Bronson Plaza (1,000 guests), where Hollywood A-listers have passed through the famed gates for more than 100 years; the New York Backlot (5,000 guests), with architecture that re-creates five distinct New York boroughs; and the Blue Sky Tank (2,000 guests), an immense backdrop and water tank that can be used to create any kind of setting you desire. Tropical island, anyone? In fact, Paramount Pictures Special Events staff are standing by to help you coordinate lighting, special effects and other schematics for your big day. And there's nothing they can't do. Performers, zoo animals, explosions, ice skating rings, fireworks — whatever you have in mind for your private events, they can pull it off.
Paramount Pictures is located at 5555 Melrose Place, Los Angeles
Vibiana
Photo Credit: Vibiana
Versatility and uniqueness reign supreme at 19th century landmark Vibiana, located a stone's throw from the legendary Bradbury Building in DTLA. Once a Catholic cathedral, the majestic building was decommissioned after sustaining damage in a 1994 earthquake. Fortunately, it was fully restored and is now going strong as a stunning private events venue, owned and operated by restaurateurs chef Neal Fraser, Amy Knoll Fraser and their partners. Naturally, the F&B offerings are exceptional and can be fully customized, and Bar Director Tobin Shea delivers signature and custom cocktails plus sources wines from all over the globe. Pulitzer Prize-winning food critic Jonathan Gold once said of Fraser's nuanced dishes: "Los Angeles is a complicated place, Fraser's cooking tends to reflect this."
Photo Credit: Vibiana
If you have a keen eye, you'll recognize Vibiana from Californication, The Walking Dead, The Mindy Project, The Hills, and American Idol. It's also hosted many a high-profile gala over the years as well as after-parties following the Emmys and Grammys.
With its Italian Baroque facade, long interior and high ceilings, Vibiana is an eye-catching space that can be arranged in a number of configurations to meet your needs: cocktail receptions, seated receptions, ceremonies, concerts, weddings, presentations and others, for a total capacity of up to about 700, depending on the exact setup.
Vibiana is located at 214 S. Main St., Los Angeles
Yamashiro
Photo Credit: Yamashiro
Transport your guests completely at Japanese restaurant Yamashiro in the Hollywood Hills. The name translates to "Mountain Palace," as it was modeled in 1914 to be a replica of an actual Japanese palace near Kyoto. A visit to the restaurant is like a step back in time, and your guests will enjoy an exceptional meal or cocktails within an arm's reach of priceless antique Asian treasures and exceptional architecture. The incredible setting includes multiple dining areas, well-manicured gardens, a courtyard with a koi pond, a pagoda and stunning views overlooking Hollywood Boulevard.
Such atmosphere just begs to be in the movies and Yamashiro has understandably been the setting for many memorable scenes over the years. You'll see its exteriors and interiors in Kill Bill, Nocturnal Animals, Memoirs of a Geisha, and Gone in 60 Seconds, to name a few.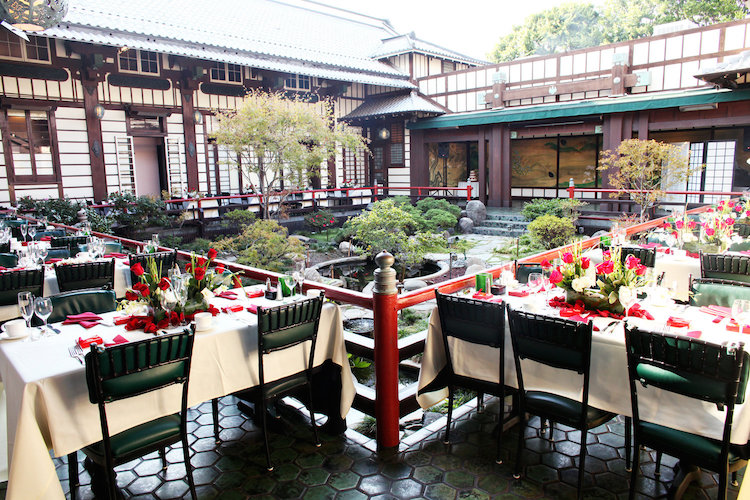 Photo Credit: Yamashiro
For your private events, a few of Yamashiro's options are the Garden Courtyard (150 seated guests, 200 cocktail) with its Japanese garden, koi pond and shoji screen walls; the intimate Koi Dining Room (30 seated, 45 reception) with its gorgeous jade-colored tile floor; the Skyview Room (60 seated, 90 reception), which will wow your guests with views of the Hollywood skyline, Griffith Observatory and downtown LA; and the Pagoda Bar and Lounge (50 seated, 100 reception), an outdoor space perched just above Yamashiro's 600-year-old pagoda (flown in from Japan, naturally). No matter the venue or occasion, you can be sure the Asian fare and incredible surroundings will make it an evening your guests won't soon forget.
Yamashiro is located at 1999 N. Sycamore Ave., Hollywood