There are never a shortage of fabulous restaurants to dine at in New York City which is why we created the below list for you. If you're looking for a seafood feast, look no further than these five city hotspots.
Oceana
Photo Credit: Paul Johnson
New York City's Oceana has been delivering bold takes on contemporary American seafood for more than two decades. After an illustrious 18-year run at its original location in a four-story Manhattan townhouse, the premier seafood restaurant completed its move to a modern and elegant space just west of Rockefeller Center in August 2009. 
In addition to the grand dining room, Oceana's café area features high-top seating, a full bar, and walls decorated with black-and-white photographs of fisherman from the 1930s and '40s. The café is an ideal place for an after-work or late-night drink and bite to eat. Menu highlights include the Cornmeal Crusted Sea Scallops, Scottish Salmon, Lobster Bolognese, Robiola Tortellini, and Olive Oil Poached Bass.
Legasea Seafood Brasserie
Photo Credit: Justin Levy
Located within Moxy Times Square, Legasea Seafood Brasserie updates the classic seafood dining experience by offering up local and sustainable dishes in a modern and vivacious atmosphere. Led by Executive chef Jason Hall and TAO Group Partner/Chef Ralph Scamardella, menu highlights includes the Clam Bake (lobster, clams, scallops, corn, new potatoes), an impressive raw bar, large market-driven salads, and entrées such as Prime Rib, Crispy Chatham Cod, Legasea Flounder Française, and a twist on the classic fish & chips.
Boulud Sud
Photo Credit: Evan Sung
Boulud Sud is chef Daniel Boulud's vibrant celebration of the sun and the sea. Drawing inspiration from the coastal Mediterranean, including France's Côte d'Azur, Spain, Italy, Greece, Morocco, Tunisia, Lebanon, Israel, Turkey and beyond, the menu emphasizes regional flavors, featuring an abundance of fresh vegetables, seafood, citrus, grains and herbs. Complementing this breadth and depth of Mediterranean soul, the wine list ranges from French rosés and Italian reds to more unique expressions from Greece, Spain and other coastal regions. The restaurant also boasts an exceptional cocktail program that actively pulls from the same seasonal products found on the food menu, with a dedicated gin page as well as a robust selection of absinthes, amari, vermouths and liqueurs.
Crave Fishbar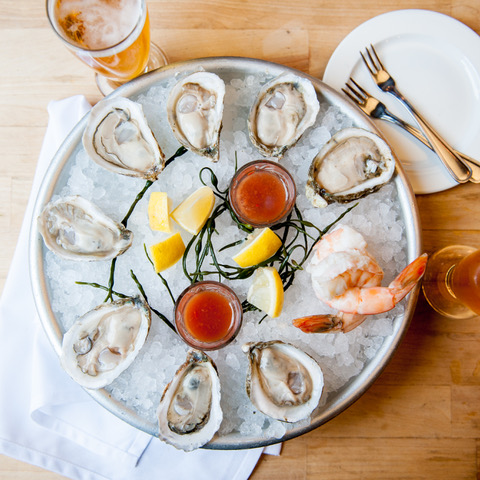 Photo Credit: Crave Fishbar
Crave Fishbar is a seasonal seafood restaurant on Manhattan's Upper West Side and in Midtown East leading the charge in sustainability, eco-consciousness and accountability. The restaurant was the first NYC partner of the Monterey Bay Aquarium Seafood Watch Program, a national leader in ocean sustainability, and is a charter member of the James Beard Foundation's Smart Catch Program. Since its opening, the restaurant has become both a neighborhood haunt and a destination for fresh, locally-sourced, creative seafood dishes with bold flavors.  Executive chef Todd Mitgang's menus are seasonal, globally inspired and playful with enough options to delight each person in your party. And make sure to not miss out on #oystergram Happy Hour – the best oyster happy hour the city has to offer.
Kyma Flatiron
Photo Credit: Kyma Flatiron
Following Kyma's insanely popular original outpost in Roslyn, Long Island owner Reno Christou has brought the Greek Island vibes to Manhattan. Immediately upon walking into the space, eyes are drawn to the gleaming marble fish display at the rear of the main dining room, where fresh lobster, giant tiger shrimp, langoustines, black sea bass, swordfish, pink snapper, oysters, and other underwater delicacies fundamental to Kyma's menu are proudly displayed. The menu is inspired by classic Greek staples that marry classic and modern ingredients including Marinated Swordfish, whole fish like lavraki and tsipoura, Pastitisio Spring Rolls, Spanakopita spinach pies, and Stuffed Calamari with Greek cheeses. 
Bellini at Mr. C.
Photo Credit: Bellini Bar
Bellini, a refreshing dining concept inspired by Maggio and Ignazio Cipriani's travels throughout Italy, offers an array of dishes that reflect a blend of classic and contemporary Italian dining. The restaurant serves breakfast, lunch, and dinner to guests and locals alike, and pays homage to the classic cocktail invented by Giuseppe Cipriani in 1948. Menu highlights include Tagliolini with Zucchini and Scampi, Spaghetti with Sea Urchin, Straccetti with Rosemary and Rucola, and Ricotta cheesecake with candied orange.
Subscribe to discover the best kept secrets in your city