It's officially Miami Spice season, which means it's time to make your reservations at all of your favorite hot spots throughout the city while they're offering special discounted menus for the months of August and September. Here, we take a look at some of our favorite enticing menus of the foodie-centric Miami promotion where you can get the most out of your meal in an extraordinary atmosphere. 
Byblos
Photo Credit: Byblos
Each year, Byblos continues to hold a special place in Miami Spice diner's hearts as they offer one of the most diverse and memorable menus of the participating restaurants. If you're someone who likes to try a little bit of everything, this is the perfect option for you. They offer dinner for $39/person every single night of the week—even weekends—so it's ideal for any occasion. The menu allows diners to choose two appetizers, one entree, one side and one dessert (or if you're not a sweets person, one extra side dish). Standouts include their signature Lamb Ribs, a flavorful Shakshouka (returning to the menu), Black Truffle Pide (for a supplemental charge), the decadent Byblos Burger that debuted during SOBEWFF's Burger Bash, Yogurt Baked Atlantic Black Cod, Short Rib Kebab and Persian Kale Rice.
Delano – Leynia + Umi Sushi 
Photo Credit: sbe
The iconic Delano Hotel in Miami Beach is offering Miami Spice menus at both of their on-site restaurants—Umi Sushi Bar and Leynia, an Argentinian/Japanese fusion restaurant by chef José Icardi. High-end sushi bar Umi will offer the Miami Spice menu for dinner at $39/person, with highlights including the Baked Crab Handroll, Shishito Peppers, New Style Salmon, Spicy Tuna and Yellowtail Rolls, Sashimi or Nigiri and a chef's selection for dessert. Leynia will offer both lunch and dinner. Lunch is $23/person and includes favorites like the Avocado Toast, authentic Empanadas, crispy Brussels Sprouts, Chirashi Bowl, Short Ribs Pastel de Papa, Pollo a la Parilla and Salmon Casserole. Dinner is $39/person and highlights the spot's signature Ceviche, Smoked Beet Salad, Beef Carpaccio, Grass-Fed Bife Ancho (grilled strip loin with chimichurri), Léchon con Manzanas (pork belly confit) and Branzino al Disco (Branzino a la plancha). Both menus will feature the chef's selection for dessert.
Fontainebleau – Scarpetta + Hakkasan + StripSteak by Michael Mina
Photo Credit: Michael Pisarri
The legendary Fontainebleau Miami Beach is home to three haute dining destinations: Scarpetta, Hakkasan and StripSteak by Michael Mina. Lucky for us, all three are offering Miami Spice menus for dinner all seven nights of the week for $39/person. Additionally, the famous Dim Sum Lunch at Hakkasan will be available for $23/person on Saturdays and Sundays from 12-2:45 p.m. Highlights of each menu include:
Scarpetta: The emblematic Spaghetti with tomato and basil, of course—they somehow manage to elevate this simple dish to a new level, arguably making it the most memorable spaghetti dish around. Additionally, other menu highlights include the Short Rib Agnolotti Dal Plin, Roasted Branzino and the Coconut Panna Cotta for dessert.
Hakkasan: Enjoy mouth-watering dishes like the Crispy Almond Shrimps with Asian Pear, Sautéed Pak Choi with Garlic Sauce, Chicken Egg Fried Rice and Grilled Honey Snapper with Brussels Sprouts. For the special Dim Sum menu, guests can indulge in favorites like the Spicy Beef with Lotus Root Shui Mai, Braised Diced Soy Chicken with Noodles and more. The Vegan Chocolate Cake with sesame cremeux, raspberry and chocolate sorbet for dessert is also a must, available on both menus.
StripSteak by Michael Mina: As with everything at this famed establishment, the Miami Spice menu (which is one of our very favorites), brings American classics to a gourmet level with decadent offerings including the Prime Steak Tartare, Sweet Corn Cavatelli, Moyer Farms Filet Mignon and Malted chocolate mousse for dessert.
Zuma
Photo Credit: Zuma Miami
Downtown Miami favorite Zuma Miami is another can't-miss Miami Spice destination, perfect for a power lunch during the week or an upscale dinner with a view. Lunch is offered Monday-Friday at $23/person, including dishes like Stir-Fried Vegetable Ramen, Sashimi Chirashi, Salmon Teriyaki and the Tropical Miso Flourless Chocolate Cake. For dinner, guests can choose from Salmon & Tuna Tartare, Beef Skewers, Alaskan King Crab, Jumbo Tiger Prawn and the Spicy Beef Tenderloin, among others, as well as the Lychee with Seasonal Berries Panna Cotta for dessert at $39/person from Sunday through Wednesday. 
Novikov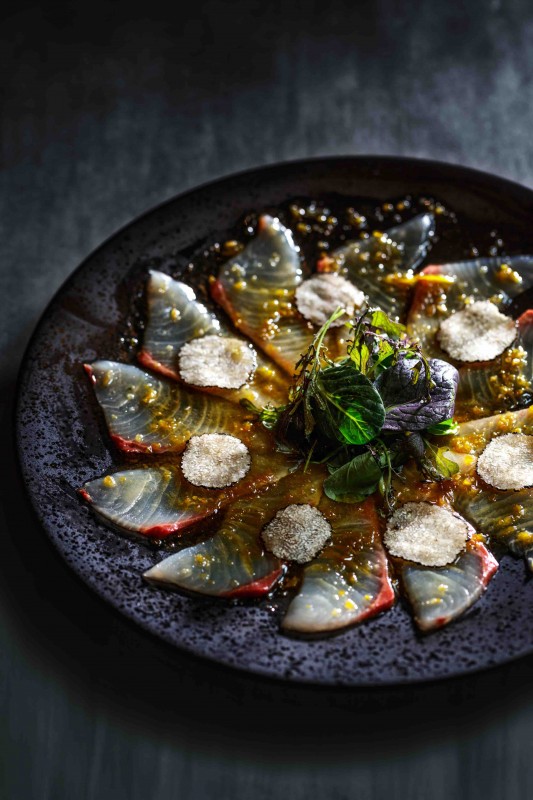 Photo Credit: Novikov Miami
The gorgeous, upscale European transplant Novikov rests in the heart of Downtown Miami. The newly-opened restaurant has continued to draw in a packed crowd since its opening and is offering a Miami Spice menu for lunch this season for the first time ever. The lunch menu is offered Monday-Friday—perfect for taking power lunch meetings at a competitive price of $23/person—and includes a handful of the spot's beloved dishes. Highlights include the Saffron Sweet Corn Dumplings, Pork Skewers, Wok Salmon with Black Bean Sauce, Robata Hanger Steak, Chirashi Donburi, Crispy Peking Duck and the Key Lime Tapioca for dessert.
Mr. Chow
Photo Credit: Mr. Chow Miami
The beloved Beijing restaurant MR CHOW residing at the posh W South Beach Hotel is celebrating yet another year of Miami Spice with a $39 semi prix-fixe menu. Guests can choose from a selection of signature dishes including Chef Lau and Chef Tsui's famed Squid Ink Rice Noodles, Chicken Satay, Water Dumplings, Scallion Pancake, Beijing Chicken, Green Prawns, Fish Shepherds Purse, or Yong Ginger Pineapple Beef—all served with sides of MR CHOW's new Fiery, Hoisin and Chile sauces. For dessert, guests can select between a mixed sorbet or ice cream served from the Dessert Trolley.
Matador Room
Photo Credit: Romain Maurice/Getty Images
Enjoy an all-encompassing dinner at the famed Jean-Georges restaurant Matador Room at the Miami Beach EDITION during Miami Spice. They offer the special menu featuring restaurant signatures for dinner for $39/person from Monday-Thursday and Sunday evenings. Highlights include favorites like the Maitake Mushrooms with Goat Cheese, Charred Octopus, Arroz con Pollo and rich Tres Leches cake for dessert.
The Forge
Photo Credit: The Forge
To indulge in a classy dinner at one of Miami's most iconic and historic locations, make your reservation for dinner at The Forge any night of the week/weekend for Miami Spice. The elevated American steakhouse showcases a menu of their specialties including the Beef Tartare or creamy Burrata to start, the 8 oz. Ribeye or Halibut for an entree and the classic New York Marscapone Cheesecake for dessert. Make sure to pair the meal with a glass or bottle of wine from the restaurant's unbeatable wine collection from their historic wine cellar.
Cecconi's
Photo Credit: Cecconi's Miami
The classic Italian favorite, Cecconi's, located within Miami's Soho Beach House, is offering guests two special Miami Spice menus for lunch and dinner. Offered Monday-Friday, the lunch menu features signatures like the Veal Tonnato, Snapper Carpaccio, Pizzeta Zucchini, Gnocchi Verdi and Iberico Pork Saltimbocca as well as a handful of sweet treats selected by the Chef for $23/person. For dinner, guests can head to the swanky locale and enjoy a candlelit dinner for $39/person with offerings including the Chicchetti of the day selected by the Chef, Burrata, Buckwheat Salad, Pizzeta Truffle, Blank Ink Casarecce and Branzino.
Seaspice
Photo Credit: Seaspice
Riverside destination Seaspice will be offering a variety of Miami Spice menus for diners to enjoy the atmosphere and cuisine in any setting. If you want to head over for the spot's famous brunch, Seaspice will offer a $23 prix-fixe menu on Saturdays highlighting the Watercress Salad, Summer Corn Chowder, King Crab Croquettes, Power Waffle & Acai Berry and more. Dessert includes Carrot Pistachio Parfait cake and a Raspberry Rose Water Cremeux. They also offer lunch from Tuesday-Friday for $23/person featuring Cauliflower Soup, Salmon Crudo, Alaskan King Crab Linguine, Fire Roasted Chicken and more. And finally, for dinner, guests can enjoy a diverse menu for $39/person with the spot's famed Tempura Squash Blossoms, Alaskan King Crab Ravioli, Petite Beef Wellington and Local Black Grouper. Top it all off with their decadent Guanaja Chocolate Cremoso for dessert and toast to a gourmet meal with unbeatable waterfront views.
Subscribe to discover the best kept secrets in your city