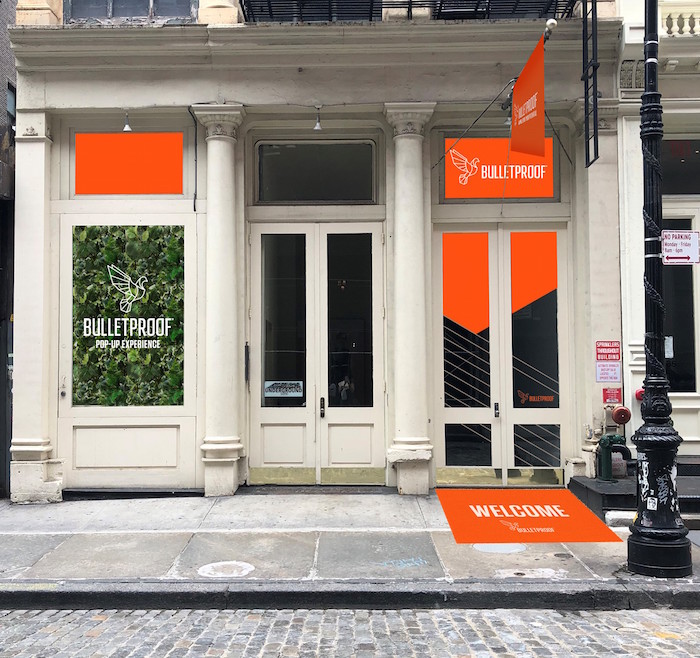 Photo Credit: Bulletproof
Earlier this year, Bulletproof launched a "human upgrade" center in Santa Monica and now they are bringing a similiar experience out east with their first-ever pop-up experience. Located at 83 Mercer Street in SoHo, the facility is fully dedicated to biohacking and tweaking your biology for better performance. 
Open to the public daily until Thursday, August 2nd, guests will find the futuristic pop-up offers a variety of experiences such as an oxygen bar, a whole body vibration plate garden, product sampling and weekly special events like yoga, guided mediation, among others – all designed to supercharge the body and mind.
Photo Credit: Brandon C. Ballard
The lifestyle brand, which is widely known for the popular Bulletproof Coffee, collagen protein product line and more, is dedicated to helping consumers feel stronger and sharper through use of science-based food, beverages and content.
Founded by biohacker, bestselling author, and Bulletproof coffee creator Dave Asprey, Bulletproof s dedicated to providing the world with groundbreaking, science-based information, techniques, tools and products to help people perform better, increase focus, enhance energy, and live longer.
Take a look at two of the experiences offered at the summer pop-up:
The Oxygen Bar: Known to displace harmful free radicals, oxygen gas can help neutralize environmental toxins, and destroy infectious bacteria in the body. The bar offers a variety of oxygen flavors (including Lavender, Eucalyptus, Lemon, Peppermint), providing benefits such as increased circulation, detoxifying blood, strengthening immune system, heightening concentration, and improved relaxation & sleep. 
Vibe Plate Garden: The Bulletproof Vibe Plate will send vibrations through your body inclusive of your brain, muscles, lymphatic system, and bones. With an emphasis on strengthening muscles and bones and reducing recovery time after exercise, the Vibe Plate can also improve mental acuity and flexibility. As you sit or stand on the platform, your muscles will contract and relax a dozens of times each second, which is why doing squats on a vibrating plate requires more energy than doing them on the ground.
Location: 83 Mercer Street, New York, NY 10012