Pretty much the entire city of Las Vegas has been perched on the edge of its seat since the nail-biting start of the NHL season. The Vegas Golden Knights hockey team absolutely hit the ground running ice skating in its inaugural season, creating a beautiful buzz among locals and surprising hockey fans everywhere.
As the fight for the Stanley Cup heats up between the Knights and Washington Capitals, everything from the Julius Caesar statue in front of Caesar's Palace to the Statue of Liberty in front of New York-New York are sporting Knight's gear. There's a five-foot-tall chocolate sculpture of powerhouse goalie Marc-André Fleury on display at Bellagio Patisserie, while over at Salon Bellagio, men are having their playoff beards dusted with gold glitter. Now some of the hottest restaurants in Las Vegas are scoring goals with Knights-themed cuisine and cocktails, such as the six indulgences below.
Golden Knight 
Photo Credit: Leinani Shak Photography/Mandarin Oriental, Las Vegas
The Mandarin Bar at the luxurious Mandarin Oriental on the Las Vegas Strip offers a spirit-driven, Golden Knights-inspired cocktail made from Toki Suntory Japanese Whiskey, a dash of Sip Smith Gin, Yellow Chartreuse, Aperol and ginger syrup. Book a luxurious getaway through June 17, 2018, and you'll receive two complimentary Golden Knight cocktails and a commemorative puck. Score!
FleurBurger
Photo Credit: MGM Resorts International
Fleur by Hubert Keller at Mandalay Bay Resort & Casino is honoring the city's favorite goalie with its FleurBurger. Stacked high with Wagyu beef, caramelized onions, grilled abalone mushroom and pomme frites on a brioche bun, the burger is so juicy and delicious, you may have to defend it from your friends.
Power Play
Photo Credit: MGM Resorts International
Just a slap shot away from the Knight's T-Mobile Arena, the brand new Juniper Cocktail Lounge at the brand new Park MGM is offering the cocoa-powder and edible gold-dusted Power Play. This specialty cocktail is made with Atlántico Private Cask Rum, espresso, coffee liqueur and fresh whipped cream.
VGK Pizza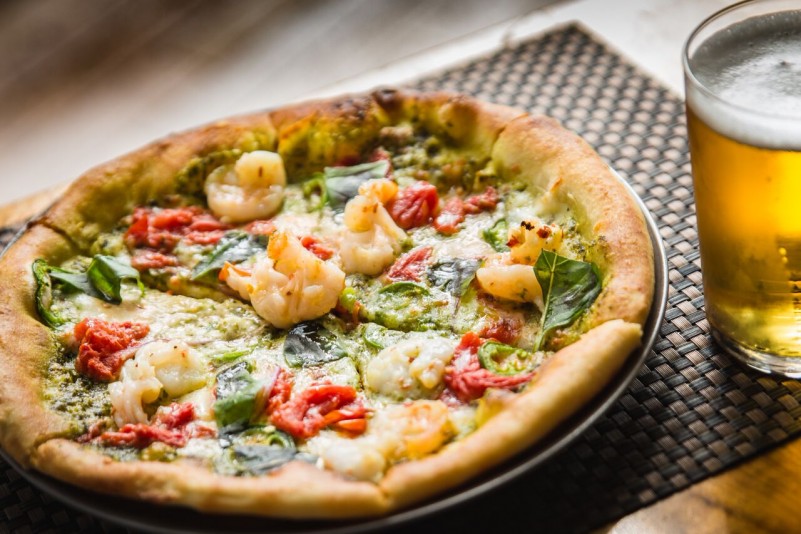 Photo Credit: Sam Abrams
Based on his name alone, you might say Wolfgang "Puck" knows a thing or two about hockey. Now the city's favorite celebrity chef has unveiled a Vegas Golden Knights Pizza, exclusively at Wolfgang Puck Bar & Grill in Downtown Summerlin. Inspired by NHL defenseman Nate Schmidt during a one-on-one, pizza-making session with Puck himself, it's topped with ingredients like shrimp, basil pesto, fresh mozzarella, roasted tomatoes, red onions and jalapeños.
Knightcap 
Photo Credit: Mob Museum, National Museum of Organized Crime & Law Enforcement
Head to the hidden entrance at the Mob Museum's new Prohibition-era speakeasy and distillery The Underground for the Knightcap, a twist on a popular 1920s-era drink called The Gold Rush. The top-secret specialty cocktail features house-distilled moonshine infused with Ginger Jake, fresh lemon juice, egg white, brown sugar simple syrup and edible gold dust.
A "Golden" Dessert
Photo Credit: MGM Resorts International
Guests sporting their favorite Golden Knights jersey at Michael Mina's Stripsteak at Mandalay Bay will receive a beautifully plated Golden Knights-themed dessert on the house. The decadent, gold-dusted dessert is as sweet as a Vegas Golden Knights' Stanley Cup victory. Almost.
Good Knight Kiss
Photo Credit: MGM Resorts International
End your evening with a stirring Good Knight Kiss. Available at Bellagio's Harvest by Roy Ellamar and Petrossian Bar, the citrus-forward martini is made with Grey Goose Le Citron, lemon, simple syrup and egg whites. It's topped with a gold-dusted Vegas Golden Knights logo so you can raise your cup to Las Vegas' record-breaking hockey team. Hopefully, they'll raise the cup too!
Subscribe to discover the best kept secrets in your city