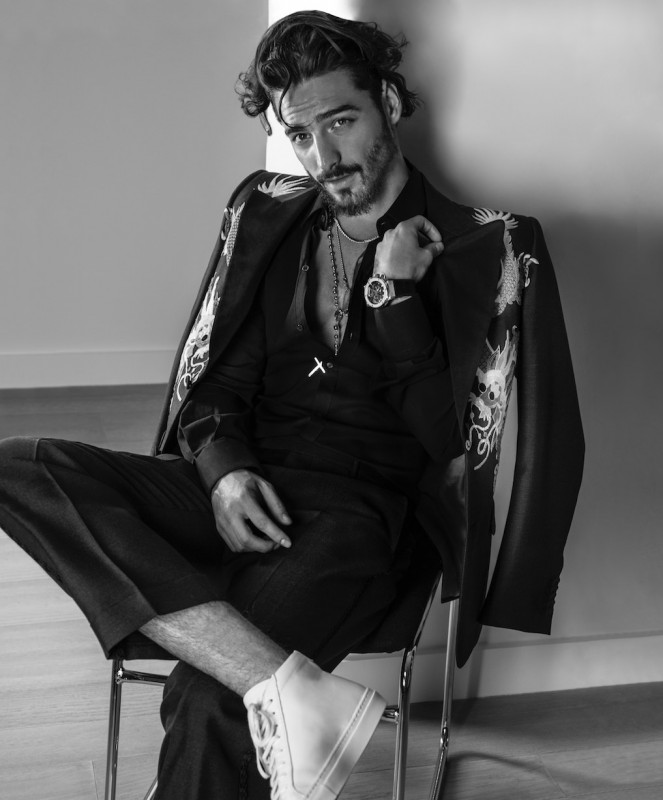 Photo Credit: Tony Duran
Photography by Tony Duran – Styling by Annie Jagger – Grooming by Steeve Daviault – Shot on Location at Ten Thousand 
Maluma takes center stage at Madison Square Garden, and the audience is in a frenzy. The sold-out show has everyone on their feet singing along and swaying to the rhythmic beat of every song. This is the third stop of his sold-out F.A.M.E. tour. Juan Luis Londoño Arias, better known as Maluma, who thoughtfully created his stage name by combining the first two letters of his mother's name (Marlli), his father's (Luis) and his sister's (Manuela) respectively, is the youngest Colombian artist to accomplish this feat. Hailing from Medellín, Colombia, the 24-year-old has accomplished more in his short years in the music industry than most artists achieve their whole careers. He has been selling out arenas internationally, closing the iconic Dolce & Gabbana Men's Collection Fashion Show in Milan and most recently announcing that he and Jason Derulo have recorded and will perform Coca-Cola's 2018 FIFA World Cup song "Colors" this coming summer.
At the young age of 17, Maluma chose his love and passion for music over soccer after just one studio session. He then began this journey that has led him straight into the hearts of all his fans, women and men alike—just ask Marc Anthony—and he is not looking back. All of his accomplishments still find a very grounded young man who cites his love for his family and his connection to his faith as his biggest inspirations and motivation behind everything he does. Here, the "Felices los 4" heartthrob sits with Haute Living and candidly shares how he is feeling right now and his plans to be very close to you very soon.
Photo Credit: Tony Duran
HL: Last night, you performed at the Garden, how did that feel for you? 
M: Last night was something iconic. I felt like I took a huge step in my career and my life. I feel like I'm on another level after Madison Square Garden. I used to dream about this when I was a child—this was the venue that I always wanted to be at, and yesterday it happened, so I am very, very happy, and I feel like it's just the beginning.
HL: You are setting a separate lane for yourself, elevating the reggaeton experience; how do you characterize your music? 
M: Actually, my job in this era, in the music industry, is to be something different. I don't like when I am called a reggaeton artist because my genre is the Maluma genre. That's what I always want to show to my audience. My shows are not reggaeton shows; my music is something different—it is Maluma Music. I feel like right now I have a huge responsibility on my shoulders, and it's beautiful because I feel like I'm doing something different, and people are taking notice.
Photo Credit: Tony Duran
HL: Who is styling your show? 
M: Dolce & Gabbana is working with me on the whole tour. We are close friends—we have a nice relationship, and as soon as I started planning this tour I called Stefano [Gabbana] and told him that I wanted the brand to be a part of the tour. I'm wearing exclusive clothing straight from the runway—they are one of one pieces. One jacket, one pant, one T-shirt. I'm trying to take the whole movement in the way I look and dress to another level.
HL: How old were you when you knew that you wanted to sing? 
M: I was 16, 17 years old when I was in the studio for the first time, and from that moment I knew that it was going to be my life. It was the thing that I was going to choose. I feel very grateful because I think I made the right decision. I used to play soccer, and after I started recording I knew this was the right choice. This was the thing that I wanted to do my whole life—make music.
HL: Is being on the road difficult being away from your family? 
M: Actually, they are here right now with me. They came for this concert, and they are going to be with me almost the whole tour. I think they are my angels; they are everything to me. And I work and I do everything for them. I think about my future, but I think about them first. They are my motivation.
HL: You are living your life on the road. Do you have any rituals? 
M: I love working out. That's the only way to find a balance. When I wake up even after Madison Square Garden, after all the things that are happening in my Maluma life, I think that the workouts, the act of working out and training, it makes me feel normal. I also pray and meditate—that is very important to me. I'm a very spiritual person, and staying connected with God helps me every day to make a better version of myself.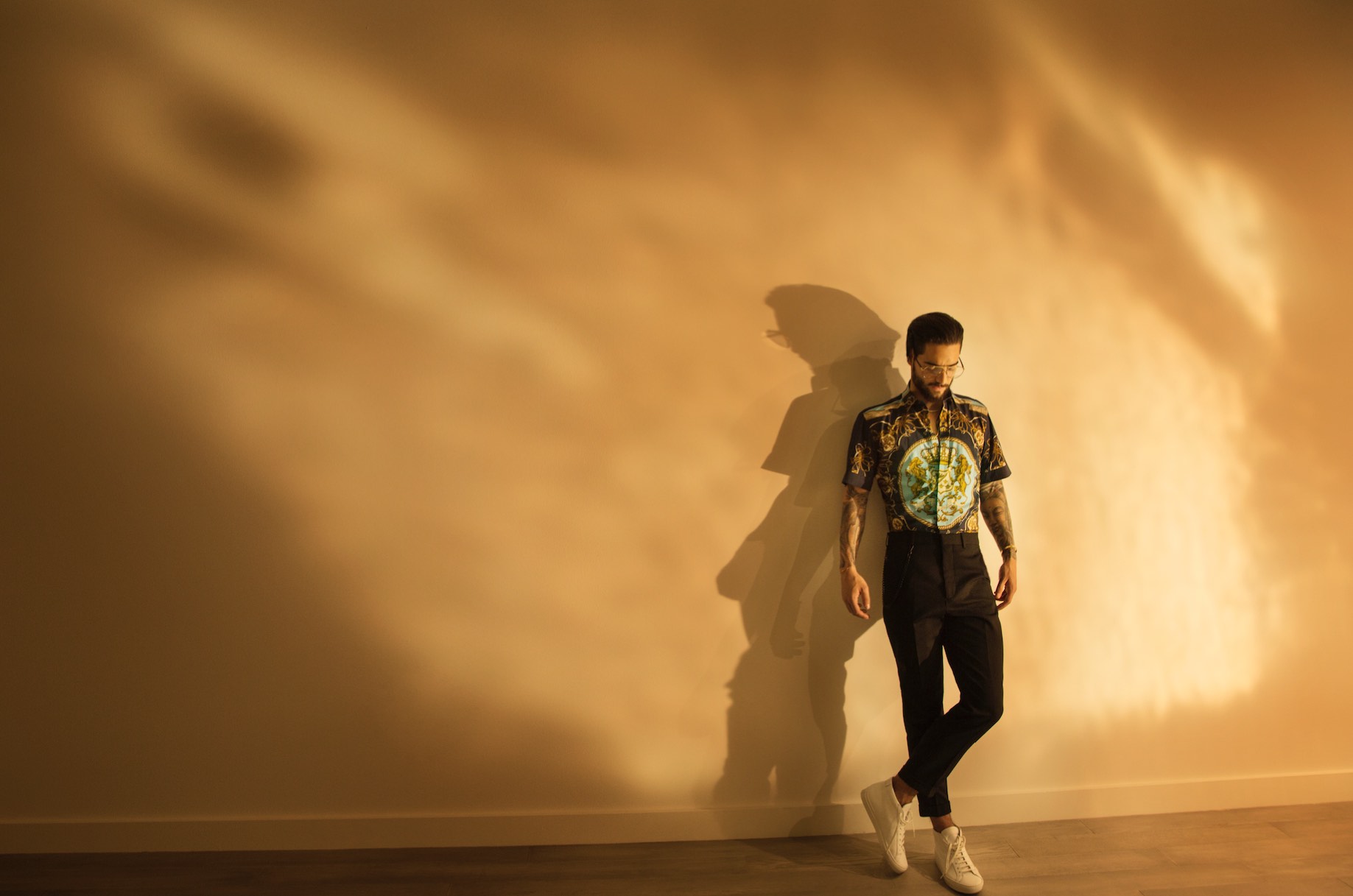 Photo Credit: Tony Duran
HL: You realize that the world is falling in love with you one person at a time. How does Maluma deal with all these women falling at your feet?
M: I'm not going to lie to you, I f*cking love it! I have to be honest, and I have to be real—I love that. It would be a bad thing if the opposite happened to me. It's great that when I come to America and I do my shows, and I see people from the States and people from different countries around the world. I see that love and I feel very, very grateful because I think that I was born for this career.
HL: So I have to ask, is there a special lady in your life? 
M: Ha! I am happy right now. I am living my life—that's the most important thing. I'm too young to think about getting married or having kids. I'm very focused and right now, my family and my career are what's most important.
HL: You've made statements that your muses have been Héctor Lavoe, Justin Timberlake and Michael Jackson. Who's inspiring you today? 
M: They are still doing it. Sometimes I feel like I was from another era. I feel like I'm not 24. When people ask me what kind of music I like to listen to—I like salsa from the '80s, hip-hop from the '80s, reggaeton from the '90s, rap from the '90s. These genres of music inspire me. I try to take the best of each artist and create my own music.
HL: You just announced that you would be performing the official Coca-Cola song "Colors" with Jason Derulo for the 2018 FIFA World Cup this coming summer. Tell us about that. 
M: We did the official World Cup song for Coca-Cola. I'm working right now with Jason Derulo—he is part of this project doing the English part of the song while I do the Spanish, and some Spanglish too. This opportunity means a lot to me because I had always wanted to be a professional soccer player. And when I was told that I would be going to Russia to the World Cup, I was so happy because it was a huge dream for me to be a part of the World Cup one day. Of course, I wanted to be a part of it playing soccer, but now I'm going to sing—and I think it is very cool that my dream came true in a different way.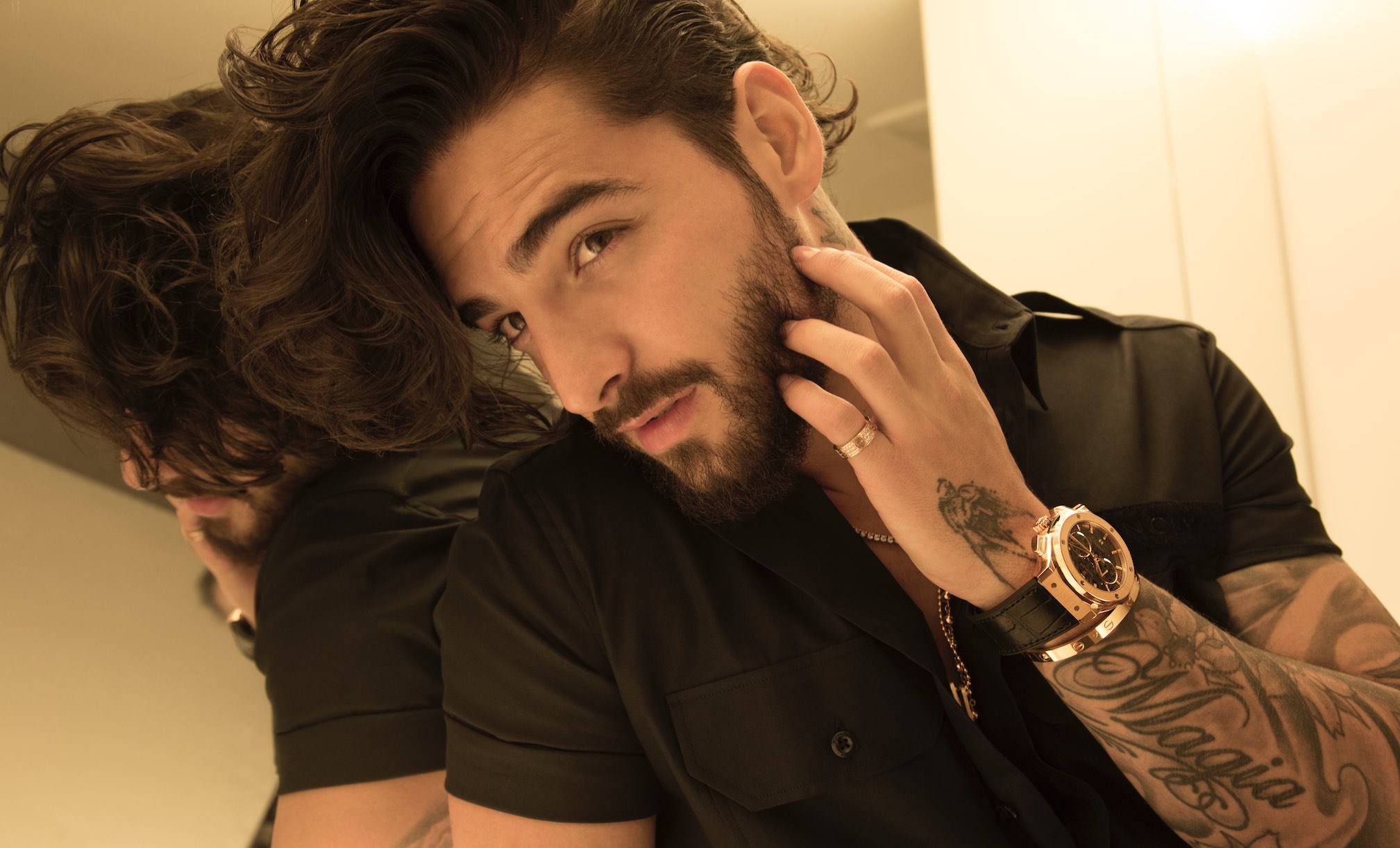 Photo Credit: Tony Duran
HL: On your new album, F.A.M.E., you collaborated with major artists: Thalia, Ricky Martin and Shakira. Talk to us about your new album—are you in the process of releasing an English album? 
M: I'm going to be very honest. I was in L.A. and worked on a lot of English songs, and I loved them, but I'm a little afraid that maybe if I do all English songs I'm going to lose my Latin roots. So, I'm trying right now to find the balance in the English songs without losing that beautiful Latin vibe. I currently have two songs in my new album that are all English, and they have something that I was looking for, and I'm very excited because people are going to hear something different from me. I have another song with Jason Derulo, and I'm going to work with Daddy Yankee again. There are beautiful things happening, and I think that the collaborations that I have in the album are perfect for this time that I'm living in my career.
HL: Have you considered acting? Are there any movie projects in the near 
future? 
M: Yes, I love acting! When I do my videos I'm always a part of the script. I think it is super-important to be in front of the camera as well as behind the camera. I like to be a part of everything in my career. That's why you see in my latest video, "El Préstamo," there was a huge acting portion to it. I am so comfortable [acting], so I think in the near future there will definitely be some projects.
HL: Is there anything you want the whole world to know about you? 
M: I would say that Maluma, the artist, has been reborn. Something new is happening—it has been in the making in the last three to four years. I want to take over the world one heart at a time, and for those that are reading this interview I just want to tell you: Get ready because I am going to be very soon close to you. India, Dubai, Tokyo—wherever you are reading this interview—I'm going to be there!
Photo Credit: Tony Duran