Venus ET Fleur has completely changed the game when it comes to the gift of flowers. Their beautiful collection is available in a variety of shapes, sizes, and colors. And the best part is that if the flowers are tended to the right way (not watering the, avoiding direct exposure to sunlight, keeping them in their box, and a few other tips that can be found here) they can last up to a full year.
Every arrangement is made from real Ecuadorian roses where they are carefully cultivated to produce a full, lavish bloom. Once the flower has reached its peak bloom the flower is then clipped and shipped to Venus ET Fleur's New York facility. Once the roses arrive in NY they go through a proprietary solution and color pigmentation process to perfectly preserve their beauty.
"Our unique preservation process transforms the blooms into long-lasting roses that are capable of maintaining their freshness and biological structure for more than a year when properly maintained," according to Venus ET Fleur's website.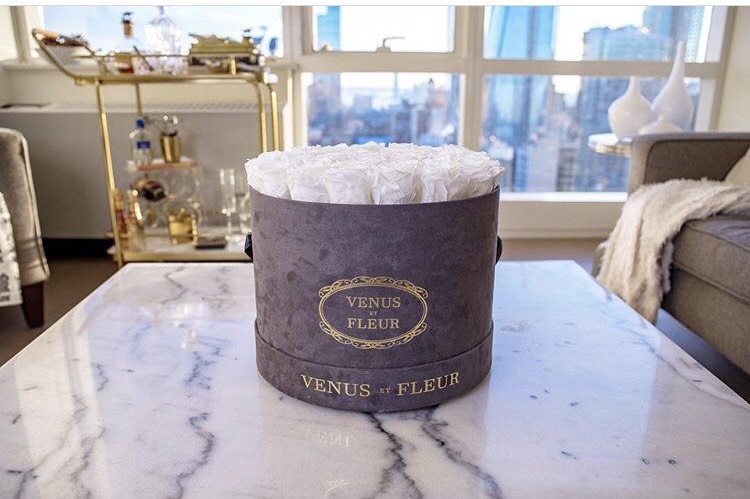 Photo Credit: Venus ET Fleur
Check out a few of their top selling items below, which are perfect for Mother's Day!
Venus ET Fleur Pink Watercolor Collection
Photo Credit: Venus ET Fleur
Just in time to wow mom for Mother's Day, Venus ET Fleur launches its new Pink Watercolor Box – featuring beautiful pink watercolor details filled with 36-42 gorgeous Ecuadorean Eternity De Venus Roses. With absolutely no maintenance or watering required, the roses will continue to delight mom for up to one year. Choose from over 20 colors to truly customize for mom's special day.
Price: $499
---
Venus ET Fleur Luxury Hotel Robe
Photo Credit: Venus ET Fleur
Venus ET Fleur takes its first foray into lifestyle with a luxurious bath robe reminiscent of your favorite hotel robe. Designed in a pure white color with a plush lining, this robe is the ultimate must have for any staycation.
Price: $289
---
Venus ET Fleur Lé Petite Papillon 
Photo Credit: Venus ET Fleur
Venus ET Fleur's LéPetite Papillon box contains 4 beautiful Ecuadorean Eternity DE Venus Roses in a beautiful butterfly-print box. The box measures at a perfect petite size of 4″ x 4″ x 4.5″. The Eternity Collection is simple yet makes an incredible statement and will always look luxurious and elegant in your space – year after year.
Price: $169.00 and up
All arrangements can be purchased online here.