Photo Credit: Alexander's Steakhouse
What's going on in the Bay Area this month? Here are seven happenings that should be on your radar.
Alexander's Steakhouse is throwing a Feast on Thursday, June 7. The meal will feature fire-roasted meats and fish served in a communal family-style setting. Large formats—think Magnums!—of bourbon, scotch, and fine wine will be poured. The dinner takes place in the restaurant's posh library.
Photo Credit: Gundlach Bundschu
Music festivals like Outside Lands are ubiquitous at this time of year, but Huichica promises an entirely different type of festival experience. On June 8-9, Huichica Music Festival will take over Gundlach Bundschu winery in Sonoma. Local vendors like Petaluma's Central Market and Lagunitas Brewing Company will be on hand to serve food and drinks alongside Gundlach's treasured wines. Musical acts include Sonny Smith, Springtime Carnivore, Kyle Craft, White Fence, and many more. Gundlach was one of the wineries that were affected by the devasting October wildfires, so if there was ever a time to support the family-owned vineyard, it's now!
Photo Credit: Glodow Nead
On Saturday, June 12, the St. Regis and the Museum of the African Diaspora are hosting its second annual collaborative dinner. This year's event honors chef Tanya Holland with dinner prepared by the St. Regis' Victor Parra featuring some of Holland's delicious dinners. The event begins with a champagne reception, and the multi-course meal is to follow. During the dinner, Holland and community activist Shakirah Simley will discuss food equality and social justice.
Photo Credit: Waterbar
Rosé Fest, a week-long celebration of all things Rosé, is going down at Waterbar Tuesday, June 20 through Monday, July 2. The wine team is putting together a unique list of domestic and international Rosés. Certain dinner items will be recommended pairings for many of the bottles of pink wine.
Photo Credit: Matt Edge
Long Meadow Ranch (LMR) is an agricultural oasis in St. Helena. This Summer at its restaurant, Farmstead, LMR is planning a particular series of guest chef dinners. The first of these monthly meals take places on Saturday, June 23. Chef Laurence Jossel of Nopa will join Farmstead's Stephen Barber around a live fire where they will roast, smoke, and sear a family-style feast. Proceeds from the dinner benefit the Timothy W. Hall Foundation.
Photo Credit: L'Artusi
In honor of its 10-year anniversary, L'Artusi, a beloved restaurant in New York's West Village, is coming to wine country. L'Artusi's team is joining forces with Idlewild Wines to host two exclusive dinners—on June 23 and the following day on June 24. The Cal-Italian meals will take place at a luxurious private residence in Healdsburg and feature five courses of chef Joe Vigorito's cuisine.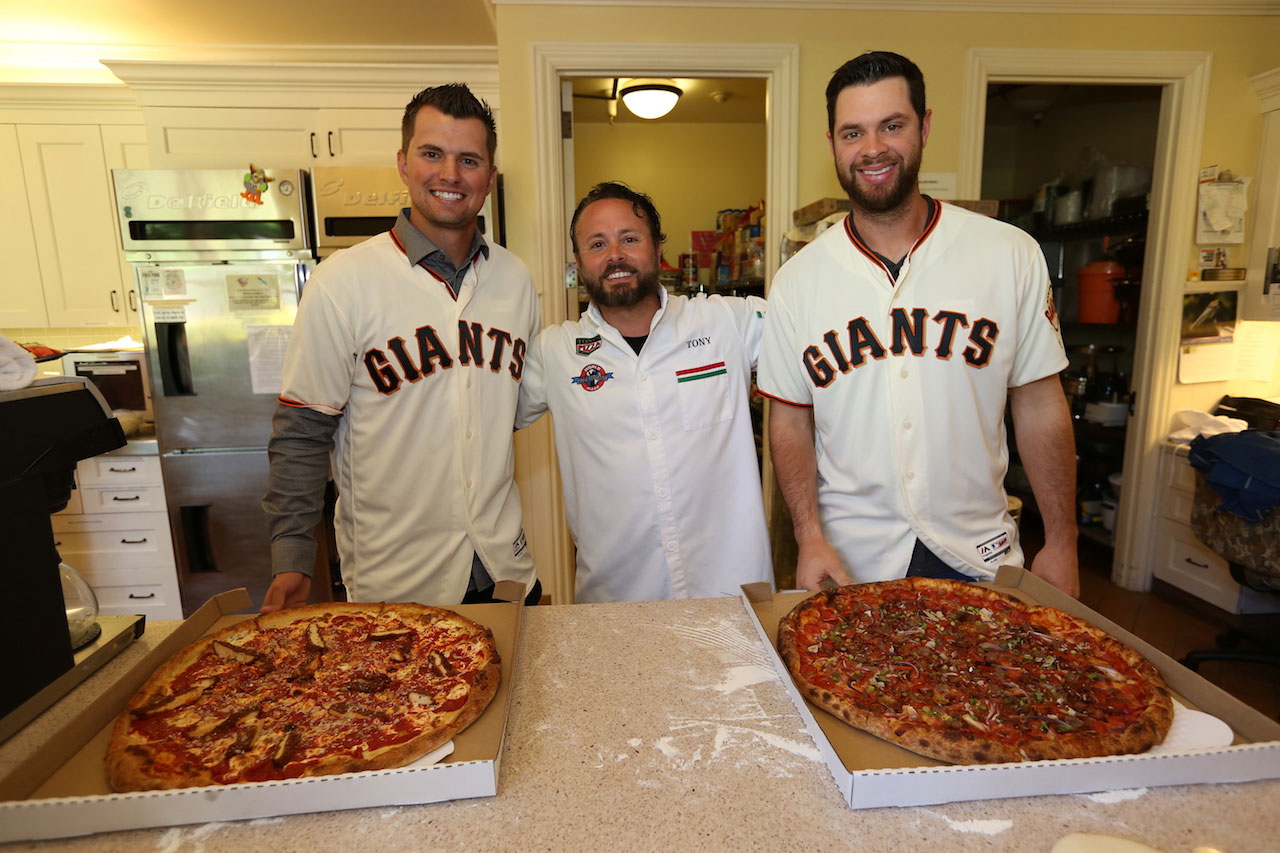 Photo Credit: Austin Ginn/MLB.com
In the mood for pizza? Head to any of Tony Gemignani's Slice House locations where, for the third year in a row, he's teamed up with San Francisco Giants to host a charity food event. Brandon Belt and Joe Panik have joined forces with Gemignani to throw a benefit for the George Mark Children's House. From now through September 19, order one of the player's specialty pies and a portion of the proceeds will be donated to the organization. Inspired by classic chicken parmesan, Panik's pizza features breaded chicken cutlets, sliced mozzarella, tomato sauce, garlic, and parmesan cheese. Dubbed the Monster Meat Pizza, Belt's pie includes pepperoni, sausage, bacon, red and green onion, bell pepper, parmesan and chili oil.