Miami Music Week has officially concluded and in its wake, we look back at some of the top highlights of the action-packed week. As expected, MMW 2018 did not disappoint, bringing out plenty of surprises and guest appearances to make it one very memorable year. Here is a look at some of the greatest moments of the week:
SWEDISH HOUSE MAFIA AT ULTRA
Given that it was the mega music festival's 20-year Anniversary, we knew that something big was bound to happen to close out the three-day lineup. To many longtime fans' excitement, the legendary Swedish House Mafia reunited on the main stage of Ultra Music Festival on Sunday evening to end the weekend on the highest note possible. Axwell, Sebastian Ingrosso and Steve Angello came together as one bringing back Swedish House Mafia after a 30-minute break during Ultra's final set. Their one-hour performance sent the crowd wild with some of their classic songs like "Miami 2 Ibiza," "Don't You Worry Child," "Leave The World Behind" and "One," amidst impressive firework displays.
---
WILL SMITH AT ULTRA 
As if Sunday's grand finale was not enough to rave about, Ultra Music Festival also made sure the other days did not disappoint, with a particularly memorable moment happening when hit DJ Marshmello brought out Will Smith to the main stage toward the end of Saturday night, aptly to perform his all-time hit song, "Miami," which sent festival-goers crazy singing along and dancing to the song.
---
SHAQ BATTLES ROB GRONKOWSKI IN A DANCE-OFF 
Photo Credit: World Red EyeOne of the most talked about parties this year, SHAQ'S FUN HOUSE, (the invite-only party which took place at a warehouse in Wynwood at 2 a.m. and invited top DJs like Carnage, Steve Aoki, Diplo, Cheat Codes and more), grabbed headlines from a particularly noteworthy moment of the event. Party host Shaq decided to face off in a dance-off with NFL Patriots star player Ron Gronkowski. Though the winner is unclear, it certainly caught many video cameras when Gronk climbed atop 7'1″ Shaq's shoulders toward the end of the dancefloor battle to continue dancing the night away.
---
DELANO SOUTH BEACH BRINGS ALL-STAR LINEUP TO BEACH CLUB 
Photo Credit: Matthew Enbar for DiskoLab
This year's official Miami Music Week Hotel was at the forefront of all epic events of the week, with a particularly special lineup taking place on Wednesday, March 21st, as Swedish sensation Axwell drew the likes of Martin Garrix, Cedric Gervais, Benny Benassi and Gianluca Vacchi who partied behind stage as he took to the stage playing hits including "More Than You Know", "Dreamer" and "I Love You." On Thursday, March 22nd, LaidBack Luke surprised fans at Delano Beach Club with a number of unannounced performances by Afrojack, DJ Chuckie, Hardwell, Quintino, Sunnery James and Ryan Marciano for his annual MixMash party.
---
PARIS HILTON LOSES HER $2M ENGAGEMENT RING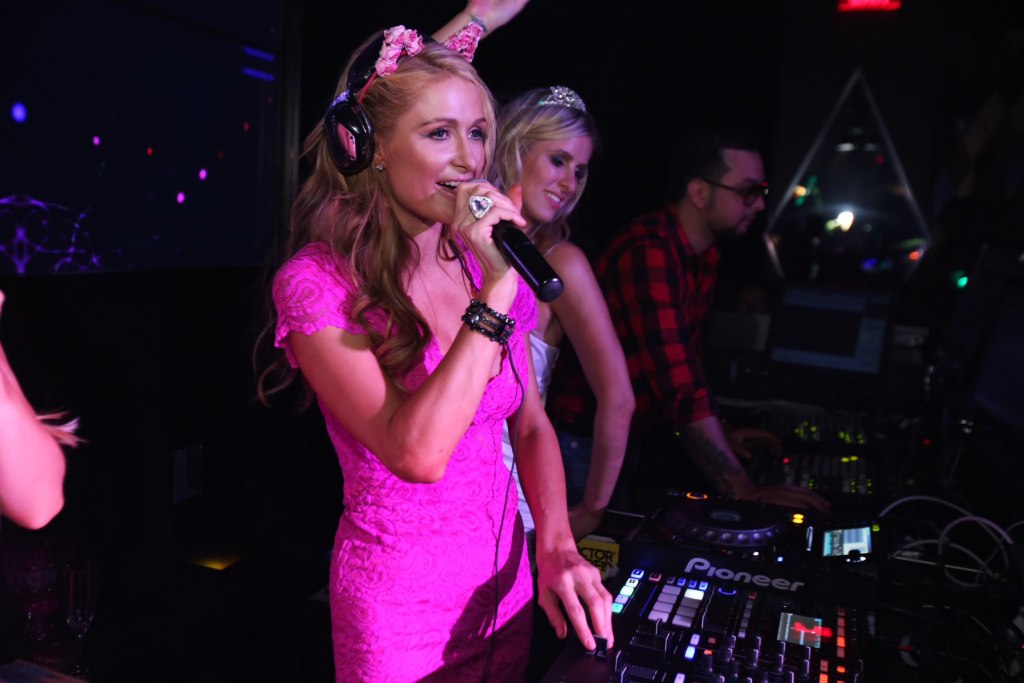 The Hilton heiress is a longtime veteran of the famed Miami Music Week after making her DJ debut years ago. This year was no exception as the mogul partied the night away at Wynwood's Mana Warehouse with her fiancé, Chris Zylka until the night turned hectic as the eye-catching, $2M, 20-karat engagement ring flew off her finger as she was dancing in the nightclub. The impressive rock was custom designed by celebrity jeweler Michael Greene, and it's reported that the couple has actually hired extra security on their past engagement vacation in Aspen to look after the precious diamond. After some hectic and tear-filled minutes went by, the security miraculously found the ring inside a champagne ice bucket on a nearby table in the VIP area.
---
CARA DELEVIGNE STUNS IN ARMANI EXCHANGE AS SHE HOSTS POOLSIDE PARTY WITH MARTIN GARRIX
Photo Credit: Instagram: @davidguetta photo credit: World Red Eye
Top model Cara Delevigne stunned in a cream Armani Exchange blazer dress at her co-hosted pool party at the posh W South Beach Hotel with Martin Garrix to celebrate the brand's "New Energy I Same Spirit." Other event attendees included Paris Hilton and rapper Desiigner.
---
CHRIS BROWN CLOSES OUT MMW WITH LIV ON SUNDAY
Photo Credit: World Red EyeMiami's No. 1 nightclub, LIV, had one impressive week of lineups for MMW including top DJs like Cedric Gervais, Tiesto, Hardwell and David Guetta. However, on Sunday, they changed things up with a different genre of music for the famous LIV on Sunday party with headliner Chris Brown that drew in major boldface names in town like fashion designer Alexander Wang, Lil Wayne, Floyd Mayweather, Afrojack, Yo Gotti, Birdman and Alec Monopoly for a legendary celebration.
---
02 FENTY x PUMA POPS UP AT MONDRIAN SOUTH BEACH 
Photo Credit: 02 FENTY x PUMA The bayfront hotel, Mondrian South Beach, played host to a popular two-day pool and pop-up party hosted by Rihanna's Puma x Fenty brand in collaboration with athletic brand SIX:02, where they debuted the new Spring Collection of hip athletic wear including sweatsuits, sneakers and more. The beautiful pool was decked out in colorful merchandise and 02 Fenty x PUMA surfboards, branding signs and more, made all the more picturesque by the backdrop of Biscayne Bay.