Happy National Watermelon Day! Yes, there is a National Holiday dedicated to a seasonal fruit, but what better excuse to indulge in its sweet flavors than with a watermelon-inspired dish or cocktail, or two? Today, celebrate the near arrival of Friday and beat the heat with locations that are honoring watermelon the right way. Check out the spots below to learn of the special way each spot is embodying the flavors of summer.
SCARPETTA
Chef Scott Conant's Fontainebleau eatery offers a simple and subtle menu item that is popularly ordered by guests – and this time, it's not his well-known spaghetti. Find the item on the drink menu as Crave, a watermelon infused standard vodka containing aperol, cranberry, lime and mint. This refreshing drink captures the sweet flavor of watermelon, all while maintaining its light texture. Enjoy this treat alongside any main entree or appetizer as you delight in the beautiful waterfront views the venue provides.
GLASS & VINE
Photo Credit: @glassandvineFor a more subtle approach to celebrating, Glass & Vine allows guests to opt for a watermelon salad. The dish will provide just enough sweetness to satisfy your craving, yet still leave room for more savory delights, if you choose. Its fresh ingredients-lime crema, cotija,toasted corn and cilantro- compliment each other nicely and balance out the rich flavors of the dish. Located in the heart of Peacock Park, this scenic and romantic spot is well-known for providing top notch flavor in an intimate setting and is sure to meet your expectations for this holiday.
YARDBIRD SOUTHERN TABLE & BAR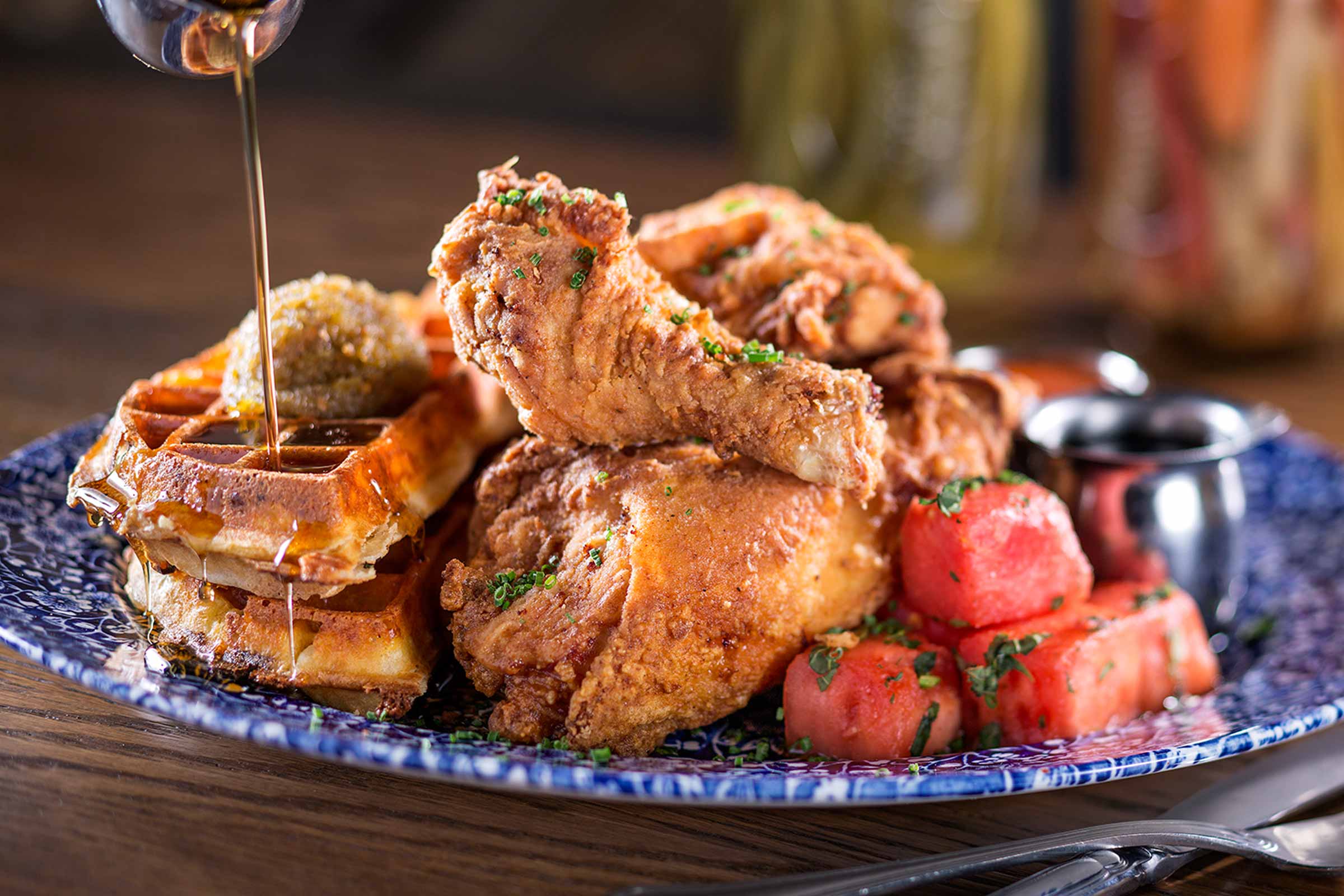 Yardbird adds a spice, a twist and a unique recreation to your typical old school fried chicken- and it appears on the menu as Chicken 'n' Watermelon 'n' Waffles. Yep, this quite odd, yet delicious pairing of flavors has taken Southern comfort food to an entirely new level and you know you can't wait to try it out. Now a house favorite, this dish serves up chilled spice watermelon, honey hot sauce and vermont sharp cheddar cheese waffles all drizzled in bourbon maple syrup for an unexpected combination of rich textures that'll result in a unique love-at-first-bite experience. No better way to taste all the rave for yourself than on this special day.
KURO
This modern Japanese eatery is worth the trip to the Seminole Hard Rock due to its extensive cocktail menu, which is divided into five flavor profiles- sweet, sour, bitter, salty and umami. The Ni is made up of a collection of atypical ingredients, including muddled watermelon, Thai basil and shichimi togarashi, a Japanese blend of seven spices. The rum-based drink will shock you with flavor and its unexpected ingredients, making it one of the most popular features on the menu. Enjoy the stimulating cocktail alongside the eatery's dining options that are made with locally sourced ingredients and imports from Japan.