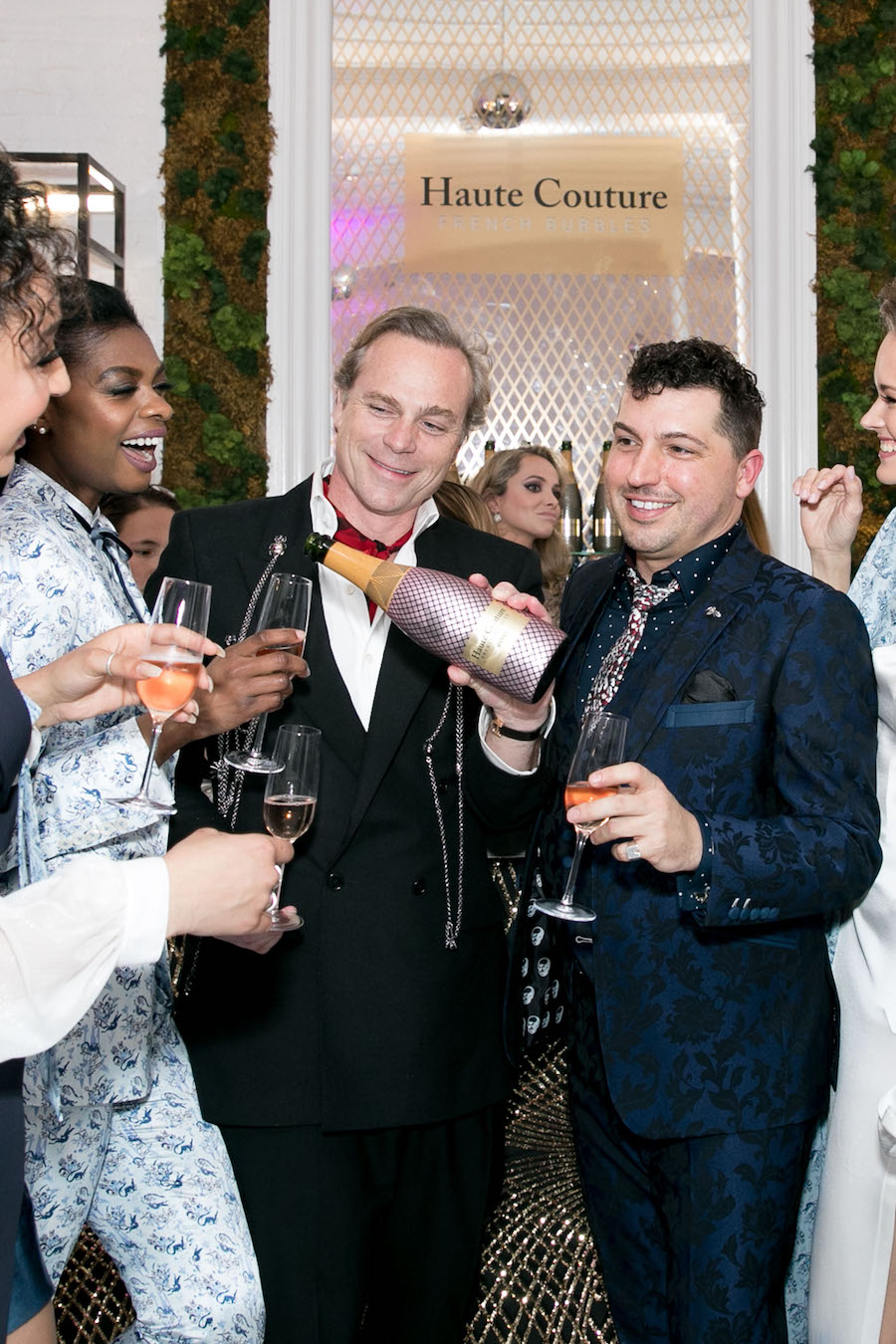 Photo Credit: Moanalani Jeffrey
What do a San Francisco fashion designer and French winemaker have in common? Surprisingly, a lot. Jake Wall and Jean Charles Boisset are two locals who focus on helping people live their most fabulous lives. Wall through his glamorous and flashy clothing line, Jake, and Boisset through his robust selection of fine wine, the Boisset Collection. Both are gentleman about town who know how to throw a fantastic party. Both have a penchant for animal accents, luxurious materials, and over-the-top opulence. Having spent their entire lives perfecting their respective crafts, both are incredibly good at what they do. Both have also recently launched exciting new projects. Wall has debuted his new capsule collection, Les Liaisons Dangereuses, and Boisset has released a new line of sparkling wine, Haute Couture.
At a recent event, the dynamic duo came together to unveil their respective ventures. Guests mingled with the designer, winemaker, and their entourages while the new bubbles, a blanc and rosé, flowed. An informal fashion show, with models walking down a runway made of tape on the white marble floor was the highlight of the evening.
The collection is absolutely stunning. "One of the main things you will see is an original pattern that we have created both for men and for women," Wall tells Haute Living. "We worked with an amazing illustrator from the Walt Disney Family Museum here." The resulting collaboration is a whimsical print that invokes traditional chinoiserie that one might find in the couture salons of 16th century France. As you view the print, you'll realize that it features details that are unique to Jake. "When you look closer, the very details of the patterns have been switched out. For example instead of the dragons you have a nod to our own little dragons here, the greyhounds," Wall explains referring to his two furry mascots, Echo and Scotus. "The females in the imagery are actually our representations of our four primary female models that we have used over the course of Jake's collections. Our four muses, if you will."
The entire collection is done in beautiful shades of blue and white. Pieces we love include a quilted bomber jacket and bell sleeve mini dress. The menswear features the same print in a darker navy, several suiting options, and a fantastic pink tuxedo jacket. "The collection is one of power, it is one of beauty, it is one of intrigue, and it is definitely, as always with us one that explores I think, sexuality without necessarily being salacious," Wall says.
Photo Credit: Moanalani Jeffrey
It ties in perfectly with Boisset and everything that he does. As Wall puts it "there is power, there is beauty, there is sexuality in what he distills into a bottle. And at the same time without being salacious, and that is why we are so proud to be coming together to celebrate our achievements." The bubbly is available for a reasonable price and comes in both standard 750 ML bottles as well as 187 ML mini bottles. The grapes are sourced from France and the winemaking team has crafted a delightful blend of Pinot Noir and Chardonnay with higher dosage levels resulting in a delicate sweetness and smooth richness. "Our newest wine embodies how style influences our winemaking vision. Haute Couture is a composition of the best that France has to offer, tailor made into a beautiful elixir with a taste that is voluptuous, decadent, and provocative!" Boisset says. "The same level of artistry, passion and attention to detail that comes together in creating a one-of-a-kind pieces of clothing goes into crafting a bottle of Haute Couture." Thus, it's only natural that the fashion designer and winemaker came together to toast their perspective launches. Kudos to both!
Subscribe to discover the best kept secrets in your city