Miami is home to some of the most influential people in the world. Our annual Haute 100 list celebrates the biggest names in the city, including philanthropists, entrepreneurs, power couples, developers, creatives, athletes, hospitality power players and more. These business titans make Miami one of the greatest cities in the world. 
Contributing editor: Jacquelynn Powers Maurice
Select portrait photography by Romain Maurice
DEVELOPERS
Jorge Pérez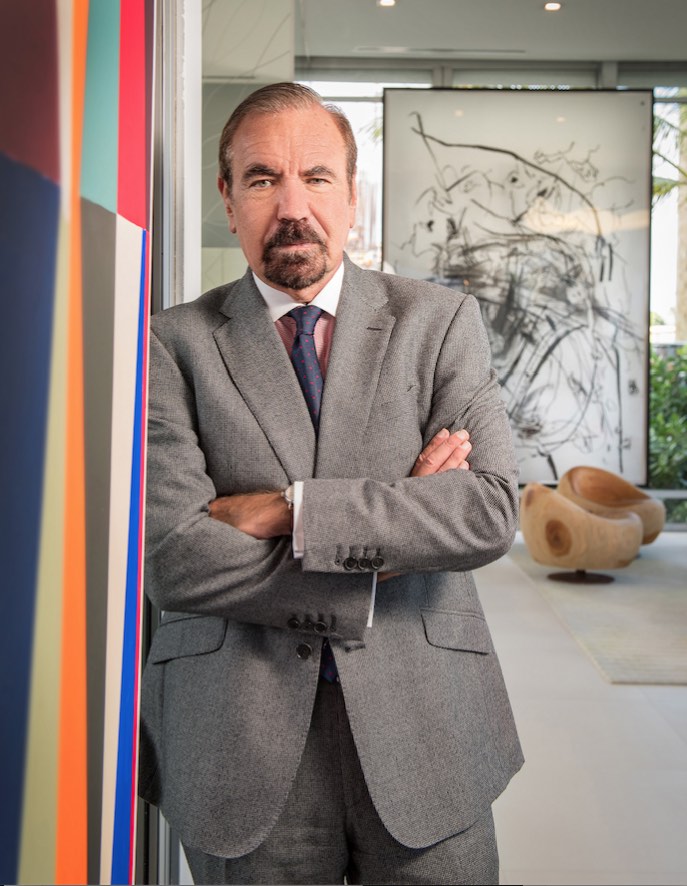 Photo Credit: Andrew Milne
Company: Related Group
Industry: Real Estate 
Pérez's company, the Related Group, has revolutionized Miami's skyline for nearly 40 years with a portfolio of projects worth in excess of $15 billion. While he's not working to shape South Florida's landscape, Pérez is working on ways to enrich the city's cultural fabric. Known for his philanthropy and commitment to the arts, he recently donated $15 million in cash and art to the Pérez Art Museum Miami.
A commitment to "building better cities," and a natural ability to identify emerging trends has made him a trusted and influential name in real estate. Pérez started out in the 1970s, making a name for himself in the public housing market of neighborhoods like Miami's Little Havana and Homestead. His continued passion for vibrant urban communities has made him a trendsetter, and often the first developer to enter undiscovered neighborhoods like Miami Beach's South of Fifth, Brickell and Edgewater.
An avid art collector, Pérez infuses each development with carefully selected pieces from master artists, such as outdoor installations by Fabian Burgos at SLS LUX and Brickell Heights, and Markus Linnenbrink at SLS Brickell. Works by Jaume Plensa, Fernando Botero, Pablo Atchugarry and others are also proudly displayed at Related developments, complementing each building's unique character.
The Ardid Family
Photo Credit: Key International 
Company: Key International
Industry: Real Estate
The Ardid family owns Key International, a world-class real estate investment and development company with a four-decade track record. The company is helmed by co-presidents Diego and Inigo Ardid and CEO/founder José Ardid. Key International has purchased over $4 billion of real estate across a variety of asset classes including residential, hotel and commercial property, and has developed more than 10 million square feet, including more than 2,600 luxury residential units. Key International's high-profile projects include the development of such sought-after addresses as 400 Sunny Isles, 1010 Brickell and the expansion and rebranding of the world-famous Eden Roc Miami Beach/Nobu Hotel.
Mehmet Bayraktar
Company: Flagstone Property Group
Industry: Real Estate
Mehmet Bayraktar is the founder and CEO of Flagstone Property Group, the real estate development group behind new Miami hotspot Island Gardens Deep Harbour. The superyacht marina located on Watson Island is the first in North America to accommodate superyachts up to 550 feet, and it also houses The Deck at Island Gardens, a dining and entertainment spot that has attracted celebrities and Miami's elite to frequent since its opening in 2016. In addition to being a leader in South Florida's yachting industry, Bayraktar is also a prominent community leader, as he is on the advisory board at the Wolfsonian-Florida International University and the University of Miami School of Architecture for the Master of Real Estate Development and Urbanism program.
Michael Comras
Company: The Comras Company of Florida, Inc.
Industry: Retail Development and Leasing
Michael Comras is president and CEO of The Comras Company, which has seen high success over the years that includes the $370 million sale of an entire block on Lincoln Road (Apple, Nike, Gap) and the $200 million purchase of CocoWalk and Sunset Place, the two marquee retail developments in Coconut Grove and South Miami. The company's brokerage division represents tenants and landlords throughout Miami's hottest neighborhoods, including the Design District, Wynwood, Brickell, Coconut Grove, Aventura and Miami Beach.
Gil Dezer
Photo Credit: Dezer Development
Company: Dezer Development
Industry: Real Estate
Dezer Development encompasses unique and strategic holdings in New York, Las Vegas and Florida, and is the largest owner of oceanfront property in Sunny Isles Beach with just over 27 acres. Credited as major players in the rebirth of Sunny Isles beach, the Dezers have developed nine luxury high-rise residential and condo-hotel developments through unique partnerships with some of the world's leading marquee lifestyle brands, including six Trump-branded towers, the newly opened Porsche Design Tower and Residences by Armani/Casa.
R. Donahue & Katrina Peebles
Company: The Peebles Corporation
Industry: Real Estate
One of the wealthiest African-Americans in the country, Don Peebles is the CEO and chairman of the New York City-based Peebles Corporation, one of the largest privately held real estate development companies in the country. His wife, Katrina, serves on the board of directors of the Peebles Corporation, the board of The New York City Mission Society, the board of CARE Elementary in Miami, and brings more than 20 years of experience as creative director. Mr. Peebles, a national political powerhouse, is a frequent commentator on cable news channels, served on the National Finance Committee of former President Barack Obama, is former chair of The Congressional Black Caucus Foundation and is a former chair of the Greater Miami Convention and Visitors Bureau. Mr. Peebles met with then-President-elect Donald Trump to advise the incoming POTUS on economic issues, including those affecting MWBE. The company is currently developing major projects in Boston, Philadelphia, NYC, Washington, D.C. and Charlotte, N.C.
David Edelstein 
Company: Tristar Capital
Industry: Real Estate
David Edelstein's relationships within the real estate and banking community are key to the success of his company, Tristar Capital. His development expertise comes from large-scale, mixed-use projects in Manhattan, South Florida and the West Coast. Edelstein has been the driving force behind high-profile retail projects like the Miracle Mile Shops in Las Vegas and the redevelopment of Lincoln Road in Miami Beach. In the past years he's also developed the W South Beach Hotel & Residences and changed the hotel landscape in Miami Beach. Recently, he has been acquiring a portfolio of investments in Wynwood and the Design District. The real estate giant resides in New York City.
Russell Galbut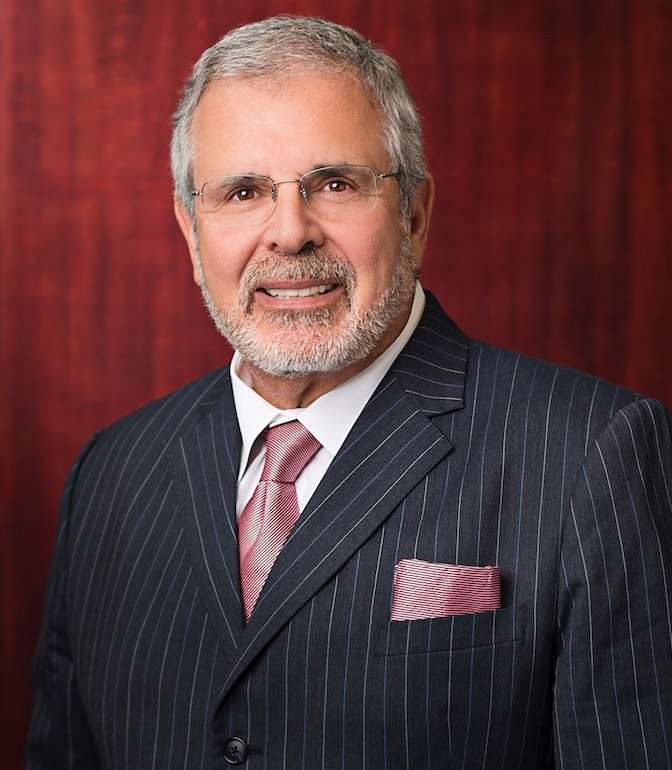 Photo Credit: Crescent Heights
Company: Crescent Heights
Industry: Real Estate
Galbut is the managing principal of Crescent Heights, a company heralded as the leader in high-rise residential construction and hotel development. Crescent Heights is among the nation's largest residential companies with properties around the country. Currently, they have more than $1 billion in ground-up construction projects in various stages of development. In December they completed a 40-story residential development at 10000 Santa Monica Blvd in L.A. that promises to change high-rise living in L.A. The property features 67,000 square feet of pure amenities with outstanding architecture and bespoke art. Currently, Galbut resides in SoFi in one of the coolest residences, right above the famous Bakehouse Brasserie run by his nephews, Keith Menin and Jared Galbut. He received the Miami Beach Chamber of Commerce's Innovation in Business Award in 2014 and is known for his helping of many local charities including the Miami Beach JCC.
Daniel Kodsi
Photo Credit: Paramount Ventures
Company: Paramount Ventures
Industry: Real Estate
As the developer behind one of Miami's most anticipated and high-profile luxury residential projects, Paramount Miami Worldcenter,―a soaring 60-story tower in the heart of Downtown set to offer the most amenities anywhere in the world,―Daniel Kodsi has been at the forefront of shaping South Florida's skylines for more than 25 years. With a proven track record of defining new neighborhoods and changing city landscapes with his gleaming glass high-rise towers, Kodsi's projects have been lauded for their progressive designs that focus on the future of how people live and seamlessly intertwine into the fabric of communities. Attracting buyers from more than 40 different countries throughout the world, some of Kodsi's most notable developments include West Palm Beach's Esplanade Grande; the luxurious Paramount Bay in Miami's Edgewater neighborhood; and his current project, the sophisticated, oceanfront Paramount Fort Lauderdale Beach.
Manuel Grosskopf
Photo Credit: Château Group
Company: Château Group
Industry: Real Estate
Originally from Argentina, Manuel Grosskopf is the CEO of Château Group. The group co-developed 900 Biscayne and Quantum on the Bay in Miami, and is currently finalizing the construction of Château Beach, a luxury high-rise condominium in Sunny Isles. Château Group is also developing FENDI-Château Residences in Surfside, the first real estate development branded for FENDI worldwide, as well as co-developing The Ritz-Carlton Residences Sunny Isles Beach, an amazing development with 250 feet of exquisite shorefronts offering 212 units with unparalleled excellence, legendary service and unrivaled elegance.
Kevin Maloney
Photo Credit: PMG
Company: Property Markets Group
Industry: Real Estate
As the founder of Property Markets Group (PMG), Kevin Maloney has had direct hands-on experience in the acquisition, renovation, financing, operation and marketing of residential and commercial real estate. He has been directly responsible for all of PMG's 150-plus real estate property acquisitions, projects and capital sources. Now with offices in New York, Chicago and South Florida, Maloney's current developments include Muse Residences Sunny Isles, Echo Brickell, 111 W. 57th Street, 10 Sullivan, Sage Beach and Vice, which will be coming to market in 2017 with a new luxury development in the heart of Downtown Miami.
Joey Goldman & Jessica Goldman Srebnick
Company: Goldman Properties
Industry: Real Estate
Goldman Properties, founded by visionary Tony Goldman, is responsible for transforming Soho in New York, the Art Deco District in Miami Beach and now Wynwood in Miami from overlooked and lifeless areas into vital thriving global destinations. Jessica Goldman Srebnick is carrying on the family business as CEO and continues to drive the company's innovative developments, growth trajectory and artistic collaborations. Early on, Joey Goldman, along with his father, Tony, recognized Wynwood's potential as Miami's next new neighborhood and began purchasing properties, helping kick-start the Wynwood renaissance and opening Joey's Italian Cafe, the first restaurant in what has become one of Miami's most important culinary destinations.
Camilo Miguel Jr.  
Photo Credit: Alisa Ferris
Company: Mast Capital
Industry: Real Estate 
Camilo Miguel Jr. is founder and CEO of Mast Capital. Camilo has an extensive real estate, financial and political network with expertise in investment structuring, complex debt and equity products, execution and development. He has built Mast Capital into a leading investor and developer of high-end residential, hospitality, office and retail projects, with a particular focus in high barriers-to-entry markets. An off-market oceanfront purchase in Coconut Grove is one of his greatest trophy assets, and he recently sold the Graham Hotel in Georgetown for one of the highest prices per key in Washington, D.C. Current projects in Miami include Louver House and 3900 Alton,―and he just announced a high-end restaurant tenant for the historic French chateau at 1500 Brickell.
Matthew Whitman Lazenby
Photo Credit: Romain Maurice
Company: Whitman Family Development
Industry: Real Estate 
As the president and CEO of Whitman Family Development, Matthew Whitman Lazenby is the third generation to operate Bal Harbour Shops, which was created by his grandfather, Stanley Whitman, in 1965, and the fourth generation involved in local commercial real estate, as his great-grandfather, William Whitman, developed Española Way on Miami Beach and owned stores on Lincoln Road in the 1920s. This innovation in retail continues with Brickell CityCentre, a $1 billion-plus mixed-use property that just debuted in the heart of Miami. The Whitman family is in charge of the retail component, with tenants like Saks Fifth Avenue, Vilebrequin, Apple, Richard Mille, Sephora and Giuseppe Zanotti. There's also a push to expand the 450,000-square-foot Bal Harbour Shops, with an additional 300,000 square feet of space, an issue that's still being debated at the city council level. Lazenby remains optimistic, however, and hints at plans to expand globally. "It's a large world, and the leap from Bal Harbour to Brickell wasn't so far," he says. "We've recognized that we're unique in terms of developing, operating, leasing and managing shopping-center environments that are exclusively focused on a luxury experience. There are plenty of successful shopping centers throughout the country and the world that we consider our peers, which have very well-established luxury programs, but few of them are singularly focused on that experience."
Stuart Miller
Photo Credit: Romain Maurice
COMPANY: Lennar
INDUSTRY: Construction
Using his years of experience and entrepreneurial wisdom, Stuart Miller's company, Lennar, the third-largest homebuilder in the nation, has been able to beat Wall Street's estimates of its growth. Miller predicted that his company would make profit even if the economy did not strengthen. His confidence is due to careful planning and strategic building, which means knowing where to build and for whom. Thanks to Miller's business sense, the shares of his rivals have also increased in value, which in turn helps the economy grow.
Carlos Rosso
Photo Credit: Related Group
Company: Related Group
Industry: Real Estate
President of the Related Group's Condominium Division, Carlos Rosso has made a name for himself as Miami's condo king. Adding to Related's impressive roster of condominiums, Rosso successfully completed four projects in 2016, including Icon Bay, 1100 Millecento, Marea and One Ocean. With projects around the globe, he is also leading Related's expansion into Mexico, Argentina and other international markets in 2017.
Jeff Soffer
Photo Credit: Gio Almas
Company: Turnberry Associates
Industry: Real Estate 
Jeff Soffer, chairman and CEO of Turnberry Associates, runs the company alongside his sister, Jackie Soffer, and is one of the country's most prominent real estate developers. Turnberry Associates is a multigenerational real estate institution that has built cities and communities backed by determination. Jeff's vision and influence can be seen in the development of numerous award-winning projects in South Florida including the $1 billion renovation of the landmark Fontainebleau Miami Beach, revamping of the Turnberry Isle Resort and their latest venture,―Turnberry Ocean Club Residences in Sunny Isles Beach. Turnberry Associates has not just built developments and projects, but an impressive brand that is known for consistent quality, innovation and luxury, fueled by the passion of Jeff Soffer.
David & Christina Martin 
Photo Credit: Romain MauriceCompany: Terra Group
Industry: Real Estate
Christina and David Martin's passion for making a difference in their native South Florida has delivered an impact in both the corporate and philanthropic sectors. As president of Terra Group, one of South Florida's leading real estate development companies, David and his firm are known for reshaping neighborhoods from Coconut Grove and Miami Beach along the coast, to Weston and Doral in the suburbs―all while enlisting some of the world's top architects to design his projects, including Bjarke Ingels (Grove at Grand Bay), Rem Koolhaas/OMA (Park Grove), Renzo Piano (Eighty Seven Park) and Chad Oppenheim (Botaniko), among others. Christina and David's strong commitment to South Florida is underscored by the couple's active role in the community. With a unique interest in education, the arts and health foundations, they support several organizations with philanthropic contributions.
ATHLETES
Jay Ajayi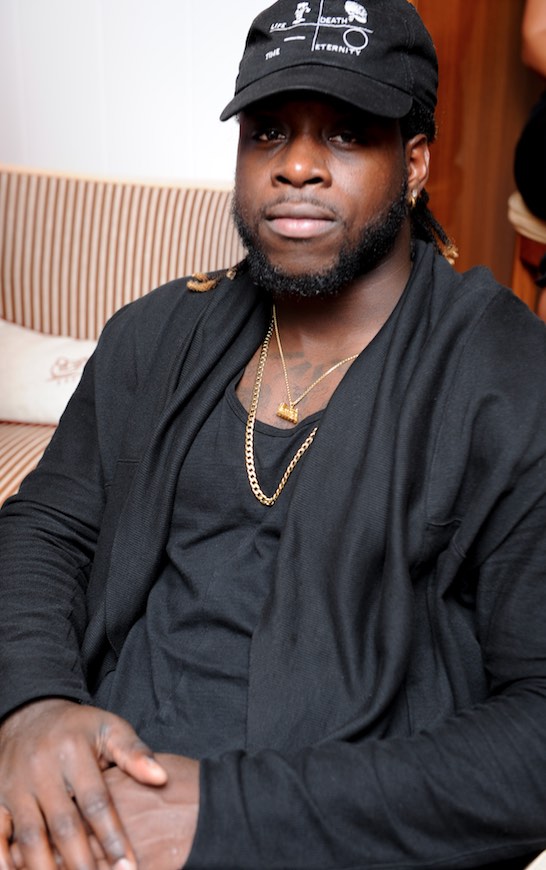 Photo Credit: Getty Images
Company: Miami Dolphins
Industry: Football
Ajayi was drafted in 2015 as a running back for the Miami Dolphins when he signed a four-year, $2.5 million-dollar rookie contract, and has since made a name for himself with many notable achievements in the 2016 season. He became one of only four players in NFL history to rush over 200 yards in two consecutive games with his standout performances against the Pittsburgh Steelers and the Buffalo Bills in Weeks 6 and 7, and one of only 15 NFL players to ever complete three 200-yard games in a season with another stellar performance against the Bills in Week 16. The impressive plays earned him the back-to-back title of AFC Player of the Week in Weeks 6 and 7.
Scottie & Larsa Pippen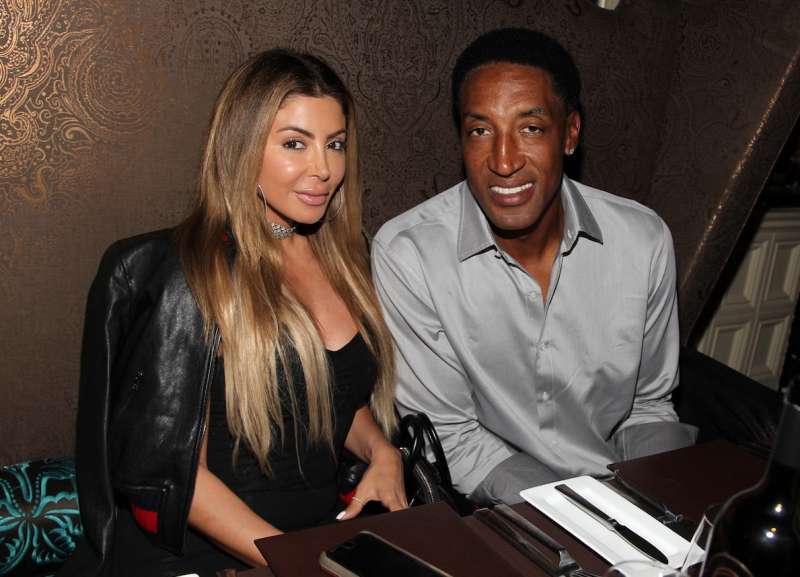 Photo Credit: David Heischrek/DHPA.com
Industry: Basketball
Basketball great Scottie Pippen won six NBA Championship titles with the world-famous Chicago Bulls in the 1990s and his jersey, number 33, was retired by the team. He was part of the 1992 and 1996 Olympic "Dream Teams," taking home two gold medals for Team USA. In 2013, Scottie and his wife, Larsa, received the Charles Lubin Memorial Award at the Chicago Bulls' annual charity dinner for their significant contributions to the Chicago community. Scottie has made cameos in Spike Lee's He Got Game, Fresh Off the Boat and Chicago Fire. Scottie and Larsa have four children, and she starred in The Real Housewives of Miami. Larsa is active in charity work in Chicago for Gilda's Club and Bright Pink, an organization that promotes breast and ovarian cancer screening for women.
Hassan Whiteside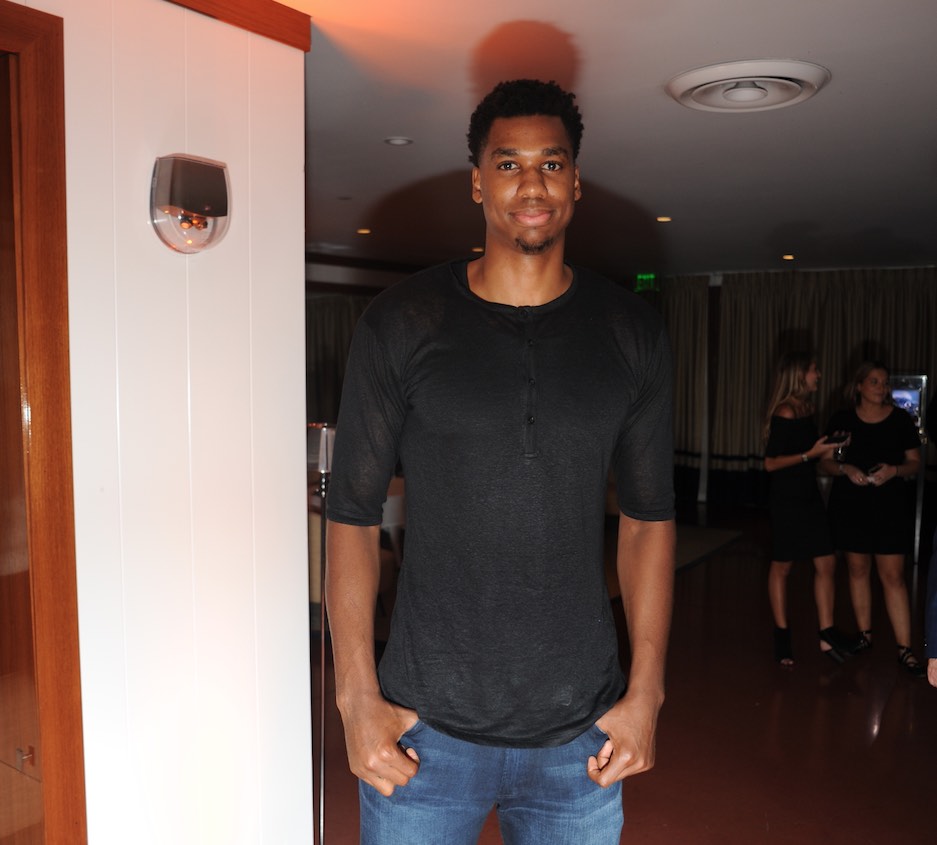 Photo Credit: Getty Images
Company: Miami Heat
Industry: Basketball
Hassan Whiteside is a standout basketball player for the Miami Heat and has quickly become one of the team's most valuable players since his signing in 2014. He has led the team to victory with stellar performances including one of the only two 30-point, 20-rebound games in less than 27 minutes in NBA history during the 2016-2017 season. However, he has been making a name for himself as an avid philanthropist, as well. Nassan's Place, a nonprofit started by his family in 2012, is named after his brother, Nassan, who has autism. Nassan's Place is an organization that helps children and families affected by autism gain access to affordable educational and recreational programs in and around underserved inner-city communities. He has also teamed with notable Miami individuals like David Grutman to host fundraisers benefiting children and families affected by autism.
Serena Williams 
Industry: Tennis
Currently the No. 2-ranked women's singles player, Serena Williams has serious style both on and off the court. The sports diva is the only female tennis player to earn more than $50 million in prize money. She has won four Olympic gold medals—one in singles and three with sister Venus. Williams has also won eight Miami Open titles. The star recently announced that she is expecting her first child with fiancé Alexis Ohanian.
POWER COUPLES
Carlos & Rosa De La Cruz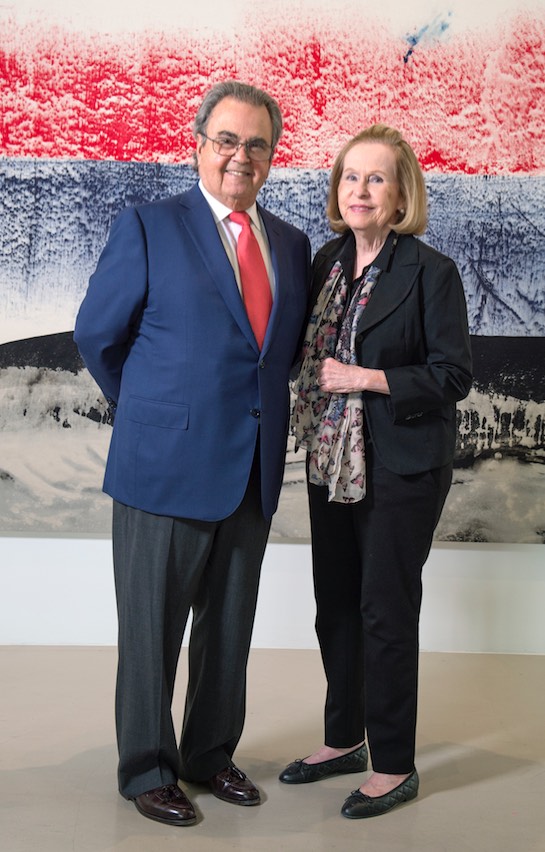 Photo Credit: Romain Maurice
Company: CCI Companies
Industry: Consumer goods, Art collectors
With arts funding in jeopardy across the country, thankfully Miamians can rely on Carlos and Rosa de la Cruz for a robust dose of culture at their eponymous Collection in the Design District. The bottling mogul (he's chairman of the board of CCI Companies, a billion-dollar company, which includes subsidiaries of Coca-Cola) and his philanthropic wife rotate art pieces between the Collection and their Key Biscayne manse, including pieces by Ana Mendieta, Sterling Ruby, Wade Guyton and Sigmar Polke. This year's Progressive Praxis exhibition is all about engaging viewers, focusing on the duality of preceding art movements and how contemporary artists conceptually engage with history and the advancements of technology. For the thousands of Miami-Dade County public school students who pass through the Collection, it's a hands-on opportunity to learn about contemporary art. Since 2009, when the Collection launched, they have also sponsored 1,000 students to travel to New York and all over the world on a cultural initiative. "Miami is our home, and we have seen our city grow," notes Rosa. "We enjoy welcoming our visitors and are dedicated to fostering education through our exhibitions and programming. Education is always a priority, and this is why we share our Collection."
Ray & Shannon Allen
Photo Credit: April Belle Photos
COMPANY: Grown
INDUSTRY: Basketball, Hospitality
Ray, the retired Miami Heat guard (10-time NBA All-Star, Team USA 2000 Olympic Gold Medalist) starred in He Got Game and played for the Heat, Boston Celtics, Seattle SuperSonics and Milwaukee Bucks during his 19-year career. Ray helped the Heat win an NBA Championship in 2013, sits on the UConn board and has a presidential appointment on the Holocaust Memorial Museum board of directors. His wife, Shannon (The Pre-Game Meal), is the creator of Grown, "real food, cooked slow, for fast people™," their USDA organic-certified fast-food concept based in Miami that focuses on inspiring busy people to eat better and live healthier. Shannon and Ray, along with their five children, have raised millions toward a cure for Type 1 diabetes in honor of their son Walker, diagnosed with T1D at 17 months old.
Micky & Madeline Arison
COMPANY: Carnival 
Corporation, Miami Heat
INDUSTRY: Cruise

Micky Arison weighs in as Florida's wealthiest resident with an estimated worth of $7.8 billion. The Carnival Corporation chairman and CEO operates 11 different cruise lines, including luxury lines Seabourn and Holland America. He is also managing general partner of the Miami Heat. In 2014, Arison reached a deal with the city of Miami keeping the Heat in the American Airlines Arena through 2035.
Jeff & Yolanda Berkowitz
COMPANY: Berkowitz 
Development Group
INDUSTRY: Retail
 Development

He is president and founder of Berkowitz Development Group, one of the premier retail development companies in South Florida, lauded for constructing award-winning buildings. He is currently working on SkyRise Miami, an iconic 1,000-foot entertainment/amusement tower that promises to be a Miami landmark. His wife, Yolanda, is known for her community involvement as a board member for organizations including Voices For Children Foundation, United Way of Miami-Dade and Miami Children's Museum, where Jeff serves as chairman of the museum's board. Yolanda is founder of Friends of Miami Animals Foundation, a nonprofit focusing on supporting the work of Miami-Dade Animal Services and homeless pets in Miami-Dade County.
Louis & Angela Birdman
Photo Credit: World Red Eye
COMPANY: Birdman Real Estate Development 
INDUSTRY: Philanthropy, Real Estate
Reshaping the community and redefining Miami's skyline, Angela and Louis Birdman are breaking new ground. Louis is currently co-developing One Thousand Museum, the 62-story residential skyscraper designed by the late Zaha Hadid. It is Hadid's first and only residential skyscraper in the Western Hemisphere and is currently going vertical in Downtown Miami. The Birdmans have shared many philanthropic passions, being actively involved at the Humane Society of Greater Miami,
YoungArts Foundation and benefactors at PAMM. Angela is a godparent at JAFCO, sits on the board of the Miami Summer Music Festival, ScentsAbility Candles,―a nonprofit for young adults with intellectual and developmental disabilities (IDD), and founded the annual Walk in Style for the Animals with Saks Fifth Avenue Bal Harbour.
Chris & Adrienne Bosh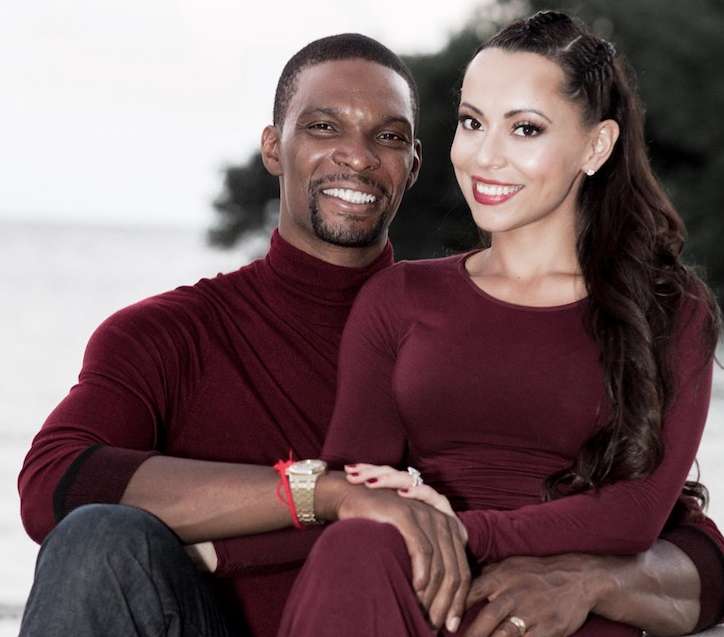 Photo Credit: April Belle Photos
COMPANY: Miami Heat

INDUSTRY: Basketball

Chris Bosh helped lead the Miami Heat to two consecutive NBA Championships in 2012 and 2013. His honors include 11-time NBA All-star, All-NBA Second Team honors, All-Rookie First Team honors and a 2008 Olympic gold medalist. Chris and his wife, Adrienne, oversee a nonprofit organization, Team Tomorrow Inc., which focuses on family and children-based initiatives to better the community. Adrienne is an entrepreneur with Sparkle + Shine Darling, a unique retail destination off Lincoln Road that doubles as a haven for women by hosting events that foster a female community of positivity and support.
Shayne & Felix Cohen
Company: Oxygene and Mini Oxygene
Industry: Real Estate, Fashion
This duo is behind one of Miami's most expertly curated retail destinations and some of Miami Beach's most beautiful new homes. Shayne runs Oxygene in the Bal Harbour Shops, dressing Miami's most discerning customers and hosting Oxygene's VIP designer trunk shows, which raises money for her favorite local charities. Felix has co-developed and built 3 Indian Creek Drive, a sprawling 30,000-square-foot residential property that sold for the highest price in Miami history. Recently, he completed a tropical contemporary home in Bal Harbour and an extraordinary villa on North Bay Road featuring a 4,000-square-foot sky bar with 360-degree views of Biscayne Bay, Downtown and Miami Beach.
Ugo & Sara Colombo
COMPANY: CMC Group/Nest
INDUSTRY: Real Estate, Fashion
Veteran real estate developer Ugo Colombo has played a pioneering role in the transformation of Downtown Miami's skyline over the last 20 years. Ugo and his firm, CMC Group, have developed some of the most iconic luxury properties in South Florida–including Brickell Flatiron, the firm's latest condominium tower on the rise in Downtown's Brickell Financial District. His wife, Sara's interior design shop, Nest, specializes in high-style products for the home presented with a European flair that is reflective of her innate sense of style.
Christian De Berdouare & Jennifer Valoppi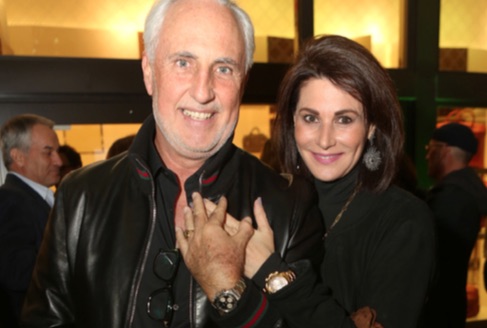 INDUSTRY: Hospitality, Philanthropy
Company : Chicken Kitchen
Christian has made the Chop-Chop a cult favorite at the popular chain of Chicken Kitchen restaurants he owns, while Jennifer, a veteran television journalist from Miami, New York and L.A., is completing a book on Frank Sinatra, along with his longtime friend and manager. She works tirelessly to break the negative cycles of at-risk girls through her Women of Tomorrow Mentor & Scholarship Program. Together, they've built the just-completed contemporary Mega Mansion on North Bay Road, designed by Christian, complete with a rooftop pool and 9 foot by 5 foot bathtub carved out of a single block of statuario marble, now on the market for $37 million. They are also working with Lincoln Square Productions (ABC-TV) to produce a documentary on another of their North Bay properties, once owned by Pablo Escobar, complete with a treasure hunt and discovery of a hidden safe that remains unopened to date.
Edgardo & Ana Cristina Defortuna 
COMPANY: Fortune International Group
INDUSTRY: Real Estate

Fortune International Group founder and president Edgardo Defortuna founded the company in 1983, and in 1998 he and his wife, Ana Cristina, launched their luxury-development arm. Fortune is a leader in high-end luxury real estate in Miami, with global reach through partnerships with Savills and TOWN Residential. The firm is shaping Miami's international real estate landscape into what it is today with stellar projects like Jade Signature, The Ritz-Carlton Residences Sunny Isles Beach, Auberge Beach Residences & Spa Fort Lauderdale and Hyde Resort & Residences.
Gloria & Emilio Estefan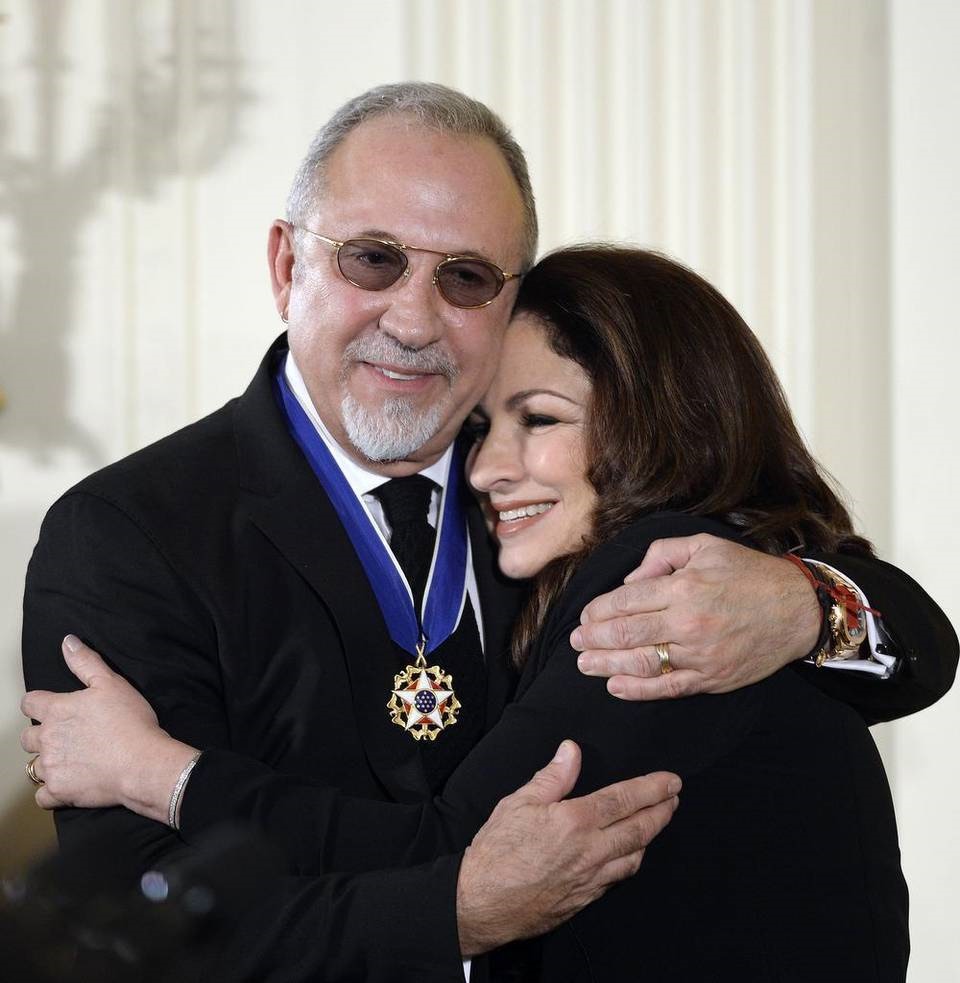 Photo Credit: Estefan Enterprises
Company: Estefan Enterprises
Industry: Entertainment
She's the queen of Latin pop, has sold more than 100 million albums worldwide and has won 26 Grammy awards together with her husband, Emilio. Inducted into the Hollywood Bowl Hall of Fame, the duo is also actively involved in the betterment of the community and that of their home country, Cuba. Emilio is a musician and producer credited with skyrocketing the success of many famed music artists. They are authors of a best-seller, minority owners of the Miami Dolphins and the subjects and producers of On Your Feet!, a Broadway musical based on their life stories. They recently opened Estefan Kitchen in the Miami Design District.
Luis Garcia Fanjul & Judith Kamps-Garcia
Photo Credit: World Red Eye
Company: Grupo IUSA, S.A.
Industry: Manufacturing

Luis Garcia Fanjul is the COO of Grupo IUSA, S.A., a worldwide company boasting more than $8 billion in annual revenues and employing more than 25,000 people. They specialize in the electrical manufacturing sector, fabricating more than 6,000 different products. The company also is a worldwide leader in the development and manufacturing of smart/intelligent electrical, water and gas metering systems. His wife, Judith Kamps-Garcia, devotes her time to her family's foundation, Brot gegen Not, a global foundation in more than 15 countries with a mission to provide a future for children and adolescents everywhere where hunger, destitution and unemployment obstruct their future.
Lisa and Lenny Hochstein
Photo Credit: World Red Eye
Company: Hochstein Med Spa
Industry: Plastic Surgery 
Lenny Hochstein is a world-renowned plastic surgeon in Miami. The luxe Hochstein Medspa is the premier destination for work on the body, breast and face, offering new and inventive techniques and procedures. The acclaimed surgeon boasts Miami's most elite clientele. Lisa starred on Bravo's hit reality television series, The Real Housewives of Miami. Just about two years ago, the pair welcomed their beautiful son named Logan, who they refer to as their "Miracle Baby." The couple is very involved in philanthropic endeavors throughout the city, such as the Make-A-Wish Foundation, and they recently hosted the Little Lighthouse Hearts & Stars Gala at their gorgeous private home.
Eddie & Kinga Lampert
Company: Sears Holding Corporation/ESL Investments
Industry: Finance, Retail
Eddie Lampert took over as CEO of Sears Holding Corporation in 2013, which includes Sears, Kenmore, Lands' End and Kmart. The hedge fund manager helped to rebuild Kmart after bankruptcy and is working to restructure Sears to turn it around. Lampert is also the founder, chairman and CEO of ESL Investments, a private investment company that he started at age 25.
Joanna Krupa & Romain Zago
Company: Mynt Lounge
Industry: Nightlife, Modeling
Zago is the owner of Mynt Lounge, a hot South Beach nightclub with amazing longevity. Romain's model wife, Joanna Krupa, has graced the covers of countless magazines, appeared on Dancing with the Stars and was in the cast of Bravo's The Real Housewives of Miami. The beauty is actively involved in PETA and has her own nonprofit, Angels for Animal Rescue, which is an animal-rescue organization.
Oscar & Ellen Feldenkreis
Company: Perry Ellis 
International
Industry: Fashion

Oscar is involved in numerous local and national civic causes, including United Way, Israel Bonds, Temple Menorah and the YPO/WPO. He is currently on the advisory board of My Mela, president of the Friends of the Israel Defense Forces (FIDF), on the advisory board of the Miami Fashion Institute for Miami Dade College and an advisory member for the University of Pennsylvania's Wharton School of Business. Happily married to his wife, Ellen, for 35 years, the couple currently resides in Miami Beach. They have three beautiful daughters and five grandchildren. Oscar is a tennis enthusiast, takes pleasure in boating, cycling, and when not on the road can be found hard at work at the company's Miami headquarters or home enjoying time with his family and their dog, Sushi.
Philip & Patricia Frost
Company: OPKO Health, inc.
Industry: Pharmaceuticals
Dr. Phillip and Patricia Frost are generous supporters of education, science and the arts, and are renowned collectors. They endowed the Frost School of Music at the University of Miami and were the lead donors for the Frost Art Museum at Florida International University. They also serve as the lead donors of the new Phillip and Patricia Frost Museum of Science, opening in Downtown Miami's Museum Park on May 8. The couple also recently announced a $100 million gift to the University of Miami to create the Frost Institute for Science and Engineering. The institute will work to help solve some of the world's "most pressing problems" by elevating STEM—science, technology, engineering and mathematics.
Diane & Alan Lieberman
Company: South Beach Investment Realty, South Beach Group

Industry: Real Estate, Hospitality

Together, Diane and Alan form a real estate powerhouse. Diane's SBI Realty is behind the sales of some of the biggest profile listings in the region. Alan runs the show at South Beach Group, operating 10 properties, including the Catalina, SBG's flagship property on Collins Avenue and the Riviera. The Liebermans' hotels have been fixtures on South Beach for the past decade thanks to a business model that is based on innovation, outstanding marketing tactics and an innate understanding of the customer.
Tracy & Alonzo Mourning
Photo Credit: Getty Images
Company: Mourning Family Foundation
Industry: Philanthropy
Former Miami Heat star Alonzo Mourning was the first player to have his number retired at the American Airlines Arena. He founded the Alonzo Mourning Charities, now called Mourning Family Foundation, more than 15 years ago, which has since raised more than $7 million to benefit children and families, including the Overtown Youth Center. Tracy is a mentor, designer, broadcast journalist and motivational speaker. Her main focus is on the Honey Shine mentoring program. Together the couple also operates Zo's Fund for Life, which seeks to raise $2 million for the research and testing of focal glomerulosclerosis, a rare kidney disease Alonzo was diagnosed with in 2001.
Mike & Alicia Piazza 
Company: New York Mets
Industry: Baseball

Mets baseball star and 2016 Baseball Hall of Fame inductee Mike Piazza is the best-hitting catcher of all time. His records include Rookie of the Year, 12 All-Star awards and 12 "Silver Slugger" awards. He just signed on to be the Mets ambassador, so he will have a continued relationship with the team. The Piazzas come from a family of entrepreneurs and own 17 family-franchised car dealerships around the country. Mike is also on the board of Company.com, providing business services and local media. He and his wife, Alicia, are integral parts of the community and Miami social scene. They support Miami City Ballet, where both of their daughters attend. The couple recently bought an Italian soccer team, A.C. Reggiana 1919, based outside of Milan. Alicia, a former model and actress, is a mother of three and Haute Living's Travel journalist. Her personal blog is found at http://www.aliciapiazzahauteliving.com.
Loren & JR Ridinger
Company: Market America
Industry: Internet Shopping

SHOP.COM is one of the world's top online shopping sites with more than six million customers and more than 180,000 Shop Consultants worldwide. SHOP.COM is the e-commerce platform of Market America, Inc., a product brokerage and internet-marketing company that specializes in One-to-One Marketing. Market America | SHOP.COM have generated more than $7.3 billion in accumulated sales with an army of entrepreneurs who have earned over $3.8 billion. Through SHOP.COM, consumers have access to more than 40 million products and services, including Market America's exclusive brands such as Motives Cosmetics, Isotonix and Lumière de Vie, as well as thousands of top retailers. In 2015, Market America and SHOP.COM introduced the revolutionary Shopping Annuity(TM), enabling consumers to convert their spending into earning.
Stephen & Kara Ross
Company: Related Companies, Miami Dolphins
Industry: Real Estate, Football
Ross' Related Companies has been a force in the industry since its inception, with trophy developments across the nation. In 2009, Ross became 95-percent owner of the Miami Dolphins and has funded a $390 million renovation that revitalized Sun Life Stadium. Ross' mobile technology company, FanVision, makes handheld devices that stream live stadium feeds for sports fans at games and has inked a five-year deal with NASCAR. Kara launched Diamonds Unleashed, a fine-jewelry collection that focuses on women's empowermen, turning profits into dollars for women and girls around the globe.
Craig Robins & Jackie Soffer
Photo Credit: Romain Maurice
Company: Dacra Development, Turnberry Associates
Industry: Real Estate
Call them Miami's version of The Brady Bunch, with a lot more real estate, art and prestige! Between them, Craig Robins and Jackie Soffer have six children, a dog, one of the most successful shopping malls in the world, a trailblazing urban retail center, towers stretching from Las Vegas to Aventura and a world-renowned design fair! Oh, and the recently married couple also makes time for adventure-themed family vacations every summer. Soffer, the CEO and co-chairman of Turnberry Associates, is busy with the tri-level, 315,000-square-foot expansion of Aventura Mall (slated to open later this year) and a 184-acre development along Biscayne Boulevard called SoLēMia, which will feature 1.4 million square feet of retail, 37 acres of parks, 4,390 residences, crystal lagoons and a 150-key hotel. Robins, the CEO and president of Dacra Development, is the visionary behind the 18-block Miami Design District, boasting top-tier luxury retail tenants like Hermés, Hublot, Cartier, Fendi, Gucci, Louis Vuitton, Harry Winston and Valentino. There's also Design Miami/, the prestigious design fair during Art Basel in both Miami and Basel, Switzerland, which he co-founded and co-owns. Both are avid art collectors and integrate culture into their projects.
Michael & Nicole Simkins
Company: Lion Associates, Leon J. Simkins 
Charitable Foundation
Industry: Real Estate, Philanthropy

Nicole and her family own Charles Kaufman Enterprises, an 80-year-old diamond company in Downtown Miami. Michael is president of Lion Associates, a company with interest in paper manufacturing, lending and real estate development. Its signature project, the 7-million-square-foot Miami Innovation District, will transform an underutilized property in Downtown Miami into a 24-hour, thriving, global and connected "live-work- play" ecosystem for innovation and entrepreneurship. Michael is the president of the Miami Beach Jewish Community Center. They are continuing their families' philanthropic interests through the Leon J. Simkins Charitable Foundation, as well as with diabetes research, Jackson Memorial Hospital, Women of Tomorrow, Lehrman Community Day School and the Love and Hope Ball.
CREATIVES: ART
Gary Nader
Photo Credit: Romain Maurice
Company: Gary Nader Art Centre, Nader Art Museum Latin America (NAMLA)
Industry: Art
For more than 30 years, Gary Nader has been regarded as one of the most successful gallery owners in the U.S. and Latin America, playing an integral role in Miami's growing presence in the art world. He's not only established himself as a Latin-American art expert but has successfully disseminated information about Latin-American art, expanding horizons for his artists and collectors. The Gary Nader Art Centre showcases an extensive number of exhibitions with works by well-known modern and contemporary artists. Most recently, he founded the Nader Art Museum Latin America to showcase myriad acclaimed art that fosters knowledge through a continuous process of appreciation and reinterpretation of modern and contemporary art from Latin America and its diaspora.
Romero Britto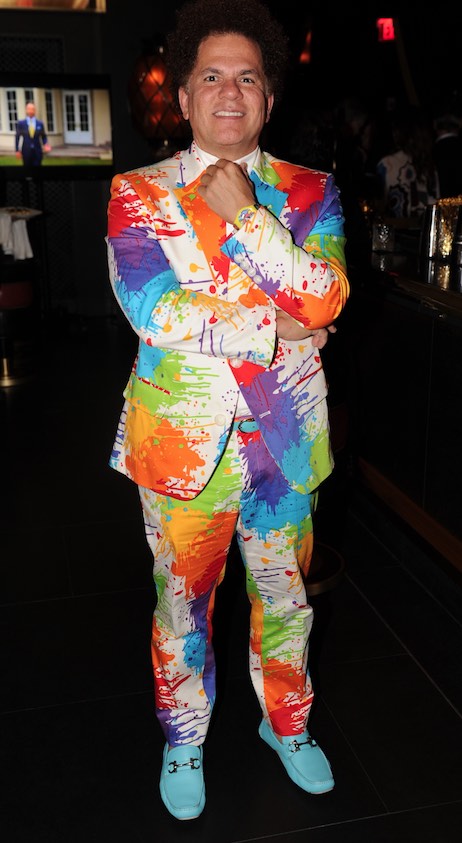 Photo Credit: World Red Eye
COMPANY: Romero Britto
INDUSTRY: Art
Britto's work is recognized around the world; more than 20 cities have his sculptures as permanent installations. He was even invited to display his iconic works of art at the Salon Nationale des Beaux-Arts Exhibition at the Carrousel du Louvre in Paris. Britto was commissioned to paint a portrait of Queen Elizabeth II in honor of the 60th anniversary of her reign. An artistic activist for charitable organizations worldwide, Britto also donates to more than 250 charities a year. In 2014, he was an official FIFA World Cup ambassador for the games in Brazil. In 2016, Romero signed a licensing deal with Grupo Carso of Carlos Slim to sell exclusive Britto products throughout Mexico and Latin America.
Rubell Family
Company: Rubell Hotels, Rubell Family Collection
Industry: Hospitality, Art
Donald Rubell and his wife, Mera, led Miami's art scene by opening the Rubell Family Collection in 1993. Today, it is one of the world's largest privately owned contemporary art museums, and now their son, Jason, has put the family name on yet another successful enterprise by founding Rubell Hotels, all while operating the nonprofit Contemporary Arts Foundation with sister Jennifer. Two noteworthy Miami families became one when he married wife Michelle, part of the Simkins family, in 1999.
Franklin Sirmans
Company: PAMM
Industry: Art
Sirmans is the director of the Pérez Art Museum Miami. Prior to his recent appointment, he was the department head and curator of contemporary art at the Los Angeles County Museum of Art from 2010 until fall 2015. At LACMA, Sirmans organized Noah Purifoy: Junk Dada. He also curated Variations: Conversations in and Around Abstract Painting, Futbol: The Beautiful Game, Ends and Exits: Contemporary Art from the Collections of LACMA and the Broad Art Foundation, and co-organized the exhibition Human Nature: Contemporary Art from the Collection. From 2006 to 2010, he was curator of modern and contemporary art at The Menil Collection in Houston, where he organized several exhibitions including NeoHooDoo: Art for a Forgotten Faith, Steve Wolfe: Works on Paper, Maurizio Cattelan: Is There Life Before Death? and Vija Celmins: Television and Disaster, 1964-1966. He is the 2007 David C. Driskell Prize winner and he was the artistic director of Prospect.3 New Orleans from 2012-2014. He is the curator of the forthcoming exhibition Toba Khedoori.
CREATIVES: ENTERTAINMENT
Rick Ross
Photo Credit: Mr. Brainwash
Company: Maybach Music Group
Industry: Music
Rick Ross is an American rapper and founder of Maybach Music Group, through which he has released his studio albums Deeper Than Rap (2009), Teflon Don (2010), God Forgives, I Don't (2012), Mastermind, Hood Billionaire (both 2014) and Black Market (2015). Ross released his first album, Port of Miami, with Slip-N-Slide Records in 2006, which debuted at the top spot on the Billboard 200 chart and received gold certification from the Recording Industry Association of America. Ross has achieved a number of accomplishments in the music industry including four Grammy Award nominations, and is currently signed with Epic Records. He just debuted his newest album with the label, Rather You Than Me. Ross also owns a stake in Belaire Champagne, a Wingstop franchise as well as Checkers.
Michael Bay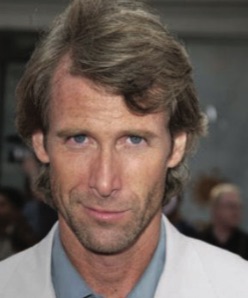 COMPANY: Bay Films
INDUSTRY: Film

Bay is one of Hollywood's most bankable directors, with blockbuster credits including 13 Hours: The Secret Soldiers of Benghazi, Pearl Harbor, Armageddon and The Rock plus Bad Boys, Bad Boys II and Pain & Gain―all of which were filmed in Miami. Bay's latest is The Last Knight, the fifth installment of his blockbuster Transformers franchise, set for release around the world on June 23, 2017. Equally successful on the small screen, Bay's Platinum Dunes production company produces the hit series The Last Ship, Black Sails and the upcoming Jack Ryan. Between his two production companies, the Hollywood power player has earned sales surpassing $7.8 billion globally. The director/producer uses his primary residence on North Bay Road in Miami Beach as his East Coast office, and as a sanctuary from the grind of the entertainment industry.
Karolina Kurkova & Archie Drury
Industry: Modeling, film

Kurkova has graced the prestigious international covers of Vogue and has done campaigns with brands like IWC, Giuseppe Zanotti, Louis Vuitton, Valentino, Chanel, Yves Saint Laurent and Victoria's Secret. Kurkova is also an active humanitarian; she was recently the recipient of the fashion philanthropist award at the Mint India Conference. She is involved in Feeding America, amFar and was the face of the 2012 Fashion Targets Breast Cancer campaign. She was also a coach on Oxygen's model-search television series, The Face, for its inaugural season. Kurkova is married to Voices of Iraq film producer and entrepreneur Archie Drury, with whom she has two children.
Adriana Lima 
Industry: Modeling 
Lima is one of the most iconic models in the business, best known as a Victoria's Secret Angel since 1999, making her the longest-running model in the company and "the most valuable Victoria's Secret Angel" as of 2017. She is also well known as a spokesperson for Maybelline Cosmetics since 2003 and for her Super Bowl and Kia Motors commercials. Forbes has ranked her as the world's second-highest-paid model since 2014, with earnings of $10.5 million in 2016. With roots in Salvador, Brazil, Lima has joined forces with the St. Luke Foundation for Haiti, where she helped raise more than $500,000 to help the country rebuild itself.
Brett Ratner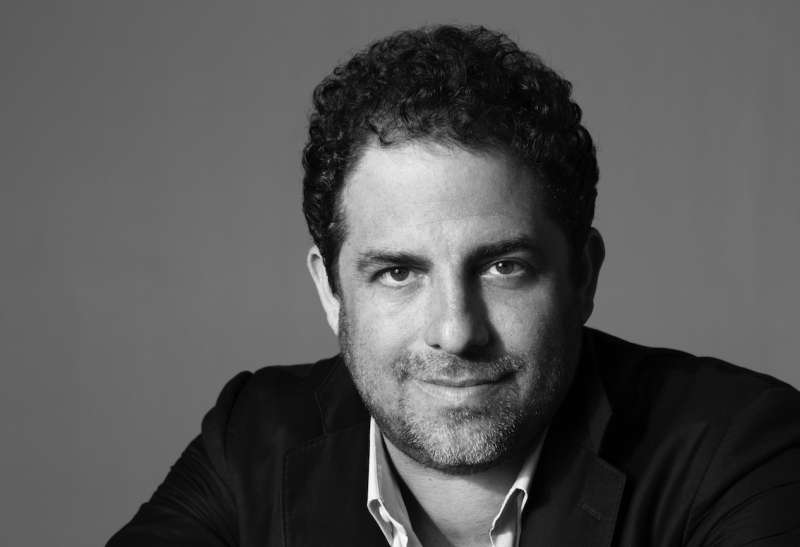 Photo Credit: Brigitte Lacombe
COMPANY: RATPAC Entertainment
INDUSTRY: Film, Spirits
Ratner is the director behind feature films that include blockbusters such as the Rush Hour trilogy and X-Men: The Last Stand, which have earned more than $2 billion worldwide. He also served as an executive producer on the Academy Award-winning film The Revenant. He is the co-founder and CEO of RatPac Entertainment with its slate financing deal at Warner Bros. Brett and his partner, James Packer, have financed hit films such as American Sniper, Suicide Squad, Batman v Superman: Dawn of Justice, Gravity and The Lego Batman Movie. Since its inception, RatPac Entertainment has co-financed 61 theatrically released motion pictures exceeding $10 billion in worldwide box office receipts. In 2016, in partnership with Diageo, he launched a new premium American whiskey, The Hilhaven Lodge, named after his storied Beverly Hills residence. Brett is a board of trustees member of the Simon Wiesenthal Center and Museum of Tolerance. He currently sits on the boards of Ghetto Film School, Chrysalis and Best Buddies, while serving on the dean's council of the NYU Tisch School of the Arts and on the board of directors at Tel Aviv University's School of Film and Television. This year, he was honored with a coveted star on the Hollywood Walk of Fame.
CREATIVES: DESIGN
Barbara Becker
Photo Credit: Instagram: @barbarabecker
Industry: Design, Acting/Modeling, Fitness
Barbara Becker is a German-American actress, model, designer and businesswoman who has made a name for herself in many different industries from fitness training to jewelry, fashion and interior design. Hailing from Heidelberg, Germany, Becker launched her career as a model and actress, but ventured into multiple areas of the design industry after moving to Fisher Island in 2000. She has been designing jewelry for 12 years, with her most recent collection launch in 2012, and released her first interior-design collection in 2011 with six thematic design creations, including a designer rug collection, since. Becker is also considered Germany's "First Fitness Lady" and has released several versions of her DVD, Mein Pilates Training, which sold more than 200,000 copies in 2005.
Tommy Hilfiger & Dee Ocleppo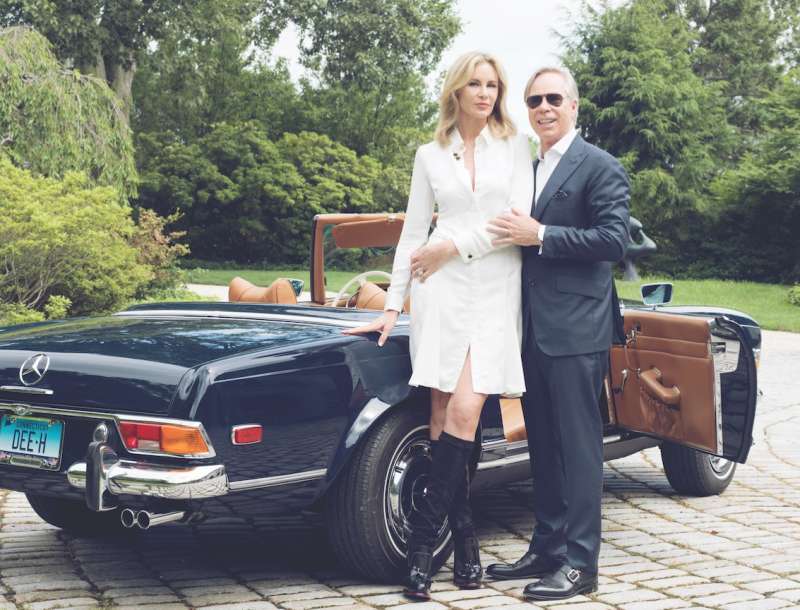 Company: Tommy
 Hilfiger Corporation
Industry: Fashion, hospitality 
After a hit premier menswear collection in 1985, Tommy Hilfiger's brand grew at a fast pace. His Tommy Hilfiger Corporate Foundation helps the cultural lives of underprivileged youth. He is also involved with the Anti-Defamation League and is on the board of The Fresh Air Fund. In 2009, he donated $2 million to Millennium Promise. Hilfiger is married to designer Dee Ocleppo and purchased a home in Golden Beach as well as the iconic Raleigh Hotel in 2014. Hilfiger recently launched the first-ever line of adaptive designer clothing for children with disabilities. Hilfiger revealed his Fall 2016 Ready-to-Wear line, following Burberry and Tom Ford's style of revealing collections a full six months before they hit stores.
ENTREPRENEURS
Wayne & Arlene Chaplin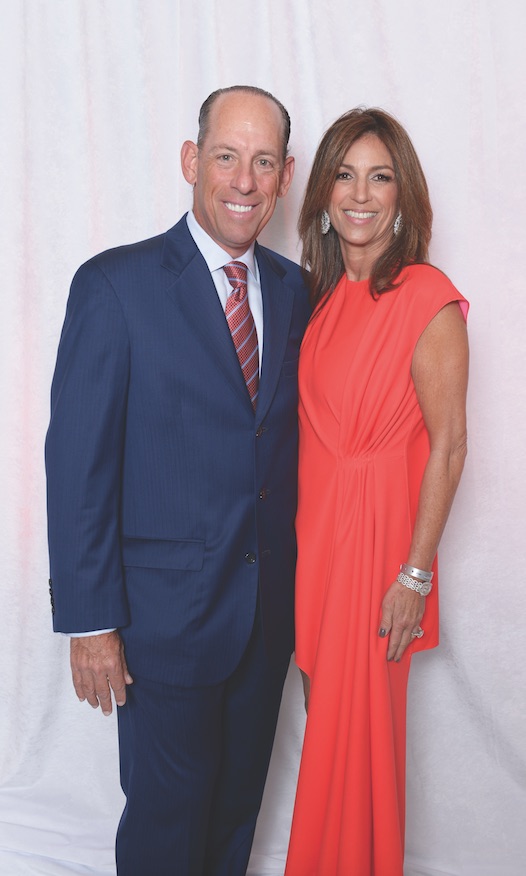 COMPANY: Southern glazer's Wine & Spirits, YogArt (Darlee Productions)
INDUSTRY: Liquor & Wine Distribution

Wayne Chaplin serves as CEO of Southern Glazer's Wine & Spirits. Chaplin is also active in the social and philanthropic circuits, volunteering in various leadership activities at his alma mater, the University of Miami. He serves on the university's board of trustees, as well as chairman of the board of Mount Sinai Medical Center of Miami Beach. His wife, Arlene, is also involved in the development of community-bettering initiatives such as YogArt and Buddhas and Bellinis. To date, YogArt has grown and is producing monthly events in the Miami Design District called "YogArt Rocks." She also sits on the Pérez Art Museum's board of trustees.
Marc Bell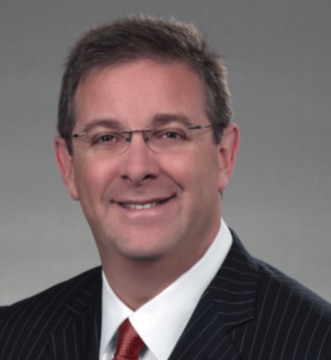 Company: Marc Bell Capital
Industry: Finance, Technology, Theater
Marc is the consummate entrepreneur whose career started in the '90s with his first company, Globix: The Global Internet Exchange, which owned 28,000 miles of fiber globally. Today, his firm has investments in more than 160 companies including fashion-watch sensation KYBOE!, Nano-satellite pioneer Terran Orbital and mortgage powerhouse Armour Residential REIT, which has more than $8 billion in assets. Marc is also one of Broadway's most successful producers, where he has won two Tony Awards: one for Best Musical, Jersey Boys, and Best Play, August: Osage County. Marc sits on the board of trustees for New York University, Boca Raton Museum of Art and SOS Children's Villages.
Wayne Boich
COMPANY: Boich Companies
INDUSTRY: Mining
Wayne Michael Boich is the chairman and CEO of Boich Companies. He joined the company in 1999 and has worked in all functions of the company over the past 18 years. He was named chairman and CEO in 2005. Mr. Boich is the founder and managing partner of Montana's only underground coal mine, Signal Peak Energy, one of the world's top producing operations. In 2011, he led a one-third sale to an international trading group for $400 million. Mr. Boich developed a robust real estate portfolio throughout the U.S. with actively managed assets in Florida and Texas. Mr. Boich graduated cum laude from the University of Miami in 1999. Mr. Boich and his wife, Cynthia, live in Miami Beach with their two children.
Michael Capponi
COMPANY: Capponi Shear Construction
INDUSTRY: Real Estate, Nightlife, Technology

Michael Capponi is one of Miami's great developers, humanitarians and businessmen. He is the president of Capponi Shear Construction, a group that builds and remodels both high-end residential and commercial properties, which is expanding into Bimini, Bahamas. He founded the Global Empowerment Mission in 2011 and is the co-founder of InList, a members-only app that simplifies nightlife reservations in more than 45 global cities. Recently, he and Eric Milon formed MC2 Hospitality, which co-created and put The Deck at Island Gardens on the map. MC2 Hospitality is preparing to launch Puerto Rico's iconic hotel the El San Juan Resort in conjunction with Capponi's 45th Birthday. His newest venture is the "Art Basel" of impact, sustainability and consciousness, called IMPACT WEEK, a weeklong conference bringing together top global leaders in design/innovation, impact investing, corporate sustainability and more.
Brett David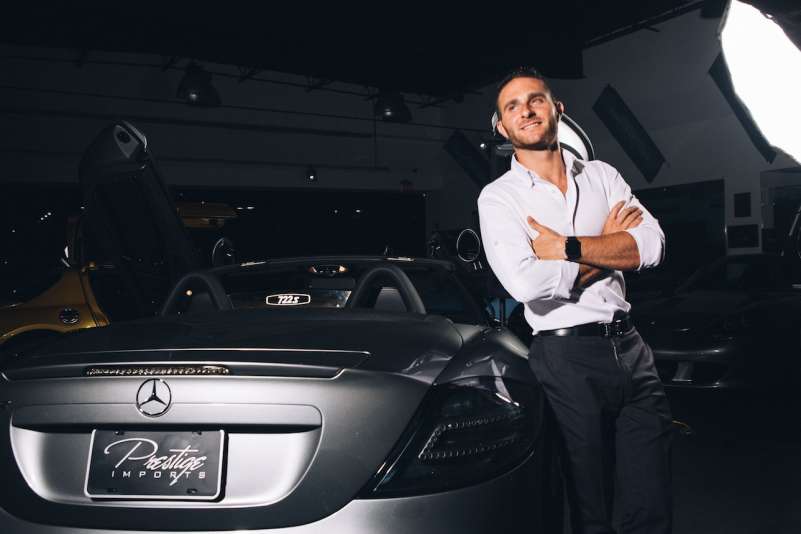 Photo Credit: Prestige Imports
Company: Prestige Imports – Lamborghini Miami
Industry: Automobile

Brett David, CEO of Prestige Imports – Lamborghini Miami, has grown the company to new heights since his father's passing in 2007, maintaining its annual status as the largest-volume Lamborghini dealer worldwide and the largest-volume Audi dealer nationwide. Brett acquired the Pagani franchise in 2012 and sold Prestige Audi in 2015 for the largest Audi sale in U.S. history, after years of unprecedented success. Prestige Marine includes Midnight Express and VanDutch power boats. Prestige's Real Estate Division, with business partner and sister Brooke David, synergizes its world of luxury automobiles with Estates & Exotics. Brett is co-founder of Ride2Revive, a foundation providing exhilarating race-track experiences for children with cancer.
William Dean
Company: M.C. Dean, Inc.
Industry: Tech
He is the CEO of M.C. Dean, Inc., one of the largest private power and technology engineering firms in the nation. With 25 offices worldwide, M.C. Dean, Inc. specializes in infrastructure such as rail, healthcare, utilities and data centers. Projects include Southcom headquarters in Doral, the Miami FBI field office, the Port Miami tunnel, the Pentagon and the Boeing Dreamliner factory. He restored and improved the historic S.S. Kresge estate on Pinetree Drive in Miami Beach. The estate boasts 700 feet of Indian Creek waterfront, and Mr. Dean opens the doors in support of numerous great causes like the Mourning Family Foundation, Little Lighthouse Foundation and the Paradise Fund.
Rick De La Croix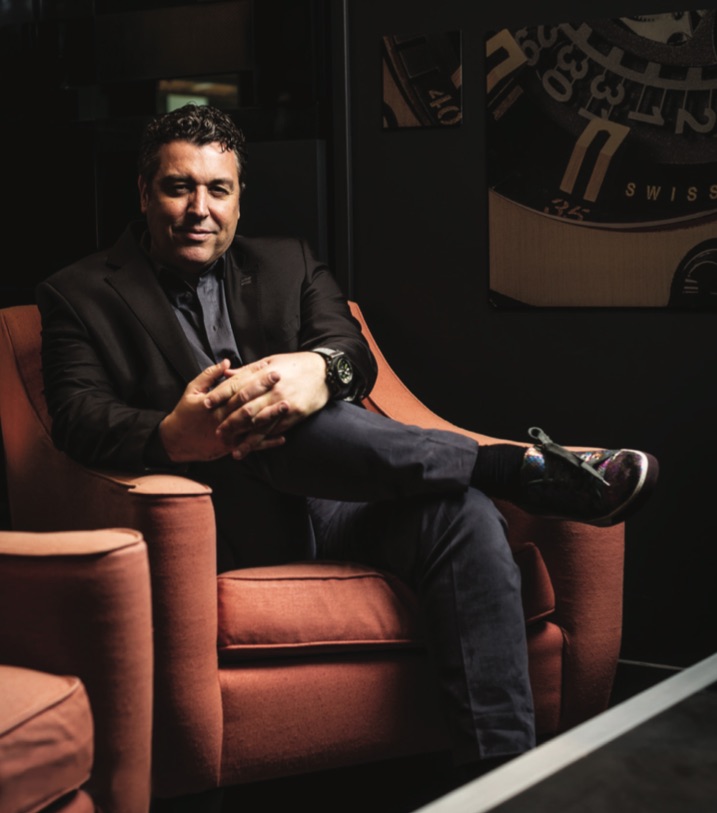 COMPANY: Myconian Luxury Group
INDUSTRY: Watches
Rick De La Croix owns the Myconian Luxury Group (MLG), which is an international retail and wholesale group focusing on the distribution of luxury timepieces such as Hublot, Zenith, TAG Heuer, HYT, Gucci and Greubel Forsey, as well as the ownership and distribution of its own house brand, Bomberg. MLG has offices in Switzerland, the United States and various Latin-American countries and has billings in excess of $100 million. De La Croix is a U.S. partner of LVMH with six Hublot boutiques. He is married with two children and resides between Neuchatel, Switzerland and Coral Gables. He is on the board of Zo's Fund for Life, supports Best Buddies and the Irie Foundation. A former board member of Tottenham Hotspur football club in London, he is an ardent sports fan and has brought many of his relationships in the world of soccer to Hublot in its domination of this sport.
Mayi & Daniel De La Vega
Company: ONE Sotheby's International Realty
Industry: Real Estate
This mother-son power duo has been quickly taking over the Miami real estate ranks. ONE Sotheby's International Realty has 11 offices and has recruited more than 550 agents since its inception in 2008. The direct affiliation with Sotheby's and Sotheby's International Realty has offered the company unparalleled, global reach to a network of more than 18,000 associates in more than 60 countries and territories. In addition to its luxury brokerage division, the firm also boasts a development sales division representing some of South Florida's most successful and prestigious condo developments with a total inventory of more than $3.5 billion. Together, they have turned the South Florida market into the universal capital it is today.
Jill Hertzberg & Jill Eber
Company: Coldwell Banker Residential Real Estate
Industry: Real Estate
The celebrity broker team known as "The Jills" of Coldwell Banker, are the leading real estate agents in South Florida and Miami Beach, having sold more than $3.3 billion in real estate since 2005. Their expertise and knowledge of the luxury market has helped them achieve record-shattering sales, including the sale of the Versace Mansion and the second-highest recorded sale in Miami ever, the $47 million 3 Indian Creek. They have been named Coldwell Banker's No. 1 sales team worldwide for five consecutive years and Florida's No. 1 team for 15 consecutive years. Their top location picks include exclusive oceanfront homes and condos on South Beach, Golden Beach, La Gorce, Fisher, Star, Sunset and Indian Creek Islands.
Ken Gorin 
Company: The Collection
Industry: Automobile 
Gorin, president and CEO of The Collection in Coral Gables, is known as one of the most respected luxury automobile executives. Under his direction, The Collection has become one of the most distinguished luxury dealerships in the country. Gorin is on the chairman's committee of the Make-A-Wish Foundation, and through The Collection supports countless charities including Jackson Memorial Foundation, Miami Project, Baptist Hospital Foundation, Miami Children's Museum, Women of Tomorrow, the Boys & Girls Clubs and many more.
Tommy Kato
Company: Merchant Hub
Industry: Tech
Benevolent businessman, developer, International polo player, humble humanitarian: These are just some of the many hats Tommy Kato wears. Fueled by dreams and determination, the Miami Beach resident and Harvard alum is a modern-day Renaissance man. From developing commercial properties for Fortune 100 companies to becoming founder and CEO of global credit card processing company Merchant Hub, to playing worldwide polo and backing various charities, the accomplished entrepreneur and chronic jet setter is constantly rubbing elbows with celebrities and royalty like Prince William, Duke of Cambridge. Kato's philanthropic contributions include After-School All-Stars with Arnold Schwarzenegger, the Miami Children's Health Foundation and Miami Children's Hospital; he's also an advocate to the United Nations, The Buoniconti Fund and The Black Gala, supporting and mentoring at-risk youth.
Marc Leder
Company: Sun Capital 
Partners Inc.
Industry: Finance
Marc Leder is co-founder and co-CEO of Boca Raton-based Sun Capital, a global private investment firm that has invested in more than 335 companies, ranging from fashion retail brands Scotch & Soda and Vince to restaurant brands Bar Louie and Boston Market. A Wharton graduate, Marc is a co-owner of the Philadelphia 76ers, New Jersey Devils and Crystal Palace soccer team. He is also known for his philanthropy, having supported more than 250 nonprofit organizations through the Sun Capital Partners Foundation. Leder is an advocate for the creative arts, hosting events that support artists' careers. He also serves as a director of the Berggruen Museum in Berlin and as a member of the University of Pennsylvania Huntsman Program advisory board.
Philip Levine 
Company: Royal Media Partners, Baron Corp.
Industry: Real Estate, Government
Miami Beach Mayor Philip Levine put on Miami Beach's Centennial Extravaganza, while working on projects like the Convention Center renovation and combating the rising sea level issue. Also a real estate mogul, Mayor Levine is the president and CEO of Baron Corp, a privately held investment company that focuses on opportunistic investments in the tourism and real estate sector, including developing the Sunset Harbour neighborhood. He is also president and CEO of Royal Media Partners, the exclusive onboard media and port shopping partner of Royal Caribbean Cruises Ltd.
Howard Lorber 
Company: Douglas Elliman
Industry: Real Estate
In addition to being the chairman and a principal owner of real estate powerhouse Douglas Elliman (with offices in New York, South Florida, Los Angeles, Aspen, Colorado and Greenwich, Conn.), he is the executive chairman of Nathan's Famous, Inc. Lorber is also president and CEO of the Miami-based Vector Group Ltd., a publicly held company listed on the New York Stock Exchange that is in the manufacturing and real estate investment business.
DJ Khaled 
Photo Credit: Michael Raveney
Company: We The Best Music Group
Industry: Entertainment
A major force in the music industry, mogul, executive, mega-producer, 2017 Grammy-nominated recording artist and New York Times best-selling author DJ Khaled, known as the "Anthem King" is commonly referred to as the "Quincy Jones of hip-hop & R&B." He has made dozens of chart-topping hit records featuring Jay Z, Kanye West, Drake, Chris Brown, Ludacris, T.I., French Montana, Future, Big Sean, Rick Ross, John Legend, Nicki Minaj and Lil Wayne, among others. In the past 12 months he has captivated millions of fans globally by the use of social media and has been coined the "King of Snapchat." In 2006, he launched innovative label deals and started We The Best Music Group. His 2010 hit song "All I Do is Win" went triple-platinum, sold more than three million singles and crossed over all music genres to become a mainstream hit, solidifying him as a force to be reckoned with. That same year he also released "I'm On One" featuring Drake, Rick Ross and Lil Wayne. Khaled went on to release the hit single "No New Friends" featuring Drake, Lil Wayne and Rick Ross, which reached gold status and has sold more than 500,000 singles worldwide. DJ Khaled has sold more than 15 million singles in his career. He is also committed to pro social initiatives and is the first social media ambassador of Bono's Project Red, as well as the national spokesperson for Get Schooled.
Tom Murphy Jr.
Company: Coastal Construction Group
Industry: Construction
Murphy founded Seaboard Construction at the ripe age of 21, and he sold it to Turner Construction 15 years later.  One year later he started Coastal Construction Group, which now includes seven operating companies, with more than $2.5 billion in current projects, including the Four Seasons at The Surf Club, Residences by Armani/Casa, Porsche Design Tower, Faena Hotel and Residences and Paramount Miami Worldcenter.  Murphy is currently chairman and CEO of Coastal Construction Group.
Jay Parker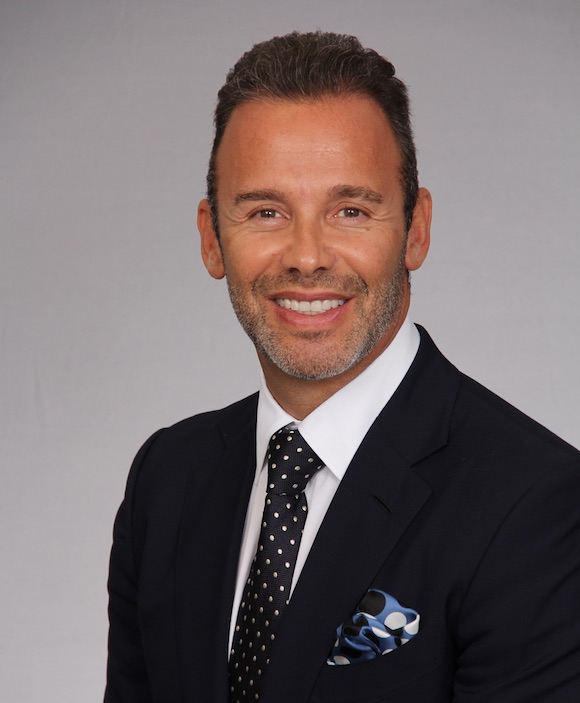 Company: Clear Title Group LLC, Titan Capital, Beloff Parker Jacobs PLC, Douglas Elliman
Industry: Law, Real Estate
Accepting the position of CEO of Douglas Elliman's Florida Brokerage two years ago, Parker has almost doubled the number of offices in the region as well as the number of agents at the company, acquired Majestic Properties and has taken the firm to the No. 1 real estate company in Miami Beach. In 2001, Parker founded Clear Title Group LLC, Miami's leading closing agency for distinguished buyers and sellers, sought a joint venture with Titan Capital and founded Titan Capital Florida LLC in 2006. In 2010, Parker and real estate attorney Jonathan Beloff partnered with Eric Jacobs to create Beloff Parker Jacobs PLC, Miami Beach's most significant transactional law firm. Jay advocates against animal abuse and sits on the City of Miami Beach community development board.
Sergey Petrossov
Photo Credit: JetSmarter
Company: JetSmarter
Industry: Private Aviation 
Awarded Forbes' 30 Under 30 in Consumer Technology and South Florida's Top Working Professional by the Sun Sentinel, Sergey is always seeking out ways to innovate industries. He has traveled privately with friends and family, and prior to JetSmarter, hated the brick-and-mortar approach to booking charter. He started noticing mobile marketplaces were becoming popular and decided private aircraft should be booked that way, too.  Through this, the idea for JetSmarter was born. They built the first beta version of the JetSmarter app in August 2012, which was used by a closed group of people, making Sergey the founder and CEO of one of the world's most innovative technologies to date.
Dora Puig
Company: Luxe Living Realty
Industry: Real Estate
Dora Puig lives and breathes luxury. She has been selling high-end real estate in Miami since 1995, and before that, in a little town called Beverly Hills. To date, she has sold more than $2.1 billion in luxury real estate and established her own boutique brokerage firm, Luxe Living Realty. She is also the director of sales & marketing for Fisher Island's newest and most prestigious Palazzo Del Sol. In 2016, she ranked No. 1 in Miami-Dade Total Volume of Closed Sales with $363,528,000.
Marc Roberts
Company: Worldwide Entertainment and Sports Corporation
Industry: Real Estate, Sports
At 19, Marc Roberts was the youngest person to promote a professional boxing match. By the age of 21, he had his first world champion and went on to manage two heavyweight champions, Ray Mercer and Shannon Briggs. In the 1990s, Marc became the first person to ever take a sports-management company public on the national Nasdaq, Triple Threat Enterprises (TTP). He took a second sports-management company, Worldwide Entertainment and Sports (WWES), public a few years later, raising more than $100 million. In the midst of his success with his Worldwide Entertainment and Sports Corporation, Marc developed a special interest for real estate and has completed more than $1 billion in investment projects around the country, along with co-founding Miami Worldcenter. In Alabama, June 5 is "Marc Roberts Day," thanks to his large donation to the Easter Seals Camp ASCCA, the largest year-round camp for children and adults with disabilities.
David A. Tepper
INDUSTRY: Finance
COMPANY: Appaloosa Management
David Tepper has the distinction of being one of the most successful hedge fund managers in history. Tepper moved to Miami Beach from New Jersey and brought Appaloosa Management, his $18 billion hedge fund, with him. The fund did especially well in the wake of the financial crisis, making him an investing legend. Tepper has made very generous philanthropic gifts to Carnegie Mellon University, including a $55 million gift for the David A. Tepper School of Business in 2003, and a $67 million gift in 2013 to sponsor the David Tepper Quadrangle, a building that aimed to create a collaborative learning environment. He started a PAC with educational aims called Better Education For Kids, and helped victims of Hurricane Sandy.
Jean-Francois Sberro 
Company: Hublot
Industry: Watch
Jean-Francois Sberro is the current managing director of Hublot North America, playing a large role in positioning Hublot as part of the 10 biggest luxury watches in North America. The watch executive was born in France and received a master's of science in management from E.M. Lyon and has since spent his whole career in the watch industry. He first joined the LVMH Group with TAG Heuer in 2004 in Neuchâtel, Switzerland, and then joined the Hublot team in 2009, working closely with mentors Jean-Claude Biver and Ricardo Guadalupe since then. He currently resides in Miami with his wife and 2-year-old son. In his free time, he runs marathons (Miami, New York, Chicago) and even achieved a full-Ironman in Cozumel, Mexico.
Riccardo Silva 
Company: MP & Silva, MP Mega Miami
Industry: Sports, Modeling, Hospitality
Riccardo Silva manages and invests in assets across sectors such as sports, media, entertainment, restaurants and the arts. His portfolio includes Miami FC, MP & Silva, MP Management, QP LDN, Mast Capital and The Riccardo Silva Collection. Previously, he served as the Milan Channel CEO before establishing and leading MP & Silva. He's currently president and co-owner of Miami FC. He was awarded the Globe Soccer Award and named Best Media-Executive in the football media industry in 2014. Riccardo supports several charities, including YKPA children's shelter, "Casa Famiglia," New World Center and the Bass Museum of Art. Additionally, he's involved with Play for Change, which grants sports-related wishes for terminally ill children.
Sean Wolfington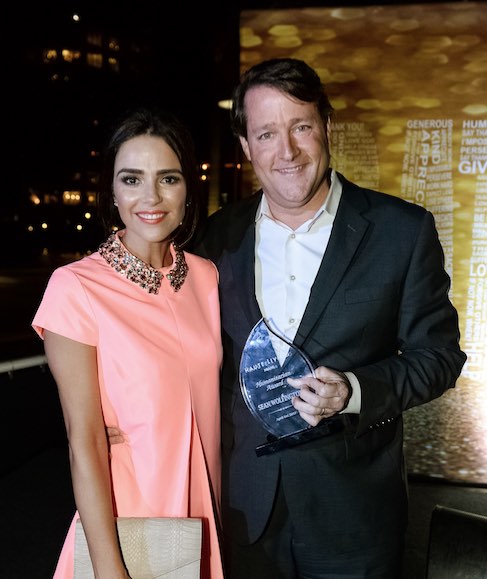 Photo Credit: Getty Images
Company: The Wolfington Companies
Industry: Technology, Real Estate, Film
Chairman and CEO of The Wolfington Companies, Sean Wolfington is a serial entrepreneur in technology, auto, marketing and film. By the age of 40, he built and sold three digital platform companies for nearly a half-billion dollars. Wolfington was recognized as "Entrepreneur of the Year" by Ernst & Young and HL, received the Legacy Award from the National Council for Adoption in 2007, the President's Service Award in 2008 and the Tony Bennett Exploring the Arts Award in 2012. In addition, the Wolfington Foundation enables bright futures for at-risk children through sports and the arts.
Bobby & Michael Yampolsky
Company: East Coast Jewelry
Industry: Jewelry, Watch
The father-son duo is the premier leader in America for many luxury watch brands. Bobby made Palm Beach history by becoming the youngest store-owner on Worth Avenue at age 19. Now, their 30-plus year reputation in the industry means East Coast Jewelry (ECJ Luxe) is the go-to establishment for the ultimate in everything exquisite. ECJ Luxe's concept is to have all luxury-lifestyle products and services under one roof. ECJ Luxe has evolved over the years to be much more than just a jewelry store. In addition to accessing jewelry and timepieces, they provide their clients an array of different services, from yacht charter, private-aircraft charter and exotic vehicles. They have locations in Sunny Isles, Design District, Charlotte, N.C., and their newest flagship store located at Mizner Park in Boca Raton.
Engin Yesil
Company: Core Development Holdings Corp.
Industry: Real Estate
After making his fortune by innovating the eyewear industry through a contact-lens company now known as 1-800-CONTACTS, Turkish tycoon Engin Yesil launched Iprepay, a pioneer company that delivers store-value products such as prepaid wireless airtime, calling cards, bill payment and more. He founded Core Development in 1996, and his Turkish real estate company, Yesil Insaat, is developing a grand-scale project near Istanbul. He has been chairman and director of SK Realty Ventures since 2007 and also became president of Wilson Creek Mining Corporation in 2008.
Robert Zarco
Company: Zarco Einhorn Salkowski & Brito, P.A.

Industry: Law
Robert Zarco and his firm, Zarco Einhorn Salkowski & Brito, P.A., are recognized as experts and among one of the top franchise/licensing and hospitality law firms in the United States. The firm also handles all aspects of distributorship, distribution and manufacturer/dealer law, as well as complex commercial litigation disputes in real estate and other complex business disputes. Although based in Miami, the firm has achieved national and international recognition by representing clients throughout the world, including Mexico, Europe, Latin and South America, Australia, New Zealand and the Caribbean. Robert has also been recognized through earning many awards for being a Top Lawyer, a Super Lawyer, a Preeminent Lawyer, a Legal Eagle and among The Best Lawyers of America for several years.
Alan & Ruth Zelcer 
Company: Isaco International
Industry: Apparel
Alan is president and COO of Isaco International Corp, a leading designer, distributor and licensee of a broad line of high-quality men's underwear and ties, while Ruth serves as vice-president of merchandising. The company manufactures for major retailers and branded labels, such as Perry Ellis, in addition to their own brands, Papi and Rico. Alan and Ruth are extremely involved in the community, offering support to numerous charitable foundations such as the Miami Jewish Federation, Mount Sinai Hospital Founders, MTV Staying Alive, The Broward House and Style Saves.
HOSPITALITY POWER PLAYERS
Philip Goldfarb
Company: Fontainebleau
Industry: Hospitality 
In seven years as president and COO of Fontainebleau, Goldfarb has taken the iconic resort to the next level with creative ideas like BleauLive, the resort's one-of-a-kind entertainment platform, as well as new restaurant concepts. The prior eight years he was president and COO of Turnberry Associates, Fontainebleau's parent company, and 14 years as Doubletree's S.E. director of operations, which prepared him to run the ultimate Miami Beach resort property. He is currently chairman of the dean's board at the FIU Chaplin School of Hospitality. He has been awarded FIU's Hospitality School "Torchbearer Award" and the university's prestigious "FIU Medallion."
Shareef Malnik & Gabrielle Anwar
Company: The Forge, Nextwave Funding
Industry: Hospitality, Finance
Owner of The Forge Restaurant/Winebar, Shareef has kept the restaurant at the top of everyone's list with the finest steaks, service and ambience. He is chairman of the board of Nextwave Funding, a finance company funding small and mid-size businesses across the country. He is a member of the advisory board for the University of Miami Miller School of Medicine Department of Psychiatry and Behavioral Sciences. He is also chairman of the board of Make-A-Wish South Florida and chairman of the Intercontinental Miami Make-A-Wish Ball for 12 years running. Malnik hosts the Ball with his wife, actress, director and writer Gabrielle Anwar, who runs the auction with aplomb. Anwar has directed her first documentary, Sexology, which Shareef executive-produced. Shareef has been a member of the board of directors of the Police Athletic League (PAL) for more than 20 years.
David Grutman
Photo Credit: MMG
Company: MMG
Industry: Nightlife
Armed with an enviable Rolodex and a knack for wrangling the right crowd, David Grutman is an operating partner of Miami's top nightclub venues and restaurants. LIV at the Fontainebleau, LIV at Sun Life Stadium and STORY are known worldwide for their epic parties and chart-topping musical acts. In 2015, Grutman opened Komodo, a three-level Asian-inspired restaurant in Downtown Miami. Since its huge success, Grutman launched Komodo Lounge, the intimate venue situated at the top floor of the restaurant. More recently, he opened OTL in the Design District, a hip coffee shop and community hangout in the heart of the posh shopping area.
Diego & Gisela Lowenstein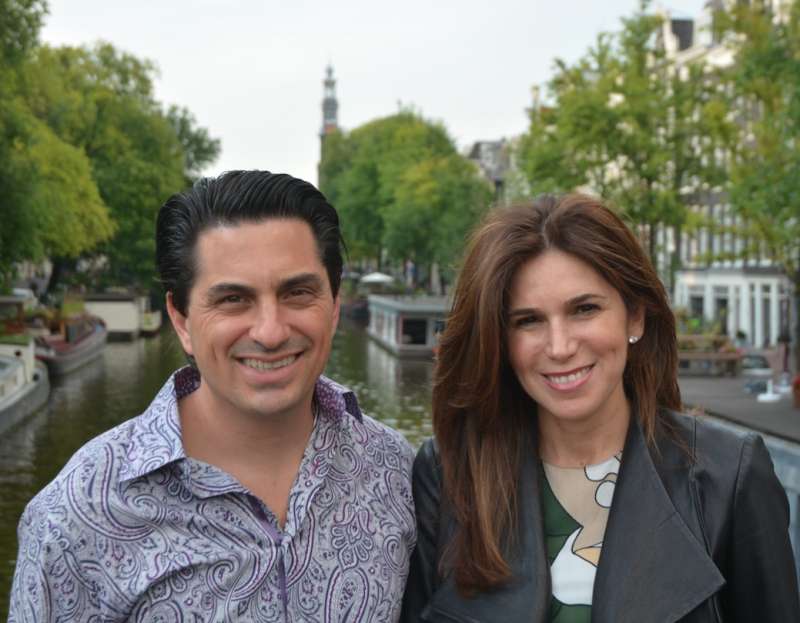 Company: Lionstone Development

Industry: Hospitality
Diego and Gisela Lowenstein's mission is to enrich the lives of Miami residents while helping to make South Florida a sought-after travel destination. The Lowensteins have left their mark in hospitality with their family company, Lionstone Development, best known for The Ritz-Carlton South Beach and The Ritz-Carlton Bal Harbour, as well as signature developments including Epic Hotel & Residences. Additionally, Diego teamed up with Virgin Group to create Virgin Hotels and bring this exciting venture to cities across North America and beyond. Diego and Gisela have supported landmark institutions like the New World Symphony. The couple's philanthropic endeavors also extend to Big Brothers Big Sisters (BBBS). In their free time, Diego and Gisela enjoy traveling the world with their children.
Mathieu Massa
Company: Massa Investment Group
Industry: Hospitality
Massa is the founder, president and CEO of Massa Investment Group. Born on the glittering shores of the French Riviera, Mathieu studied at the prestigious school HEC in Paris and received his MBA in 2007 from Babson College in Boston. Massa settled in Miami and founded his private equity firm to benefit from the subprime crisis of 2009. After multiple acquisitions of residential and commercial assets in Miami, Massa and partner Paul Jarquin founded REI Immobilier, which specializes in sustainable wood structure residential development in Paris, France. Massa, along with partner Michael Ridard, founded Mr. Hospitality in 2014. The company functions as a food and beverage management group with several restaurants and nightlife destinations in Miami and Miami Beach.
KNR Hospitality: Nicola Siervo and Navin Chatani 
Photo Credit: KNR Hospitality
Company: KNR Hospitality Group
Industry: Restaurants, Nightlife
Since it formed in 2006, KNR Hospitality Group has been one of the region's eminent restaurant and nightlife companies. Led by founder Nicola Siervo, they operate the food, beverage and nightlife establishments at the W South Beach, The Dutch, Wet and Wall. Nightlife partner Navin Chatani brings more than 20 years of experience, a positive attitude, loyalty and fairness into the mix. Together, they look forward to blazing paths and introducing new concepts.
Keith Menin
Photo Credit: Menin Hospitality
Company: Menin Hospitality
Industry: Hospitality
After an early start in the hospitality industry, Keith Menin is lauded as one of the top new-generation hoteliers in Miami. With family roots deeply embedded in South Florida's hospitality industry since the pivotal 1920s, Menin learned the fundamentals from his uncle and mentor, Russell Galbut. Providing new distinctive experiences for today's discerning traveler, Menin's expanding portfolio of hotels, restaurants and nightspot venues include Mondrian South Beach, Shelborne South Beach, Gale South Beach, Kaskades South Beach, Sanctuary South Beach, Bentley South Beach, Bodega Taqueria y Tequila, Pizza Bar, Halves & Wholes, The Drawing Room, the Raffaello Hotel and rooftop bar Drumbar in Chicago, and the recently opened hot spots Bakehouse Brasserie and Ricky's on Alton and 16th Street in Miami Beach—and more venues on the way.
Alan Faena 
Company: Faena Group
Industry: Real Estate
Alan Faena is the visionary behind Faena Group, specializing in the creation of remarkable holistic environments that integrate residences and hotels with art and cultural experiences. Alan debuted Faena Hotel Miami Beach in December 2015, the first element of the highly anticipated Faena District Miami Beach, a new neighborhood with art and culture at its core. Recently, the completed Faena Forum debuted in Miami Beach. Envisioned by Alan, Faena District features one-of-a-kind cultural, residential, hotel, retail, restaurant and public environments that have been conceived as dynamic expressions of art, design, nature, technology and service.
Tunu & Yona Puri
Company: Tamarina
Industry: Hospitality, Fashion
After dipping his toe in the restaurant world by investing in Zuma Miami with his good friend Arjun Waney, Tunu entered the realm full throttle with Coya, DÔA and now La Petite Maison in Brickell. La Petite Maison has opened to rave reviews and has become the go-to spot in Miami. From hospitality to fashion, his wife, Yona, inspired by her Indian culture and a penchant for France, is now creating a fashion clothing line under her name, Yoshina Puri. Using her Indian culture mixed with a French colonial education, her design aesthetics aim to redefine the fashionable woman with a special look. Yoshina Puri clothing is a look of youthful ease, liberated soul and carefree confidence.
Lee Brian Schrager
Company: Southern Glazer's Wine & Spirits 
Industry: Beverage
Lee Brian Schrager is the senior vice-president of communications & corporate social responsibility for Southern Glazer's Wine & Spirits. He is widely recognized for his creation of both the Food Network & Cooking Channel South Beach and New York City Wine & Food Festivals, which have collectively raised more than $33 million to date for their respective beneficiaries. He has three cookbooks: "Food Network South Beach Wine & Food Festival Cookbook," "Fried & True" and most recently "America's Best Breakfasts." He serves as a panelist for Forbes' prestigious 30 Under 30 Food & Wine annual list, and is a current member of the board of trustees for the Pérez Art Museum Miami and board of directors for the Food Bank For New York City.
PHILANTHROPISTS
Al & Nancy Malnik
Photo Credit: Romain Maurice
Company: The Forge
Industry: Hospitality
Al and Nancy Malnik's charitable endeavors are near and dear to their hearts. After one of their children was stricken with cancer, the couple witnessed firsthand the amazing work Make-A-Wish does in bringing happiness and hope to terminally ill kids. For the past 18 years, the Malniks have supported the Make-A-Wish Foundation of South Florida, becoming lifetime benefactors for their incredible fundraising efforts. Their contributions to the Dana-Farber Cancer Institute in Boston are just as personal, with the Al and Nancy Malnik Family AML Research Fund, which has made significant breakthroughs in reducing acute myelogenous leukemia. With their six children (Al has four other progeny from his first marriage) growing up, the oldest trio (triplets!) is now in college. Of course, Al is also known as the originator of The Forge, a restaurant he bought in 1968 because there were no good places to eat in Miami Beach. He transformed it into a chic dining destination for the biggest stars at the time, including Frank Sinatra, Bob Hope and Yul Brynner. "Life was glamorous back then," Malnik recalls. "Hotels like the Eden Roc, Deauville, Fontainebleau and Diplomat hired famous entertainers, who created this nightlife where the women dressed up and the guys wore tuxes. The Forge was the spot after the shows."
Phil & Orianne Collins
Photo Credit: Mitchell Zachs Photography
Company: Little Dreams Foundation, Orianne Collins Jewelry
Industry: Philanthropy, Fashion, Music
Phil and Orianne Collins are the king and queen of philanthropy, having launched the Little Dreams Foundation (LDF) to help fulfill the dreams of young talent, while expanding the global nonprofit organization with a presence in South Florida. The award-winning singer/songwriter even staged a comeback performance last year to raise awareness in support of LDF. Orianne recently founded Never Give Up, which helps victims of spinal cord injuries find movement through martial arts. Phil and Orianne are enjoying Miami's culture, with a new high-fashion boutique in the Design District, OC Concept Store. The couple are additionally amplifying their son Nic Collins' music career with his band, What You Know, touring this year.
Paul & Swanee DiMare 
Company: DiMare Fresh
Industry: Produce
Paul DiMare is the nation's top tomato grower and packer, owning DiMare Fresh. He is founder and chairman of Florida Farmers Inc. and director of First National Bank of South Florida. He is the president of seven different family foundations and the Paul J. DiMare Foundation, through which they have contributed $6 million to fund scholarships at the University of Miami, and pledged an additional $12 million. Swanee serves on many boards and has made substantial donations to the Fairchild Tropical Garden, the Vizcaya Museum & Gardens, the Phillip and Patricia Frost Museum of Science, Women of Tomorrow and the Miami Project to Cure Paralysis, for which she got the presenting sponsor award. She received the Lifetime Achievement Award for Philanthropy by the Association of Fundraising Professionals. Recently, the couple was presented with the Centennial Humanitarian Award for their strong commitment to the Red Cross at the American Red Cross Greater Miami & The Keys 100th Anniversary Ball.
Stephanie Sayfie Aagaard
Company: The Miami 
Project to Cure Paralysis
Industry: Philanthropy

A native of Miami, Steph covers the social, celebrity, sports, fashion and charity scene in South Florida for her "Steph Sez" column in The Miami Herald and online, and writes the philanthropy page in Indulge magazine. Steph is passionate for The Miami Project to Cure Paralysis and The Buoniconti Fund, the world's most comprehensive spinal cord injury research center.  She produces high-profile fundraisers like the Great Sports Legends Dinner in New York City, Destination Fashion and the Buoniconti Fund Celebrity Golf Invitational with Jack Nicklaus at The Bear's Club. She has received numerous awards for community work. Steph is married to her husband, Morten, and is a proud mom to her two sons, Anders and Austin.
Anthony & Alina Shriver
Company: Best Buddies International & Shriver Art

Industry: Philanthropy, Art Licensing

Twenty-eight years ago, Anthony Kennedy Shriver founded Best Buddies International, a global nonprofit with the mission of inclusion and employment for individuals with intellectual and developmental disabilities (IDD), which has since grown to more than 2,300 chapters around the world, impacting more than 1.1 million lives annually for persons with and without IDD. Alina M. Shriver is the exclusive worldwide licensing agent for international pop artist Romero Britto, managing strategic licensing programs through the development of Britto's artistic imagery and creating partnerships with companies such as Walt Disney, Coca-Cola, Hublot and Absolut. She supports her husband, and together they have built partnerships that merge art and philanthropy in support of Best Buddies.
Subscribe to discover the best kept secrets in your city