In a city that's rampaged with millennial vegans and the gluten-free epidemic that affects everyone and their mother these days, the restaurant landscape is quickly changing to offer healthier alternatives for those who don't mess around with your traditional steak and frites. Take a look at our Haute guide to restaurants that cater to even the strictest of health-conscious Miamians.
LIDO BAYSIDE GRILL, THE STANDARD
Situated amidst the blissed-out buzz of lounging vacationers on a waterfront dock at the Standard Hotel & Spa, Lido's menu reflects its sun-kissed, natural atmosphere with its Mediterranean flare and organic fresh foods. If you've got a vegan in your party, the "Living Lasagna" serves up a chilled, plant-based version of the traditionally carb-heavy dish, crafted from herbed nut "sausage", rich cashew cheese and raw tomato sauce slathered in between layers of raw squash, zucchini and eggplant.
TOCAYA ORGANICA, MIAMI BEACH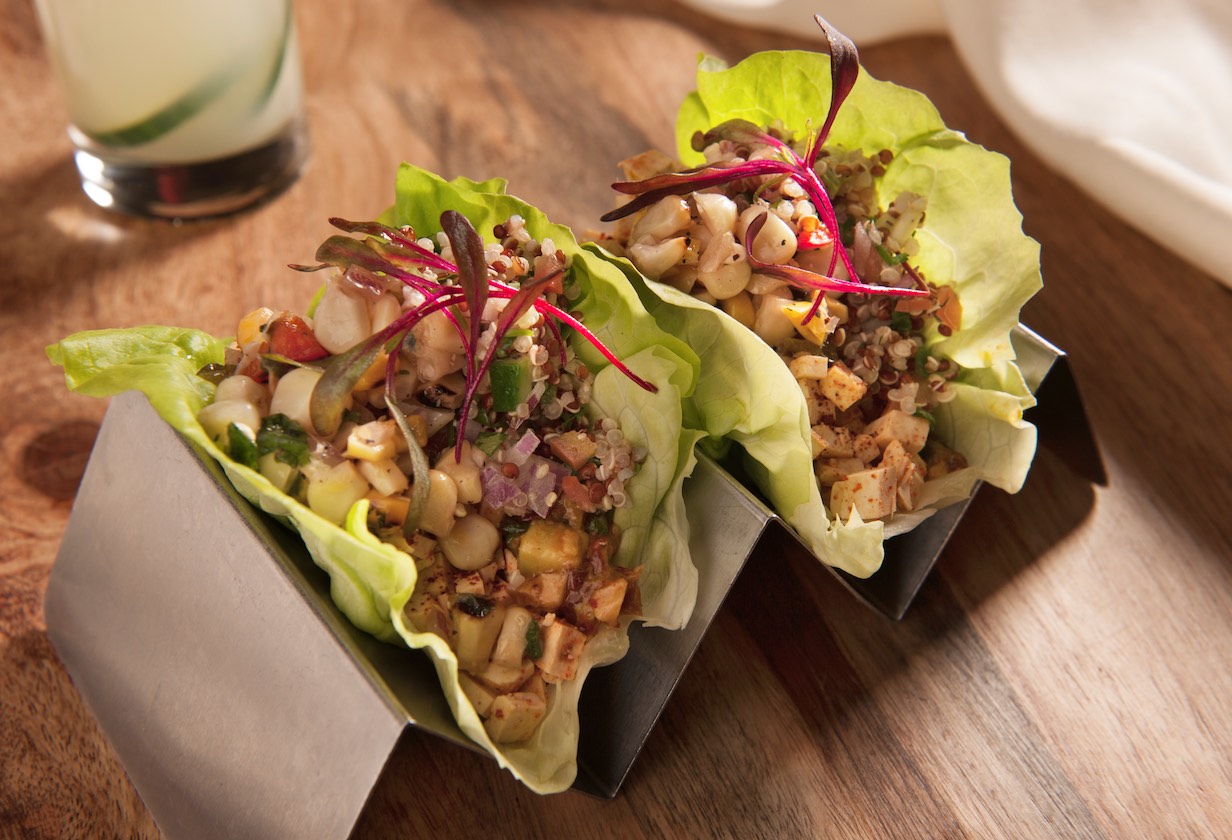 Lincoln Road became a little healthier last month with the opening of Tocaya Organica, an organic Mexican restaurant hailing from Los Angeles that sources whole food ingredients, made-from-scratch sauces and fresh local produce to provide a variety of options for all diet restrictions. Try the Cali Green Tacos with chicken, or make it vegan with chipotle-dusted tofu.
WATR AT THE 1 HOTEL, SOUTH BEACH
With a rooftop venue that floats over the sea and a menu inspired by Polynesian and Japanese cuisine, Watr offers a variety of poke bowls and sushi rolls — try the Kimchi Tuna Poke with quinoa, avocado, kimchi and crispy garlic or, if it's meatless monday, the Veggie Bling-Bling Roll with fried tofu, yamagobo tempura, avocado, cucumber and asparagus.
LILIKOI ORGANIC LIVING, SOUTH POINTE
Photo Credit: Charlotte MacKinnon
Located a few blocks from South Pointe Pier, Lilikoi is owned by a couple from Hawaii that brought their taste for fresh, tropical food to the 305, serving up organic staples like the Acai Bowl or a Garden Salad with avocado and sundried tomato that is almost too pretty to eat. Whatever you decide on, don't miss the bottomless mimosas made with bubbly and fresh-squeezed grapefruit juice.
CAFE ROVAL, MORNINGSIDE
Located just North of Edgewater in the Morningside area, Cafe Roval sits in a historic coral building with an outdoor garden aglow with twinkly lights and offers authentic Mediterranean cuisine. Dishes like the Sprouted Chickpea Cakes and the daily vegan dish utilize fresh herbs and vegetables to deliver bountiful flavor without any of the guilt.