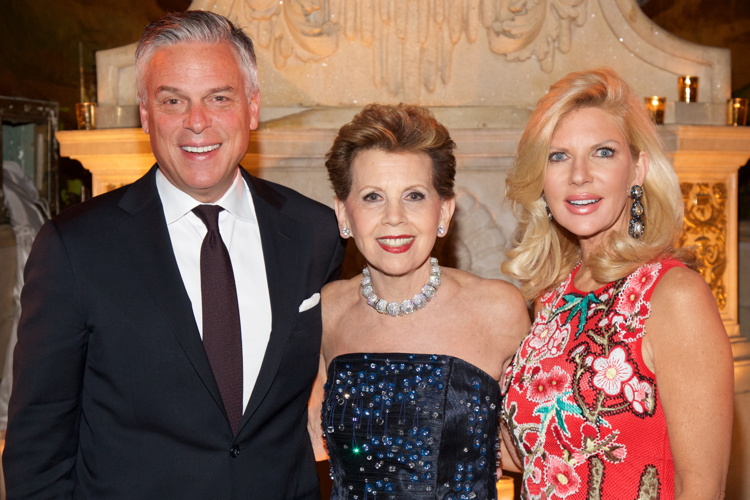 Adrienne Arsht, the noted philanthropist and arts advocated. celebrated a milestone birthday on February 4th with a mega party at The Plaza Hotel, where more than 220 friends and family gathered to toast her 75th birthday. (For more about Arsht, read Haute Living's profile, Attendees included such names as Supreme Court Justice Sonia Sotomayer, philanthropist David Koch, Governor John Huntsman, actress Julianna Margolies, Fe Fendi and other well-known figures from New York, DC, and Miami, cities where Arhst has been active with her philanthropic work.
It was a lavish bash that began with cocktails in The Terrace Room, which was transformed into a vibrant jewel-toned lounge, inspired by Arsht's love for shoes. Around the room, cocktail tables draped in an array of richly colored silks were topped with a floral arrangement, artfully built into a matching high-heeled shoe. The centerpiece of the room was a sixteen-foot-high feature wall with custom 3D wallpaper in a repetition of silhouetted Yves Saint Laurent double-platform shoes. In the center, a giant gold mirrored "75" reflected the light of thousands of candles throughout the space. A round table with a massive basket of roses held guests' escort cards, each propped in a miniature glass shoe.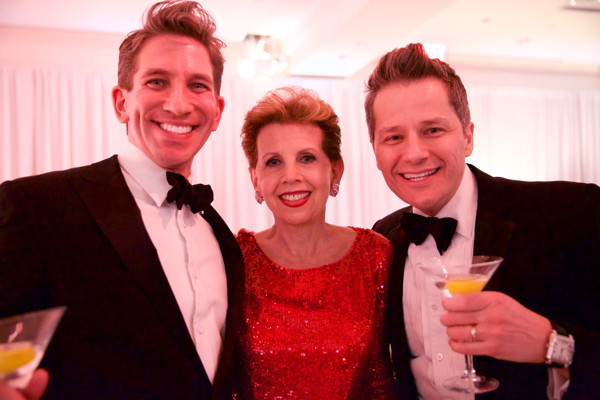 After cocktails, guests made their way through a field of rose petals up the grand staircase to a dining room inspired by Adrienne's father's passion for rose gardening. Stepping into the ballroom was like entering a secret garden, overgrown by wild rose vines on the room's columns and stage.. Each table had a dramatic floral centerpiece, with long-stemmed red and purple roses growing wildly from a bed of moss. When Arsht was introduced to speak, an explosion of red, pink and purple rose petals rained down from overhead to the surprise of Adrienne and her friends.
The first part of the evening was executive produced by Robert Pullen of Nouveau Productions, formerly the Director of Special Programming for The John F. Kennedy Center for the Performing Arts. The evening highlighted Ms. Arsht's friends from Broadway and the theater worlds with musical and dance performances by artists including: The American Pops Orchestra conducted by Luke Frazier; Broadway's leading man, Brian Stokes Mitchell; Stars of The Metropolitan Opera, Stephen Costello and David Pittsinger; Broadway and television star Norm Lewis and tap-dance sensation, Jared Grimes, among others.
The artists who performed at the party did so as their birthday gift to Adrienne and, as a thank you to each of them, Arsht is donating $10,000 to their favorite charities. 
After dinner and the performances, guests made their way into the foyer to a private club modeled from the iconic Birdland. The all-white decor included custom white furniture topped with fur throws and pillows. As a nod to the Birdland aesthetic, the walls of the space were filled with hundreds of black and white photos of Adrienne and her friends.
At the end of the evening, guests visited a white flower cart where aproned florists handed out bouquets of roses refashioned from the dinner centerpieces. As promised by Adrienne in her remarks, each guest was also given a mini copy of the US Constitution in tribute to her mother's practice of always carrying one with her– a tradition that Adrienne herself famously continued for decades. As a last parting gift, guests filled goodie bags from a deluxe candy bar buffet with jars overflowing with red and purple candy as they left.
Subscribe to discover the best kept secrets in your city