Photo Credit: SV Yachts Debuts ALPHA, The Fastest Luxury Yacht In The World
Photo Credit: Getty Images/Alexander Tamargo
SV Yachts hosted a private debut party of its flagship vessel, the ALPHA Yacht, in partnership with Haute Living and Warren Henry Land Rover at the Island Gardens Deep Harbour Marina. The gorgeous backdrop of Biscayne Bay and a full moon set the stage for a memorable evening complete with gourmet bites, sumptuous bubbly and a heavy-hitting guest list of Miami's elite to celebrate the event.
Photo Credit: Getty Images/Alexander Tamargo
Notable attendees included Nikolai Sass and Mauricio Velez from SV Yachts, guests of honor and birthday celebrants Angela Birdman and Floyd Raglin, as well as NFL Hall-of-Famer Lawrence Taylor, Warren Henry Zinn, Louis Birdman, Carol Iacovelli, Barbara Cooper, Brigitte Cooper, Jimmy Firouz, Linda Levy Goldberg, Stephen Maman, Javier Rodriguez, and Haute Living co-founder Seth Semilof.
The gorgeous ALPHA vessel was docked on site for guests to admire throughout the evening as they enjoyed gourmet canapés from Faire La Fête catering and sips of Punzoné organic vodka, Perrier-Jouët Champagne, Bertaud Belieu Rosé, Fatinel Prosecco, Alacran tequila and Candela Premium Mamajuana specialty cocktails. At the entrance of the party, two impressive black and white Range Rover 2017 Supercharged trucks were parked on site.
Photo Credit: Getty Images/Alexander Tamargo
Deco Drive showed up to capture live footage as Floyd Raglin, Angela Birdman and SV Yachts' Nikolai Sass and Mauricio Velez received special 24-karat doughnuts from famed chef Bjorn De la Cruz, as they toasted to their joint birthday celebration. Following the closing remarks, the two birthday guests moved next door to The Deck at Island Gardens for a posh dinner party, enjoying some of Chef Alredo Alvarez' decadent dinner offerings and an "On Deck Fridays" after party. Upon departing, guests received goodie bags with return of their cars from valet from Dr. April Patterson to keep their smiles shining bright after a night of sipping spirits and indulging in gourmet food.
SV Yachts is a new luxury yacht manufacturer that maintains luxury and speed in each model. The company's first model, ALPHA, has been meticulously designed and engineered to create a stunningly beautiful yacht that is also designed with the thrill of speed in mind and tested to reach speeds of over 90 mph. Already on the market in the United States, the ALPHA will soon be available in Europe and the Middle East. The yacht will make its official debut to the public at the Miami International Boat Show from February 16th-20th, 2017.
Chef Bjorn De la Cruz and Floyd Raglin
Photo Credit: Getty Images
Kaki Hunt Kemp, April Donelson, Carol Iacovelli and Linda Levy Goldberg
Photo Credit: Getty Images
Louis Birdman, Rinat Sikdar and Ryan Carrigan
Photo Credit: Getty Images
Punzone Vodka
Photo Credit: Getty Images
Mauricio Velez, Nikolai Sass, Seth Semilof, Chef Bjorn De la Cruz and April Donelson
Photo Credit: Getty Images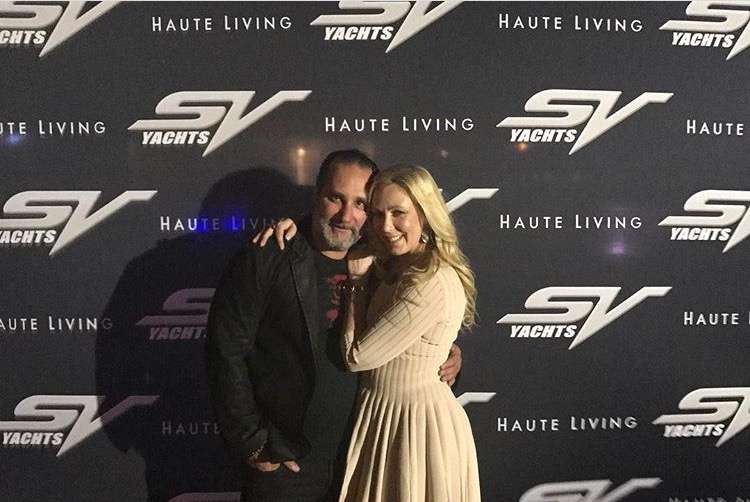 Louis and Angela Birdman
Brigitte Cooper and Dr. Jimmy Firouz
Mikolaj Prada, Barbara Cooper, Rafael Leonor
Perrier-Jouët Champagne
Photo Credit: Getty Images/Alexander Tamargo
Floyd Raglin and Warren Henry Zinn
Photo Credit: Teekay, 3 M Media Group
Subscribe to discover the best kept secrets in your city