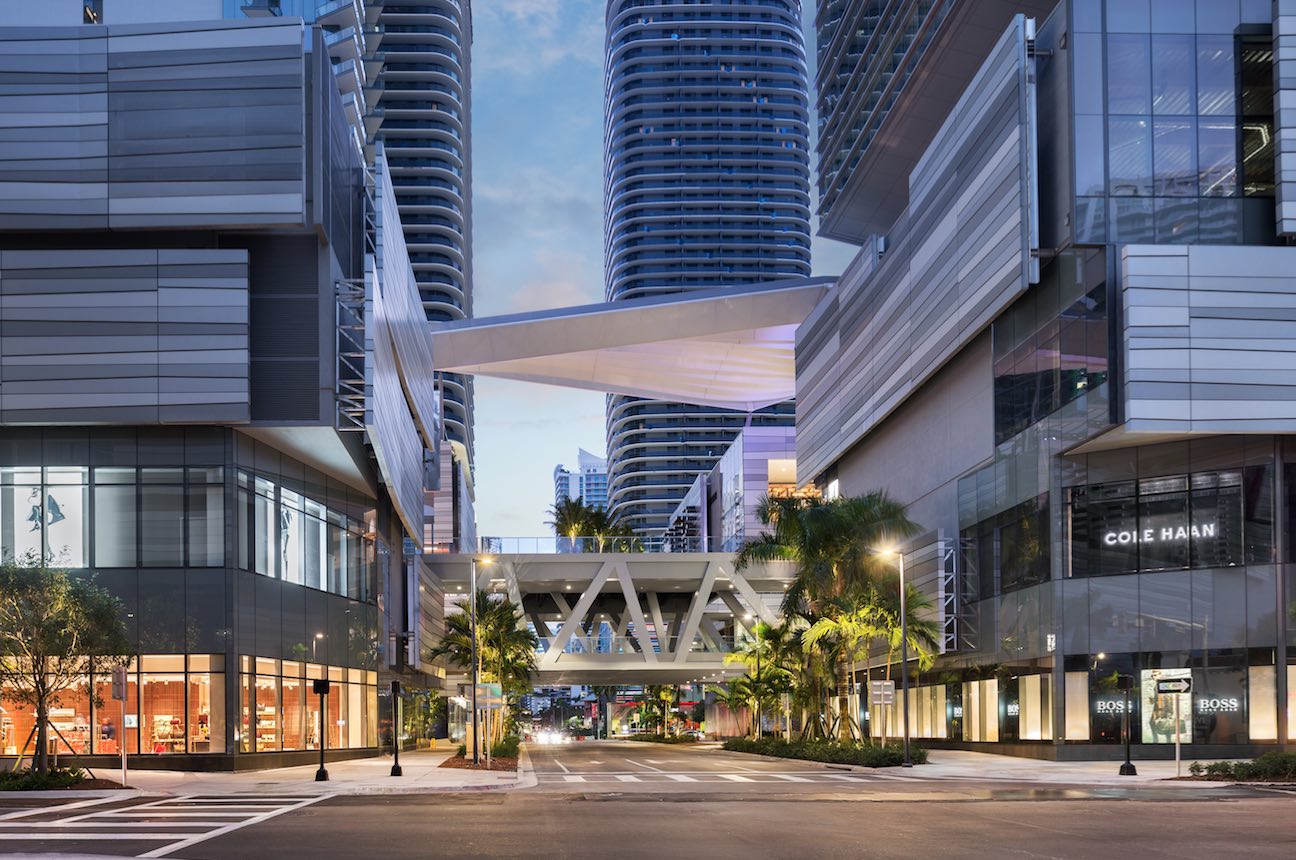 Photo Credit: Brickell City Centre
It's finally here. The long-awaited Brickell City Centre from Swire Properties is finally open for business, after undergoing years of construction, planning and hard work to create the final masterpiece that has, at last, graced Miami's downtown Brickell area. What was once an underused, worn-down center of closed stores, chain restaurants and construction sites is now Miami's newest shopping mecca, filled with every luxury store one could imagine, as well as a handful of bespoke boutiques and haute dining destinations. For those in the downtown area and even throughout Miami, the Brickell City Centre gives us something we've long been craving since the inception of the storied Bal Harbour Shops: our own shopping mall. However, it's not simply a mall. The innovative design is unique and one of the first of its kind, transforming Brickell into a sustainable consumer hub: Besides being LEED registered, the project also features a $30 million CLIMATE RIBBON™ trellis soaring above it that acts as an environmental management system, able to use nature to cool the outdoor air and enhance consumers' experience on-site.
As for the shopping, let's begin with time. Located next to the soon-to-be-opened massive Italian Food Hall sits top luxury watch retailer Westime, marking the brand's first-ever Miami location. With four hugely successful locations already underway in Los Angeles, Miami is destined to be the company's second city in the U.S., signifying a large growth for the retailer. Next door, you can find luxury Swiss watch brand boutiques Audemars Piguet and Richard Mille. All three high-end boutiques ensure that your shopping essentials  in the luxury watch department are handled with their brand-new, opulent store designs and impressive timepiece selections.
Moving on from there lies a plethora of designer-clothing and accessory stores from the first to the third floor. Fashion is at its height in the BCC, housing many stores that mark the first U.S. branches of popular Latin American and European outlets such as MIRTO, a Spanish men's shirt brand that has been in business since 1956. The brand is known for its impeccable quality shirts with exclusive fabrics and innovative patterns stemming from the heart of Madrid. The Miami location houses the MIRTO signature collection of men's luxury shirts, furnishings and sportswear, each designed with artisan textiles and contemporary styling. The shirts can be made-to-order and monogrammed on-site in the boutique, making it a destination for discerning gentlemen and ladies who want to buy unique gifts. Another is Acqua di Parma, the iconic Italian brand that was previously only available through select shop-in-shops, and has now opened its first U.S. boutique in the Brickell City Centre. Picking Miami is kind of a big deal. "We selected Miami as our first city due to its international recognition in art, design and culture, which are values that define the essence of Acqua di Parma," said Giovanni Lepori, the brand's President of North America. Acqua di Parma invites customers to an ultimate Italian experience based on tradition and heritage in its branded boutique. The space evokes a sense of an elegant Italian home, where each detail has been curated with the utmost attention to delight all senses. The Miami boutique has been outfitted with the brand's signature design characterized by Calacatta marble and dark wenge wood that emphasizes the yellow Acqua di Parma-colored walls. At the center of the boutique is the design hallmark of a giant leather-covered pyramid artfully displaying bottles of the brand's most famous and timeless Colonia. Most anticipated is the intimate and luxurious Barber's Shop where devotees can enjoy the ritual of shaving reminiscent of a classical Italian barbershop while seated in an original barber's chair. Shaving and skincare products from the Collezione Barbiere have been created to accompany each phase performed by a skilled, expert barber. Other new stores making their debut in Miami include Jorge Bischoff, Harmont & Blaine and Baldinini.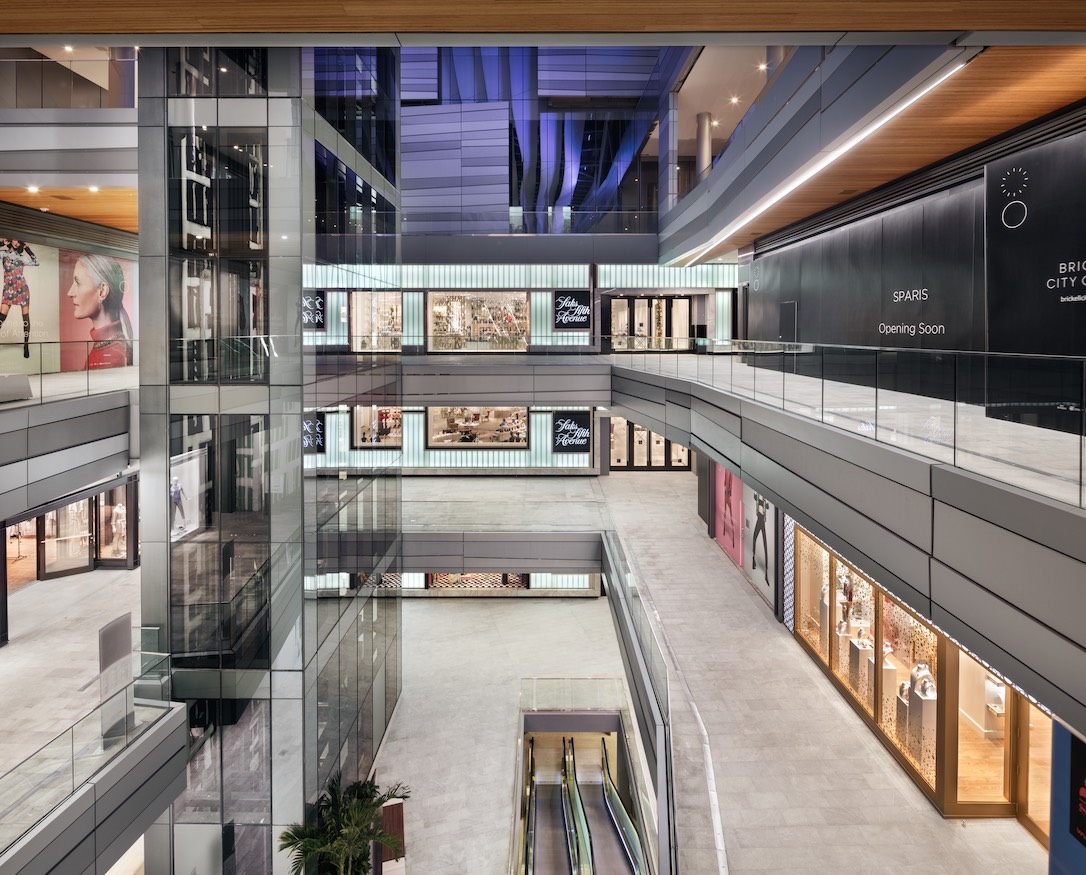 Photo Credit: Brickell City Centre
Before you shop 'til you drop, make sure to try out one of the mall's new haute eateries ranging from healthy bites and juices at Dr Smood, farm-to-table fresh lunches from American Harvest or a quick seafood fix at the legendary Luke's Lobster. For more of a sit-down dining experience, visit Pubbelly Sushi at its newest location, which features the same dishes you know and love from the original Sunset Harbour locale, situated in a hip and funky dining setting with great music. Another must-try is Big Easy Winebar & Grill, a gorgeous eatery with an inventive South African-inspired fusion menu and a serious wine selection. Coming soon, be sure to look out for Tacology, a new taco establishment on the fourth floor; the 38,000-square-foot La Centrale—imagine Miami's own Eataly, just a bit smaller—and the highly anticipated, iconic Casa Tua Wine Bar located within the Saks department store. And of course, for some luxurious and relaxing entertainment, the upcoming dine-in Cinemex movie theater is sure to be a hit.
The Brickell City Centre ensures that your shopping and dining experience is complete and encourages guests to make the most of it through the use of its innovative technological features. The project recently launched a website with a "Create Your Own Itinerary" feature, which crafts a custom BCC itinerary based on the guest's interests, length of visit along with shopping and dining preferences. Also, look out for the unveiling of the center's new BCC mobile app, destined to be one of the most innovative apps ever created for a shopping center, ensuring that the whole experience is seamless.
Subscribe to discover the best kept secrets in your city