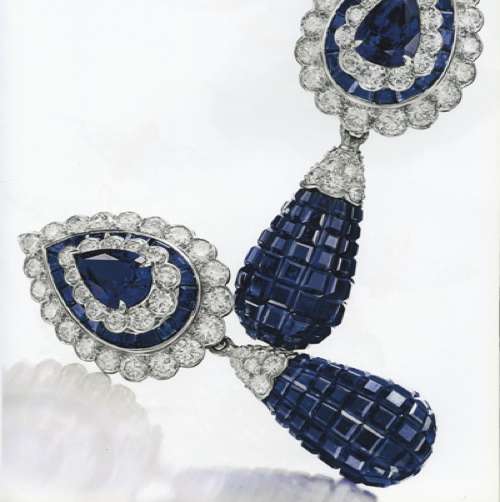 Just in time for the holidays, Christie's is holding its Magnificent Jewels auction tomorrow, Wednesday, December 7th, with more than 300 fabulous lots of mega-gems on offer (estimates range from $5,000 to $5,000,000). Highlights of the sale include exceptional fancy-colored and colorless diamonds, colored gemstones, and signed jewels from Buccellati, Bulgari, Cartier, David Webb, Graff, Harry Winston, JAR, Oscar Heyman & Brothers, Tiffany & Co., Van Cleef & Arpels and other top names. Magnificent Jewels concludes the celebration of Christie's 250th anniversary year with a dedicated sale section from past historic sales, for example, the pair of 'mystery-set' sapphire and diamond ear pendants by Van Cleef & Arpels, formerly from the Collection of Elizabeth Taylor, was sold at Christie's New York, in The Legendary Jewels, Evening Sale on December 13, 2011.
Lots from top US private collections feature prominently in the sale. Highly sought-after signed jewels include Art-Deco Cartier items from the Blair Family Collection, a pair of JAR quartz and diamond brooches from the Collection of Robert and Sylvia Olnick, and a knock-out multi-gem and diamond necklace by Oscar Heyman and Brothers from a prominent Rancho Santa Fe collection. Important gems from The Lichtblau Collection include an impressive fancy intense yellow diamond ring (34.56 carats) and a rare F color rectangular cut diamond ring (18.37 carats). Important gemstones from another private collection include The Burma Blue, a gorgeous Burmese sapphire ring (75.41 carats), The Mandalay Blue, a superb Burmese sapphire ring (31.38 carats), and a D color Internally Flawless diamond ring (22.72 carats).
Christie's is also showcasing property from the estate of Betsy Bloomingdale, one of the 20th century's best-dressed women and a noted international style figure, across two Christie's salesb eginning with top pieces from her jewelry collection in Magnificent Jewels. Bloomingdale and her husband, Alfred, the department store heir and Diners Club chairman, were close friends with some of the most prominent names of their time, including the Buckleys, the Paleys, Annenbergs, and most notably, the Reagans. Her collection offers a range of Harry Winston jewels: a gorgeous diamond ring, a diamond cluster necklace, a pair of cluster earrings and a diamond cluster waterfall brooch.