Photo Credit: All photos by: Mark Squires
Story by: Susan Stapleton, Interview by: Kelly Barbieri, Photography: Mark Squires, Stylist: Taylor Brechtel, Groomer: Kristan Serafino, Shot on location at Sky
"I realize now that I can play any-body, as long as they have Parkinson's," says actor and producer Michael J. Fox, a leading activist and advocate to find a cure for the disease that he was diagnosed with 25 years ago. "I've been able to do a lot of work. And what's great about it is I wouldn't be still until I couldn't be still. The subtle twist has made it a new experience. Whether it's been better or worse is not for me to say, but it's certainly different. And that's all you can ask for in your 50s, that you'd be doing something different."
You don't have to call Fox a fighter, although he is very much that. And please, don't call his Parkinson's disease a battle. He believes each person with Parkinson's has his or her own experience with it.
"I don't have expectations, but whatever happens, happens. I hope it's a good thing, and I trust it'll be a good thing," Fox says. "My acceptance is not resignation. I can accept something for what it is and then beyond that move on to rectify that, remedy it, or change it in some way. I have accepted to acknowledge it."
Fox was in the midst of filming Doc Hollywood in 1991 when he was told at age 29 that he had Parkinson's. He waited seven years to divulge the news to fans and admits that during that time he was in denial, still working on projects such as Stuart Little and The American President. He packed that stretch with as much work as possible since he thought the end of his acting career would come soon. It didn't.
By 2000, he embraced his condition and set up the Michael J. Fox Foundation for Parkinson's Research to help advance initiatives that could help cure this disease of the central nervous system that affects movement and is marked by tremors. "I realized it was a real awakening to me because I had been kind of keeping this secret. I was diagnosed 25 years ago, and I was only supposed to work for another 10 years. I was supposed to be pretty much disabled by now. I'm far from it. This is as bad as I get, and I can still go to the store and go marketing."
Fox most definitely works—more than many actors in his age group. Recently, he played attorney Louis Canning on The Good Wife, a character that earned him three Emmy nominations. He showed up as himself on Curb Your Enthusiasm with Larry David, and Fox's Parkinson's played a role in the episode. (David, who temporarily lives in Fox's apartment building on the show, thinks he used his disease as a manipulative tool.) In between those performances, Fox debuted The Michael J. Fox Show, loosely based on his life and his first regular appearance on television since Spin City. After 22 episodes in 2013 and 2014 on NBC, the show that featured Fox as Mike Henry, who went back to work as a news anchor four years after being diagnosed with Parkinson's, was canceled. "In the pilot, we hit the right note. But then we lost that, I think," he says. "They got afraid of the Parkinson's, and they didn't want to go all the way. I kept saying, 'If we do this in a certain way, there's a way to go. There's a path forward here. There are certainly some wrong paths we could take that could be disastrous, but it's worth trying to make that journey.' We never got there in time, and that's why we only got to the first season."
But that was then. Fox even teases that he may have a new role coming up soon that may be related to The Good Wife. He's just waiting for a full commitment to the project.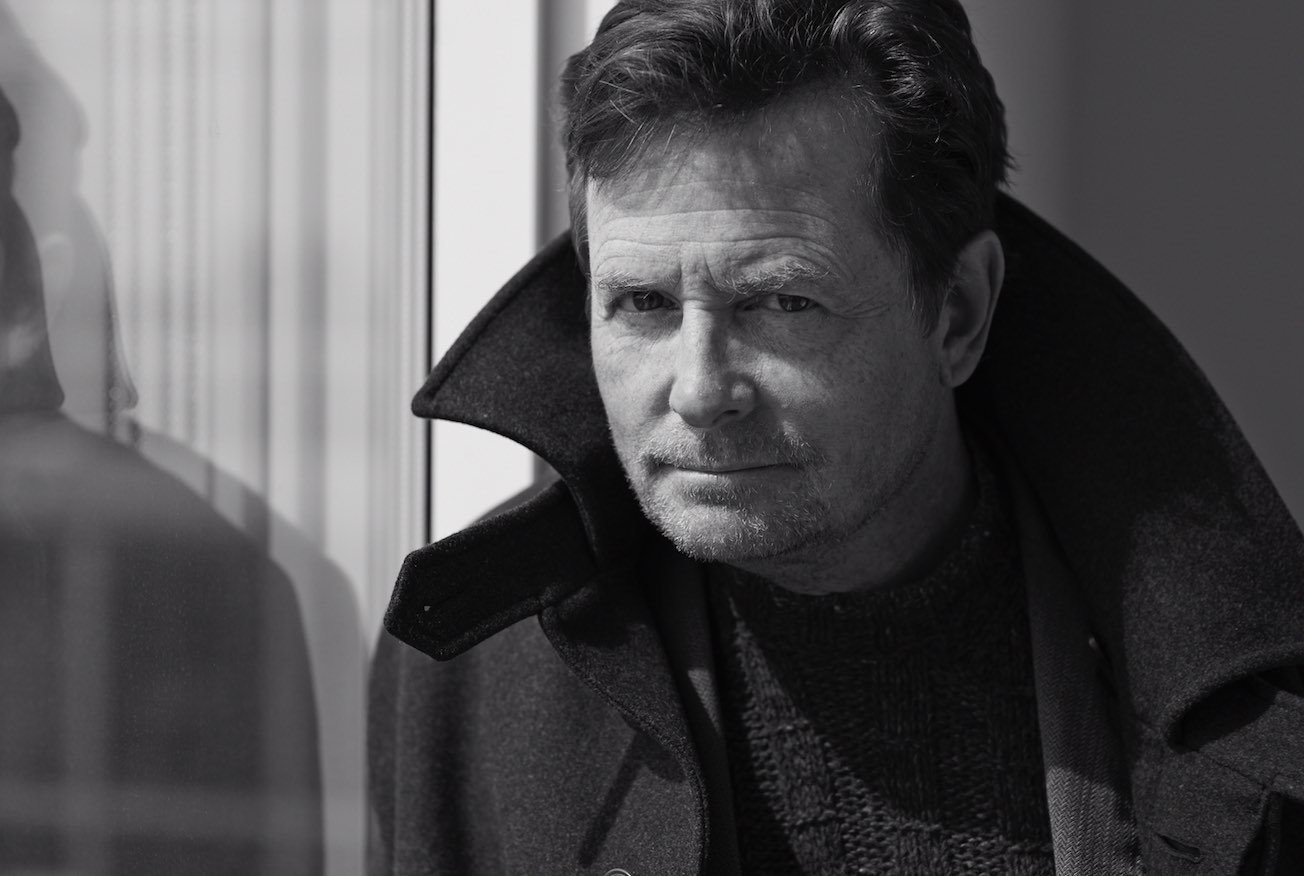 At the time of his diagnosis, the actor, who came into the public eye as Alex P. Keaton on Family Ties, had been married to his wife, actress Tracy Pollan, whom he'd met on the show, for two years. The couple had just had a son, Sam, and his Marty McFly role in Back to the Future was behind him. Fox says he sometimes finds it hard to believe that all his children, with the exception of his son, were born after the diagnosis. His twin daughters, Aquinnah Kathleen and Schuyler Frances, just turned 21, and his youngest daughter, Esmé, is 14 and has begun high school. "I mean, they grew up with this. It's all they know, and I think if you asked them to describe me, the ninth thing they would say would be that I had Parkinson's."
Now 16 years later, the foundation he created is, as he says, "in business to go out of business." It is the largest group dedicated to Parkinson's in the world. Since 2000, the foundation has funded $650 million to research, with 89 cents of every dollar going to the singular goal of eliminating Parkinson's in our lifetime. More than 50 percent of the funding goes toward altering the disease, followed by research into biomarkers and treatment of the untreatable symptoms.
The Michael J. Fox Foundation throws its annual "A Funny Thing Happened on the Way to Cure Parkinson's" gala on November 12 at the Waldorf Astoria in New York City. Last year, former talk show host David Letterman, comedian Denis Leary, and singer John Fogerty teamed up with Fox to help raise more than $5 million for Parkinson's research.
Being the best-known celebrity with Parkinson's certainly helps the cause. Boxer Muhammad Ali was diagnosed with Parkinson's at age 42 and died this year at age 74. Singers Johnny Cash, Maurice White of Earth, Wind and Fire, and Linda Ronstadt are just some of the famous faces with the disease. Up to one million people have been diagnosed with Parkinson's in the United States alone, and doctors report up to 60,000 new cases each year. Parkinson's is known to affect more men than women, who on average are first diagnosed at age 60.
Fox cautions that his celebrity and the ability to book high-profile news shows such as The Today Show only goes for far. "It was nice to wake up in this community, wake up with people who have an interest in my life that is beyond other entertainment and the ways that they have been with me before. People have probably since related to me as one of them. At a certain point, you have to have a few songs to sing or dances to do to keep them interested, but we've had really good support. My career has been an entrée into that world in a way that it wouldn't be otherwise."
He insists, though, that he's not the one in the lab coat trying to find a cure, just an old hippie from the Upper East Side. "I just hang back and cheerlead. I know that our foundation and our scientific and patient advisory board will guide us in the right direction."
Fox admits that the goal to end Parkinson's may be a lofty one. He's seen some progress in the past 16 years. "Biology is really hard, and you come into these things and say, 'Let's wrap this up in five years.' And then you realize if you wrap this up in 25 years, then you're doing great. So we're trying to get things in the pipeline that may be curative and therapeutic to a point where that would resemble a cure. If we can halt progression and diminish symptoms, then I'll take that."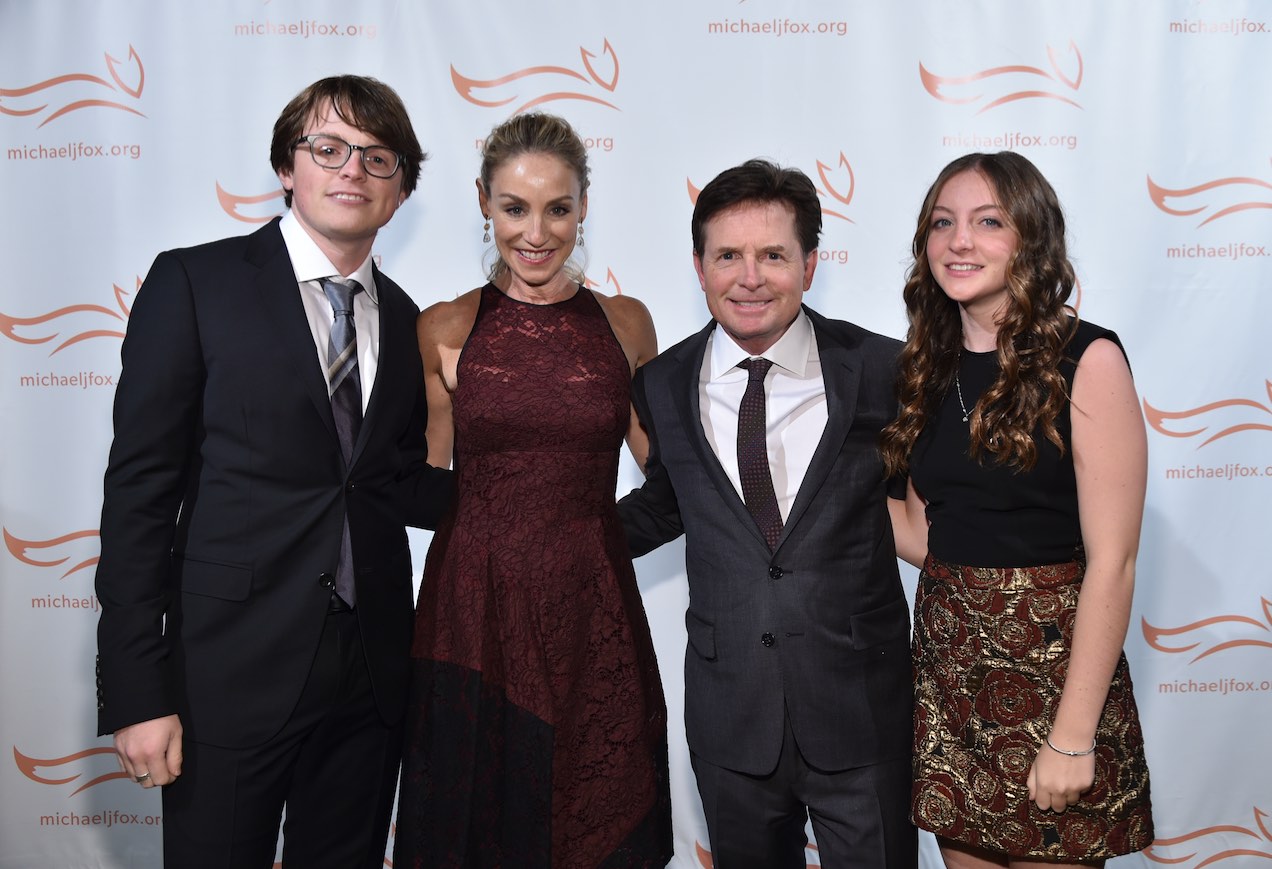 Photo Credit: Getty Images
As for Fox himself, he calls Parkinson's "the gift that keeps on taking," though he says the tremors from his progressive disease aren't as bad anymore. "The biggest problem I have now is balance. That's kind of tricky because you fall down a couple of times at 55 and you realize that you're not 25."
Some days obviously are better than others. "The diagnosis is not the experience. It's partly about Parkinson's or all about Parkinson's or Parkinson's three days a week, and then you find a place to be by yourself and things to do with your family or something. It's not a concrete sentence."
He admits that he doesn't always follow his diet. On the day of this interview, he ate an omelet. "It's really unusual for me to admit for some reason my pills didn't kick in. If I have too much protein, then my pills don't work as well."
One medication in his cupboard—meditation—is a new tool. Ironically, meditation helps him remain still. "The only way I don't move, in even the subtlest ways, is when I'm sleeping. The brain activity is to a point where you're not moving, you don't move. I don't shift in my sleep. If I shift, I'm awake. I'm the same way when I do meditation. If I do it sincerely, then my brain slows down enough that my body gets still."
He also boxes with his trainer and physical therapist, who mainly works with Parkinson's patients, to strengthen his core and balance. "The physical activities are counterintuitive. When I was first diagnosed, my instinct was to get into bed."
The activity may inspire a future role as boxing trainer Freddie Roach, who worked with Manny Pacquiao, Miguel Cotto, and Julio César Chavez, Jr. The trainer also has Parkinson's disease. "I really admire him because he's the type of guy who just does it. He's been working with some of the best fighters in the world. He has difficulty talking and with his balance sometimes, but he just says, 'F••• it.' I just love that about him. I want to be a boxer like him."
If he could crank up the DeLorean and travel back to any time, Fox insists that, as much as he's a history buff and loves everything from the Vikings to the Wild West and likes sampling other people's experiences, he's grounded in the present. "I've got roots in this life, this period and time."
Subscribe to discover the best kept secrets in your city