Every savvy San Franciscan knows that the city is not the warmest place in the bay. While we do enjoy the occasional glorious 70-degree day, the majority of time the weather is chilly, windy, and cold. If the thought of fog has you contemplating a move to sunnier climates, hold up. From vineyard resorts to seaside retreats, SF is within a close proximity to all sorts of haute places. Why not get out of the city and explore the nearby regions? Drive an hour or two North, South, or East, and you'll end up spending the weekend lounging poolside. What's on this weekend's agenda? Calistoga. While Calistoga is on the northern end of Napa, it's worth the extra 20 minutes or so to drive to the quaint and sleepy town. It's the least pretentious region in wine country and has the small town feel of old America.
FRIDAY
Check into one of the new rooms at Indian Springs—California's oldest continuously operated pool and spa facility. With an Olympic-sized mineral pool heated to 98°F from Calistoga's famous natural geysers, the resort and spa has been a wellness destination for over 100 years. There is an nostalgic quality to Indian Springs—it feels like a sophisticated adult summer camp. The hotel underwent a renovation that added 75 bungalows and lodge rooms, indoor and outdoor events spaces, and updated both the main pool and the smaller adult pool, also heated by a natural spring. With impeccable gardens filled with lavender and roses, the palm tree filled property is gorgeous.
Indian Springs guests are invited to use the resort's bikes for exploring the grounds and the surrounding region. Once you've settled into a light-filled room with an all-marble bathroom, walls adorned with abstract art, and a luxurious bed with a blue wooden frame, hop on a bike and head to the spa. It's recommended that you book your massage, facial, or mud bath two weeks in advance, especially when visiting on the weekend. Choose an aromatherapy massage that incorporates the essences of local plants, a hydrating Chardonnay sugar scrub, an opulence brightening facial or their signature treatment, the volcanic ash mud bath.
For dinner Friday night, keep things simple and eat at Sam's Social Club, Indian Spring's restaurant that opened in the spring of 2015. Sit outside on the expansive patio under a stripped umbrella and next to a butcher block table. Place the blue-and-orange ticking fabric napkin on your lap and be prepared to feast. The food at Sam's is sensational. It's fresh, seasonal American fare made with the best quality local ingredients. Start with a cocktail—with tequila, mezcal, and St. Germain, the Smoking Gun is like a spicy grapefruit margarita. From the market ceviche to the house made pasta, everything is thoughtful, filled with layers of flavor, and quite simply, delicious. The cauliflower steak with charred cashew tahini, puffed farro and oil cured olives is a vegan delight that will satisfy the most discerning carnivores.
SATURDAY
Why not sleep in late on Saturday morning? Then grab a bike and ride the short five minutes into town for coffee and breakfast at the Calistoga Roastery. This funky cafe serves up housemade granola, freshly baked pastries, bagels with an assortment of toppings, and egg sandwiches. Park the bike out front and savor a cappuccino or smoothie inside the roastery while reading the local newspaper. After breakfast, walk along Lincoln Avenue, Calistoga's main street and shop the stores and art galleries that dot the six-block strip. Discover an eclectic assortment of gardening tools, ceramics, paintings, and jewelry at Blackbird of Calistoga. Shop for older vintages of wine at the Calistoga Wine Stop, which is located inside the train depot. Browse the shelves for the latest new releases at Copperfield's Books.
When you're ready for some exercise, jump on the bikes and start peddling. Your destination? Tamber Bey, a spectacular ranch, stable, and winery about an 18-minute bike ride from downtown Calistoga. Sundance Ranch was built by Howard Backen for socialite Carol Green in 2002. She passed away in 2009 and in 2012, Jennifer and Barry Waitte, a couple who is passionate about wine and horses, purchased the property to be the new home of their winery, Tamber Bey. The Waitte's focus on small production and make lovely and refreshing Chardonnays and a well-balanced red Bordeaux blend called Rabicano that has a spicy aroma and pairs well with just about everything. Most tastings take place outside in the courtyard of the wooden Kentucky-style stables. Each experience lasts about 60 minutes and reservations are required.
Ride your bikes back to Indian Springs and spend the afternoon lounging by the pool. The naturally heated mineral waters are thought to have healing powers. A soak in the main or adult pool is unlike any other swimming experience—it's relaxing, restorative, and rejuvenating. The cool thing about the pools is that they are open until midnight, so if you're in the mood for a post-dinner soak under the stars, do it! There is a small snack bar that sells light snacks and cold drinks. Sip a glass of rosé or pinot gris, or try one of Sam's Social Club's seasonal housemade beers.
No trip to Calistoga is complete without a visit to Solage Calistoga. The resort is a five minute walk from Indian Springs, so why not head there, to Solbar for the meal of a lifetime? Reserve a table on the outdoor patio—with twinkling Edison bulb lights and the soothing gurgle of Solage's fountains, it's a romantic setting for a tasting menu. While you could order off the cart, we recommend letting chef Brandon Sharp create a seven-course meal. Featuring local ingredients and innovative techniques, each course, from nectarines with prosciutto and mint to beef covered in finely shaved truffle, is creative and scrumptious. Wine pairings are a must and the service is delightful. It's a memorable meal that will last a couple of hours, so it's easy to savor every minute. The best thing is you don't end up feeling overly stuffed when it's finished.
SUNDAY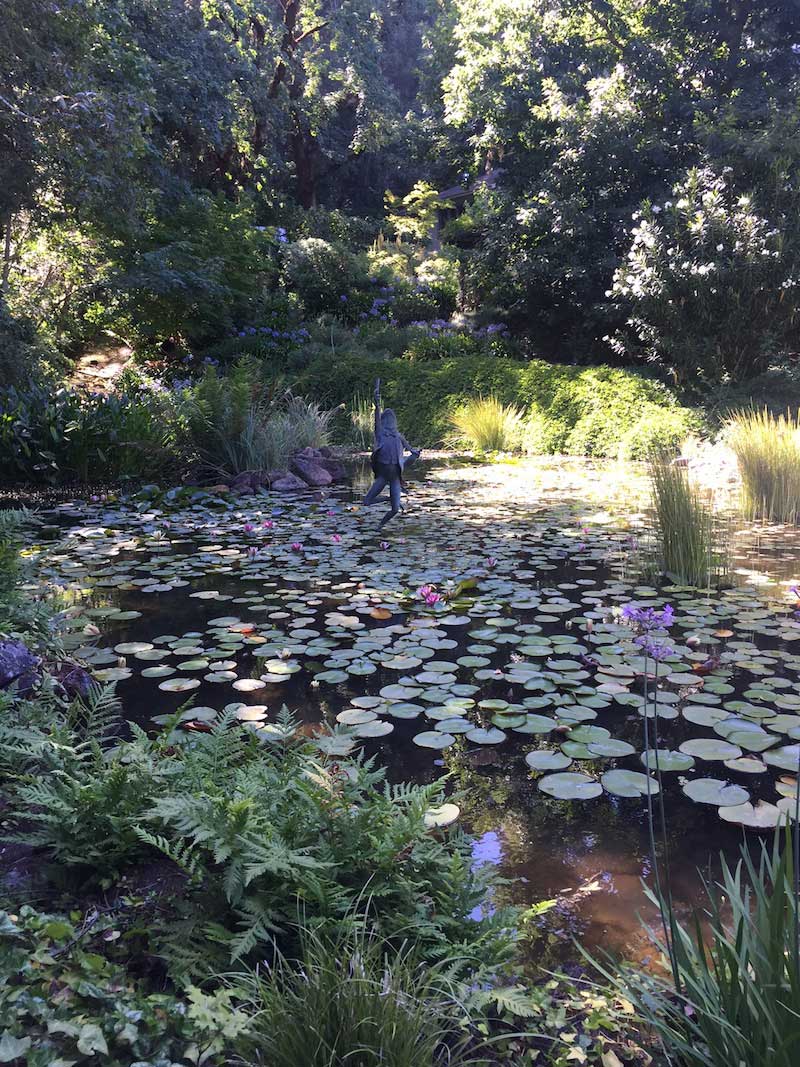 On Sunday morning, before making your way back to San Francisco, head to Brasswood Bakery at Cairdean Estate for breakfast. The Bakery serves up delectable pastries as well as heartier fare like burritos, egg sandwiches, and hash browns. Because local ingredients are used, the menu changes often, but rest assured you'll enjoy a satisfying meal in a bright, airy, and friendly environment. Interested in one last winery stop before you leave the area? Book a tour at Schramsberg, the exceptional sparkling wine house that dates back to 1862. It was the second winery to open in Napa and the first to build under ground wine caves. However, the winery was not opened continuously and the Schramsberg that we know and love today was opened in 1965. It's one of the White House's official wines and for good reason: Schramsberg bubbles are light, delicate, yeasty and refreshing—perfection in a glass. The educational tour involves a guided walk through the caves and several tastes of Schramsberg's best vintages. Toast to a wonderful weekend!
Subscribe to discover the best kept secrets in your city