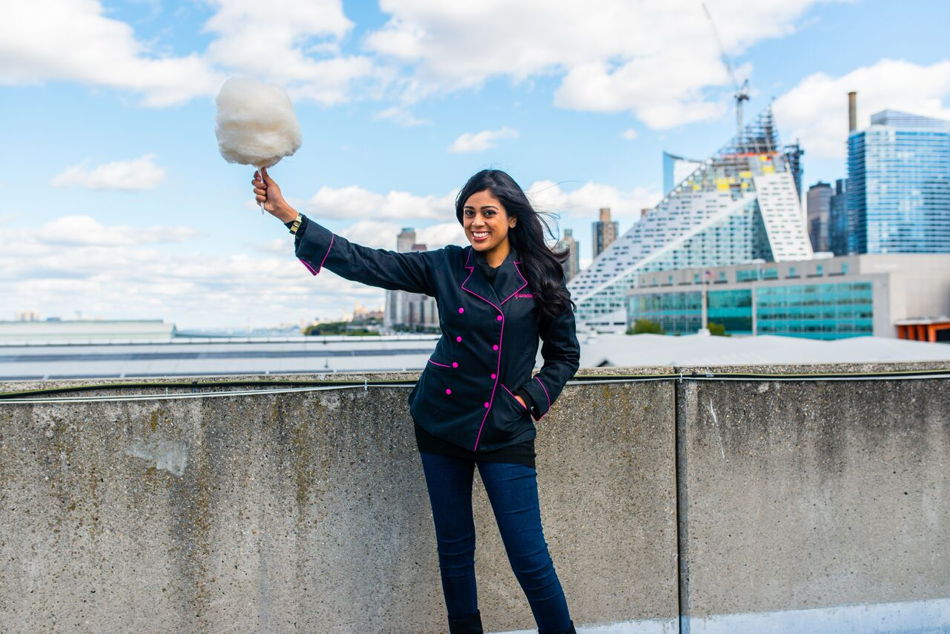 Make Your Life Sweeter®, began as an attempt by entrepreneur, Yasmeen Tadia, to transform and reinvent  traditional, childhood sweets while providing healthier alternatives. A trendsetting brand with a signature collection of 4 indulgent treats including Fluffpop® Gourmet Mini Cotton Candy, Fluffpop Mini Masons, Hotpoppin® Gourmet Popcorn, The Mini MasonTM, Sugaire Organic Cotton Candy and most recently, ModChocolate, it has now become a recognizable favorite at celebrity soirees, sporting events and high profile parties.
A skilled innovator and visionary, shortly after her graduation from SMU (Southern Methodist University) in Dallas, Tadia spent the first 10 years of her career working in a variety of management positions in corporate America which led her to an opportunity as the corporate director of human resources at a large hospitality company in New York City.
Drawing inspiration from her successful, professional career, Tadia decided to branch out on her own and founded Make Your Life Sweeter®. Not only did her personal mantra become a successful conglomerate but also helped to create a foundation for those attempting to make a direct impact on the lives of others. Supporting many charitable initiatives in Dallas, Tadia's philanthropic passion and big heart led to the creation of her own non for profit called Random Acts of Sweetness®, that launched in Fall 2016 with her #spreadingsweetness campaign.
Tadia's Make Your Life Sweeter® brand delivers mouth watering confections that not only look and taste good but are actually quite healthy. Experimenting with her childhood  love of popcorn, Tadia launched Hotpoppin, her creative line of premium, handcrafted, gourmet popcorn. It's popped in small batches and features sweet and savory flavor profiles using only the best ingredients.
One of Tadia's most recent additions to the Make Your Life Sweeter® collection is Sugaire Organic Cotton Candy. Realizing that many people still wanted a  "normal" cotton candy, she used an innovative technique to produce a healthier version that's organic, hand-spun, vegan, and gluten-free!
As for plans in the future, currently Tadia shares her professional experiences as a public speaker and is attempting to write her very first book. In the rare occasion that she gets some spare time, she can be found traveling with her son, Zain, giving him the opportunity to gain a taste of the global community and creating a lifetime memories.

Yasmeen's Haute Secrets
What is your professional background? Visions of fluffy treats and popped sweets weren't always dancing in in my head. As a Southern Methodist University Cox School of Business grad, I spent 10 years in corporate America before inventing Fluffpop Mini Artisanal Cotton Candy. However, my time spent in a variety of management positions, and later as the corporate director of human resources for the largest hospitality management company in New York City, gave me the confidence kick that I needed to turn my fluffy dream into a serious reality.
From where did you draw inspiration to start Make Your Life Sweeter® Brands? Fluffpop Mini Artisanal Cotton Candy is a flavor-packed experience—and a low-calorie, vegan, and gluten-free one at that. The entrepreneurial vision behind the sweet Fluffpop miniature pouf was actually born out of my desire to provide a healthier candy alternative for my sugar-loving young son, Zain, which also instantly made me the CEO of fun for my son. Now, my team of resident "DJs" spin Fluffpop at countless events across the world — from red-carpet celebrity soirees to sporting events, posh parties, and private celebrations. We reached a milestone in 2014 when we attained the United States Patent for Mini Cotton Candy Pops (patent number: D712, 116 S).
Popcorn also holds special significance for me, as my love of the snack stems from my childhood in South Africa, where kernels were freshly popped and uniquely flavored for each customer. Wanting Zain to also experience a similarly creative and custom treat in the United States, I launched Hotpoppin®, my innovative line of premium, handcrafted gourmet popcorn in 2014. Hotpoppin is popped in small batches and features sweet and savory flavors using only the highest quality of ingredients for a taste thats like no other. Vegan and gluten-free options are also available. Along with chef-driven flavors, the Hotpoppin team specializes in innovative and trendsetting popcorn bars and custom presentations at events, traveling worldwide with their unique creations.
My most recent addition to the Make Your Life Sweeter® family is Sugaire® Organic Cotton Candy, which celebrates a similar gourmet twist as Fluffpop but in a traditionally sized cotton candy offering. When traveling globally with my son, I realized that he was still drawn to traditional sized cotton candy, which left me perplexed. Realizing that many people still crave "normal" cotton candy, I wanted to create something that was perceived as the typical childhood favorite, but wanted to use my innovative creativity to make it organic, hand-spun, vegan, and gluten-free. My next venture is ModChocolate, which will feature artisanal chocolate creations made from the highest quality all-natural ingredients.
In addition to my SWEET endeavors of Fluffpop, HotPoppin, The Mini Mason, ModChocolate and Sugaire, I also run HR Evolved, a consulting firm geared towards fueling her passion for human resources and strategic management. I am currently working on writing my first book and I enjoy the opportunity of sharing her experiences through a variety of public speaking platforms. During my spare time, her favorite thing to do is to travel with my son Zain, giving him the opportunity of creating memories through global experiences.
How did you come up with the name Sugaire? Well, Sugaire is technically cotton candy which is made with all organic ingredients. Cotton candy is quite an amazing transformation made when heat is combined with sugar and air, hence I thought of merging the words "sugar + air" to make Sugaire. Pronounced Shoog-Air.
How do you think the confection/candy market has evolved? I was actually the first in the world to create a unique mini cotton candy concept and that led to us being one of the first in the organic cotton candy space. It has been so delightful to see how many people all over the world are creating unique concepts for a healthy alternative to the standard dessert. We are now moving into creating even more innovation experiences in the area of custom drinks and molecular gastronomy food concepts.
Is your brand geared more towards adults or children? Since Sugaire organic cotton candy comes in a variety of flavors, we were able to target the brand to all age groups. We are able to create experiences customized for specific events depending on the demographic of the guests. This can range from a birthday party to a VIP Red Carpet Soiree in LA.
How do you think your brand has changed since its inception and what key element has remained consistent? Our brands are ever-evolving, but our vision has remained the same since day 1: To Make Life Sweeter. There are a few elements that have stayed consistent since the inception of the business:
1)  Sticking by my morals and principal
2)  Building and fostering relationships with current and potential clients to grow the business
3)  Going above and beyond from a client satisfaction perspective
4)  Trying to work with the client to create the most unique experience for their guest
5)  We do not chase money, we look at opportunities and ensure that they are in alignment with our growth strategy.
How does the Make Your Life Sweeter® brand differ from its competitors? We have yet to find anyone who is able to offer everything that we offer, with the added creative and customer service ability. We go above and beyond to constantly think of ways to create new and unique experiences for our clients. We aren't just selling sweet treats, we are creating an experience.
Describe your latest creation? The Sugaire Rose Gold cotton candy infusion is our latest creation and was developed specifically for a media launch in NYC for Paris Hilton. Video to coverage that went viral from New York Magazine and In-Style Magazine, available here: http://fluffpop.com/blog/
Where do you see your brand in the next decade? To be honest, I don't even know where we will be tomorrow. Every single day is filled with surprises, challenges, and blessings. We hope that we can become a brand that is a household name that is associated with creating unique sweet experiences, like no other.
I also hope that we are able to make significant strides with the Random Acts of Sweetness initiative, with hopes of giving back to impoverished communities through charitable services within the United States and abroad. With goals of working in some of the most impoverished communities all over the world to build water wells, infrastructure, education, healthcare, economic development, microfinancing and literacy programs
Complete this sentence. Candy should be an experience that creates a memory.
Being a successful female entrepreneur what advice would you give other female entrepreneurs?
• The power of great mentors.
• Develop meaningful relationships and foster them over a lifetime. • Do for others without expecting anything    in return.
• Stand by your values.
• Follow your passions and love what you do.
• Today is not a dress rehearsal.
• Work on improving your Emotional Intelligence.
What is your favorite ingredient to work with? Organic Cane Sugar  Least favorite? Humidity, although not an active ingredient in all of our products, it does play a huge role in the quality of our product and is definitely my worst enemy.
Your favorite candy? Sea Salt Caramel Sugaire and Lychee Fluffpop, for sure! If I had to pick anything else, it would be South African Peppermint Crisp and South African Crunchie.
Tell us about your philanthropic work in the community? Make Your Life Sweeter"is a motto that I try to live by, endeavoring to make a sweet impact on the lives of others while supporting a variety of charitable initiatives. My philanthropic passion has enticed me to create a non-profit organization that will inspire others and also give my son the opportunity of interacting with those less fortunate than him. The non-profit organization called Random Acts of Sweetness® will launch in Winter of 2016 with my #spreadingsweetness campaign.
Over the last two years, we have been doing a variety of events all over the world through my Random Acts of Sweetness organization, including partnering with hospitals, battered women's shelters, orphanges, the MS Society, the Leukemia & Lymphoma Society, the International Rescue Committee, Saint Jude Children's Hospital, and many other amazing philanthropic organizations.
How do you balance creativity with commerce? The most important thing for us it to balance creativity with business strategy. While we are presented with amazing opportunities which allow our team to be creative on a daily basis, we have to always remind ourselves to stay on-target by ensuring we are in alignment with our vision and business goals. Yes, these may evolve and change as we grow as an organization, but we try to ensure that we always stay on task as possible.
Where were you born: Johannesburg, South Africa. Yes, I am proudly South African… but my ancestors are of Indian decent. To throw everyone off, I speak fluent Spanish! 
How long have lived in Dallas: 31 years, my family emigrated from South Africa when I was 3, but a majority of our relatives are still back in South Africa.
Occupation: CEO and Founder of Make Your Life Sweeter® brands |Fluffpop® Mini artisanal cotton candy | Hotpoppin® gourmet popcorn | Sugaire® organic cotton candy | Modchocolate | Random Acts of Sweetness®
Favorite Restaurant: The Noodle Wave Thai Restaurant (1490 W Spring Valley Rd, Richardson, TX 75080 | www.noodlwave.com), Afrah Mediterranean Restaurant (318 E Main St, Richardson, TX 75081 | www.afrah.com), The Blue Fish (940 Garden Park Dr. Allen, TX | www.the bluefishsushi.com)
Best dessert: Fried Cinnamon ice cream at Noodle Wave Thai Restaurant
Best Sunday brunch: The Café on the Green at the Four Seasons Hotel (http://www.fourseasons.com/dallas/dining/ | 4150 N MacArthur Blvd, Irving, TX 75038 | http://www.fourseasons.com/dallas/dining/) or Breadwinners Café & Bakery at Northpark Center (8687 N Central Expy, Dallas TX | http://www.breadwinnerscafe.com)
Best place for a power business meeting: Ascension Coffee (1621 Oak Lawn Ave, Dallas, TX 75207 | https://ascensiondallas.com) or The Joule Lobby (1530 Main St, Dallas, TX 75201 | www.thejouledallas.com) or Royal Blue Grocers in Highland Park Village (1 Highland Park Village, Dallas, TX 75205 | http://royalbluegrocery.com)
If you have out of town guests, which hotel would you recommend? Hotel Zaza!!! It's definitely an experience like no other. Chef Dan even serves a Madras Mango Curry Cotton Candy on a scallop ceviche in the Dragonfly Restaurant! (2332 Leonard St, Dallas, TX 75201 | www.hotelzaza.com)
Favorite shopping venue/boutique: Northpark Center because you can get everything from high fashion to everyday trends, and have an amazing lunch at the Breadwinners Café!
Favorite Cultural Event: Eid ul-Fitr and Eid ul-Adha
Favorite Cultural Institution: VRIC (Valley Ranch Islamic Center)
Best Steakhouse: Nick and Sam's (3008 Maple Ave, Dallas, TX 75201 | www.nick-sams.com/)
Best Limousine/Driving Service: UBER – Thanks to Leandre John and his remarkable team, UBER has definitely been a game changer for the transportation industry in Dallas and all over the world.
Best Museum/Exhibit: The Perot Museum of Nature and Science… mainly because it's one of my son Zain's favorite places! (2201 N Field St, Dallas, TX 75201 | www.perotmuseum.org)
Describe your city in three words: Worldchangers made here.
Favorite historic/legendary place to see or explore: The Neiman Marcus Flagship store in Downtown Dallas and Highland Park Village.
All-around favorite spots in Dallas: Highland Park Village (www.hpvillage.com), The Dallas Arboretum, and the Southern Methodist University Campus (www.smu.edu)
Best Aspect of Dallas: I wouldn't have picked any other city in the world to start my businesses. The amazing relationships mixed with the innovative growth strategy of the city. I think we have the best Visitors and Conventions Bureau in the country, thanks to the DCVB (www.visitdallas.com)!
Best "Staycation" Spot: The Four Seasons Hotel (http://www.fourseasons.com/dallas/dining/ 4150 N MacArthur Blvd, Irving, TX 75038
Follow: Fluffpop, Hotpoppin, Sugaire, ModChocolate, Random Acts of Sweetness, Yasmeen Tadia and Make Your Life Sweeter
Instagram: @yasmeentadia, @makeyourlifesweeter, @fluffpops, @hotpoppin, @sugairecottoncandy, @modchocolate, @spreadingsweetness