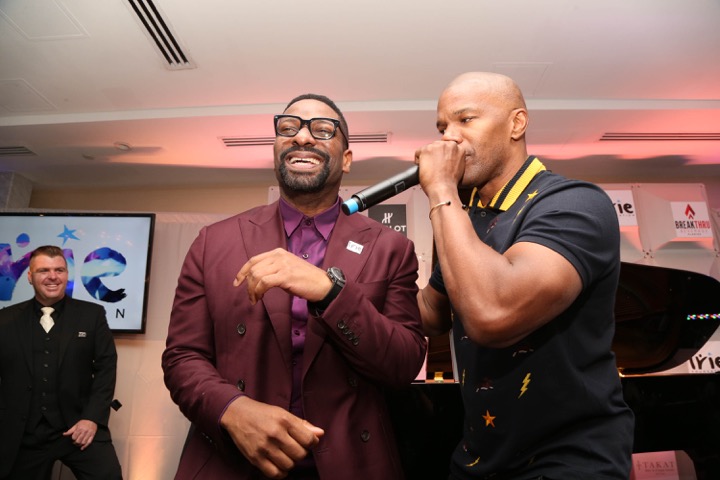 DJ IRIE's 12th annual IRIE Weekend went off without a hitch spanning four days of fund-raising activities beginning June 22nd. The festivities got going on Wednesday with the #InspIRIE Gala dinner presented by Hublot. Hosted by actor and musician Jamie Foxx, the gala raised money in support of building the new Irie Rhythms Music Center. The evening featured a menu curated by Rocco DiSpirito, performances by Rock Jazz musician ELEW and students from the Irie Foundation Allapattah music and literacy center, two proclamations from Mayor Phillip Levine and Mayor Carlos Gimenez and a silent auction with items including a pair of TAKAT diamond and emerald earrings that sold for $9,000.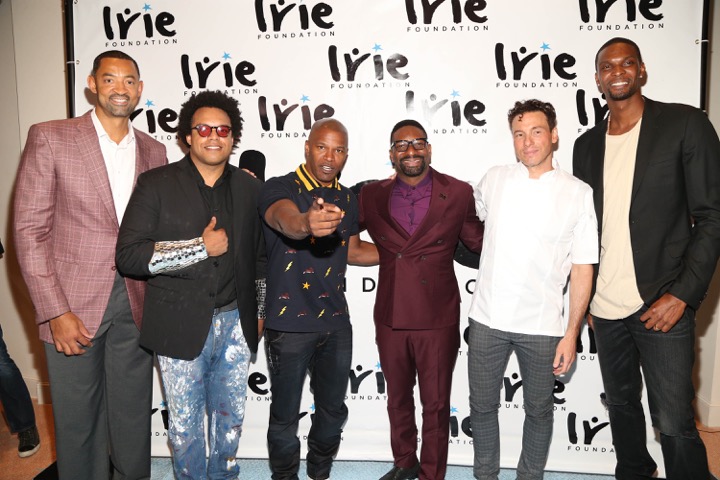 On Thursday The 12th Annual Irie Weekend kicked off with the Irie Foundation #InspIRIE kids golf clinic. The event, hosted by LPGA Golfer Paula Pearson-Tucker, took South Florida's at-risk youth and provided them with an inspirational afternoon of golf, keynote speakers and delicious bites.  DJ Irie, along with Roc Nation's Towalame Austin and Baller's Star Omar Benson Miller, provided words of wisdom to the Irie Foundation participants.
The kids received swag bags with items provided by Wilson Staff, MB Sports Camp and Muzik Headphones and were treated to a surprise visit from Jamie Foxx to end their day. Later on in the evening the exclusive VIP Kick Off concert took place at the Shelbourne Wyndham Grand featuring a performance by Jamie Foxx and cocktails by Breakthru Beverage and Korbel Champagne.
On Friday, the 12th Annual Celebrity Golf tournament took place at the Miami Beach Golf Club featuring a tent on the Green, bites by Jimmy John's and a brand new car from South Dade Toyota for a hole in one. Celebrity golfers including Anthony Mackie, Alonzo Mourning, Ray Allen, Austin Mahone, Gary Sheffield, Mehcad Brooks and more came out to support the event. Following the tournament Stoli Elit presented IWXII Weekend Friday Night featuring Dru Hill at LIV nightclub.
Saturday afternoon Aquafina presented the Irie Weekend BBQ Beach Bash featuring Jack Daniels Tennessee Honey cocktails, bbq bites, giveaways and a special performance by Fat Joe and B.o.B. The 12th Annual IRIE Weekend closing celebration took place at E11even with special performance by T Pain and Ace Hood.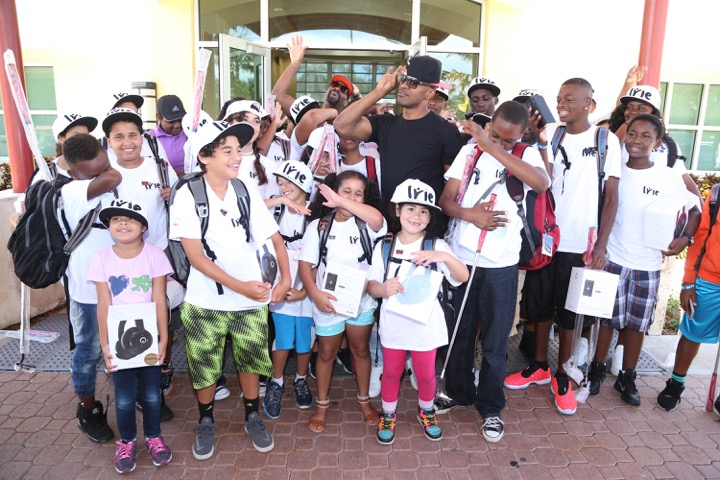 The long list of sponsors supporting the cause includes Jimmy John's, Aquafina, South Dade Toyota, Hublot, Shelborne Wyndham Grand, Jet Blue, Mountain Dew, Breakthru Beverage, Pepsi, Aquafina, Mist Twist, New Era, Muzik, Stoli Elit, Gentleman Jack, Jack Daniel's Tennessee Honey, Korbel, Jetsmarter, TAKAT, Ally, Samsung, S.K.A.M. Artist, Under Armour, Freebee, Artist Related, LIV, 3Fold, World Redeye, E11even, Miami Beach Visitor & Convention Authority, Deepsleep Studio, Chic Sketch, NBC Comcast, GrillMan's, Certified Steak & Seafood, LocTote, Five Four, Victoria Secret PINK, Ad Graphics, Delmay & Partners, Seminole Hard Rock & Casino, Chevron Havoline, Chevron Techron, AzDef, Miami Heat Charitable Fund, Carnival Foundation, Rl Fragrances, Dollar Shave Club and Hydrate Medical supported the weekend benefitting the Irie Foundation (www.iriefoundation.org).