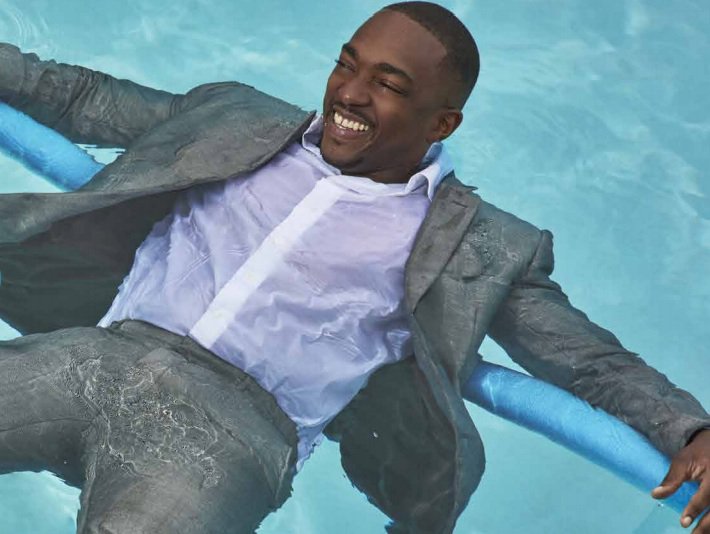 Anthony Mackie is drowning. Not in sorrow, not in work, but in the shallow end of the Viceroy L'Ermitage Beverly Hills' rooftop pool. OK, he's not actually drowning per se, but, for the impressive amount of flailing around he's doing, he sure looks like he could be. The star of Marvel's upcoming Captain America: Civil War never properly learned to swim (despite having a full-length pool at his New Orleans home). Even so, Mackie easily went all in, at our request, with a beaming smile on his face and a lot of boisterous laughter. Both were quickly submerged until he found a few floaties, but still. This is a guy who's up for anything. Mackie refers to his actions as "so dumb," but with a cheeky and sly expression on his face that makes you realize this phrase, in fact, means the opposite. After speaking to him for even five minutes, you'll know that he's proud of the word "dumb" and that he equates it with adventurousness. Somewhere in your mind, you'll also muse that, for a guy who barely knows how to doggy paddle, he's had more than his fair share of oceanic mishaps.
While filming 2012's Academy Award-winning drama, The Hurt Locker, in Egypt alongside co-stars Jeremy Renner and Brian Geraghty, Mackie "swam" (if you could call it swimming) with sharks. He calls this "the dumbest thing I have ever done." Similarly, he had a crafty way of earning his scuba certification while shooting the 2004 thriller, Haven, with Zoe Saldana and Orlando Bloom in the Cayman Islands: "I struck up a deal with these people at the diving school and they said, 'If you can get Orlando Bloom to take a photo in front of our store, we'll certify you for free and take you diving all summer.'"
Mackie didn't miss a beat. "I hit up Orlando and said, 'Hey, what are you doing?' He says, 'Nothing.' So I say, 'Meet me down here.' He comes over, I get my dude across the street [to take the photo], Orlando leaves and I get certified to dive." Two months later, he found himself in an inexplicable, yet exhilarating, situation: bitten by miniature sharks who decided his mesh suit looked like a tantalizing meal.