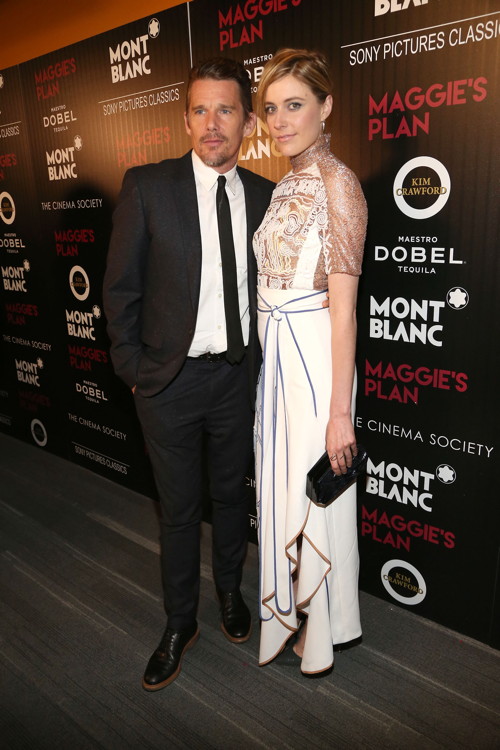 Attention all New York control freaks (hello Manhattan!). Here's a movie for you: Maggie's Plan.
Maggie, a thirty-something single New Yorker played by Greta Gerwig, thinks life is as manageable as a Google calendar–all you need to do is plan, plan, plan.  She wants to have a child and hears the loud ticks of the biological time clock pounding in her ear. Her love life is a mess, but, hey, it's 2016, so that's only a small detail when it comes to getting on with things.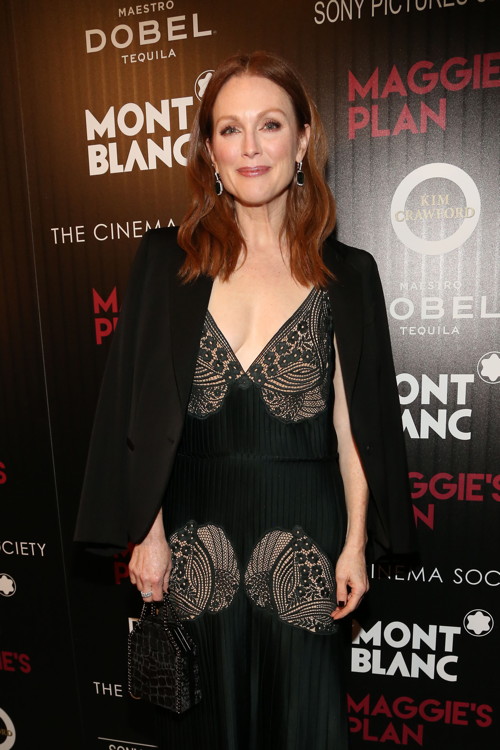 Maggie decides to do motherhood alone until she meets up with John Harding (played by Ethan Hawke) a "ficto-critical anthropologist" and struggling novelist. She falls in love (not on the calendar) for the first time, and rethinks the single mom idea. Complicating matters is John's  strained marriage with Georgette Nørgaard (Julianne Moore), a Danish academic smarty. Organizer that she is, Maggie cooks ups a new scheme that catapults her into a cheeky love triangle with John and Georgette and learns that well, the best laid plans……
The movie was directed by Rebecca Miller, a talented multi-platform artist who in addition to directing movies has written novels, acted, and painted. (Also to note: Miller is the daughter of the late iconic playwright Arthur Miller; her husband is three-time Oscar winner Daniel Day Lewis).
New Yorkers got a preview of Maggie's Plan recently when The Cinema Society and Montblanc with Mastro Dobel and Kim Crawford Wines hosted a screening at Ladurée Soho.
Attendees included the film's stars Greta Gerwig, Ethan Hawke, Julianne Moore, Travis Fimmel; writer/director Rebecca Miller; along with the cast, : Tommy Buck, Alex Morf, Kathleen Hanna, Angela Trento, Mina Sundwall, Jackson Frazer, Monte Greene; producers Rachael Horovitz, Damon Cardasis; executive producers Lucy Barzun Donnelly, Alexandra Kerry; Sony Pictures Classics co-presidents Michael Barker and Tom Bernard.
They were joined by Daniel Day Lewis, Paul Dano, Bennett Miller, Albert Hammond Jr, Julie Taymor, Adam Horovitz and Kathleen Hanna, Gina Gershon, Billy Connolly, Gabriel Day Lewis, Marin Ireland, Shiloh Fernandez, Casey LaBow, Libby Woodbridge, Anthony Bregman, Sandra Brant, Reed and Delphine Krakoff, Sally Singer, Nichole Galicia, Daniel Benedict, Nanette Lepore, Alex Lundqvist, and Cinema Society Founder Andrew Saffir
Maggie's Plan opens May 20th.
Subscribe to discover the best kept secrets in your city