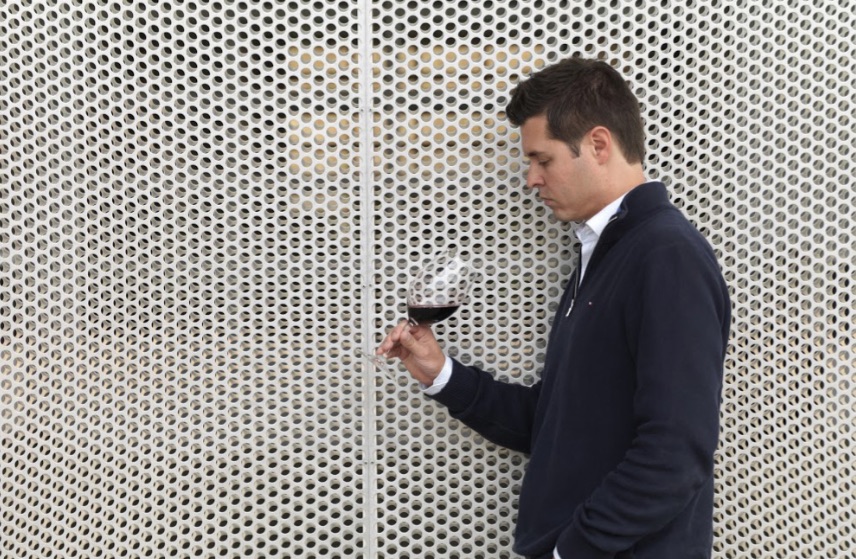 Although he had been with the Plumpjack Group's winemaking team for more than eight years, it wasn't until 2014 that the wine industry turned its spotlight on Jeff Owens. "The Wine Advocate founder" and acclaimed wine critic Robert Parker awarded Owens's 2012 Odette Estate Reserve Cabernet Sauvignon a perfect 100. This was the Sacramento native's first vintage as head winemak- er at Odette Estate, making him the only winemaker in the world to earn a perfect score on an inaugural wine. Some 500 cases of the historic wine were produced, and it sold out almost immediately. Since the groundbreaking launch of his initial cult Napa Cab, Owens, who has a degree in wine and viticulture with a concentration on enology from Cal Poly San Luis Obispo, has been keeping his head down to focus on producing high-quality wine. Not afraid to get down and dirty, Owens worked his way up from cellar assistant to head winemaker at Odette Estate, stopping along the way to labor as assistant winemaker at PlumpJack's other wineries, CADE and PlumpJack. These days, he's working on his fifth vintage and has the natural confidence of a seasoned winemaker. "I try not to second-guess myself," he said on a recent sunny but windy morning. "As a winemaker, you have to be really confident when you make your decisions. Once you pick the grapes, you can't put them back on the vine. Once you press the grapes, you can't put the juice back in. If I have any doubt, luckily, I have a really great team. They know the exact direction that I am heading and will help me with the timing of decisions." As he gears up to host a dinner for 20 as part of the Auction Napa Valley vintner dinner series, Owens gave us a glimpse into his busy day.
Here's what a typical 24 hours at Odette Estate looks like during harvest season, the most hectic time of the year. (Note that most definitions of wine terms provided here within brackets are from the "Wine Spectator" glossary.)
5 A.M. My alarm goes off, I shower, make some coffee, have breakfast (if I'm lucky!), kiss my family goodbye, and hit the road. If I have time to make breakfast, which I often do not, I throw an English muffin or a bagel in the toaster. It's gotta be something easy that I can grab and eat on the go.
5:30 A.M. I head straight to the Odette Estate vineyard. If we have any grape picks scheduled, I check in with the vineyard crew to ensure we're on the same page and address any questions or concerns. I show up at the vineyard at the same time as the crew arrives—sunrise. We do a lot of separation with vine- yards, and I flag everything and make sure the pickers have an understanding of what to pick. I mark everything with green tape and red tape. Green means go and red means stop. We usually talk a couple of days before the pick, and I go over and clarify everything with the team. After the crews get started, I walk each block [a row of vines] — we have 19 blocks and they range from .8 of an acre to a little over 3 acres, so I do a lot of walking. While I'm walking, I taste the grapes for flavor and to determine upcoming micro picks in the vineyard. I always bring flagging tape with me to mark the appropriate separations for these picks.
6:30 A.M. I make the rounds throughout the winery and taste all fermenters. After I taste, I write the fermentation protocols, including any press/cut decisions. The day's game plan goes up on the board, and I meet up with my wine-making crew to discuss the day.
6:45 A.M. We get to work setting up the crush pad, starting pump-overs [pumping red wine up from the bottom of the tank and splashing it over the top of the fermenting must to remove carbon dioxide], draining tanks for pressing, and racking wine to barrels. We roll out all the equipment. After the first couple of flats of grapes come in, we figure out how much fruit it is. The first crew comes in with three bins at a time via tractor. Once we get it up and running, we juice content varied by block. It takes a few minutes, but we have the process dialed in and get the juice as clean as possible.
7 A.M. The first fruit arrives off of the estate and we begin crushing. I make sure we are getting the desired results we're seeking, eliminating [unwanted matter like] jacks and shot berries.
8:45 A.M. Hopefully I can break away and check emails and catch up on the latest wine news, if time allows!
9:00 A.M. I receive and look over all data and analysis from each fermenting lot run by the crew. Then I enter the data into a spreadsheet for tracking. All of the fermentation, brix [the sugar content in a solution], pressing decisions, and tracking of tannins [the mouth-puckering substance found mostly in red wines] are entered in a massive Excel spreadsheet. We often look back at previous vintages when making the current batch. The first block is going to tell you about the quality of the juice and how fast your tractions are going to take place, so this data is crucial.
10 A.M. I make another round to taste all fermenters, make adjustments to the fermentation protocols and any press cuts. Every year is different. The juice can change its flavor in less than an hour. In 2013, I did a lot more tasting. With that vintage, I would make the rounds and go through and taste everything, and when I got back to the first tank, the amount of body and color we had picked up was crazy. It was extremely fast.
11 A.M. I walk through the entire cave — we have 18,000 square feet of cave — to check on all the lots. I smell barrels, mostly active barrels. I don't spend too much time on previous vintages. We have 600 barrels, but how many I check depends on how far along we are in the harvest. In the beginning, we have nothing. As the weeks go on, we have more and more. Pretty soon I'm checking a couple of hundred barrels. I check on activity and look for anything out of the norm. I make sure they smell great and look healthy.
12:00 P.M. I head out to visit and sample other vineyards. I usually grab lunch on the road. It could be the taco truck. I eat a lot of burritos and tacos during harvest. They are filling and easy to eat on the go. Sometimes I'll stop in Rutherford at [Napa Valley staple] La Luna Market & Taqueria.
2:00 P.M. I return to the winery. I check in with my crew and head into the lab to run basic chemistry on the vineyard samples including brix, TA [tartaric acid, the principal acid in grapes and wine] and pH. I bring in berry or cluster samples that I collected when I arrived in the morning. When I walk the lots, tasting, I take a gallon Ziploc baggie and collect berries as I go. Then I test these berries in the lab. Although most important decisions are based on flavor, it's good to check the scientific readings of the grapes. I know a grape is ready when it pops and sings in your mouth. When it's dancing across the palate with sweet tannins and really intense, packed flavors — that's when it's go time.
4:00 P.M. I taste every fermenter again to analyze extractions. I look for both color in the juice and what's left in the skins. I also look for tannins, overall body perception, balance and length. I then decide the next steps for each lot. I can increase or decrease temperature, the number of pump-overs, drain the free run or press off the skins.
5 P.M. We start another round of pump-overs, possibly drain or press a tank. After fermentation, we push the skin to the top and get all of the color and flavor extraction out of the skin. Then we pump the juice over the skin to get more extraction. So I go around and taste each one. If one lot is extracting like crazy, instead of doing two pump-overs, we'll do just one. On another lot, we may need to extract some more color, so we pump it again.
7 P.M. Time to sanitize all fittings, hoses, pumps, devices, etc. for the next day's use. We have seven people total, so it's a small team and everyone chips in. It's a fine line creating the perfect team. We want to be as efficient as possible. If you have too many people, everyone just stands around and you become less efficient.
7:15 P.M. I taste the juice coming out of the press to determine when to make the cut. All of the press wine is kept separately, then sent to a new tank. Once the press cut has been made, the press is emptied and cleaned.
8 P.M. I head into the office for a quick bite and check my emails. If I'm really lucky, my wife will have made something for dinner for the week. It could be pasta or chicken or tacos. I kind of just go with the flow and forget about food during harvest.