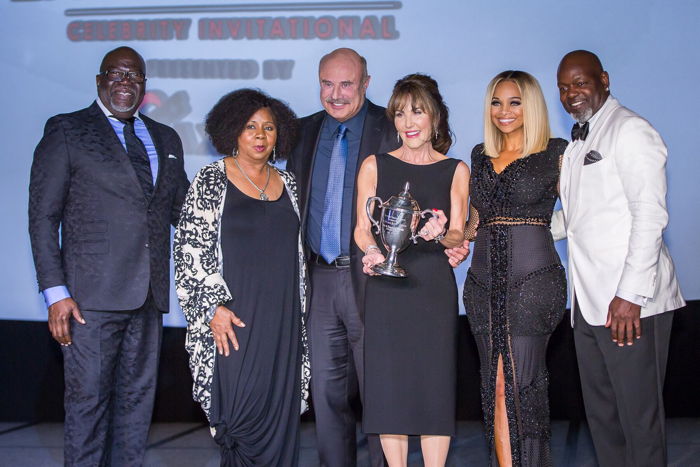 photo credit: Thomas Garza Photography
May 6, 2016 marked the Friday Night Party commencing the 7th Annual Emmitt Smith Celebrity Invitational weekend presented by Axxess. As cars lined up and guests made their way through the entrance of the luxurious Omni Hotel in downtown Dallas, there was a buzz of excitement in the air. The weekend kicked off with 1,000 guests attending the party sponsored by Albertsons/Tom Thumb, led by honorary chairs Alan and Leann White and Event Chairs Carmen and Thomas Surgent. Among the many guests, both sports and entertainment celebrities walked the red carpet including former Dallas Cowboys and current FOX analyst Daryl Johnston, former Dallas Cowboys wide receiver Michael Irvin, former Vikings Pro Football Hall of Fame defensive tackle John Randle, NFL Arizona Cardinals Assistant Coach Dr. Jen Welter, Grammy Award winner Kirk Franklin, former Raiders Pro Football Hall of Fame running back Marcus Allen, Assitant Coach of the Sacramento Kings Nancy Lieberman, Real Housewives of Dallas stars LeeAnne Locken and Tiffany Hendra, former Dallas Mavericks guard, and current FOX NBA analyst Jim Jackson.
Pat and Emmitt Smith looked fabulous as they made their way down the red carpet perfectly conforming to the 007-themed gala referencing the 7th anniversary of the event. Pat Smith was dressed in a stunning black beaded gown by local fashion designer, Esé Azénabor and Emmitt Smith looked dapper in a white dinner jacket tuxedo.
Even before the doors to the ballroom opened, ESCI had already raised $1 million dollars and by the end of the evening, a figure of $1.2 million dollars would contribute in making a staggering $6.2 million dollars raised in support of Pat and Emmitt Smith Charities including PESC's very own Team 22 program.
Pat and Emmitt Smith Charities is a 501(c)(3) public charity that creates and funds unique educational experiences and enrichment opportunities for underserved children and youth. To fulfill its mission, PESC collaborates with corporate partners to provide the necessary programs, products and/or services needed to enhance their goals. In addition to their own initiatives, PESC has made the commitment to financially support any organizations that share in their mission and endeavors to support the community. Among their many programs, TEAM 22 was specifically designed to provide long-term mentorship, unique enrichment experiences, summer enrichment programs, college tours and access to a college education through scholarships. TEAM 22 members are youth within the Dallas community with a passionate interest in furthering their lives through positive experiences.
When asked about the special night and the immense support given in raising necessary funds to support the charity, Emmitt Smith said, "We continue to be blessed by the generosity of our partners and friends. Pat and I are inspired by the support of our community and their commitment to impact North Texas children though education." The proceeds from the weekend-long event will go to funding unique educational experiences and enrichment opportunities for underserved children.
The evening was emceed by comedian Broderick Rice and entertainment was provided by rock band, Daughtry sponsored by PlainsCapital. Dr. Phil and Robin McGraw were presented the Roger Staubauch award for their exceptional work with women and children around the country. Named after the legendary Dallas Cowboys quarterback and real estate icon, the award recognizes sports and or entertainment professionals who positively impact the lives of children by creating opportunities for today's youth. Established by his Alma Mater, this is the only award given in Staubach's honor with past recipients including Steve and Marjorie Harvey and Magic and Cookie Johnson.
Upon receiving the award, Dr. Phil and Robin McGraw had this to say: "We are incredibly honored and humbled to be receiving this special award from our dear friends, supporters and philanthropic leaders, Pat and Emmitt Smith. Raising awareness for disadvantaged children and families is something that is so near and dear to our hearts and will continue to always have our full and ongoing support. It's our hope that with our already established advancing programs and the introduction of even more over time, we can inspire hope and happiness for today's youth and give every person struggling a reason to smile and be confident in who they are every day of their lives."
For many it was a posh evening filled with fun, however for some, the night took on a deeper meaning and was evident by the looks of immense gratitude and humility on the faces of PESC's TEAM 22.
For more information, visit http://www.emmittsmith.com/celebrity-invitational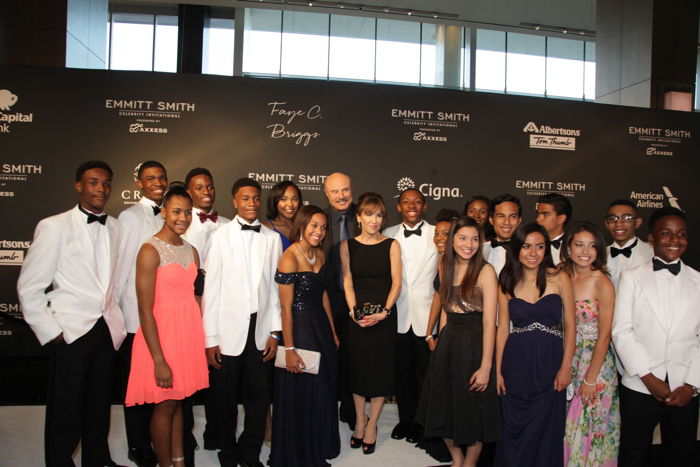 Team 22 with Dr. Phil and Robin McGraw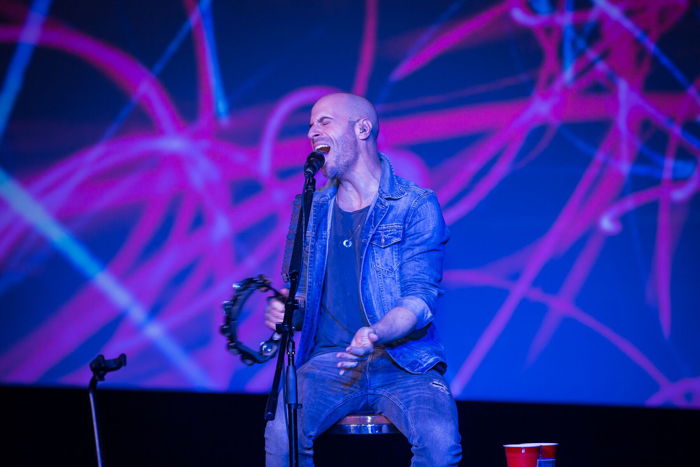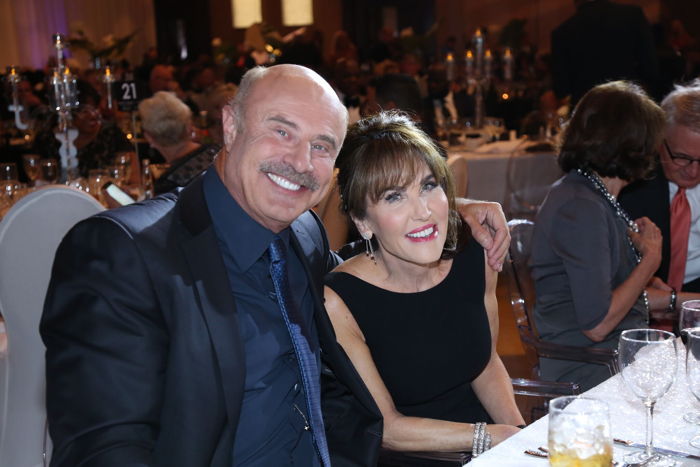 Dr. Phil McGraw and Robin McGraw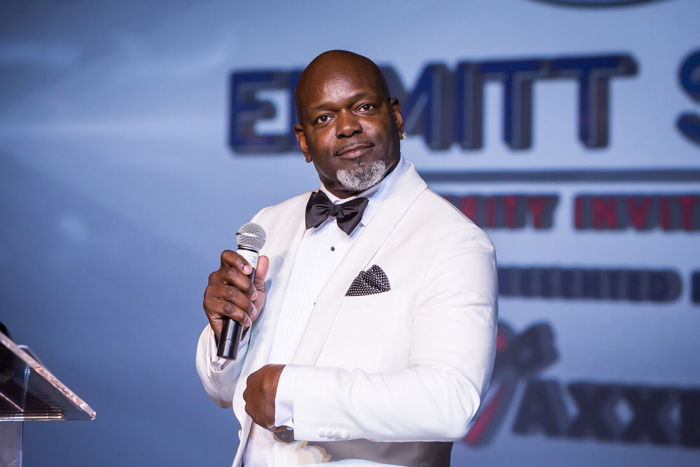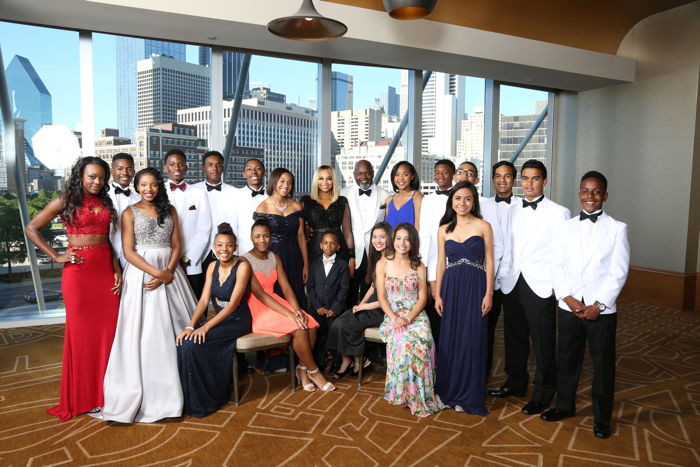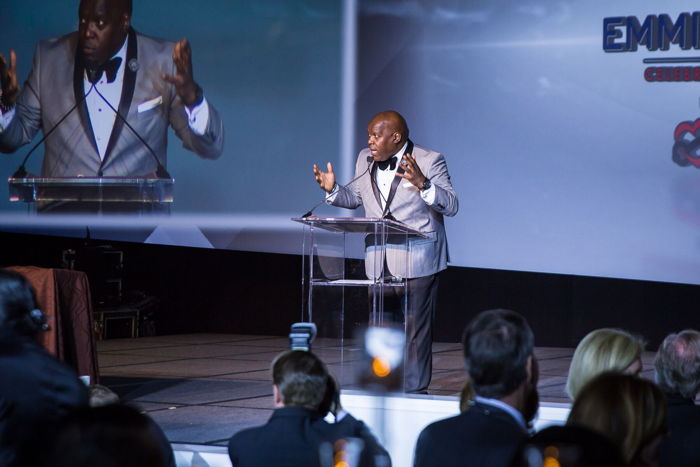 Emcee, Comedian Broderick Rice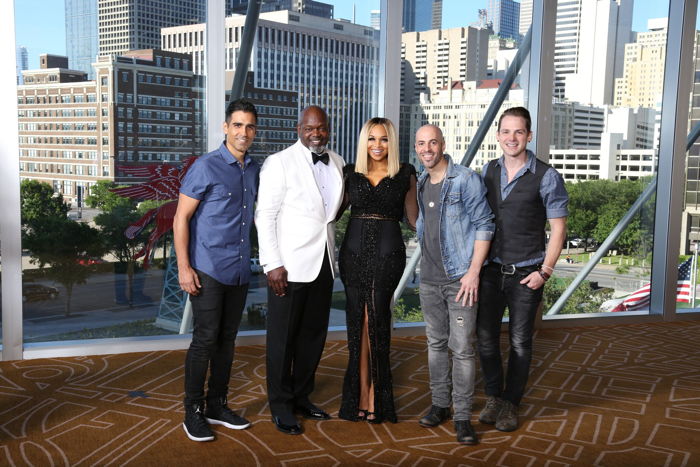 Daughtery Band and Mr. and Mrs. Emmitt Smith
Rich Lee and Real Housewives of Dallas Star, LeeAnne Locken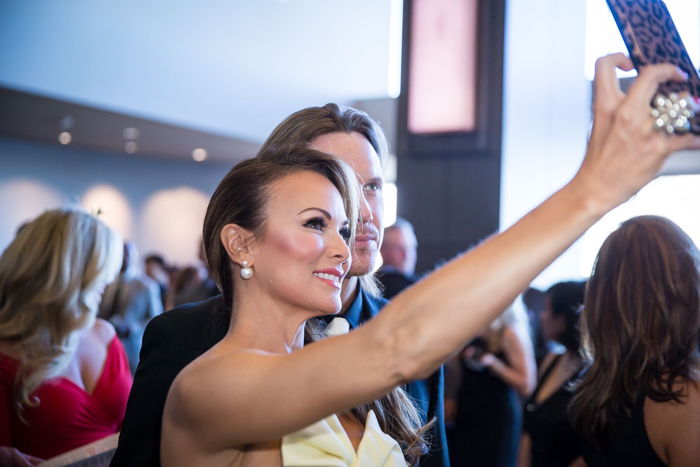 Aaron Hendra and Real Housewife of Dallas Star, Tiffany Hendra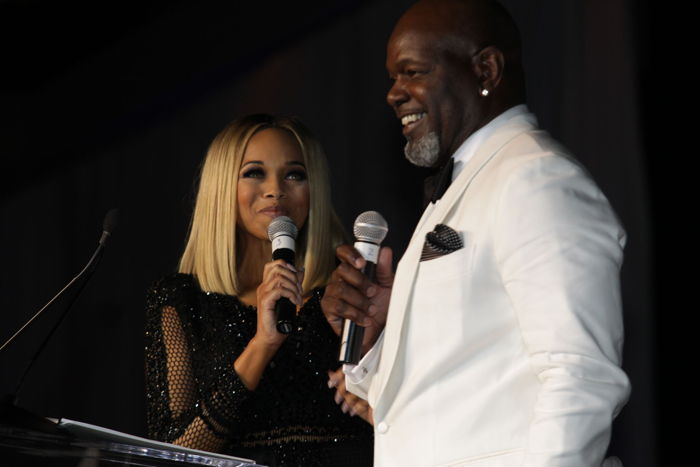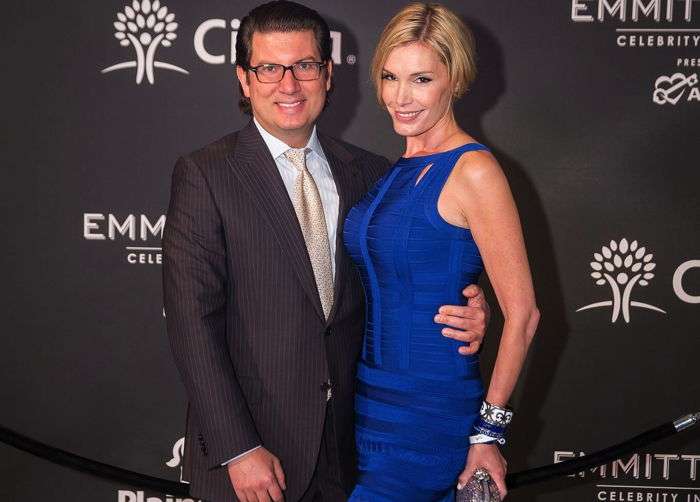 Event Chairs: Tom and Carmen Surgent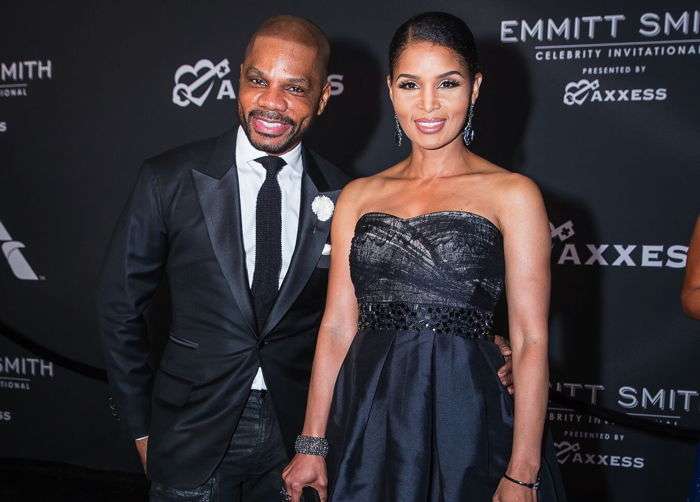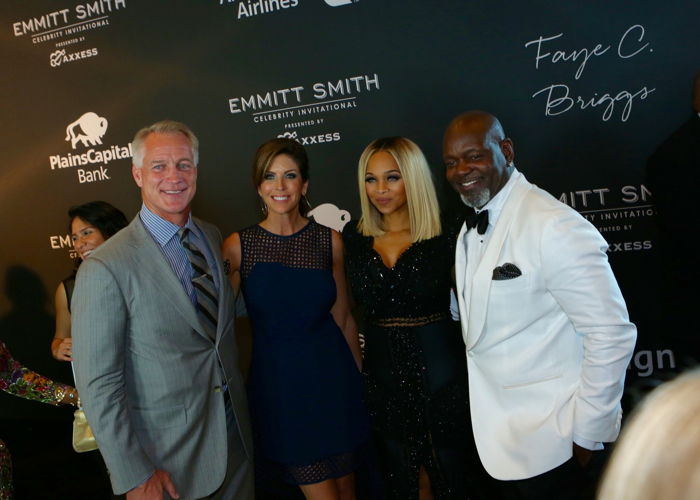 (L to R) Daryl and Diane Johnston with Emmitt and Pat Smith
Fashion Designer Esé Azénabor and Deve Sanford
Photos provided by: Thomas Garza Photography
Photo of Fashion Designer Esé Azenabor and Deve Sanford provided by: Dorentina Cakaj