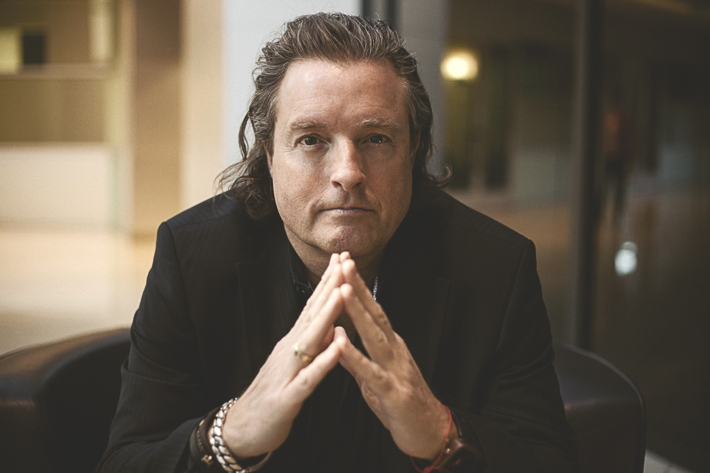 Holding a PHD in Psychology, Dr. Daren Martin has become a valuable strategic advisor and consultant for leaders of Fortune 100 to small companies globally, all while successfully becoming a bestselling author of two books, A Company of Owners and Whiteboard. His innovative leadership and growth strategies in transforming companies and individuals have earned him the title of  "The Culture Architect." For Dr. Martin, culture is king and change acts as the pivotal force in building innovation and engaging sustainability in business.
Perhaps it's his world travels that have given him a depth of understanding and humility that propel his ability to connect and transform his audiences to action all over the world, however, it is only when you have the opportunity to hear him speak or read one of his books that one can fully grasp what a unique and insightful figure that Dr. Martin truly is. Both of his books offer a fresh perspective on business while providing content in a unique way. A Company of Owners, is a bold manifesto that delivers direct and proven insights to creating ownership cultures in some of the largest companies in the world. His book Whiteboard, simplifies "the formula for success" by combining thought provoking content with an engaging, light-hearted presentation and style.
With his daily mantra of "A great leader not only leads, he turns followers into leaders," Dr. Martin is on his own path of transformation, while also touching and benefitting so many others. Haute Living had the opportunity to meet with this distinguished author and speaker, to gain insight on what inspires the man that has inspired so many others.
What genre would you classify your books? Business Wake Up Call
What inspired you to write? Running my own business for 20 years and then being in and out of Fortune 500 companies for 10 convinced me we need to rethink the way we do work.
How would you describe Whiteboard to someone that has not read it? I've been told it is the first of its kind. It is a hand drawn/written business book that is meant to spark ideas, creativity, and be a managers handbook for everything from communicating to growing your company.
Why did you release both "Whiteboard" and "A Company of Owners" on the same day? Purely by accident trust me! It has turned out to be a great strategy as both books are feeding off each other. By the way, A Company of Owners has been referred to by several C Level Executives as "The best book I have read since Good to Great" It is gaining huge momentum because it is hitting such a chord with CEO's and employees alike!
What are you reading right now? The War of Art – Pressfield, several Seth Godin books, MONEY Master the Game – Tony Robbins, The Mindfulness Edge – Matt Tenney, Time Enough for Love, – Robert Heinlein, A Course in Miracles, and many more!
What book most influenced your life? I could rattle off a list of 50+ depending on what part of my life and where I was in age and maturity. Books have fueled the majority of my growth and there are too many to count.
5 of your favorite books and why? Dale Carnegie – How to Win Friends and Influence People – A classic for a reason.  All of Tom Peter's books. They gave me permission to be brash and bold and say "The Emperor has no clothes" to the crazy things I have encountered in corporate America. Osho – Awakening – Opened my eyes to what it means to live in the now. I would say the same thing abour Eckhart Tolle's books. The Bible – foundational truths when read through a contemplative not a reductionistic lens. By the way, A Course in Miracles helped me do just that. All of Seth Godin's books – Seth proved that business books did have to be 400 page tomes that repeated themselves over and over. Make your point! Be done with it.
Mentors in your field? Tony Robbins, Tom Peters, Seth Godin, Gary Vaynerchuk, Zig Ziglar, Daniel Pink, Jon Kabat Zin, have all had a huge impact on me and my thinking.
What do you want people to take away from your books? An awareness that the world as we know it, particularly the world of work, is over as we know it! The industrial revolution is dead. It is time to start thinking about performance at a different level. I want the C suite to be empowered to create a truly engaged company. And I want individual contributors to be spurred on to act like owners rather than drones.
How does you career as a public speaker and consultant influence your writing? It feeds and drives it! I am not writing from an ivory tower of academia but from the trenches of working with a wide range of companies and having thousands of conversations with CEO's and frontline workers.
How do you think the culture of social media has changed company cultures? The digital age and social media have changed everything about everything. The world is now flat. Corporations are now flat. People don't have to wait for information. They can go get it and share it themselves. Now more than ever people get to vote with their feet and money. Companies that are afraid of the broader conversation among their employees and customers probably have cause to be afraid. If you don't like the conversation, give them something good to talk about!
What makes you a great leader? I always say great leaders don't create followers they produce great leaders. Time will tell whether I am a great leader.
Where were you born: I was born in South Louisiana but grew up in Bangkok Thailand.
How long have lived in Dallas: Since 1985. A long time! I LOVE Dallas.
Neighborhood: Harwood. I love that I can walk to American Airlines Center, the DMA, Nasher, Morten Myerson, Klyde Warren Park and so many other cool places.
Occupation: Author, Speaker, The Culture Architect
Favorite Restaurant: Mercat Bistro – Intimate setting, cool vibe, amazing food.
Best Sushi: Nobu when you want it fancy. Edohana for take out. (I love the French Kiss roll!)
Best Italian: Lucia when you can get in. I love the original Coal Vines also!
Best dessert: I have only had it once but there is a Peanut Butter Chocolate pie at Ocean Prime that is decadent!
Best Sunday brunch: I love the outdoor feel and the share option at the Rustic. I also love brunch at the DMA.
Best place for a power business meeting: The DarenMartin.com Success Studio! Ha. Ritz Carlton or Capital Grill
If you have out of town guests, which hotel would you recommend? ZAZA
Favorite shopping venue/boutique: I love the Bishop Arts District. Northpark if my daughter is on a shopping spree.
Best Spa: Oddly, I only go to the spa when I am out of town speaking at some cool hotel. I hear the Crescent is fantastic. Now I have to try it!
Favorite Charity Event: Bubbly Q is always fun! Night of the Stars does great and important work celebrating kids with disabilities.
Favorite Cultural Event: The Dallas Art Fair at the FIG I love the variety of artwork and cool people you meet. 
Favorite Cultural Institution: I am a member at the DMA, Nasher, Trammel Crow Collection, and Dallas Contemporary. I love them all!
Best Steakhouse: I am so excited that Del Frisco's Double Eagle Steakhouse is reportedly moving across the street from me. Believe it or not, Saint Anns has a really great ribeye and filet.
Best Pizza: Eno's or Bishop Arts. I Fratelli for takeout!
Best Lunch: Velvet Taco – Yummy and addictive!
Best Gym/Athletic Facility: Equinox
Best Museum/Exhibit: The DMA, Nasher, and Crow Collection are consistently good and are within half a block of each other. I love the Pollock exhibit currently at the DMA. And you have to go into the smoke house now outside at the Nasher!
Describe your city in three words: Emerging, Spectacular, The Future
Favorite historic/legendary place to see or explore: I love to ride around Whiterock on my bike and then go by the Dallas Arboretum.
All-around favorite spot in Dallas: Here is a perfect day in Dallas. Lunch at Henk's European Deli, hang out at the flagship Half Price books, Dinner at Royal Thai, jazz at the epic and best keep secret in Dallas – Balcony Club, swing by the Ritz on the way home.
Best Aspect of Dallas: It is emerging as a worldclass multi-culti city. Great food, great people, a business magnet.
How do you spend your downtime? Hanging out with friends. Riding Katy Trail or Whiterock Lake. Hanging out at Klyde Warren Park or in the Arts District. Lately I spend a lot of nights on my balcony with a glass of wine and movie or a great book.
Biggest Accomplishment: The three loves of my life, Jordan, Madison, and Callahan. They are creative, amazing, wicked smart, and most importantly kind.