Pros know there is a tool for every situation. Women know that every single one of them require some sort of under-eye concealer. The question is.. which one? Sometimes just a touch of light coverage will do to look fresh and go about the day, and others.. well maybe cameras are ready to snap or there were a few lost hours of sleep and something a little more serious is in order. Here are our top picks in order of intensity.
For those days when you need maximum coverage, hiding everything—and we mean everything—that lies beneath, MAC's Pro Longwear Concealer is the go-to tool for pros and the girls who know. This one gives a natural matte finish, and smooths out all sorts of discoloration and comes in a whopping 16 different shades. Go ahead, conceal the truth…  $22 at mac.com.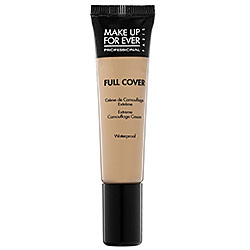 Make Up Forever's Full Cover Concealer comes in 12 colors to create a perfect match with a lot of coverage. That means it can cover  not only under eye circles, but also major imperfections like scars, hyperpigmentation, major discoloration, and even burns. It's oil-freen and waterproof, so it's not going anywhere.  $34 at Sephora. 
La Prairie's Light Fantastic Cellular Concealing Brightening Eye Treatment not only has a lengthly name, it also produces dual results of not only covering up dark eye circles, but also targeting wrinkles in the orbital area as only the luxury Swiss brand can. Another thing we love? The packaging is drop-dead beautiful. $80 at Bergdorf Goodman.  
Estée Lauder might be not be top of mind when it comes to advanced-formula cosmetics, but their Double Wear Stay-in-Place make-up products have a loyal following among those who swear by them. This one comes with an old-school want applicator that still does the trick. This concealer goes for $25 at Sephora.
The fourth entry is also by MAC, which is the polar opposite of the first entry. It is a light formula perfect for an everyday natural look. Another bonus? It is buildable, so you can add a few layers to achieve just the amount of coverage you need. .  $25 on mac.com. 
Subscribe to discover the best kept secrets in your city