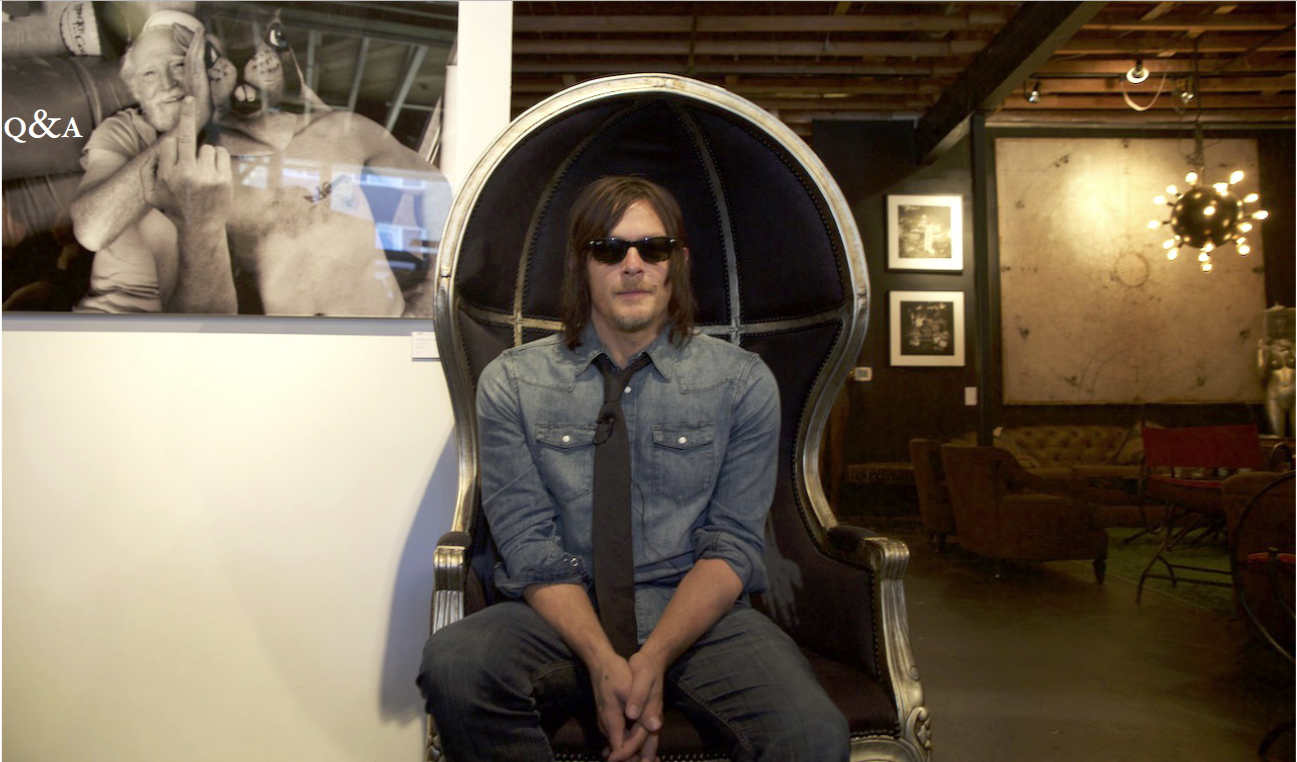 Do not, by any means, call Norman Reedus an artist. The Walking Dead star has successfully released a book of photography, 2013's The Sun Is Coming Up…Like a Big Bald Head and has shown his work around the U.S. Reedus had a project devoted entirely to road kill shown in New York's Times Square in 2011. The subjects of his eclectic collection of photos displayed at L.A.'s Voila! gallery late last year ran the gamut from his celebrity friends to his Dead castmates; Reedus even included a Panda mask-adorning self-portrait taken at San Diego's Comic Con. Despite this creative resume, Reedus is clear that he doesn't dig the term "artist." He has reason of course: the 47-year-old star
is equally as agile taking photographs and painting as he is on a film set, atop a motorcycle or playing the bass. While these passions may not make him the quintessential "artist" (in his eyes), at the very least, we can all agree that they make him cool. Here, the man known to many as renegade zombie slayer Daryl Dixon took a break from filming his hit TV show in Georgia to chat about art, his new AMC docuseries, Ride with Norman Reedus and yes, even big, bald heads.
Which of your pieces define your personal journey?
There are so many of them. For a lack of a better word, [these photographs] are a scrapbook of the last 15, 20 years of my life. There's one photo of some Russian soldiers in Moscow where I was filming Moscow Chill, who had followed me. They wanted to trade whatever they had on them with whatever I had on me; cigarettes, lighters, belt buckles. They were about to be shipped off somewhere and they had fear in their eyes and excitement about what was going on at that base. It was a chilling moment for me, to meet those soldiers at three o'clock in the morning. Andrey Konchalovskiy produced this film so we definitely had an "in" to a lot of things in Russia most directors wouldn't have had access to. [My photographs are all] these intimate moments—slices of life. They're all very personal. Every story has a story behind it.
Do you think you'd go in a different direction for your next show?
I'm actually working on a book now that's much different. It's more of a celebratory book and an intimate portrait of people that I meet on the road with something happy behind them. I'm headed in that direction.
How long have you been taking photographs?
I think I started in junior high, where you go straight to a graveyard and start taking photographs. I was doing art shows in Los Angeles and San Francisco, all over the place. I was doing [artwork] in metal and in wood, paintings and sculptures.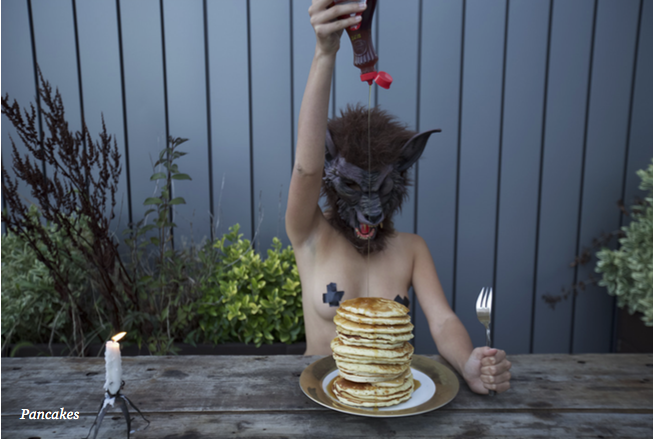 What does "The Sun's Coming Up…Like A Big Bald Head" mean to you?
My mom took me to a Laurie Anderson concert when I was a kid and [she] came out in a glow-in-the-dark, fluorescent outfit with a fluorescent violin. When she stopped playing violin, a big projection of just her head—not her neck or her shoulders, just her head—popped up behind her, and it was a huge [projection]. She looked around and she said, "The sun's coming up, like a big, bald head." It's a song called "Sharkey's Day" on one of her albums, and I think I teared up a little bit, I was a little afraid as a kid. It always stuck with me. I just went "big, bald head with everything"—I always remembered it. [As an adult] I went to an event with Debbie Harry, and Lou Reed and Laurie Anderson were sitting in front of us. We said, "Hey Lou! Hey Laurie!" and we struck up a conversation. As we got to talking, I told Laurie that I was working on a book of photography and said that I wanted to call it, The Sun's Coming Up Like a Big Bald Head and asked if she minded if I'd use it as a title. She said, "Let me see the book." [I] sent her a rough edit of the book and she liked it and gave [me] her blessing.
Who are a few artists you admire and why?
I really adore the photographers Joel-Peter Witkin and Sandro Miller. Songs and musicians influence me and sometimes animals influence me. I'm not trying to imitate a photographer or copy a style. I'm kind of like whatever's in front of me influences me.
In "Ride with Norman Reedus" you'll be traveling across America by motorcycle. Have your journeys influenced your art?
We've only filmed the pilot so far; it's a test-run. It came out great, but it's kind of an experiment in a weird way. In the process, we're picking who I'm going to ride with and where I'm going to ride. A lot of the sections we're looking at revolve around art and artistic communities.
How are you going to pick who comes with you?
There are some people that I've already spoken to who are friends of mine, people I've worked with in the past, that are motorcycle icons in a way like Peter Fonda as [well as] people that are into motorcycles that you wouldn't really know about. Keanu Reeves builds his own motorcycles and has his own company with very unique bikes; I've been talking to Keanu. Some are rock 'n roll guys who are badass and ride motorcycles, and others are local people that know things and areas that I don't know. We're still in the process of putting it together. It's going to be a big mishmash of fun, cool, interesting people with good stories.
Which do you prefer — art or acting?
I'd love to say something super pretentious, like they're the same thing, but they're not—they're not anything at all like each other. It's different because if you do an art show, whether you're a painter or photographer, you can put your things on the wall and step back, and people can judge your stuff because it's on a wall. When you're acting, it's your face, your voice, your body, how you move and how you talk, and you kind of open doors to yourself for people to view and you hope it's more about what you're doing and less about "Oh my God, he's got big ears!" You kind of get criticized for [acting] more than what you're hanging on a wall. You have to have jumbo elephant balls to be an actor, you really do; you have to have thick skin. When you do photography, when you're taking pictures, it's not about you. It gives you a freedom to see things as a voyeur and it lets you see things with fresh eyes. No one can look at a photograph and go, "He needs a haircut." Even when you're acting in something and it's a zombie apocalypse and no one's really taking day trips to Supercuts and it kind of makes sense that you don't have a haircut, you can still get criticized for certain things. When you do photography, they either like the work or they don't like the work; they relate to it or they don't. It's kind of nice to be behind the camera, and have it not be about me.
Does "The Walking Dead" influence your photographs? If so, how?
In a sense. I know there are some Walking Dead-esque photos in my show and in my book, but they were shot for something else, for Sony. As the show's gotten larger, there are people who are trying to ruin the show for everyone by revealing spoilers, so security has amped up quite a bit. Cameras on set are frowned upon nowadays. Every set on that show could be in The Louvre. Everything on that show is very inspiring from the props to the actors.
What does the word "art" mean to you?
I've always strayed from that word, or [from calling] myself an artist. I hate when people call themselves artists. It's such a weird thing to say. I don't like to categorize myself as this or that. There's art all over the place, and those who get it, get it.
Subscribe to discover the best kept secrets in your city