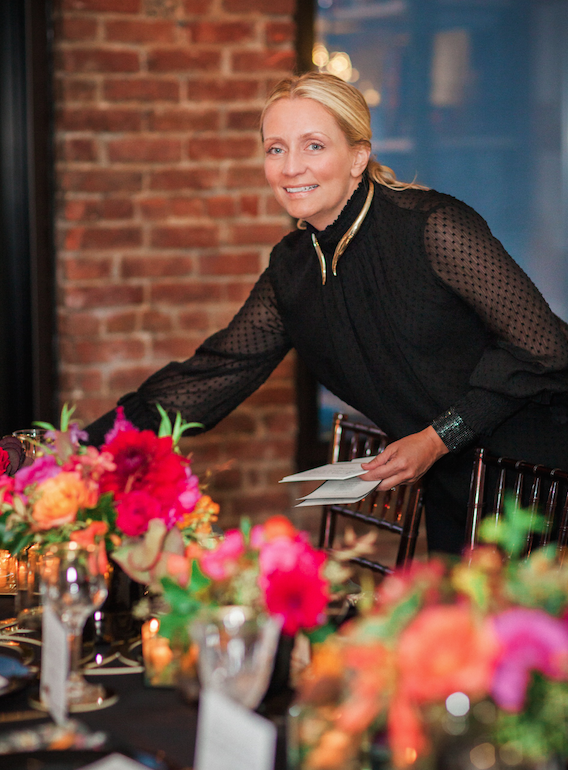 Our favorite time of year is finally here—holiday season. However, before you gather around the table to give thanks with your loved ones, it's time to decorate the home with the perfect Thanksgiving décor. Kickoff the holiday season in style with décor tips from celebrity wedding and event planner Sofia Crokos of Sofia Crokos Events.
Want to know how to create the perfect tablescape, leaving your guests' singing you praise until the New Year? Crokos shared some haute tips and tricks about her favorite holiday. You won't want to miss these!
SHOPPING
Some of my favorite places to shop for decor items include Pottery Barn, West Elm, Anthropologie, One Kings Lane, and for a good deal, Home Goods. Each store offers different styles of what's hot this season — so it's easy to create a cohesive tablescape with items from different places. West Elm features some great edgy and more modern decor, while Anthropologie is vintage and eclectic, and Pottery Barn is perfect when going for a more classic look.
PLATING
I love to do a spread of all the delicious side dishes on the table. This allows the food to become part of the decor, especially if you serve it on some pretty platters. It is important that when doing a spread you make sure whatever you do on one side, you mirror on the other – this helps to eliminate the mess when passing platters. Lastly, I love to put the turkey on the table as part of the centerpiece, being that it is Thanksgiving and all!
CENTERPIECES
I like to start by dressing my table in a full tablecloth or runner – this gives you a clean blank canvas to work with. I then build the table with decor items such as place mats, cloth napkins, flowers, and fresh fruit including pumpkins, pomegranates, and artichokes. I love using napkin rings to achieve a beautifully styled cloth napkin. Beautiful glassware – both from floral arrangements and drink glasses add a sophisticated and elegant touch. Lastly, I like to add tapers or votive candles helping to add to the ambiance of the room.
COLORS
I love the gorgeous deep hues this time of year, including crimson, aubergine, and burnt umber. Some lighter options that compliment your darker palate include, persimmon, gold, cream, and copper for a pop of metallic glitz. I recommend dressing your table in rustic neutrals, this allow the other decor and colors to pop!
FLORALS
Some of my favorite seasonal florals include Chrysanthemums, Dahlias, and Amaranth. All of these flowers come in a range of beautiful hues to add color to your tablescape. If you are looking for a more rustic arrangement sorghum, foxtail grass, and gum leaves are some great options. Lastly, add some fruits, herbs, and berries for a harvest feel – including purple artichokes, crab apples, pears, persimmons, and colorful winterberries on a stalk. Showcase your lovely arrangement in urns or ceramic vases. Or, try experimenting with colored glass and vases of ranging size and height.