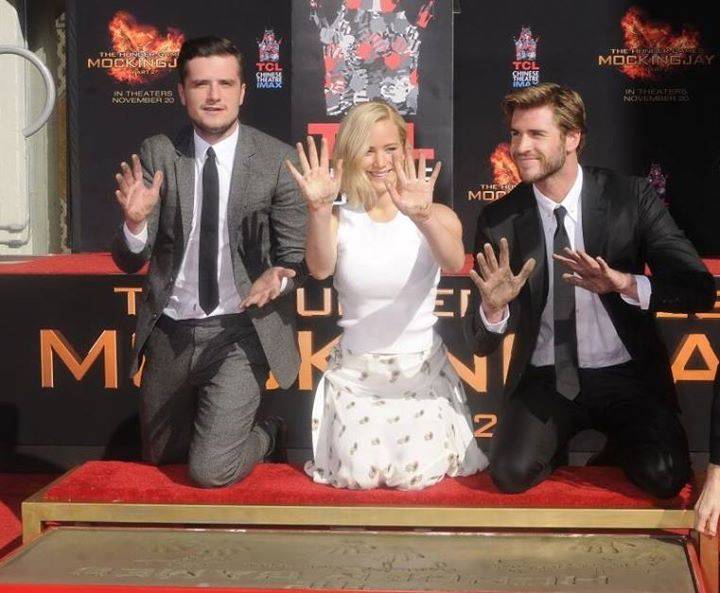 Over the weekend, Haute 100 lister Jennifer Lawrence and her Hunger Games costars Josh Hutcherson and Liam Hemsworth all cemented themselves in Hollywood at the Handprint Ceremony at the TCL Chinese Theatre.
The event commenced with Alwyn Hight Kushner, President of TCL Chinese Theatre, saying a few words about Katnis Everdeen and then introducing Conan O'Brien. O'Bien took to the stage to welcome Mitch O'Farrell, a Los Angeles City Council member, to the podium to introduce the actors.
At the podium, Lawrence said a few words. "I'm very grateful. I think I can say that on behalf of everyone here for the 'Hunger Games.' I can't remember your names. I'm just kidding, I know your names. Anyway, Liam?"
Hemsworth shared similar sentiments as the 25-year-old actress. He said, "I'm going to say to you guys that I'm honored to share it with you. Let's just be friends forever."
Hutcherson praised the fans. He said, "You guys supported us before the first movie and it could have been really bad, so thank you for that. You guys give us the energy to keep going."
Following their mini speech, the three placed their hands and feet in the cement. All three Hunger Games stars join Hollywood legends to be cemented at the TCL Theatre. Past stars include Marilyn Monore, George Clooney, Robert De Niro, Vin Diesel, Michael Jackson and much more.
The last installment to the Hunger Games franchise, Mockingjay Part 2 is slated to be released on Friday, Nov. 20th. The film will feature Everdeen, who is symbolized as the 'Mockingjay,' and District 13 engage in an all-out revolution against the autocratic Capitol.
Most recently, Lawrence was created quite a stir when se penned her piece about the wage gap in Hollywood. The letter was published on Lena Durham's newsletter Lenny, where Lawrence shares her personal experiences in Hollywood. The piece received smart from her colleagues in Tinseltown including former costar Bradley Cooper.
Photo courtesy of the TCL Chinese Theatre
Subscribe to discover the best kept secrets in your city