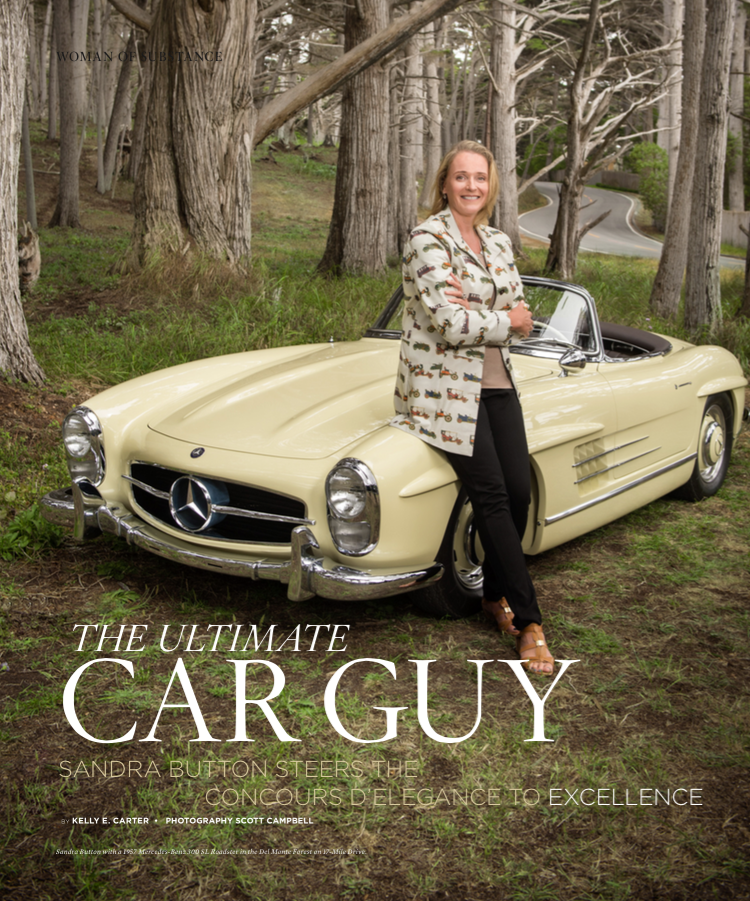 photography by Scott Campbell 
Sandra Button, Chairman of the Pebble Beach Concours d'Elegance, has driven in the Mille Miglia, steered a Tesla on the opposite side of the road in Tokyo and maneuvered a Bugatti Veyron alone through France—though she admits she was "scared to death," for she didn't know if her 6-foot-1 frame would allow her to see out of the high-performance vehicle. On the flip side, this self-described homemaker fusses over her garden and puts ample time into arranging flowers, cooking and entertaining.
That dichotomy initially threw her car enthusiast husband of 11 years, Martin Button, for a loop when they started dating after both had divorced their longtime spouses. She does, after all, oversee car collecting's most prestigious competition. He expected her to obsess over Packards, not peonies—her favorite flower.
"He never imagined that I would do all of those normal things," Button, 56, says with a laugh as she sits at her desk in her spacious, automobilia-filled office in Carmel, her Jack Russell terrier Buddy at her feet. She's just fought horrendous traffic from San Francisco in a lovely, silver Bentley—a pre-production prototype the manufacturer, like many car companies, wants her to test drive. Not that she doesn't have her own set of wheels. The Buttons—Martin's company Cosdel exports and imports high-valued classic automobiles and precious cargo—possess quite an eclectic collection of a couple of dozen cars that ranges from a 1901 De Dion vis-à-vis and a 1937 SS100 Jaguar, to a 1957 Alfa Romeo Giulietta and a 1972 Ferrari 365 GTC/4 coupe.
"I keep saying we should have fewer better cars, but then something comes along and we've gotta have it," she chuckles.
This fun-loving queen of the Concours displays an exuberance that pairs well with the youthful glow on her wrinkle-free face, skin for which she credits her horticulturist mother Jeanette Pruin. While Pruin, who has held positions with National Garden Clubs, Inc., judges major flower shows across the country, her daughter choses to officiate and attend numerous car shows, rallies and tours throughout the world.
Automobiles have always symbolized freedom for Button. That's why nothing could keep her from being at the Washington State Department of Licensing in Seattle, where she was born and raised, to get her driver's license on her 16th birthday. She's stupefied by the news in recent years that young people are delaying getting their licenses until their college years.
"For me, I couldn't wait," she reflects. "I like cars, but it was the freedom to go and do."
She shared her first set of wheels— a baby blue 1965 Mustang—with her dad, Robert Pruin, a retired Boeing rocket scientist, before she bought a Datsun 2000 Fairlady Roadster. Years later, the Washington State University grad moved to California and landed a job as the director of special events for Pebble Beach Company, which put on golf tournaments, dog shows and, since 1950, the Concours d'Elegance.
When speculation grew about the continuation of the car show after golfcentric Japanese owners purchased the Pebble Beach Company in 1990, Button asked if she could leave the corporation to focus on the event full time. The president at the time, Tom Oliver, asked where everyone in her department would go.
"I explained to him exactly how to liquidate my department and who could go where," she recalls. "I think I came close to not having a job myself… My silly plan worked out, and ultimately nobody was let go, which meant a lot to me."
After serving as the event's first full-time executive director, she was named Concours co-chairman in 2002. For a while she split those duties with Glenn Mounger, then solely took the reins in 2005. Not only has Button played a key role in orchestrating the world's premiere car show for 30 years, but she's also been involved in the creation and growth of related events such as the Pebble Beach Tour d'Elegance presented by Rolex, Pebble Beach RetroAuto and the Pebble Beach Motoring Classic. This sensitive yet strong leader lives, breathes and thinks cars much of her waking hours—and loves every moment of it.
"I can't think of any other object in our modern lives that has changed so much and hasn't been around really that long," she enthuses. "It's rewarding to immerse yourself in something you love. I try to do my best to make what we are for one week a year something that is more than a puff of smoke."

Her efforts are certainly appreciated by the Monterey community. Through its primary charitable partner, the Pebble Beach Company Foundation, proceeds from this Concours benefit over 85 local charities. The Foundation provides grants to support and enhance educational programs that span the arts, sciences, sports and technology. The one-day event that used to typically raise $100,000 for non-profits now gives well over $1.5 million. In total, this Concours has amassed over $19 million for charitable organizations.
"The fact that we're a good event for the local community is important, that we're recognized as the best Concours in the world and that we keep all this history alive," she proudly states.
From 1950 to 1956, the event was paired with the Pebble Beach Road Races. Having the opportunity to meet the race car drivers and vehicle designers of the cars from that era, some of whom are now in their 80s, pleases her immensely.
"The most rewarding thing is to meet living history, to celebrate it and to be in the midst of something that I really do love—outside of it being a job," she says.
As the power-wielding chairman, she has the final say on the featured marques and special classes from year to year. She uses her clout to showcase history and jaw-dropping displays that keep the event's highest reputation intact. Car buffs know when they descend on the Pebble Beach Golf Links, they are in for a show like no other in the world.
With Button in charge, the Concours has added preservation classes for unrestored cars and routinely features small, interesting exhibits. The most ardent automobile aficionado would be forgiven for not having heard of Ruxtons, until this Concours gave the first American passenger cars with front-wheel drive its own class in 2014. Fewer than 20 of the cars remain, and nearly all were showcased last August. Ferrari worshippers bowed at the throne of the prancing horse when Pebble Beach unveiled a haute display of more than 20 Ferrari 250 GTOs during the 50th anniversary of the iconic car.
As storied as the Pebble Beach Concours is, having someone as flexible as Button at the helm is paramount. She's not afraid to have classes for motor- cycles, hotrods or belly tankers; this year there will be customs and more post- war cars on the field than pre-war—a dynamic change.
"I've always said the Pebble Beach Concours is more like a speedboat than the Queen Mary," she maintains. "We do have a lot of procedures, history, protocol and heritage, but we still try to be zippy enough that if somebody says, 'Let's try this,' we're open to it."
There was a time when her parents came down from Seattle the week of Concours to help with Button's daughter; now that her only child is an adult, the Pruins now come simply to watch their daughter do her thing and marvel at the evolution of the week in general.
"I'm proud of the fact that the show continues to get better without getting bigger," Button says. "We still have the same amount of cars. We still have the same amount of judges. Events grow up around us over the weekend, but we don't really have those sorts of ebbs and flows."
If there is a downside of her job, it is letting the proverbial air out of the tires of enthusiasts who long to show their prized possessions at Pebble. Her office receives about 2,000 inquiries annually for the 200 or so slots, some which go to invited cars.
"The sad letters I get from people when their car is denied—it's like telling them their kid or dog is ugly or not worthy. It's very personal. I've had friends or people I know very well—and I love them; I love their cars and have known them for decades—and they've never won. You kind of wish they'd win some day; but it's about the car, not about the person."
Because Ferraris will take center stage at the 65th annual Pebble Beach Concours d'Elegance and there is an overwhelming number of said cars just in California alone, her task was multiplied.
"I've never turned down so many great cars with the Ferraris coming this year," she laments. "That was disappointing."
Conversely, the sheer joy on the owners' faces when Button, who also casts a vote for the top award, and Bill Perocchi, CEO of Pebble Beach Company, present the Best of Show trophy to the winners is indescribable. As her 30th Concours approaches, we wonder just how many more times she'll stand on the famed 18th fairway and do the honors.
"I want to do the job as chairman as long as I'm super passionate about it, and I'm open-minded and young enough to be the right person," Button replies. "I don't want it to get stale. I hope I have a few good years left in me. If I do another five years it will be the 70th Concours, and I will have done half of them—that would be kind of cool."