photographs Don Flood
stylist Penny Lovell for TheOnly.agency assisted by Charla Maxwell
hairstylist Marcia Hamilton @celestineagency.com for Boho Exotic Studio
make-up artist Steven Aturo for exclusive artists management using MAC cosmetics and Dermalogica skincare
location the Viceroy Hotel's Empire Suite, Santa Monica CA
"People tell me that I always play strong women," says Baltimore-born beauty Jada Pinket Smith when asked about "Rome," the sexually-charged character she portrays in the upcoming film, Magic Mike XXL."In all honestly that is probably where I am restricted in my creative pursuits, she says. "I have no idea how not to be strong, and I don't know if I have the desire to. I tend to gravitate towards strength energy lines," she admits, revealing her commitment to self-awareness and introspection. Her recent role in the TV series Gotham—where she morphed into the hard-core villain Fish Mooney—is further evidence of the strength energy lines she speaks of, complete with manicured claws and a red-tipped wig. Audiences were captivated by her portrayal of the over-the-top nightclub mobster.

"What I tried to do with Rome is communicate strength differently—from a place that is a lot more feminine—a bit more soft and open," she reveals. Magic Mike XXL reunites Channing Tatum with his "Kings of Tampa" buddies from the original Magic Mike in 2012. Jada's character was added to the cast alongside Matt Bomer, Joe Manganiello, Kevin Nash, Adam Rodríguez and Gabriel Iglesias, who all starred in the original. "The part of Rome was originally written for a man," she divulges, adding that she had apprehensions taking the part of the brothel madame,  who revels and promotes sexually-charged male stripping. "But after getting on Skype with Channing and director Greg Jacobs, I knew their intensions were pure," she concedes. "One of the biggest selling points for accepting this role was Channing saying—and I'm not quoting—that there is a way to make the adult entertainment industry responsible. First of all, Channing has a huge influence in this industry—the idea that he has the guts to tackle this subject was a real selling point for me," she notes. The movie celebrates male strippers and is very pro-female in terms of women's pure enjoyment of the male body.
"It was such a beautiful partnership with [executive producer] Steven Soderbergh, [producer and writer] Reid Carolin and [producer and director] Greg Jacobs to create this character," she says. "It was one of the most enjoyable processes that I [experienced] in making the film."
Staying open is key for Jada, who is at a point in her life where exploration is her focus. "I have no real set vision of what I want," she says. "I simply want to be on a beautiful creative journey staying open. This attitude allowed me to participate in Gotham and Magic Mike XXL. Once I get stuck with fixed ideas—a role like Rome could have just slipped through my fingers," she says. of her newest role. "There is a certain freedom that I have in my life now that I haven't had in the past. I think it has to do with having the time to grow and shed old ideas that I no longer need—and just trusting!" she says in a heartfelt, animated manner.
Trust may be an attribute that comes easily to Jada. Her personal journey began in Baltimore where she was raised by her mother, a head nurse, and father, who ran a construction company. She knew her calling early on, and her parents cultivated her youthful talent with piano, tap and ballet lessons. After attending the Baltimore School for the Arts—where she majored in dance and theater—she continued on to the North Carolina School of the Arts. Her first acting gig was in 1990 when she starred in the TV comedy True Colors, which was followed by a string of other notable performances. She met Will Smith in 1994 on the set of The Fresh Prince of Bel-Air when she auditioned for the part of his girlfriend, and though she didn't get the part, she eventually became his real-life partner when they married in 1997.
Jada Pikettt Smith comes across as an articulate, likable and self-assured woman who is on a journey to find her authentic self. She prefers brutal honesty and realness to the pretense that is Hollywood's cliché. She doesn't hold her personal truths at bay, and easily admits to a past that is less than ideal. "Probably the worst aspect of being an actor is finding a way to manage your ego," she says. "I've been having a lot of ego deaths lately that are connected to this idea of a celebrity," she admits. "That's a thing I have to contend with in this business: you have to crash and burn to [become] a more authentic [version of yourself]—being who you are instead of whom you want people to think you are!"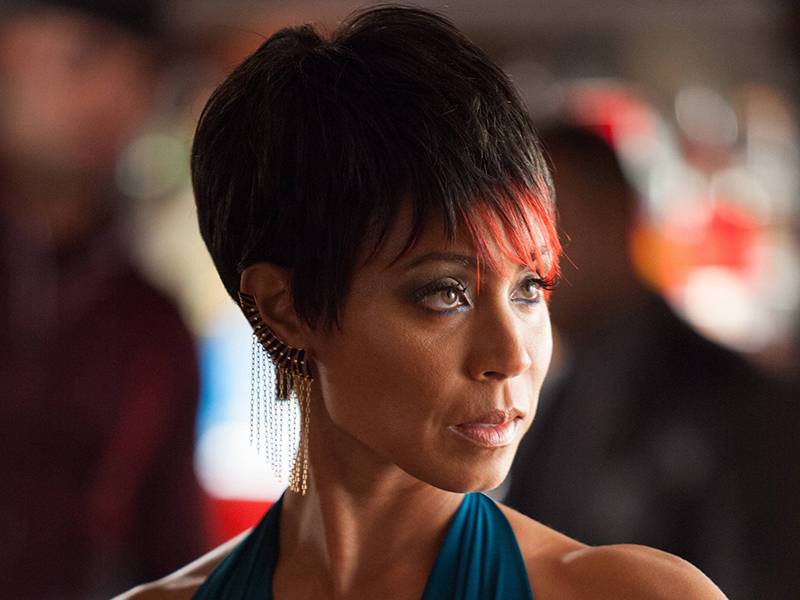 But Jada's love and passion for acting is plain. "The most beautiful thing about acting is that it's an art form that allows you to express different realities of life without actually being in them," she says. "I can play Fish Mooney without being Fish Mooney. People can watch and enjoy her without her having to be real," she says about the fun to play evil nightclub owner, who—in one of her last episodes—plucks out her own eye just to prove a point. "Acting can create worlds that people can experience. It's wonderfully fun," she says. "To be a part of that creation is an honor and a blessing."
Although Jada looks picture-perfect in our spread, it's no surprise that she takes a philosophical approach to fashion. "Man—if I had to be honest about hair styles and fashion, I would say I use it differently than everyone else does," she says. "For me it is an expression of the different personalities of Jada—how I am feeling at the moment. I tend to be that girl—[for instance] I may want to look like a punk-rocker and use my hair and clothing to express that," she says. It seems that she doesn't give much credibility to fashion's superficial side, but still has fun with it.
The openness Jada strives to achieve led the L.A. star to acquire a New York pied-à-terre for the year she worked on Gotham, giving her occasion to reconnect with New York City. "It was great to nurture my East Coast side. I've been in L.A. for [20 years]—[but now] I'm an East Coast girl with some serious West Coast maneuvering skills," she laughs. "I'm keeping my apartment in New York because my son is working on a project here," she divulges.
Flying 3,000 miles across the country to see her 16-year-old son is part and parcel for the grounded mother of two. "My family is my priority. If my family is stable and everyone has what they need, then I look at a way to fit in a creative endeavor," she reveals. "My kids are becoming older and there is less of a need for me to remain stationary," she says—a claim evidenced by her yearlong jaunts to New York. "I really look at what is happening [in my family] and stay present—the formula is always shifting."
Jada strongly feels that each woman needs to trust her own judgment. "There is no one way to do it! A woman needs to be deeply connected to herself and her family, and has got to trust herself. It's about staying present and adjusting the formula, which comes in a million forms," she enthuses. "Trust takes courage—happiness takes courage; it's not easy! Women need courage to be able to step out of the box and be who they are meant to be."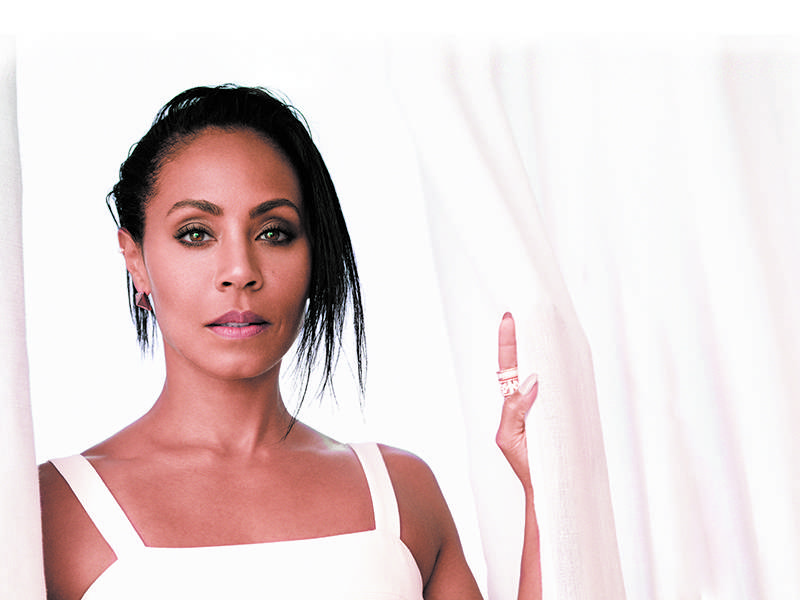 Out-of-the-box thinking and being open to what life has in store has led Jada to her current power woman roles. She imbued Rome with a sense of moral responsibility, while the more caricatured Fish Mooney was steeped with ruthless abandon. "'Adult entertainment' seems like a nasty phrase, but we communicated it in a responsible way," she asserts about Magic Mike XXL,  set to open on July 1st. I think it's a beautiful film," she concedes. For Jada Pinkett Smith—who seeks and attracts beauty and honesty in her life—it comes in a variety of forms.
Subscribe to discover the best kept secrets in your city