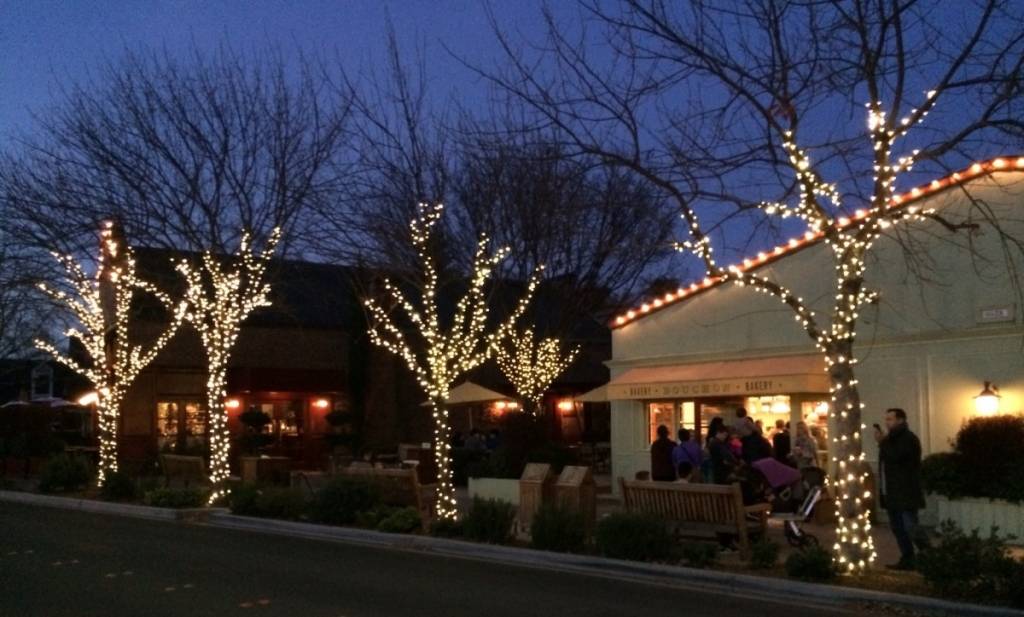 Photo Credit: Lisbet Tellefsen
Yountville was buzzing over the weekend with holiday revelers who brought in the new year in Napa Valley's culinary capital and stayed around to enjoy the sparkling, festive atmosphere—and Yountville restaurants. For their sake, we hope they delayed starting their new year's resolution diet until after they left as it's hard to resist the culinary offerings along Restaurant Row. The restaurant-dotted stretch on Washington Street, the town's main drag, is a foodie's dream, especially for chef Thomas Keller fans. Here's a look at where you should dine in Yountville, which we particularly love for its ease in being able to walk from one fantastic eatery to the next.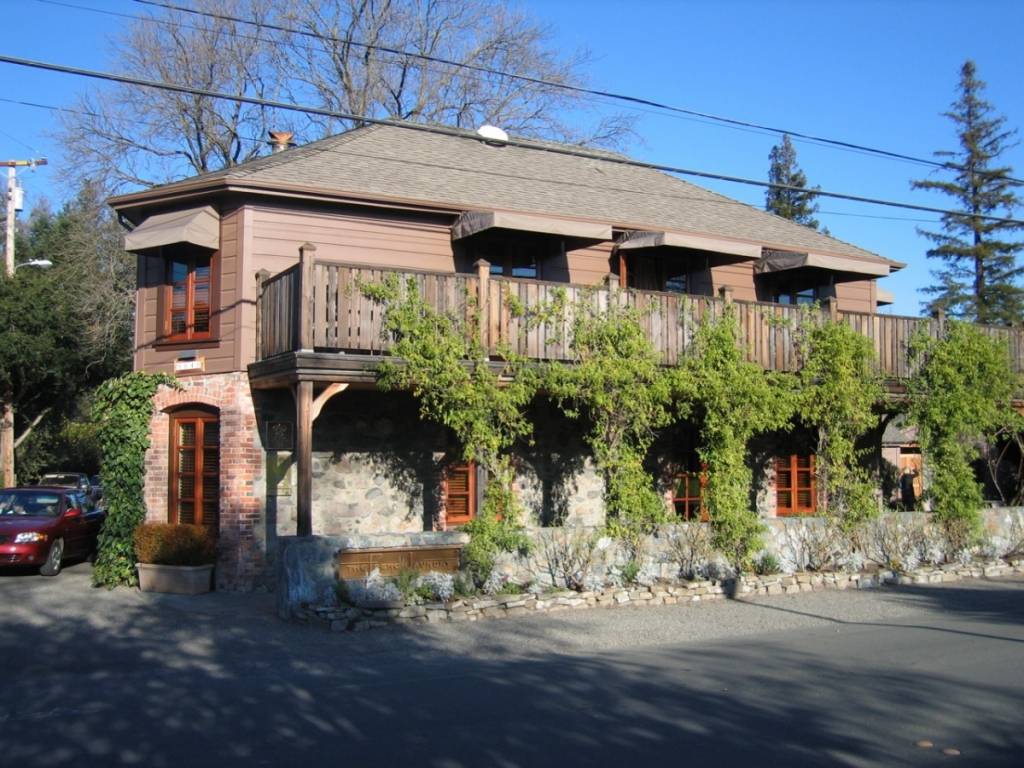 The French Laundry: By now you've heard about the unsettling Christmas Day robbery at Keller's three-Michelin starred restaurant, where bandits made off with 76 bottles of rare wine, worth more than $300,000. At least Keller, also the owner, has the right perspective about unfortunate event when he told the Los Angeles Times, "Listen, nobody was there, nobody got hurt, it's only wine." Although the restaurant, which generally offers a nine-course Tasting Menu and a nine-course Tasting of Vegetables  is now closed for the winter for extensive kitchen renovations, there are plans to open a temporary kitchen. We'll keep you posted on the news.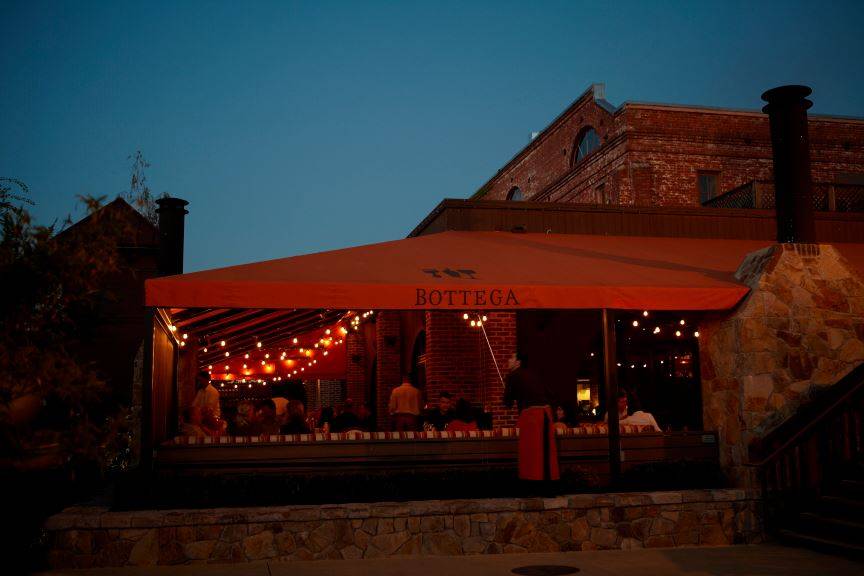 Photo Credit: Facebook
Bottega: Celebrity chef Michael Chiarello's popular Italian restaurant is a must. Bottega showcases Chiarello's signature bold Italian flavors with a refined twist. Bottega's menu highlights the bounty of artisanal and house made ingredients, as well as local produce. On the current menu is a delicious spaghetti dish with fresh Dungeness crab and a unique shaved brussels sprout salad with Meyer lemon that has just the right amount of tang. The restaurant is part of the historic Vintage Estates, located in one of the oldest wineries in the Napa Valley, and is open for lunch, dinner, and after dinner. Afterward, you'll want to stop at Chiarello's NapaStyle to pick up items for your kitchen.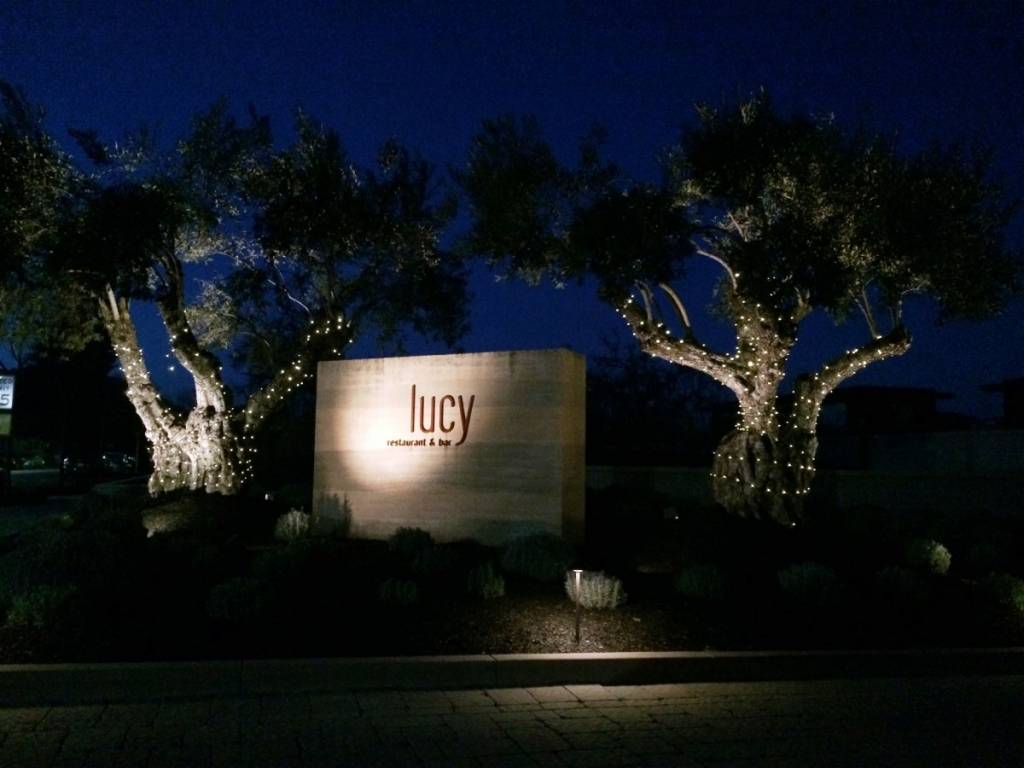 Photo Credit: Lisbet Tellefsen
Lucy Restaurant & Bar: Located inside the luxurious Bardessono Hotel & Spa is Lucy, where Executive Chef Victor Scargle whips up fresh, innovative, garden-inspired cuisine that embodies the Bardessono modern aesthetic and eco-spirit. There's a fabulous on-site garden and year-round, it is where we Lucy gets its inspiration for its field-to-fork cuisine and artisanal cocktails. Local production and sourcing is stressed and the restaurant has close relationships with its our suppliers, from Napa Valley lamb farmers to local organic dairy producers. There's also an extensive wine list that highlights renowned small producers from around the world and many organic, sustainable and biodynamic vintners. A wonderful sommelier, Anani Lawson, is available to help you navigate the list.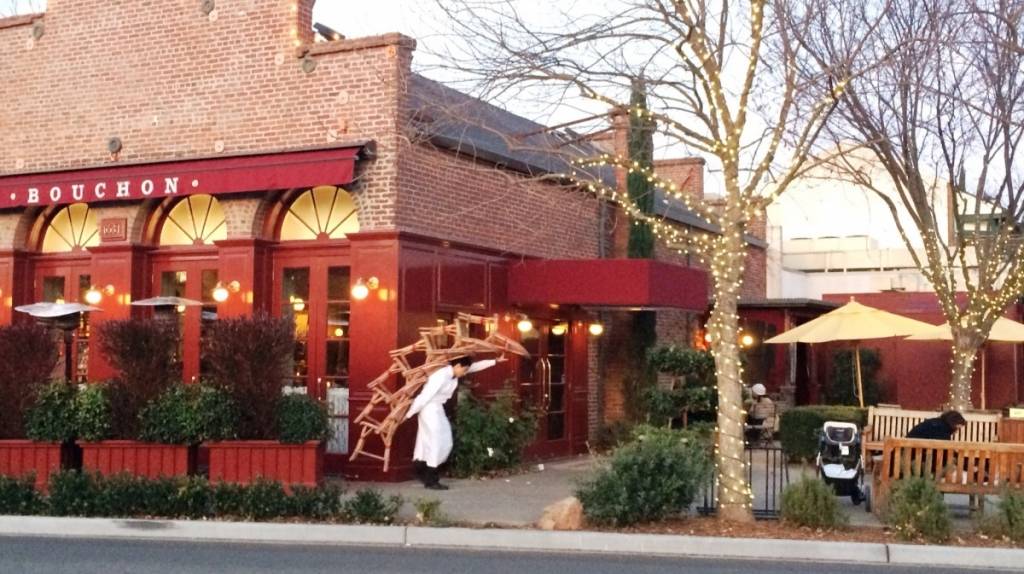 Photo Credit: Lisbet Tellefsen
Bouchon, Keller's Michelin-starred eatery offering authentic French bistro fare, has been a hit since it debuted in October 1998, four years after The French Laundry's unveiling, Bouchon's seasonal menu and raw bar selections change throughout the year, while staples like roast chicken, leg of lamb and trout amandine remain as consistent, year-round favorites. The Vin en Carafe program at Bouchon features selections made exclusively for the restaurant from top wineries in Napa Valley and France.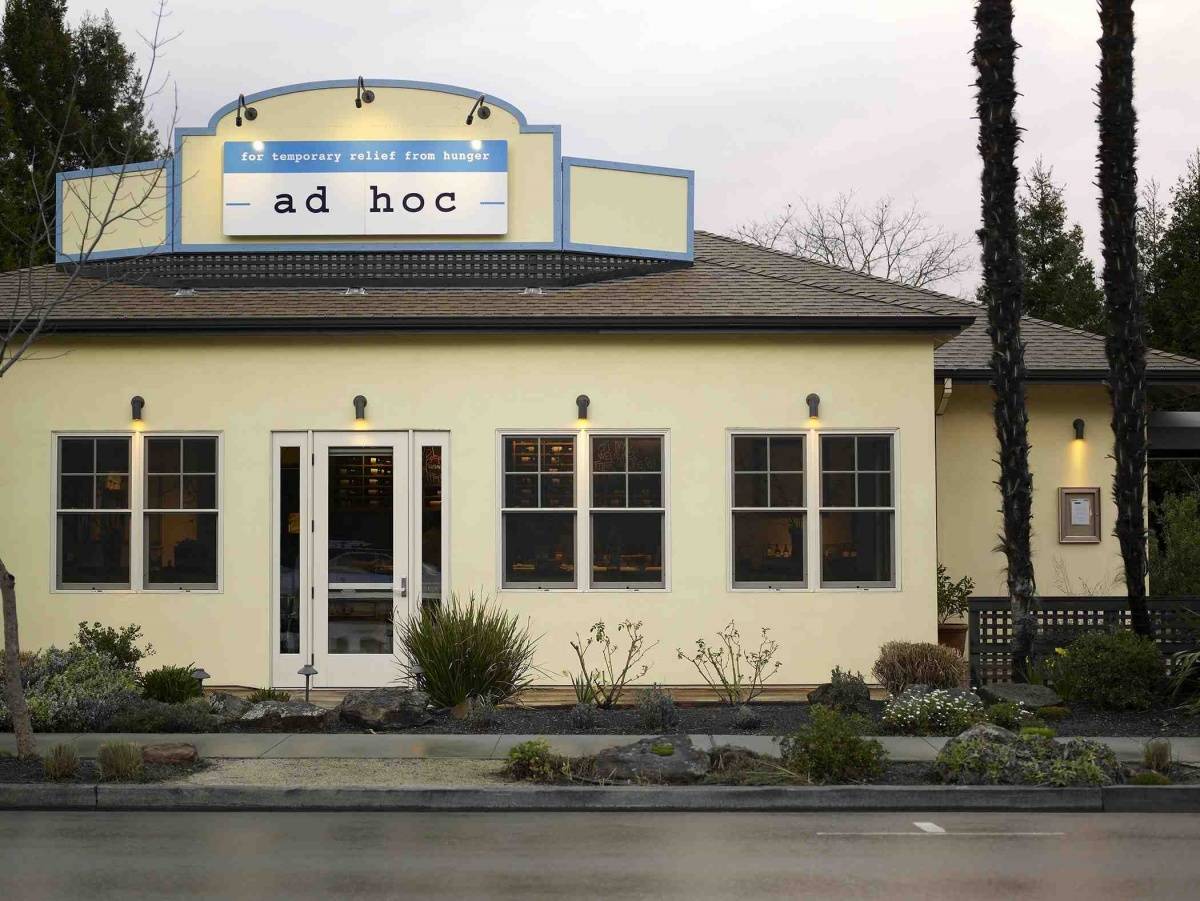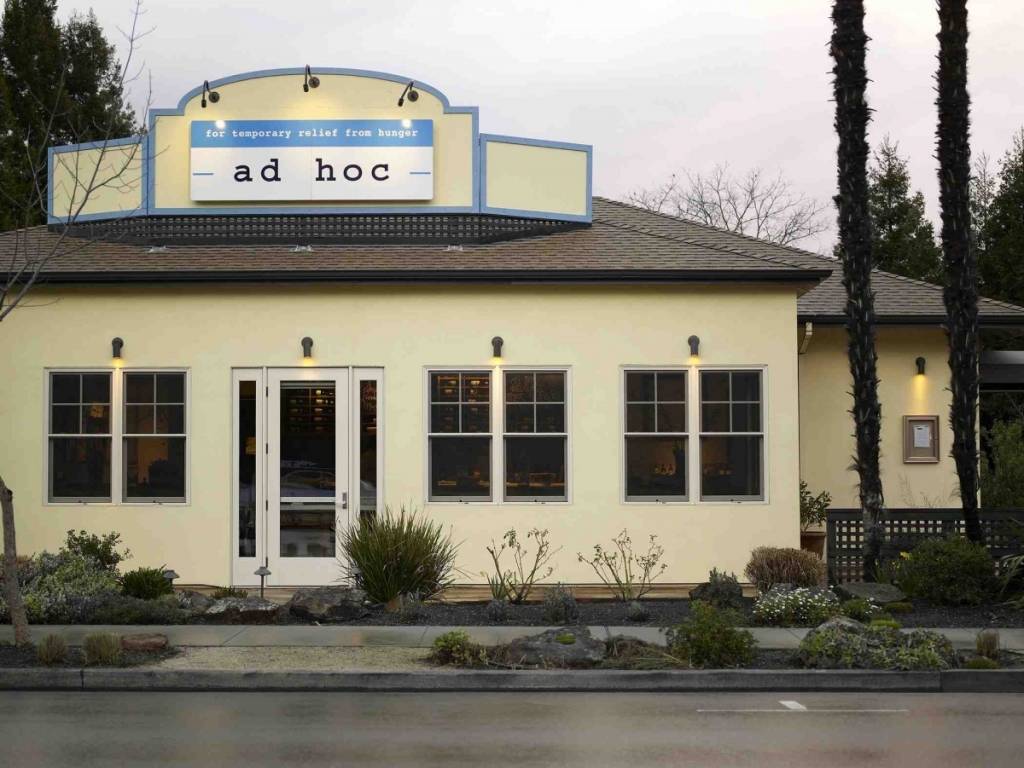 Ad Hoc: Time flies when you're eating well. It seems like it was just yesterday when Keller opened this restaurant with its unique concept. In fact, it was in 2006 when he opened the doors to Ad Hoc, his casual dining venue for showcasing the American comfort food of his childhood. The name Ad Hoc, literally meaning "for this purpose," derives from the restaurant's original purpose: to temporarily fill a space while Keller's team developed a different restaurant concept. Yet from the first, Ad Hoc was loved by both Napa Valley locals and visitors to the wine country alike, and so this "temporary" restaurant has since joined Keller's three other properties as a permanent fixture of Washington Street.
The daily-changing four-course menu, featuring classic American dishes like fried chicken, pot roast and barbeque, is handwritten nightly on chalkboards throughout the restaurant. All courses are served family-style to increase both the conviviality of the Ad Hoc experience and to further recreate the casual comfort of home. The restaurant's beverage service focuses on the same local producers who can often be found enjoying themselves at the restaurant. While the ability to write a different menu every day provides a significant creative outlet for Ad Hoc's culinary team they go a step further, frequently offering additional courses as a supplement to the menu showcasing unique or exotic ingredients.
Keller added on, literally, addendum but you'll have to wait until spring 2015 for that restaurant, which is closed for the season, to reopen.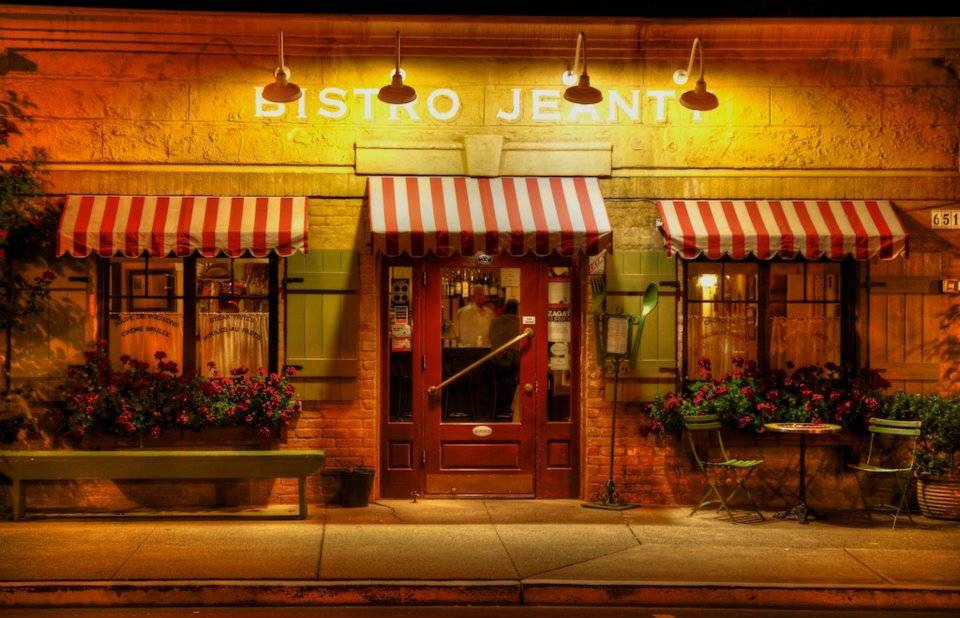 Photo Credit: Facebook
Bistro Jeanty: Step into this Michelin-starred bistro and you'll think you've landed in a charming town in France. In everyday French life, it is the bistro that is woven into the daily pattern of meals and celebrations. The only French owned and operated restaurant in Napa Valley, Bistro Jeanty has been received by patrons from all over as a true French bistro. The warm interior is a reflection of the casual elegance you find in every meal. Classic dishes such as Mussels au vin rouge, Cassoulet, or of course Philippe's famed Tomato soup make you feel as if you really have traveled into the French countryside.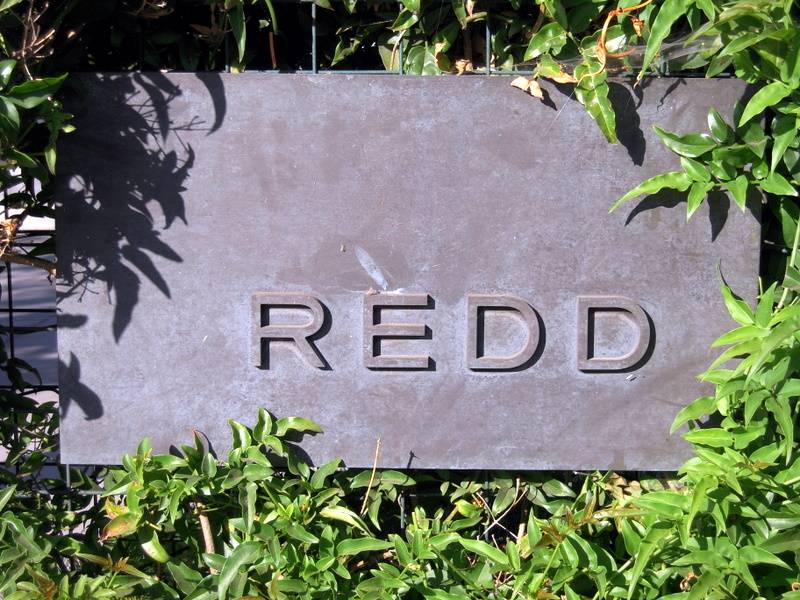 Redd: Opened in November 2005, Redd is the first venture from acclaimed Northern California chef Richard Reddington, formerly of Masa's and Jardiniere in San Francisco, and Auberge du Soleil in Napa Valley. Reddington offers an updated interpretation of wine country cuisine with influences from Asia, Europe and Mexico in a relaxed yet elegant environment. Redd reflects the passions of a serious chef who, after spending 15 years in some of the best kitchens in the United States and Europe, has found the perfect balance of serious food and unpretentious environment. Chef Reddington says, "With Redd, I've created the type of restaurant that I like to spend time at — an inviting place that serves creative food and thoughtfully chosen wines in an elegant, contemporary space."
There's also Redd Wood, Reddington's more casual outpost and a superbly stylish Italian-inspired eatery.
Subscribe to discover the best kept secrets in your city