Photo Credit: Drew Altizer Photography
San Francisco Ballet kicked off its 2015 season and Helgi Tomasson's 30th anniversary as its artistic director with its 82nd Repertory Season Opening Night Gala on Jan. 22 at the War Memorial Opera House. The theme of Infinite Romance was on full display as Tomasson, the longest serving sole artistic director of any major U.S. ballet company [he's also the principal choreographer], showed why the Company has achieved a reputation as one of the world's most preeminent companies under his leadership.
Twelve classical and contemporary works and excerpts were presented as part of this magnificent, one-night-only program. The gala performance began with a seven-minute work, Défilé, choreographed by Tomasson and featuring the full Company, as well as SF Ballet School Trainees and students. The work was set to the music of Johan Svendsen.
The program continued with Joan Boada and Pascal Molat performing an excerpt from Renato Zanella's Alles Walzer set to the music of Johann Strauss II. The complete work had its world premiere at the Vienna State Opera in 1997 and SF Ballet first performed an excerpt from the ballet for the 2008 Opening Night Gala.
Other highlights included:
Lorena Feijoo and Vitor Luiz performed the SF Ballet premiere of the Act II pas de deux from Val Caniparoli's A Cinderella Story.
Yuan Yuan Tan and Tiit Helimets performed a pas de deux from Tomasson's On a Theme of Paganini, set to the music of Sergei Rachmaninov.
Sofiane Sylve and Luke Ingham performed a pas de deux from Christopher Wheeldon's There Where She Loved©, set to Je ne t'aime pas by Kurt Weill and Maurice Magre.
The Company performed Tomasson's Concerto Grosso, set to the music of Francesco Geminiani after Arcangelo Corelli and performed by Esteban Hernandez, Francisco Mungamba, Wei Wang, Diego Cruz and Max Cauthorn.
The Company performed the U.S. premiere of Alexei Ratmansky's Souvenir d'un lieu cher, set to Peter Ilyich Tchaikovsky's composition of the same name.
Prior to the Gala performance, three black-tie fundraising dinners were held in City Hall, with all proceeds from the dinners benefiting the San Francisco Ballet's annual fund. Shelby T. Strudwick served as the Gala chair and Dr. Carolyn C. Chang as the Gala dinner chair. The Honorary Chairs were Stephanie and Jim Marver. The Presenting Sponsor for the evening was Osterweis Capital Management.
Photo Credit: Drew Altizer Photography
The evening began with an elegant cocktail reception, sponsored by Gibson, Dunn & Crutcher LLP, in the South Light Court of City Hall for guests of the grand benefactor, benefactor and patron dinners, all of which were catered by McCalls with wine provided by William Hill Estate Winery. La Marca Prosecco, Blue Angel Vodka and Crystal Geyser water provided their offerings.
Event stylist J Riccardo Benavides created an amorous mood for this special evening of  Infinite Romance by using abstract shapes, sensual fabrics and romantic lighting.
In addition, ENCORE!, the social and networking group of young professionals supporting SF Ballet, hosted a cocktail buffet in the South Light Court with specialty cocktails and heavy hors d'ouvres by McCalls.
A Prosecco Promenade, featuring complimentary La Marca Prosecco for all performance ticket holders, was set up in the Opera House main lobby.
Afterward the performance, it was back to City Hall for a lively after party that featured DJ Chris Clouse and live music by Wonderbread 5, a monochrome photo booth by mirmir photo™, dancing, as well as an open bar with specialty cocktails and late-night fare by McCalls in lighting with shades of indigo blues with accents of hot pink, emerald greens and splashes of amber.
Glenn McCoy, Debra Bernard, Stephanie Marver and Jim Marver
Nigel Sutton, Shelby Strudwick, Wilkes Bashford and OJ Shansby
Bob Fisher, Raphaela Lipinsky, Lexie George, Randi Fisher and John Fisher
Paula Carano, Jennifer Walske, Gaurav Garg, Komal Shah and Bandel Carano
Carl Pascarella and Dede Wilsey
Stephanie Marver, Riccardo Benavides and Suzy Kellems Dominik
Jeffrey Hayes, Christopher Wheeldon and Ross Rayburn
Charlotte Shultz and Lucy Jewett
Lucy Jewett and George Shultz
Clara Shayevich, Karen Caldwell and Betsy Linder
Kat Taylor and Tom Steyer
Richard Barker and Paul Pelosi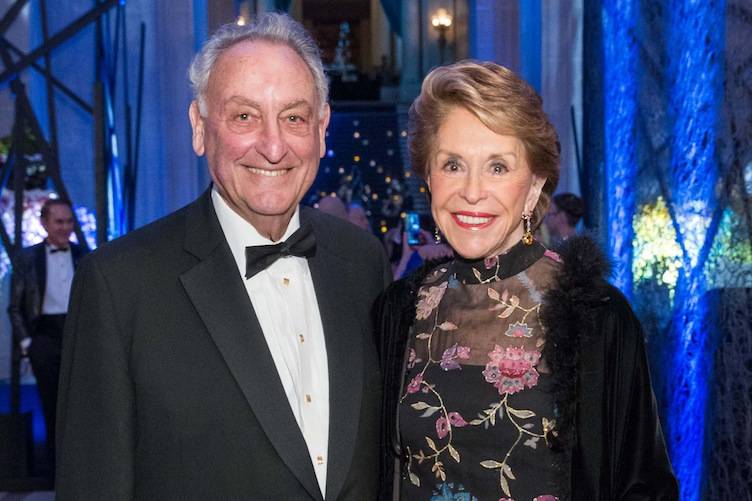 Sandy Weill and Joan Weill
Yurie Pascarella
Chris Bently and Camille Crowder
Photos by Drew Altizer Photography