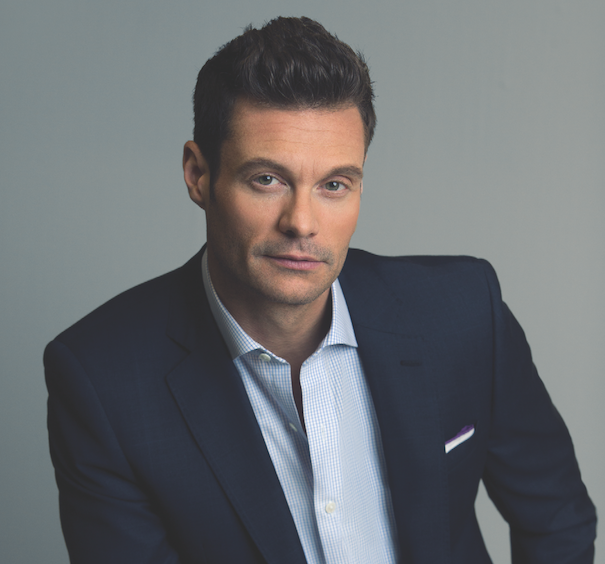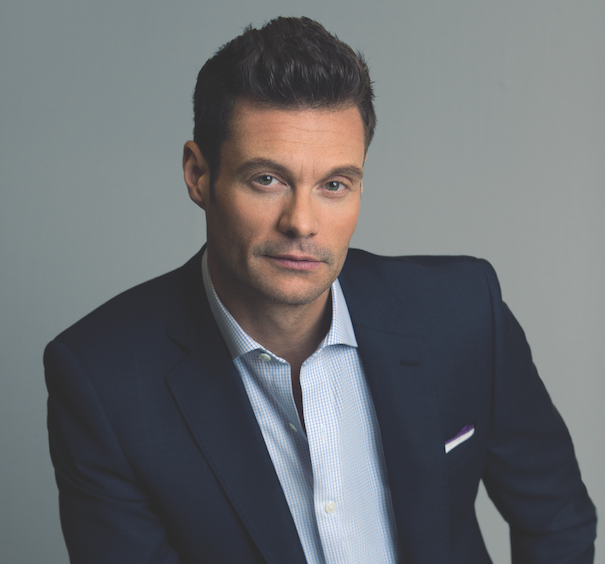 Ryan Seacrest could have been named "Biggest Overachiever" or "Most Likely to Be a Millionaire" in his high school yearbook and no one would have been surprised—he did earn six Emmy nominations, have his own nationally syndicated radio show, create his own production company and foundation, and has hosted one of television's most popular shows for more than a decade, after all (and all before the age of 40, no less). However, the superlative he actually earned—"Best Dressed"—isn't a complete surprise, either: Seacrest clearly takes pride in his appearance, making dapper dressing seem like an art. We admit to being a little shocked though that he managed to earn said designation while wearing acid wash jeans because, come on—no one looks sexy in stone wash.
"I actually won 'best dressed' by wearing Bugle Boy jeans," the debonair media magnate confesses now. "It was the look back then. Bugle Boy pants and rayon shirts somehow got me that award. My high school was clearly not the fashion capital of the world."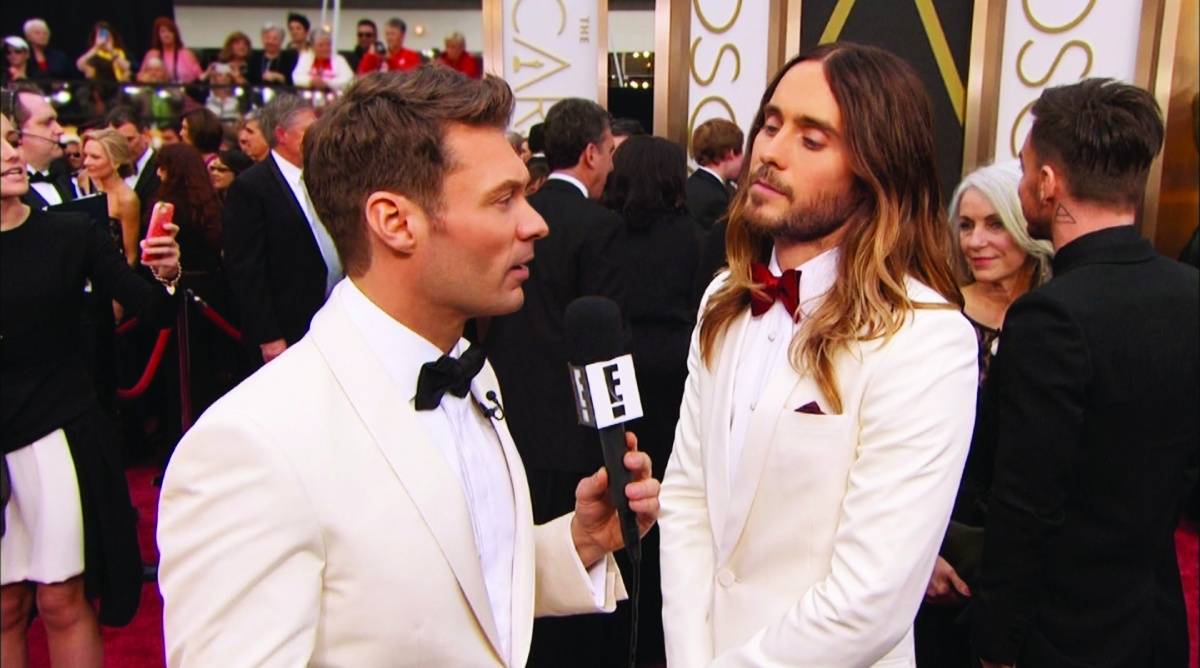 The mogul turned fashion designer should be completely forgiven for the sartorial mistakes of his youth, especially given how beautifully besuited he is in the present. "It took me many, many years, many mistakes, and many rugby shirts in between [to find my current look]," he admits. "When I started to work in more fashion cities and started to appear on television, I had access to a lot of great clothes. That's when I started to really dress up."
The days of parachute pants and Guinness-print shirts faded into the ether as Seacrest discovered brands like Rag & Bone and Burberry, and settled on a classic meets comfortable style. One might say that his current look is one of distinction—which is fitting, considering this is what he chose to name the fashion label he launched in 2014. As per good old Merriam-Webster, the word refers to importance, excellence, or achievement: all of which suit the brand—and the man—to a T.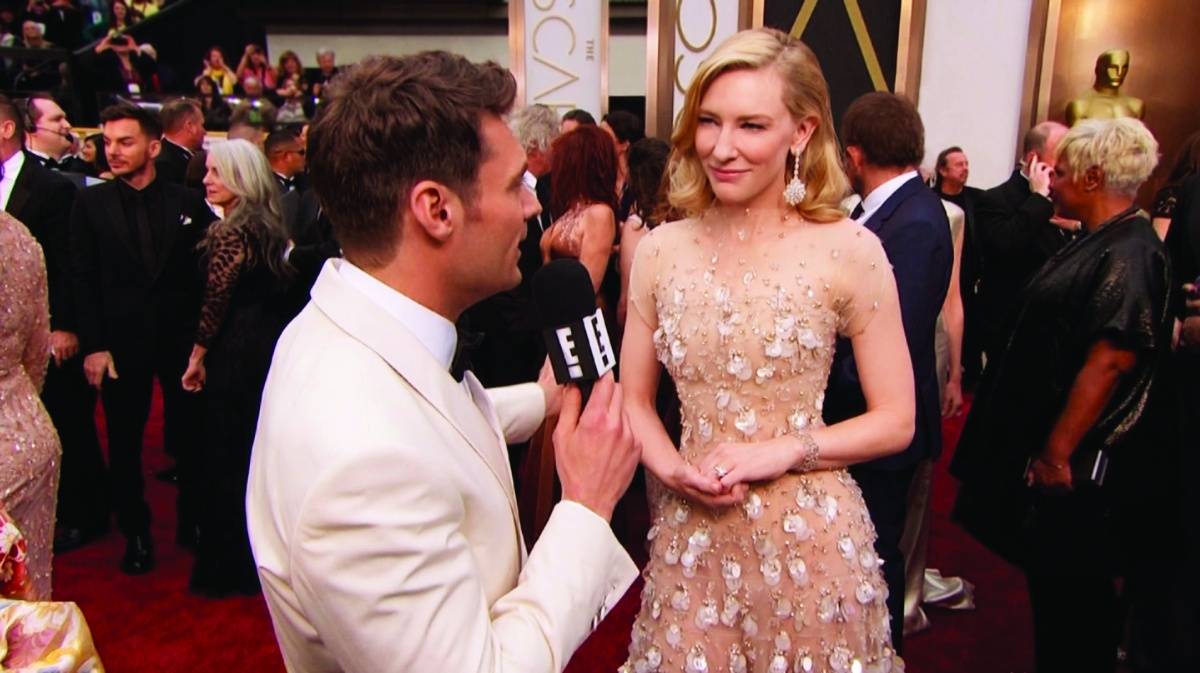 "It's such a great word," Seacrest enthuses. "It's got a lot of positive connotation to it. It's something that I like to be, and I think it fits me well. It's my goal to make that word fit me."
Seacrest's line, which is sold exclusively at Macy's, is influenced by classic, iconic menswear. It makes dressing for dudes especially easy, as jackets, pants, shirts, and ties are labeled with the number of the color group they match in order to create a perfectly coordinated ensemble.
That the collection resembles his own pristinely arranged closet is no accident. "My closet is color-coordinated. It was actually the inspiration behind the 'Style Made Smart' system that we have incorporated into the Ryan Seacrest Distinction collection," he confesses. "We wanted to make it easy for guys to match their clothes, and the tags provide some helpful guidance on color and pattern matching."
Though it's early days for the label, the line has already been so successful that Seacrest is currently planning for its expansion. "We are hoping to continue to add products and expand into new areas. Next fall, we are adding sweaters and outerwear, which we are excited about," he says.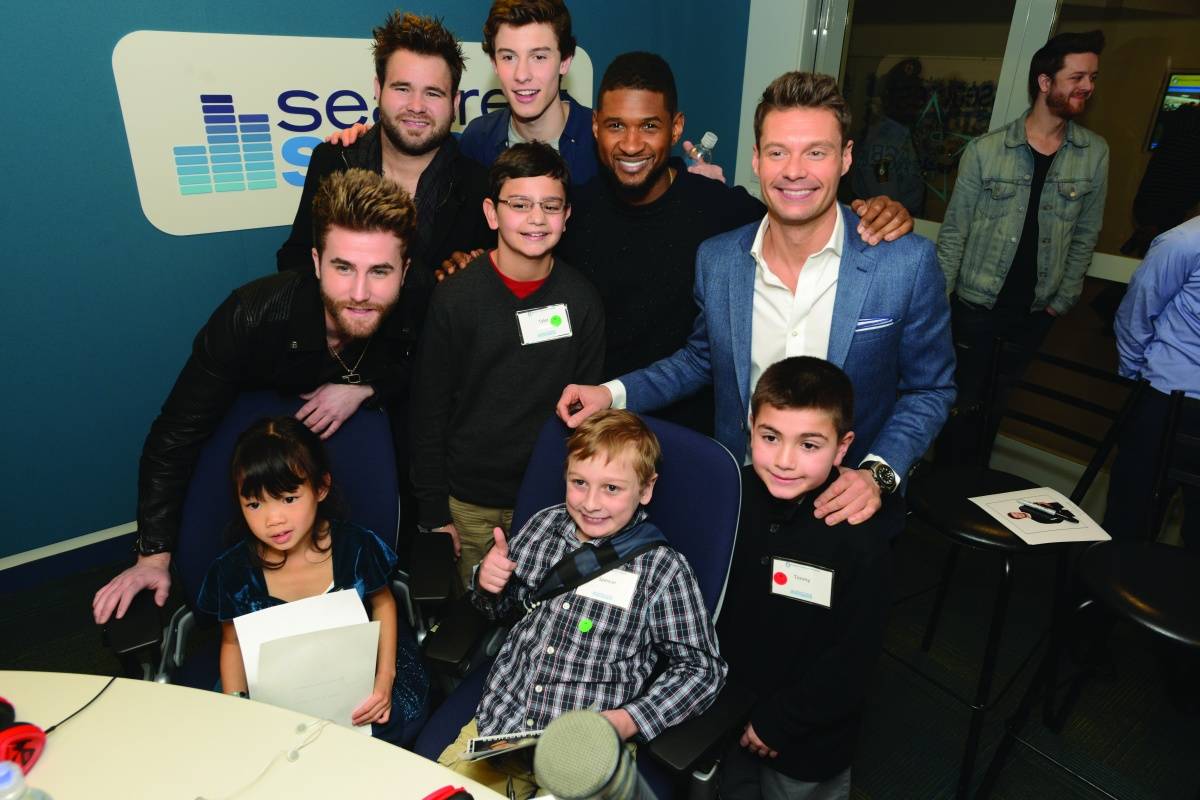 Ryan Seacrest Distinction is only the latest of his entrepreneurial ventures. Let's not forget that—through his production company, Ryan Seacrest Productions—he is single-handedly responsible for launching the careers of the most famous family in America: the Kardashians.
Seacrest will admit that he got lucky: the clan is a true, one-in-a-million find. "I loved watching The Osbournes, which was really the first show of this [reality] genre. I started thinking about what another show could be like or who another show could be about, which is how [The Kardashians] started," he recalls. "We went to some casting directors in L.A. and said, 'We're interested in meeting families who want to be on a series or are interested in being in the world of television. The Kardashians were interested.
"We got linked up through a casting director. I had met the girls before, but I didn't know the family well," he continues. "So I said to a guy in my office, 'Why don't you buy a video camera and go out to their house on a Sunday when they're having a family barbeque, shoot it, and then we'll watch it and see what we think.' I remember perfectly: he called me from their house Sunday afternoon and said, 'It's absolutely golden; you're going to die when you see this tape. They're so funny, they're so fun, there is so much love in this family and they're so chaotic—they throw each other in the pool!' We watched it and rushed the tape to E! immediately, and that was the beginning."
According to Seacrest, picking a favorite among the fam—which includes matriarch Kris Jenner and kids Kim, Kourtney, Khloe, Kendall, Kylie, and Rob—would be like confessing to loving one child more than another; he can't do it—though he does admit to respecting one member in particular. "I admire Kris, because she has done an amazing job at taking what was just a television show and building it into a massive empire for the family," he praises.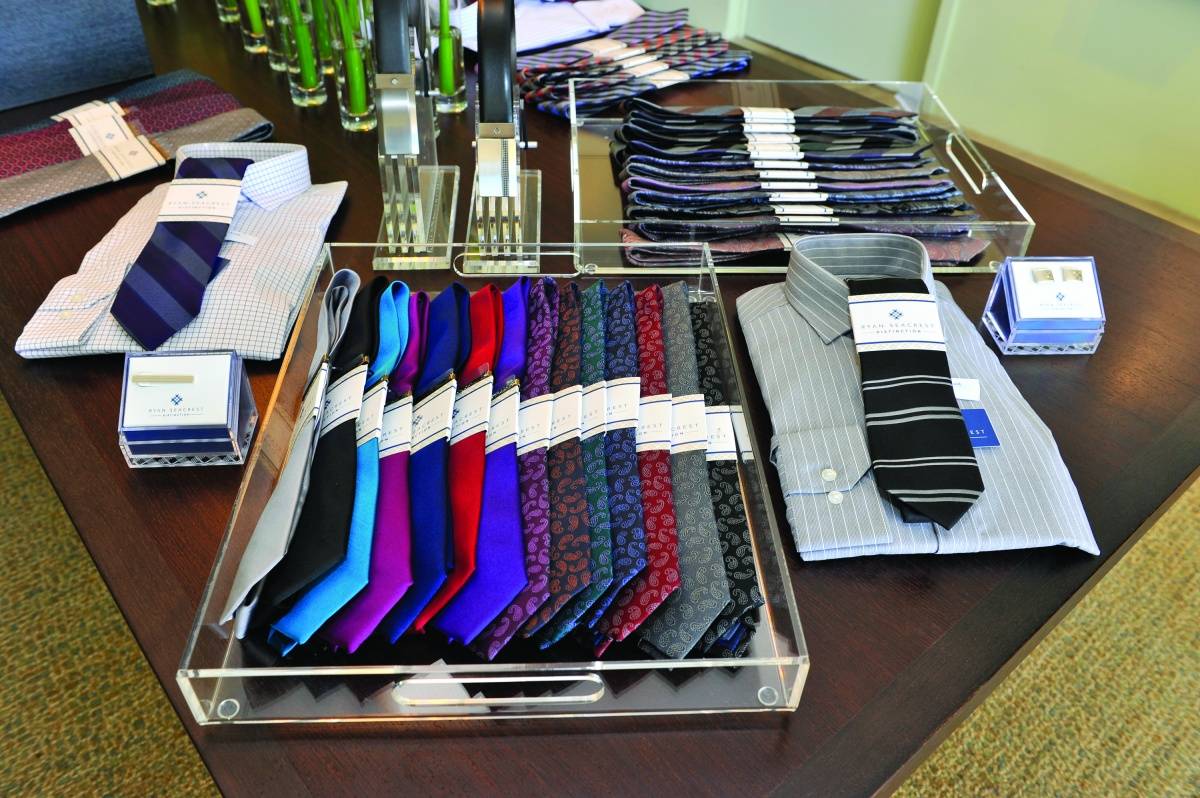 Sound familiar? It should: Seacrest achieved a similar feat himself. After landing the gig of a lifetime in 2002 as the host of one the most popular shows in American history, American Idol, the mogul went on to launch his aforementioned production company, host the nationally syndicated radio show On Air with Ryan Seacrest, and establish his own nonprofit organization, the Ryan Seacrest Foundation.
Running a media empire wasn't something he originally intended to accomplish—he was initially content to be a radio and television host—but after some sage words of advice from an iconic media mogul, Seacrest knew his current path was clear.
"When I was first in Los Angeles, I worked with Merv Griffin [on the computer-inspired TV show Click]. I saw what he had done and what he had built, and I was impressed by it. I talked to him about it, found out what his challenges were. He suggested to me pretty deliberately that it would be very, very important along the way not just to host shows, but to own shows—to come up with ideas and have a company that you're not just an employee of, but a company that you actually own. I thought, 'If I'm on a show that gets cancelled or I can't get a gig, at least I'll have the ability to make shows.'"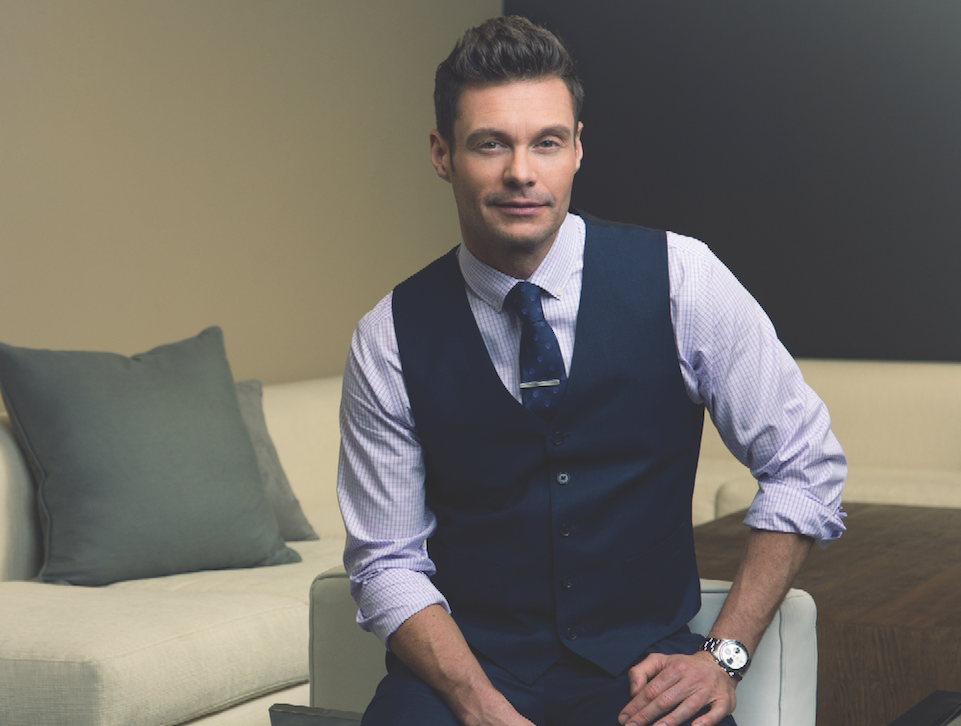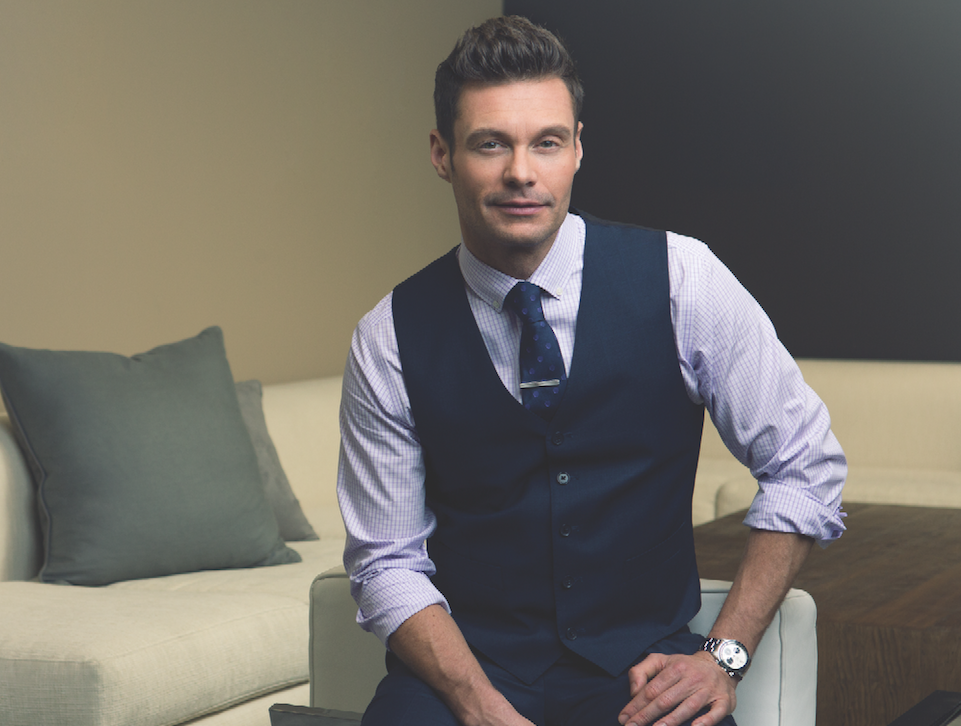 He's done that, in spades. In addition to producing The Kardashians and various spin-offs of the series, he's also responsible for E!'s Live from the Red Carpet awards season specials, Bravo's The Shahs of Sunset, ABC Family's My Transparent Life, and the upcoming new drama series, Shades of Blue, featuring American Idol co-star Jennifer Lopez for NBC that will premiere this year, among others.
Additionally, the always-innovative entrepreneur is keen on taking his brand to the next level, and plans on doing so through new media. "Right now we are exploring more and more in the digital world. I've been making investments in quite a few digital companies. We will definitely be creating and producing more hours of digital content than ever before soon," he vows.
Seacrest is also investing in media and entertainment companies including Civic Entertainment Group, a marketing services company, DigiTour Media, an emerging media and entertainment company that creates and produces IRL ("in real life") YouTube experiences in the form of concerts, attn:, a news media company targeted at millennials, as well as startups such as Pinterest, FlightCar, Mobile System Security (MSS) and TYPO, a smartphone and tablet accessory company he founded with Show Media CEO Laurence Hallier.
"I really appreciate the opportunity to work with entrepreneurs," Seacrest says of his foray into the Silicon Valley start-up world. "They are dreamers and tireless workers, qualities I relate to. I also learn a lot just interacting with them. They raise smart questions and solve problems proactively and swiftly. I hope to continue to have the chance to work with new companies—it's fun, and fuels my curiosity."
Entertainment is in Ryan Seacrest's genetic makeup; it is the fabric of his very being. Growing up in the Atlanta, Georgia suburb of Dunwoody, he eschewed a typical childhood existence of toys and games with the single-minded focus of becoming a radio host—all from the makeshift studio that doubled as his bedroom.
"[When I was a kid], on Saturday afternoons, I'd go into my bedroom and make cassette tapes of me pretending to be on the radio," he recalls. "I saved up 50 bucks to buy a RadioShack mixer so that I could plug in all of the components—I had an old, archaic stereo system and a microphone to plug it into—and that's how I made tapes of me pretending to be on the radio as a small kid."
For his very first interview, he turned to a subject he knew well: himself. "I interviewed me pretending to be Casey Kasem and Rick Dees," he says with a laugh. "I knew of these guys and listened to them on the radio as a kid, and I always wanted to be around what they were doing."
He didn't have to wait long to realize his dream, either. While attending Dunwoody High School as a 16-year-old, Seacrest, who was already being referred to as "The Voice of Dunwoody High," scored his first internship at Atlanta's WSTR, where he went on air for the first time in his broadcasting career when a regular DJ called in sick. After graduating high school, he moved on to study journalism at the University of Georgia, though he didn't stay there long—Hollywood always beckoned. However, it was actually a woman—albeit indirectly—who actually set Seacrest on the road to fame and fortune.
"I remember being in high school, thinking about coming to Los Angeles—I had never been before—and the father of the girl that I was dating had a business trip to L.A.; they invited me to come along because they knew I was obsessed with TV, Hollywood, and the business. When I came, I was enamored by every component—the 101, the Hollywood sign, the Capitol Records Building, the Santa Monica Pier—everything that was Los Angeles. I was in awe of it.
"I never forgot that feeling," he continues. "When I went back to school and was in college, I was literally sleepless trying to figure out a way to come back and work here."
He figured it out alright, ultimately deciding to drop out of college at 19 and move to Tinseltown. There, he hosted the first season of ESPN's Radical Outdoor Challenge in 1993 before moving on to Gladiators 2000 from 1994-1996, NBC Saturday Night at the Movies in the fall of 2000, and hosting his first reality show, Ultimate Revenge, from 2001-2003.
It wasn't until 2002, however, that he scored his dream gig: co-hosting a lil' old show that you may or may not have heard of called American Idol alongside comedian Brian Dunkleman. The following year, Seacrest was hosting alone.
He is well aware that Idol launched his career and, as a result, is forever happy to give credit where credit is due.
"Becoming the host of American Idol was life-changing for me. It opened so many doors [leading] to other things," he says. "It's so rare that you get to be on a great show for more than a season or two, and I was grateful that I was able to get on a primetime television show at all. I had no idea that it would become as big as it became. It defined an entire decade of programming and 14 seasons in, I'm still doing it." As to whether a 15th season is imminent, he's uncertain. "I hope that it goes for a long time, but we'll see."
Seacrest definitely doesn't take anything he has for granted: every day he gives thanks for being able to do something that he loves. As a result, he throws himself into his work with true joie de vivre, which may be why he's often referred to as "the hardest working man in Hollywood."
"I always wanted to be in Los Angeles on the radio or on television, and so I think I continue to do a lot because I remember when I didn't have any of it," he says. "I'm so grateful that I get to do it, and I feel like as long as I have the opportunity, I should do as much as I humanly can."
This appreciation for his own life is a major reason why the two-time Emmy winner decided to launch the non-profit Ryan Seacrest Foundation in 2010: he wanted to give back as well as enhance the quality of life of children who need help.
"Over the course of hosting American Idol, we would go to different hospitals and hang out with kids. I heard stories from the parents about how often their kids ran out of things to do; they got bored, and their parents couldn't afford to entertain them. They wished their kids had more to do in the hospital during these hard times—something to look forward to and get them out of bed and be active. That's how I came up with the concept. [My family and I] are building broadcast media centers in pediatric hospitals around the country. There are eight of them—soon to be ten in 2015. I'm proud of the work we do helping to give these kids and their families a break from the challenges they are facing, whether it is calling in to the studio to ask Taylor Swift a question, or listening to and watching her perform from their rooms.
He adds, "Our next goal is to take all of these studios and fuse them together and make the first ever pediatric entertainment network. I don't know how to do it [yet], but we're going to try."
He will also endeavor to find balance in his life—he is well aware that being "on" all the time isn't something that he can sustain forever. He came to this realization just before reaching the milestone age of 40 on Christmas Eve.
"[People] refer to me as disciplined, a hard worker. I'm gratified that my hard work is recognized—and a little worried, now that I am turning 40, that maybe I am working too hard. I'm striving for more balance," he admits, adding that he has taken steps to achieve this. "Lately I have been practicing yoga, which has upped my quotient of stillness," he says.
Despite all he has and all he's done, there is still one luxury that is evading the media mogul. It is something that no matter how much success he accrues, he has not yet been able to afford, and that is, understandably, "sleep."
Subscribe to discover the best kept secrets in your city