Here at Haute Living HQ, we love ballet flats as much as the next no-nonsense New Yorker—they're cute, comfy, stylish, and oh-so-versatile. But on New Year's Eve, we're all about swapping out our sensible shoes for a pair of chic high-heels. But lucky for you—and your pretty toes—a little lift doesn't have to mean hobbling around in pain all evening. We tracked down five pairs of haute high-heels so comfortable that will keep you dancing all night long (no Champagne necessary).
Jimmy Choo Tisri Leather Tread Pumps ($895)
Blame global warming (or the bipolar nature of east coast weather in general), but the temperature in New York City has been ridiculous lately! One day it's warm and sunny, the next, snowy and rainy. To help you avoid slips and spills even if New Year's Eve turns out to be wet and dreary, pick up these sleek leather pumps by Jimmy Choo with a textured heel and treading at the sole. Trust us, your knees will thank you.
Giuseppe Zanotti Jeweled Satin Platform Pumps ($1,495)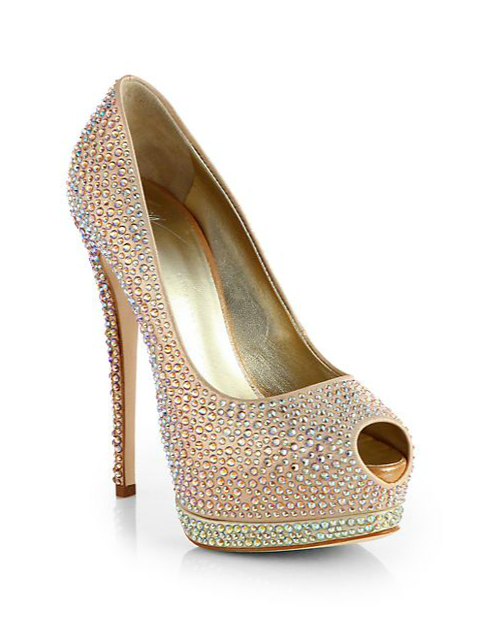 Save your black peep toes for dinner and a movie. New Year's Eve isn't the time to play it safe. Turn heads in these Giuseppe Zanotti satin pumps, covered from heel to toe with sparkling crystals. Featuring a partially hidden and covered one-inch platform (the best invention ever!), plus a padded insole, you'll be able to walk up and down stairs with ease.
Christian Louboutin Follies Cabo Studded Red Sole Pump ($1,395)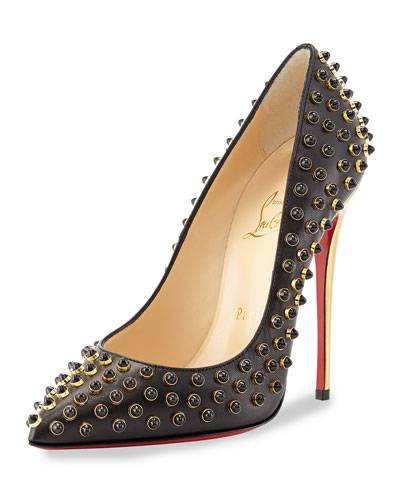 Not sure what you're wearing to countdown the final moments of 2014? There's still time to scoop up one of our haute dress picks, but if the idea of trekking to yet another crowded department store sends shivers down your spine, not to worry. Dress up your favorite little black dress that hugs in all the right places with Christian Louboutin's kidskin pumps with studded cabochons. Featuring a smooth leather lining and padded footbed, feel free to ditch your itchy tights (and leave your bandaids at home) because you'll be walking out of the party blister free.
Tom Ford Calfskin Zip-Front Bootie ($1,390)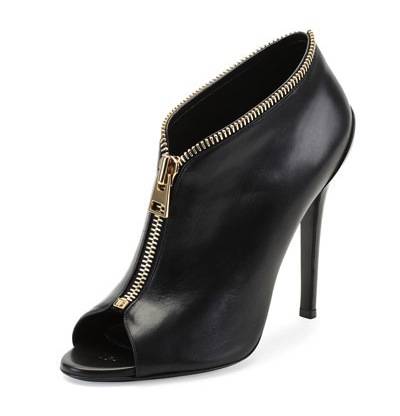 Maybe it's the covered front, the adjustable zipper closure, or the thicker heel, but for some reason, it's just easier to walk in booties. And trust us, once you slip on these peep toe beauties from Tom Ford, you'll want to walk all night. Sayonara, Uber.
Manolo Blahnik BBMal Splatter Paint Canvas Pump ($745)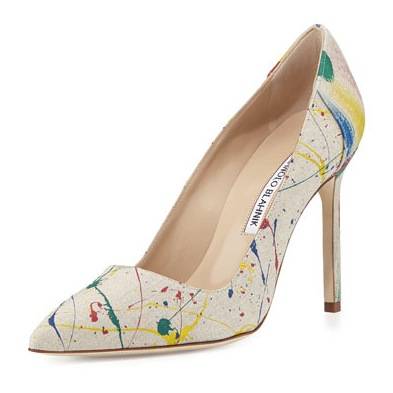 Besides puppies, rainbows, cupcakes, and the perfect Instagram filter (hint: Valencia does wonders for evening out skin tone), few things in life are as uplifting as splatter paint. Maybe it conjures up memories of elementary school art class or our favorite '80s pop stars, but there's something about streaks of primary colors that makes us smile. And when said streaks are paired with stylish Manolos, well, that's enough to make us jump for joy. And thanks to a generously padded insole, you'll be able to jump all night in these canvas pumps.