Thanksgiving in New York is a beautiful thing. And if there's one thing New Yorkers can thankful for this holiday, it's not having to cook. Many excellent New York City restaurants serve extravagant Thanksgiving feasts worthy of a Norman Rockwell painting. But make reservations early to ensure you reserve the perfect meal to Thanksgiving Day. And don't forget to leave a nice tip at the end of dinner—no one really wants to be working on a holiday.
Cafe Boulud
20 East 76th St, (212) 772-2600; Lunch 11:30 a.m. – 3:00 p.m. & Dinner 5:00 p.m. – 8:00 p.m.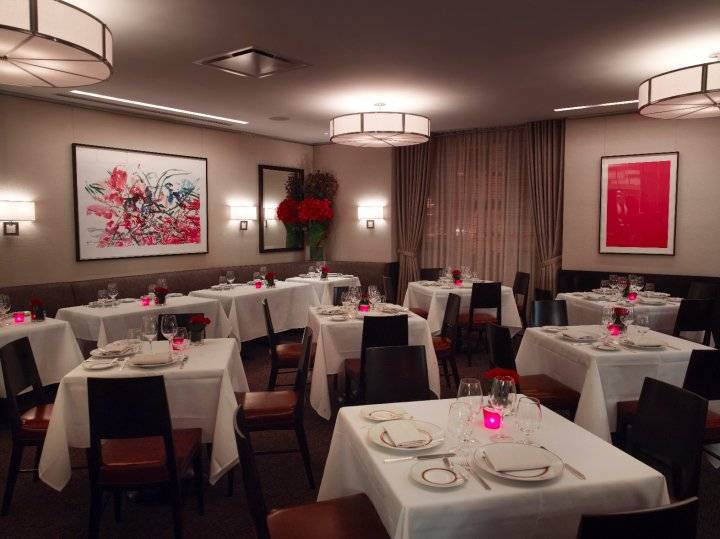 He may be French, but chef Daniel Boulud totally knows how to do Thanksgiving! Cafe Boulud will serve a $135/person three-course prix fixe with luxe dishes including Maine Peekytoe Crab with granny smith apple and celery root remoulade, Heritage Farm Turkey Breast with chestnut-ciabatta stuffing, savoy cabbage, cranberry marmalade, sweet potato purée and sage infused jus. For dessert, choose between a Pecan Tart with bourbon cremeux and chocolate sorbet or Apple Tatin with calvados custard and crème fraîche ice cream.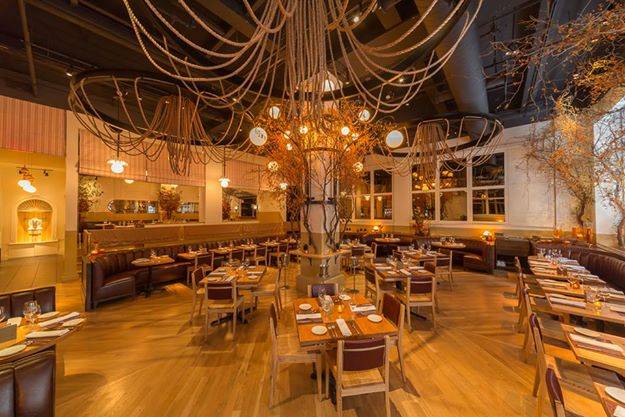 Autumn will serve its seasonal dishes for the holiday, along with specials. Dishes on the $79 prix fixe will include a Black Friday toast with turkey sage sausage, toasted almond gnudi with apricots, a traditional Thanksgiving turkey with herb stuffing and maple glazed yams on the side. Decorated as an autumnal par paradise covered in leaves, this is an ideal setting to celebrate the November holiday.

Perilla

9 Jones St; (212) 929 – 6868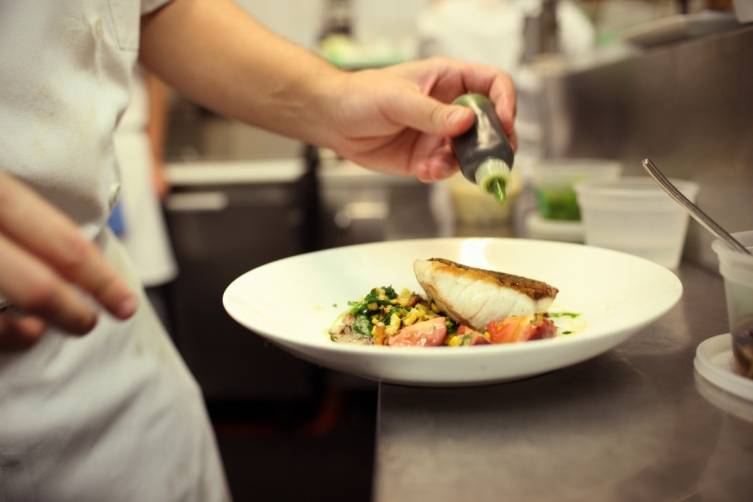 Chef Harold Dieterle offering a $75 Thanksgiving prix fixe menu. Dishes will include appetizers like Whiskey Hill Rabbit Terrine, Baby Kale Salad, Spicy Duck Meatballs with mint cavatelli and of course Roasted Local Turkey with chestnut stuffing, sage gravy and cranberry gelée,

Trattoria Il Mulino
36 E 20th St, (212)-777-8448; 11:30 a.m. – 11:00 p.m.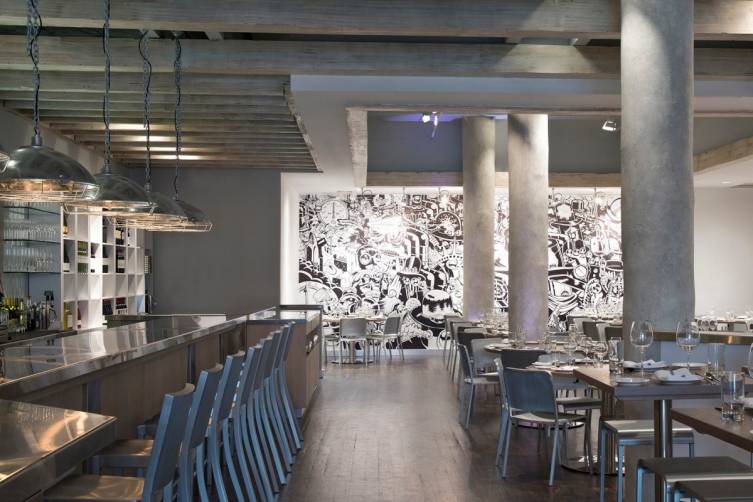 The Flatiron eatery will offer an Italian-infused $45 prix-fixe menu enjoyed with football games screened all day on the HD projector. The first course includes Pumpkin Ravioli with Brown Butter Sage Sauce or Lentil Soup with Capellini followed by Roasted Turkey Au Jus, Chestnut Stuffing with Sausage, Fresh Cranberry Sauce and Green Beans Marinara. For dessert, a pumpkin cheesecake along with coffee and tea will be served.

Mas (farmhouse)
39 Downing Street, (212) 255-1790; 5 p.m. to 10 p.m.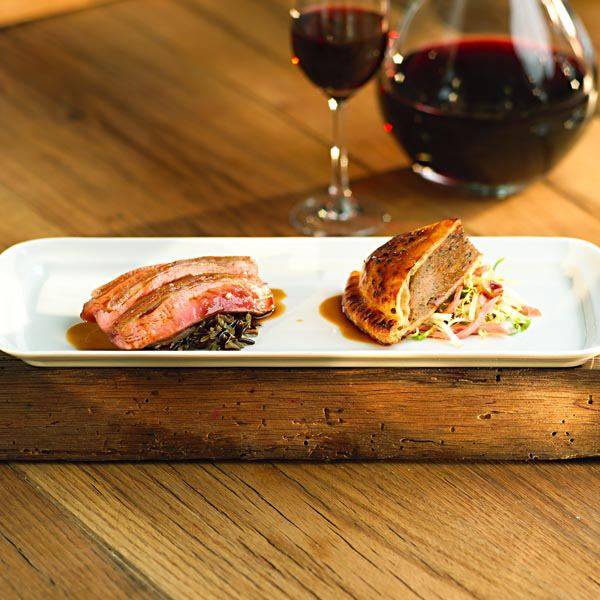 Rustic downtown eatery Mas (farmhouse) will be serving seasonal holiday dishes including Heritage breed turkey, cranberries, sweet potatoes, Brussels sprouts, squashes, and more in their regular a la carte, 4-course prix fixe ($88), and 6-course chef menu ($120) offerings. Wine pairings are also available.

Bubby's
High Line – 73 Gansevoort Street, (212) 206-2600; Tribeca – 120 Hudson Street, (212) 219-0666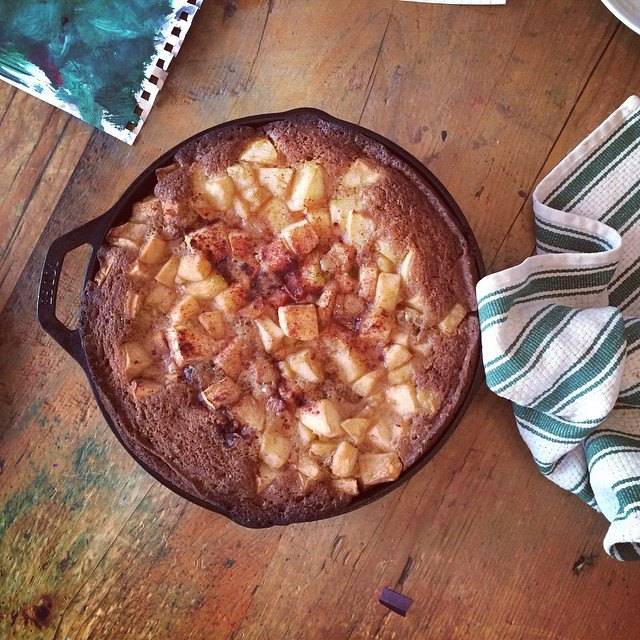 Bubby's is hosting a pay-what-you-want dinner on Thanksgiving Day (recommended donation of $75 per person) at both locations from 3pm to 10pm, with proceeds to benefit NYC Rescue Mission. The buffet-style dinner menu will include Deviled Farm-Raised Eggs, Snow Dance Farm Free Roaming Turkey and Giblet Gravy, Glazed Duroc Ham and Spiced Apricot Sauce, Cornbread Sage Stuffing, Cranberry Sauce, Buttermilk Mashed Potatoes, Candied Sweet Potatoes with Homemade Marshmallows, Green Bean Mushroom Casserole, and Roasted Brussels Sprouts.