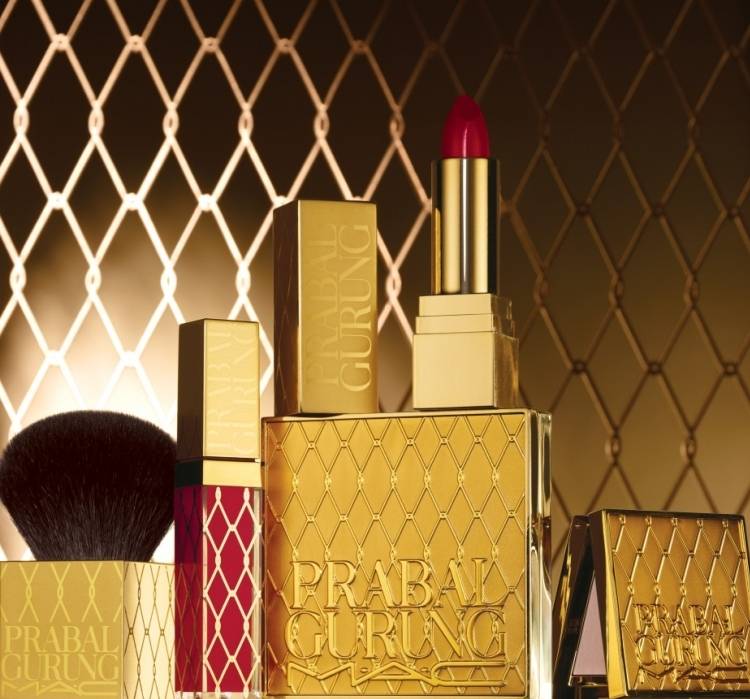 Prabal Gurung's designs have been worn by everyone including Oprah Winfrey, Michelle Obama,  Lady Gaga, Jennifer Lawrence, Demi Moore, Emma Watson, Anne Hathaway, Amanda Seyfried, Sarah Jessica Parker, Kerry Washington and Scarlett Johansson, and remarkably, Gurung's creations are about to worn by several million more. The CFDA award-winning designer has created his first collection for MAC in an opulent collaboration featuring smoky, gilded hues and ultra-smart, custom gold packaging. The 14-piece collection, available November 26 to Dececember 24 of this year is as modern and glamorous as the designer himself. It is both emotional and artistic, inspired by Gurung's own mother as well as artists Sylvie Fleury, Damien Hirst and Nick Knight. Expect to find items like a matte bronze powder, eye shadow, a kohl eye pencil and lipsticks in pink, light English red and carmine rouge. Says Gurung, "Take a lipstick—dab a bit on earlier in the day, and as the day progresses, turns into evening, turns in to night, she darkens it and maybe puts a Lipglass over it and a little bit of shimmer on the cheeks. I always feel, whether it's getting dressed or putting on makeup, it's ritualistic, a very spiritual process that a woman has…I wanted that moment to really be something that makes a woman feel beautiful." Here, the designer sat down to discuss beauty, fashion and his own personal beauty muse.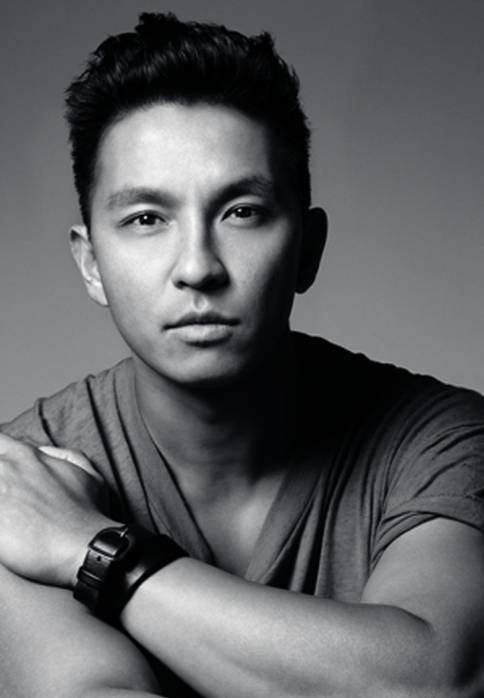 If you could describe your collection in a word, what would it be and why?
Glamour. As I developed this collection I drew inspiration from the entire transformative process of putting on make up, from the moment the product is selected to when it's applied. I wanted each moment to make women feel truly beautiful, and I believe that the color palette and rich, opulent packaging really achieves this. 
Are you drawn to one particular makeup look over another? If so, what is it?
There are always going to be different make up looks that suit different occasions, but I can't deny I do love a bold lip. It exudes confidence. The carmine rouge lipglass is one of my favorite products in the collection. 
Do you have a beauty muse? If so, who is it? What do you admire about her?
Women are a constant source of inspiration for me, and I have many beautiful and talented muses. A woman whose beauty appears totally effortless while also maintaining a strength and distinct elegance. 
Which celebrities' signature beauty looks do you most admire and why?
 I love Rooney Mara's signature beauty look. There's a boldness and a unique edge that she subtly incorporates, which gives her feminine style that bite. 
Are there any beauty secrets from your native Nepal that you can share?
It's not so much a secret but I would have to say the bold use of color—it's something that the Nepalese embrace rather than shy away from.
How did you and M·A·C decide on collaborating? Why beauty now?
I launched my first collection in 2009 with a presentation and reached out to MAC for support. I was a new designer and they agreed to work with me, which speaks volumes. It was an emotional and instinctive decision for them, which I feel was crucial in the development of our relationship. Their collaborations with designers are heartfelt, and season after season our relationship grew to where it is today. When they eventually came to me with the idea for this beauty collaboration it felt like the natural next step as our relationship has continued to grow. The timing was right for us as well considering this February marked our fifth year in business. Creating this line has certainly been emotional for me. I think back to the beauty products on my mother's vanity that I saw growing up and how much they resonated with me. It's pretty incredible to be in a position to now be developing my own. It's all very full circle.
What was the inspiration for the packaging?
I knew I wanted to create a product that would be recognized not only for its incredible quality, but also for the luxury of its packaging. I was inspired by the jeweled minaudieres of the 1920s—decadent and true collector's items. I wanted to create something striking that would also make a woman feel beautiful – from the moment she sees the product to when it's being put to use. It's not just the obvious idea of beauty that appeals to me, but the complexity of it, the many layers. I have always said that a beautiful woman with intelligence is a lethal combination—for me, beauty is comprised of so many different qualities. Integrity, depth, sensuality and strength, to name a few. I wanted to encapsulate this in the collection. My inspiration for the packaging came from three particular artists who I've always been particularly interested in: Damien Hirst, Sylvie Fleury and Nick Knight. What I like about these artists is that they all are submersed in beauty in their own distinct way.
What moments in your life inspired you to become a designer?
 My love for fashion started when I was a child. I was always inspired by my mother—I would see her come back from work, get dressed for the evening, put on makeup and watch her transform. There was a confidence that came with that. I would say that was my first introduction to fashion. When I left my family in Nepal, no one thought fashion designing could be a career. Now, it gives me the utmost joy to be able to share my inspirations through clothing. This entire experience holds a lot of emotion for me. My hope is that this emotion translates to the people who buy these products.
Were you heavily involved in picking the products and shades for the collection?
Absolutely. This collaboration has been a work in progress for almost two years. I worked very closely with the M·A·C creative team on the colors and packaging and everything in between. It has truly been a labor of love. I've always wanted to create a makeup collection that emanates luxury and beauty—that's ultimately what we are looking to offer with these products. I'm really looking forward to sharing them with our customers.
What are your favorite products in the collection?
I always knew I wanted to include lipstick in the collection. The colors we created are great when applied lightly for day or darkened and dramatized with a gloss on top for the evening. The lipstick in Carmine Rouge is definitely a favorite. I love a red lip—it's such a powerful statement. It exudes confidence and makes for a bold look.
 How do you compare your creative process for fashion vs. beauty?
The creative process for anything I do typically starts with a moodboard that reflects what I am inspired by for that particular season or project. It then becomes a collaborative effort with my design team and we fine tune our vision and go from there. At the onset of every collection, whether it's fashion or beauty, I ask myself – "Who is this woman? Who is the woman wearing these clothes? If this woman was to wear makeup, what would she want?" It turns out to be more than just the clothes and makeup—it's the notion she stands for. I've always been interested in intelligent, beautiful women who are aware of the space they occupy and the relationship they have with fashion and the world, not just herself. What I know for a fact—having been born in Singapore, lived in Nepal, India, London and Australia, and then coming to New York—there's one universal truth that I believe: every woman, no matter size, race, or color, they all want to look beautiful. I want to embody that idea with my designs and of course with this line as well. There are obviously differences between fashion and beauty, but I think the idea of capturing a distinct look and offering it in such a beautiful way is very similar.
How does your MAC beauty collection compare to your fashion line?
This MAC collection is an extension of what our brand stands for. I wanted it to allow for the consumer to look effortlessly beautiful and fresh faced. I have always been drawn to a face that is not hidden by make-up but rather enhanced by it. Our aim was to create a collection that women were drawn to whether in the stores or on their vanity. It's a very ritualistic and spiritual process that women have. As time consuming as it may be, whether it's 20 minutes or an hour, it's a personal time for her. I wanted these products to be something that make a woman feel beautiful and inspired. To me, it's a way to get in touch with a woman intimately without being intrusive.
 Who is the Prabal woman?
The Prabal woman is intelligent, beautiful, assured and confidant with a rich and polished sensuality. She is elegant and graceful, the epitome of sophistication in a modern context and someone who is refined with a youthful appeal. She is curious about the world around her and resolute in her goals. I always say she is as alluring in what she conceals as in what she reveals. My designs, both in fashion and beauty, are an ode.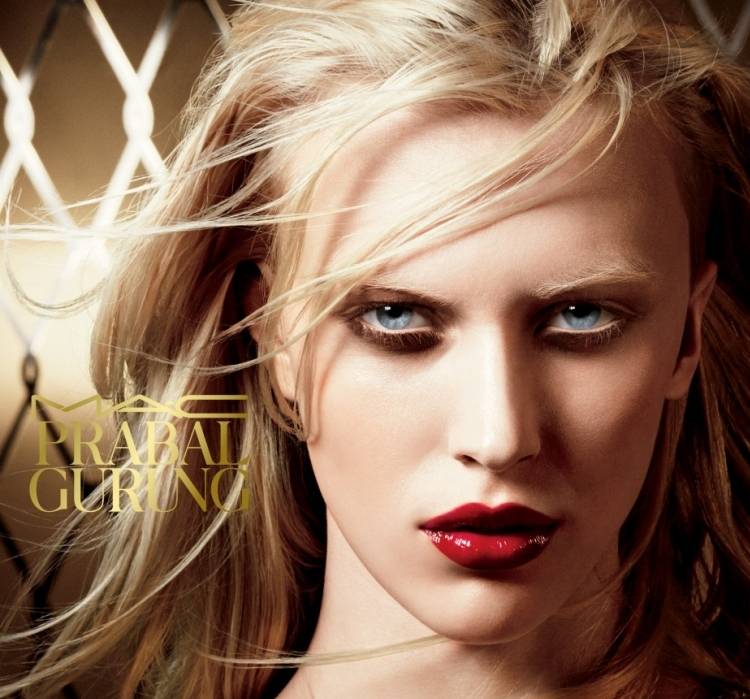 Subscribe to discover the best kept secrets in your city