On those days it's way too chilly to leave your cozy home and lounge in the newly renovated Back Room at One57, you can still enjoy French chef Sebastien Archambault's comforting double broth chicken soup recipe.
In the restaurant, Archambault serves the flavorful broth with a hand cut noodle, but we won't judge if you skip a few steps and use your favorite boxed noodles instead. The recipe leave a lot of room for flexibility depending on what veggies are in season and in your fridge (or quickly deliverable), so feel free to play around with what flavors you like best! The key to this soup is the crisp, crunchy vegetables in a smooth, savory broth, so be sure not to overcook them.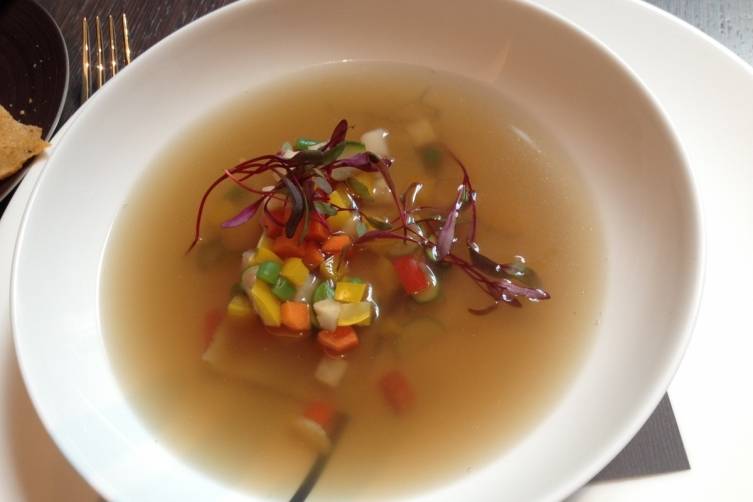 Double Broth Chicken Soup, Farmers Market Vegetables, and Hand Torn Noodles 
Chicken soup broth:
1/2 a raw chicken
1 1/2 gallon chicken stock
3 ripe plum tomatoes
1 whole carrot
1 whole onion
1/2 bunch celery cut in half, washed
1/2 lb fresh white button mushrooms
1 leek cut in half lengthwise, washed
1 bay leaf fresh
1/4 bunch thyme
1 tsp. whole black peppercornssalt (after straining)
Method:
Put chicken and broth in a soup pot and bring to a boil. Lower to a simmer, stir to agitate the impurities. Skim the top of the broth to remove fat and impurities. Add aromatics and vegetables and gently simmer for 1 hour. Strain through a chinoise into a new pot, season with salt.
Suggested Seasonal market vegetables:
Cipollini onions or pearl onions quartered
Patty pan squash/zucchini shaved
Hericot vert or wax beans cut in half
Celery root or celery diced
Cherry/pear tomatoes peeled/deep fried
Baby carrots, quartered
Celery leaf-raw
Method:
Poach each vegetable in broth and let cool.
Assembly:
Blanch desired amount of pasta (preferably flat noodles) for 4 minutes less than recommended cooking time. Drain and toss with olive oil. Tear into spoon size pieces and line bottom of soup bowl. Stack prepared vegetables on top and garnish with olive oil. Pour hot broth (try using an elegant teapot to impress guests) over the ingredients in the bowl and garnish with a fresh green herb to serve.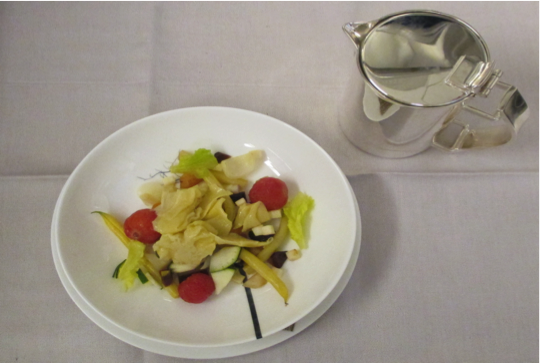 Subscribe to discover the best kept secrets in your city