It's a warm, sunny day in Miami Beach and we are riding in an open-air construction lift with über-developer Richard LeFrak. We are descending from the top of his new beachfront condo-hotel project, 1 Hotel & Homes. The elevators are being serviced so LeFrak thought a ride in the lift might be more exciting than taking the stairs. As usual, his instincts are right, and everyone along for the ride gets a thrill as we fly by the adjacent sun-soaked windows and palm trees.
He looks down to the ground floor and catches sight of my high heels, a stark contrast to the construction worker's steel-toed boots who are riding with us. "I bet that is the first pair of heels that have been in here," he says with a laugh as we exit and make our way to the airy lobby, which is awash in sandy tones and driftwood accents.
1 Hotel & Homes is a new concept with partner Barry Sternlicht, Chairman of Starwood Capital Group, and the creative force behind the W brand. The new brand will combine unparalleled luxury with ecological materials and themes. "We spent a lot of money to get a LEED rating on the building, improving the energy conservation, the water conservation and focusing on materials that are sustainable," says LeFrak. "There is only so much of everything, and if we use it all up, there won't be any for the next group or the one after that. I think all developers have to be thinking about that now, so we're offering sustainable luxury."
Green or not, the product is first-rate. The builder is that of the famed W South Beach, the floor plans are some of the biggest on the beach, and the Brazilian designer, Debora Aguiar, has created an environment so seductive and soothing that we are slow to leave the building even after the shoot and interview are over. She has seen to every detail and surface, with a living plant wall, and neutral softness that compliments sand and sky in the sweeping views commanded by the beach front building. The designer has even piped a subtle, clean custom scent through the common areas.
Even though 1 Hotel & Homes is still under construction, it's quite clear from the quality of the completed areas and prime Collins Park location near the Bass Museum, Frank Gehry New World Center and new chic boutiques, that LeFrak's first Miami endeavor is going to be one of the best addresses in Miami Beach.
What New York already knows, and what Miami Beach is going to learn, is that Richard LeFrak is no ordinary developer. He is an integral part of a developing dynasty that goes back to 1901, started by his father, Samuel J. LeFrak. There was never a doubt that Richard would follow in his father's footsteps, and frankly, was given little choice in the matter. "It was drilled into my head from age 11 that I was expected to come into the business and continue its activities," he explains.
So LeFrak took the ball and ran with it, quite expertly and without hesitation, ultimately expanding LeFrak Organization's reach beyond New York, diversifying his family's interests into energy and helping the family's fortune reach the whopping $5.4 billion it is worth today.
His first big project, "LeFrak City" in Queens, was an endeavor that took nine years and covered 40 acres with 18 buildings, a library, recreation centers and greenspace. Th  e concept was to bring affordable living and amenities to working-class families and was considered a great success. Although the city of 15,000 has since undergone highs and lows, particularly in the '80s when New York had gang and drug problems, it continues to attract a diversity of residents to their spacious, affordable apartments.
It also continues to add to LeFrak's bottom line, because unlike most developers, the LeFraks still own LeFrak City and all the other developments they have done. This makes them the biggest landlords in the country. "My firm has been around for a very long time and we always worked as an investor developer, which means we started with dirt, built something and then kept it," he says. "We have a pretty large portfolio of rental properties: office, residential, retail and hotel, and we still own them. By and large, we develop with our own capital. That's the basis of the strength of my organization, it's old world, but if you have a gun to your head because of leverage or bank loans, you are sometimes forced to do things you don't want to do."
This allows LeFrak to only do what he wants to do, including Newport, New Jersey, another large tract he bought and created from the ground up. He started in 1986 with an abandoned rail yard in an area with a gritty reputation and set about transforming the area with a planned mixed-use community. "It was a huge, 400-acre property in a community that was, let's say, sketchy, but you had the ability to take a very big piece of property and change the way people perceived it after a period of time."
Now Manhattanites have their own skyline to look at across the Hudson, as LeFrak's vision populated the waterfront site with high-rise condos, hotels, offices, shopping malls, parks and even a skating rink. "Everyone said we were crazy, but now it's called the 'Gold Coast of New Jersey.'  It needed a lot of money and patience, but I believe in any waterfront and it had great public transportation into Manhattan, which is where the jobs are, and it was large enough that it could be its own community inside this city."
For someone known for building cities from the ground up, it is interesting that his South Beach project is a ground-up remodeling of a building that was originally built in the '60s as the Rooney Plaza and was redone in 2007 as the Gansevoort. This time around, the property is getting top-level taste and treatment. Touring the property, LeFrak is clearly proud. "Look how big this room is," he says holding out his long arms. "You won't find a master bedroom this size anywhere on the beach." And he's right. Build-outs are first class, rooms are spacious and every hinge, cabinet and light switch is the highest-quality material available. It would seem that for someone who develops so much in the northeast, and now California, he's a little late to the South Beach party, but he's not. He's right on time.
"My son Harrison bought an apartment [in Miami Beach], so I started coming down. It didn't take me long to realize that the fabric of Miami had changed dramatically in the last 10 years. Art Basel changed the fabric of Miami; there are cultural activities that now exist here on the beach and in the city that really changed Miami. The nightlife, the restaurants and the whole desirability of the place erupted and I recognized that," says the developer.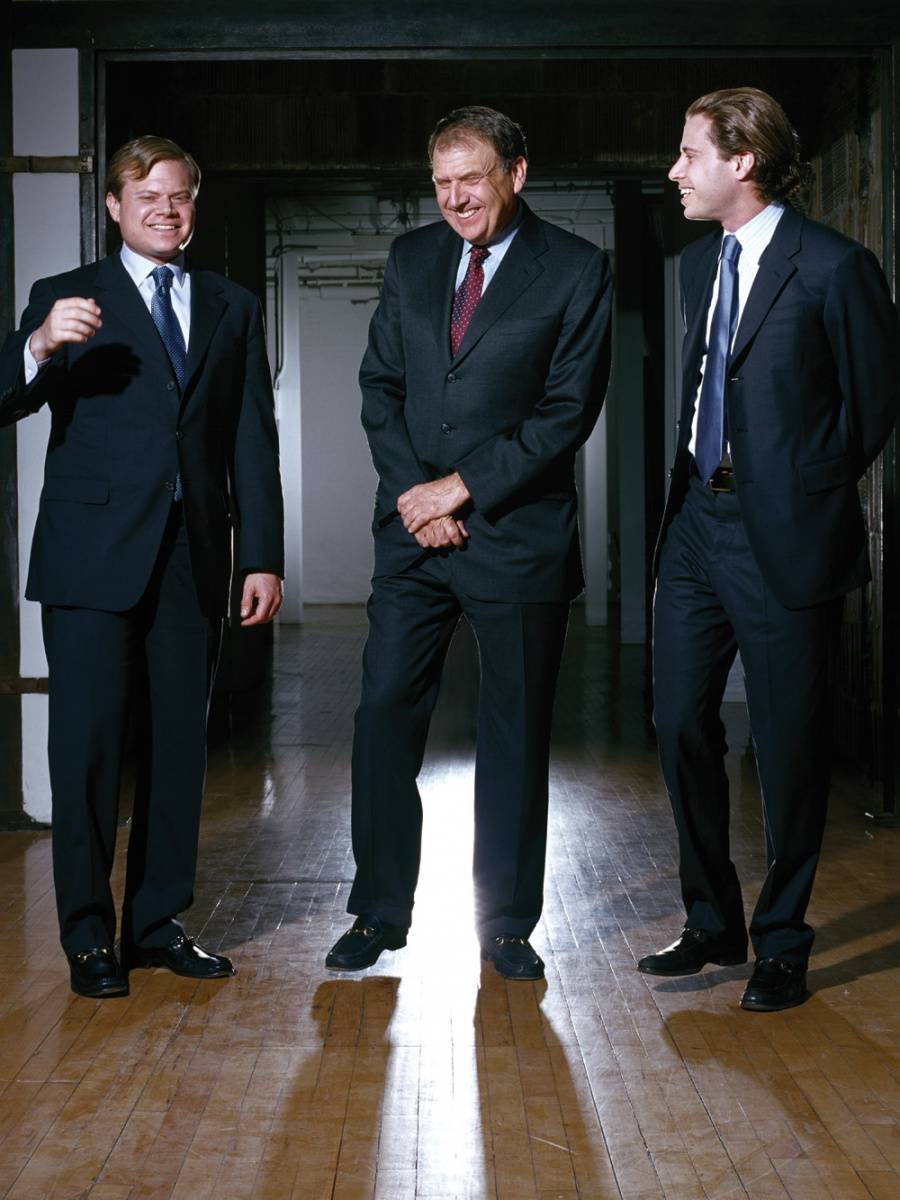 "This asset came for sale and the location was extraordinary. It's right on 'Main and Main', which is now the center of South Beach. Whatever you think about South Beach, it moved north up here. The property needed a lot of work, but there was a chance to buy it at a favorable price. With my partner's skills as a hotel person and my skills as a developer, it was a perfect marriage and we worked very hard to buy it."
Both the jump into Miami and the world of hotels would not have happened without LeFrak's aforementioned son, Harrison LeFrak, 42. Along with his brother James LeFrak, 40, who handles development projects and has worked in the hotel field, the LeFraks have been groomed to take over the business since a young age, very much like their father. The difference? "My sons both had a choice," he says. "They are both highly educated, MIT and Harvard Law School. They both went to Princeton and could have done anything. I didn't pressure them," he explains. "But, they saw that I got to do some exciting and engaging things and I guess in the end, that's what drew them to the idea."
He continues, "Kids observe their parents. If their career is not a happy career, they know it, and if the parents love what they do, they become curious about it. My kids got to see it was exciting: the good and the bad, the highs and the lows, the anguish and the triumphs, and they took out of it what they wanted to take out of it."
Although Richard says he is slowly moving the day-to-day office activities over to them so he can spend more time with his wife Karen LeFrak, who is a children's author, philanthropist and force in the dog show world with champion poodles. But even though he's slowing down, he is not planning on stopping anytime soon. "I'm never going to retire, and as a matter of fact, they like me being in Florida because it gets me out of the office so they can run it all," he says with a chuckle.
Subscribe to discover the best kept secrets in your city