The PanoLunar flying tourbillon is part of the brand's Art & Technik collection of high complications, reinterpretations of watchmaking's most important inventions. This latest wonder of micro-engineering is a flying tourbillon – one that is cantilevered on a bottom anchor only, leaving the top open for a better view). Functions that include hours, minutes, seconds (the blue-tipped hand on the tourbillon cage), date window and indexed moonphase indicator. The watchmakers at Glashütte Original have made an effort to enhance the chronometry of the classic mechanism, building an escapement that features an oscillating system with eight regulating screws and 12 weighted gold screws to ensure greater precision.
See more Glashütte Original watches at Haute Time.
One of the great signatures of this brand, across the range of its collections, is the large Panorama Date window (it's always the 25th in press photos). In this case it is exactly half the size of the tourbillon carriage. Another signature element is the asymmetric design, with hour and minute dial positioned to the left of center. In this case, it is overlapped by the tourbillon window and, despite the relatively small (40mm) dial, adjacent to another complication, a fully integrated moon phase mechanism, with an indicator, at the 2 o'clock position. Despite all these functions, the dial remains classic and uncluttered. The placement of the dials, says Glashütte Original, has been determined in accordance with the "divine proportion," otherwise known as the "golden ratio," the legendary law of aesthetic harmony (in mathematics, two quantities are in the golden ratio if their ratio is the same as the ratio of their sum to the larger of the two quantities – an example is the proportion of the date window to the tourbillon window).
The self-winding caliber 93-02 has a 48-hour power reserve and is finely finished, with bevelled edges, polished steel parts, blued screws and an off-center skeletonized rotor made of 21k gold.
For the latest haute horlogerie news and the most exciting new watches check out Haute Time.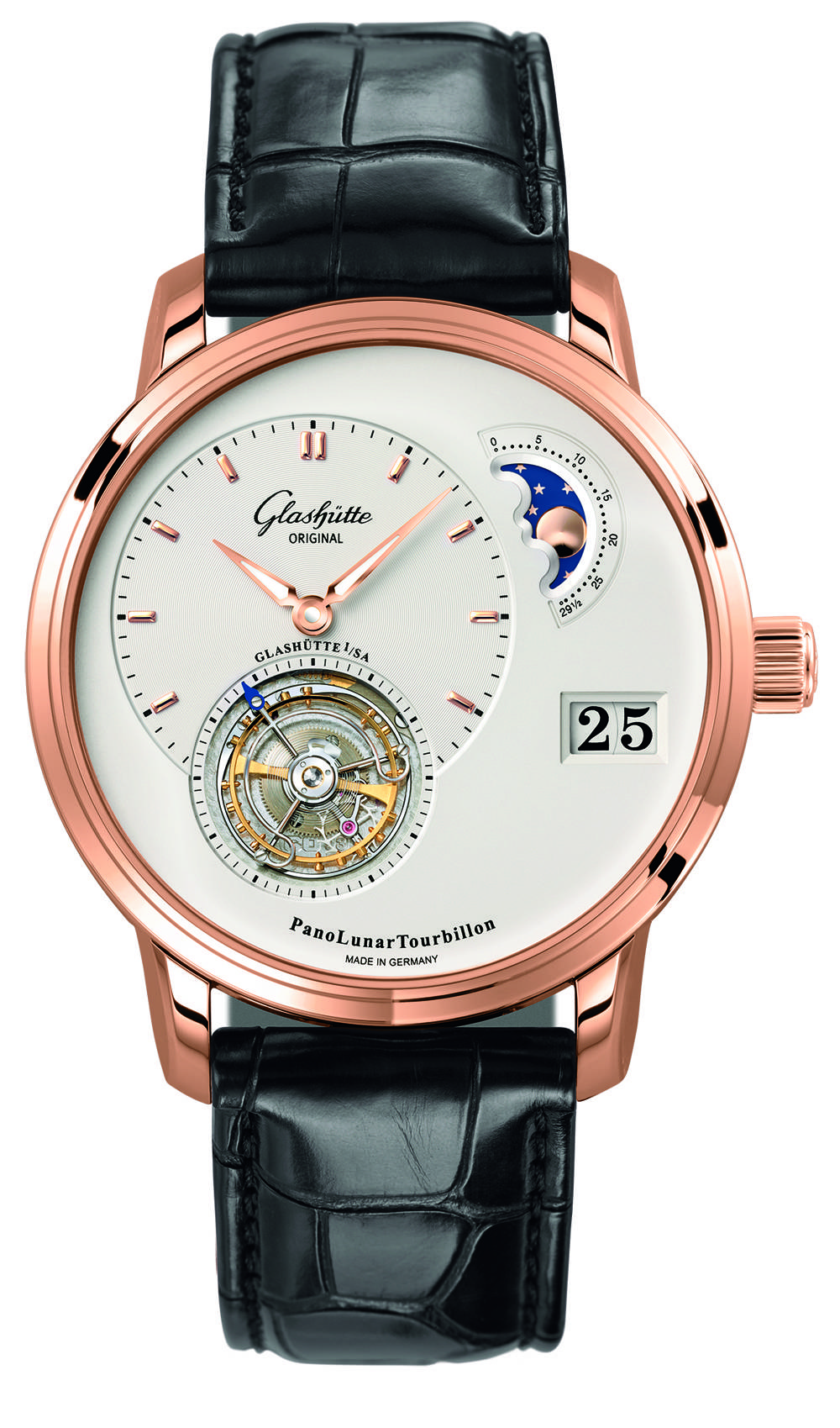 1-93-02-05-05-04_PanoLunarTourbillon_RedG_si_LB_fr_15cm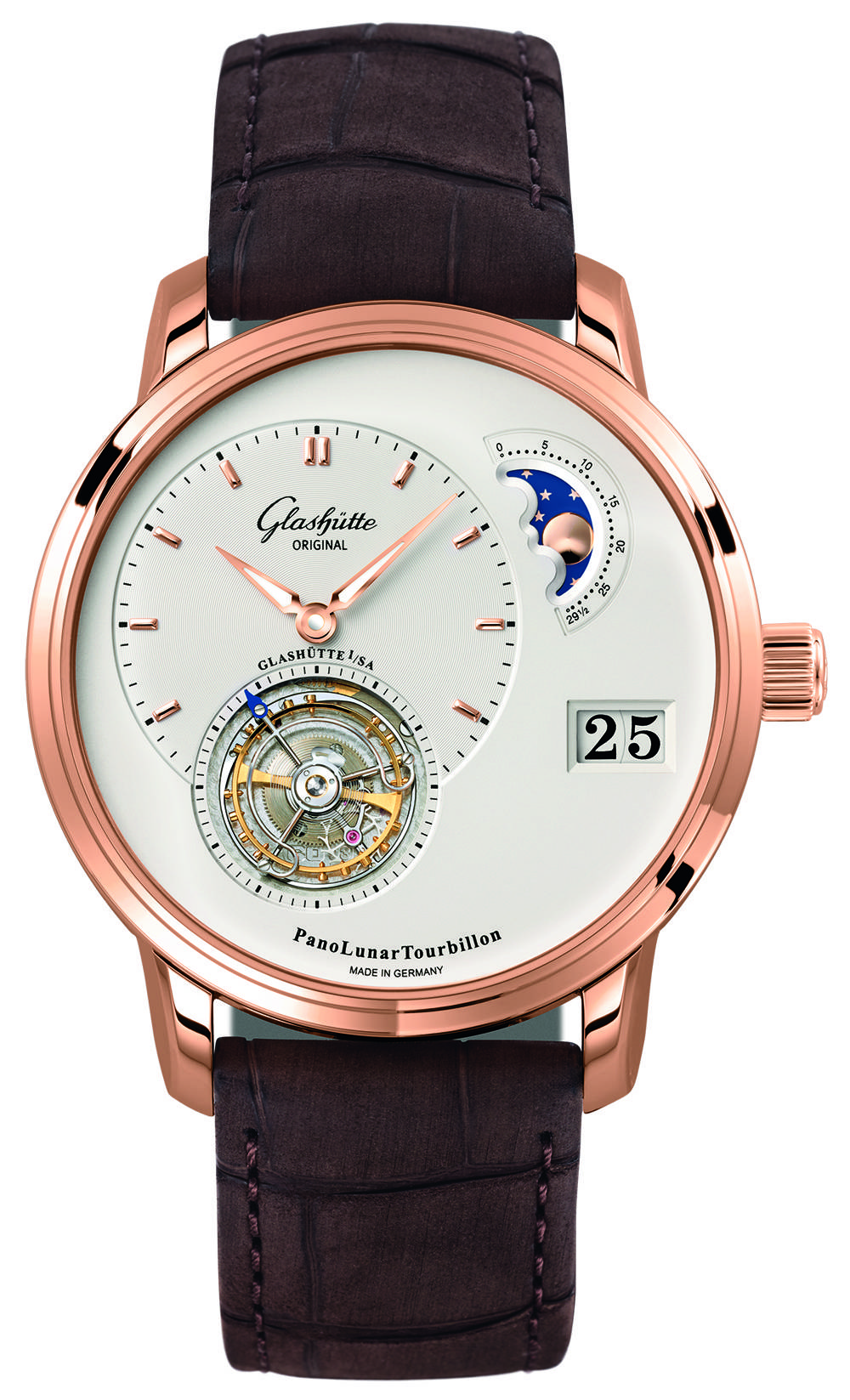 1-93-02-05-05-05_PanoLunarTourbillon_RedG_si_LB_N_fr_15cm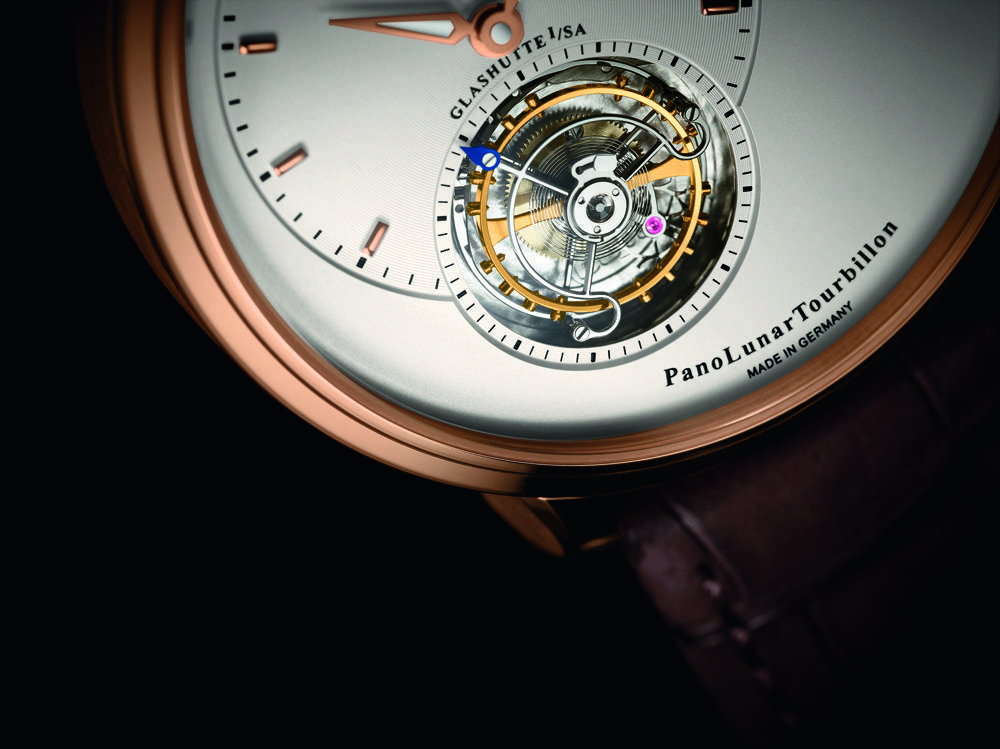 1-93-02-05-05-05_PanoLunarTourbillon_RG_ZB si_LB N_Detail_25cm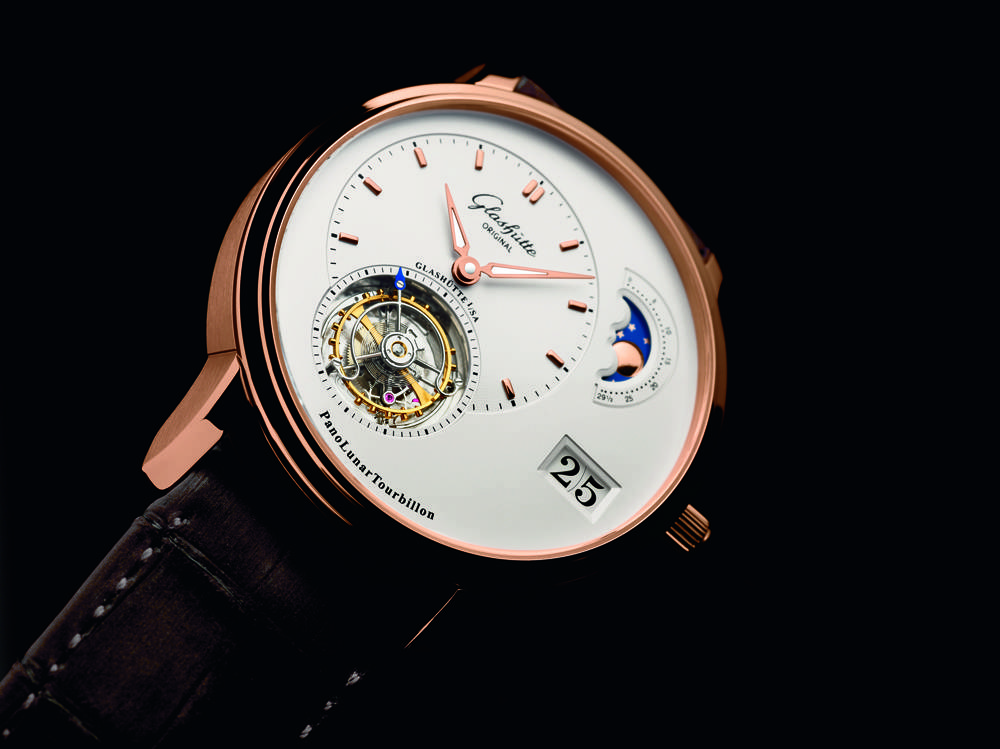 1-93-02-05-05-05_PanoLunarTourbillon_RG_ZB si_LB N_Image_25cm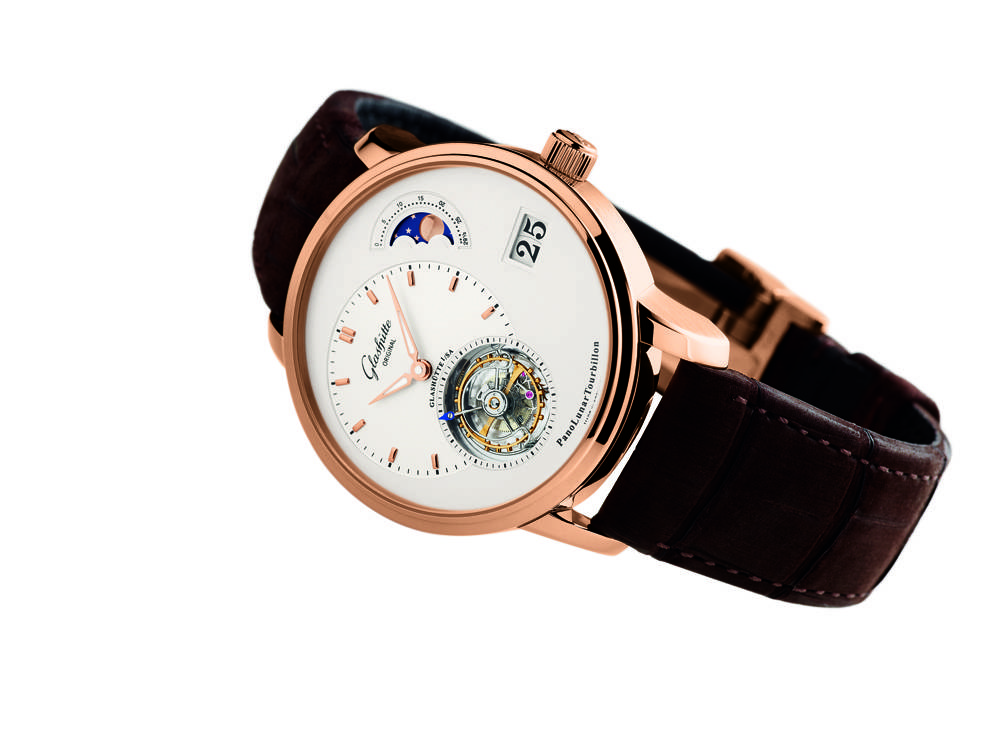 1-93-02-05-05-05_PanoLunarTourbillon_RG_ZB si_LB N_isolated_25cm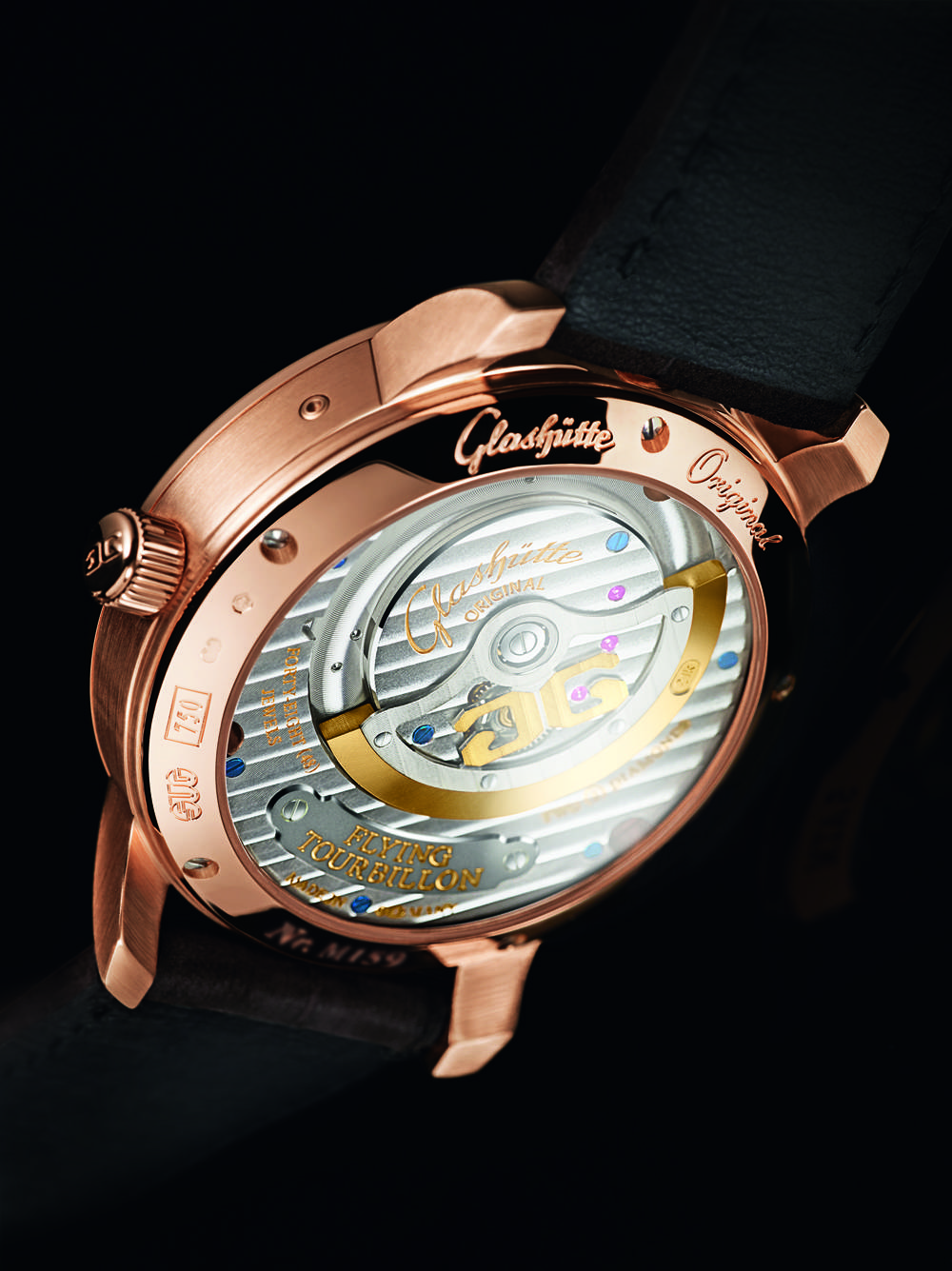 1-93-02-05-05-05_PanoLunarTourbillon_RG_ZB si_LB N_Movement_25cm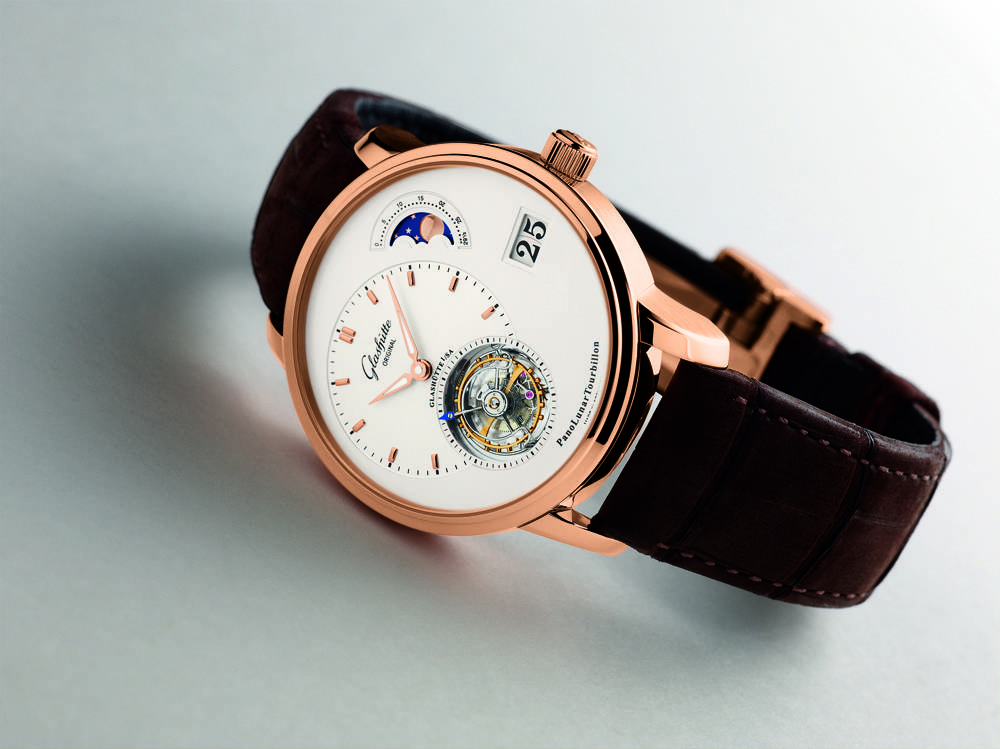 1-93-02-05-05-05_PanoLunarTourbillon_RG_ZB si_LB N_white bg_25cm
Photos courtesy Glashütte Original.