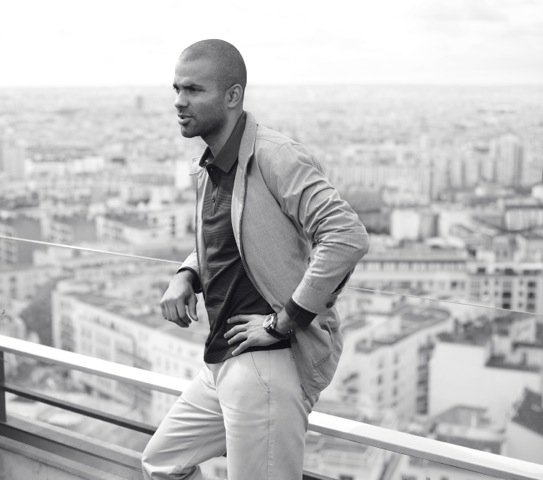 NBA star Tony Parker sat down with Haute Living to chat about his partnership with watch brand Tissot, modeling for his new Maxim cover and what he considers to be the biggest luxuries of all. The Belgium-born San Antonio Spurs player also discussed the process of designing his own timepieces as Tissot's Ambassador, as well as his latest venture, fashioning a designer coat line.
Q: What was the first watch purchase you ever made?
A: My dad bought me my first watch, but if you ask me the brand I won't remember because growing up I played so much basketball that I was never really wearing watches. It came later on in life when I was 19 or 20 that I really had to dress up and wear suits. My dad told me 'You really need to wear a watch, you'll look naked if you don't wear a watch'. That's why I started wearing watches. I love this relationship with Tissot because they have a watch for every kind of situation for me. I have never really bought a watch. I'm not like a traditional sports guy because they always buy those big watches, those diamond watches – I've never had that. I have one watch with a diamond and it was my ex-wife [Eva Longoria] who bought me that. Besides that, I've never had a diamond watch like you see the NBA guys wear.
Q: Do you see a watch as a fashion accessory?
I do see it as a fashion accessory, especially now that I'm involved in the process of doing my own watch. Tissot asks me for my input and what I like. Now I definitely understand what my dad was saying when he told me that I'd look nice if I wore a watch. Before I would go out without and that changed when I got older and more mature.
Q: Tell us about the process of creating your own watch.
I learned so much about watches during this process and I love having my own line. I have three, including a sporty elegant watch which is going to come out this year. I'm very happy with the process, like choosing the colors. It was pretty cool.
Q: What is your favorite of the watches you've created so far?
The latest model [Tony Parker PRS 330 Limited Edition 2012 Tissot Watch]. It's sporty but elegant. The whole process was great: the photoshoot we did was in Paris and there are these beautiful pictures that came from the ad campaign.
Q: Do you own other brands or do you strictly wear Tissot?
Just Tissot. The brand has a very large collection so I have a watch for every different situation. They're a great price, and Tissot also helps me out with my foundation, the Tony Parker Foundation. Every year they sponsor a dinner for Make A Wish in France and sponsor two of my basketball camps. We try to do a lot of stuff together. Our partnership is not just about wearing watches.
Q: Tell us about your personal style.
I'd say it's casual chic. I like nice jeans and nice shirts and jackets. That's what I wear the most. I make my own jeans. And by make, I mean I design them and tell them what to do – I'm not a sewer! I like designs; I do it in a store in New York called 3×1. I'm also working on a new brand of coats; it's something I'm working on with a French company.  Now that I'm not with Nike, I'm able to do more stuff. But if I had to choose a designer, I like Alexander McQueen I'm a big fan of the skulls on their T-shirts. I've never spent that much money on a T-shirt! They do some crazy shirts.
 Q: What, to you, is the biggest luxury? What is something you wouldn't hesitate to spend money on?
Cars. I'm not a big diamond guy, I don't wear chains. I don't buy anything, just cars and my house – that was really expensive – that's all I spend my money on. I save everything. I love Ferraris and Lamborghinis, those are my two favorites. I like fast cars, that's for sure. I went to the Ferrari factory on vacation two years ago and they explained how to make the cars and I was able to go on the track and drive with a professional; it was a very cool experience.
Q: Tell us about shooting the cover of Maxim? Do you love the modeling process?
Maxim was a great experience. My mom was a model growing up so every time I do stuff like that I try to make her part of it. We did the photoshoot in San Antonio and she was there and she was so happy. I'm very proud of her. There's footage of me doing a catwalk for her when I was four or five and so whenever I do stuff like this I try to include her because I'm in her world.
Check out the Tony Parker PRS 330 Limited Edition 2012 Tissot Watch HERE
Like Haute Living Los Angeles? Join our Facebook page or follow us on Twitter @HauteLivingLA. Want Haute Living Los Angeles delivered to your inbox once a week? Sign up for our newsletter.
Subscribe to discover the best kept secrets in your city