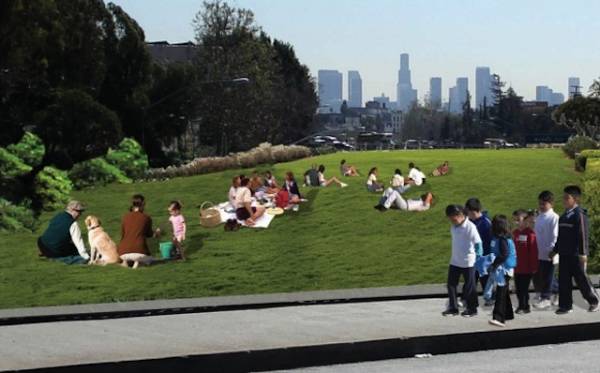 Aileen Getty has donated $1.2 million from her foundation to help with the funding of the Hollywood Central Park's (EIR) Environmental Impact Report, the same report that cost $2 million to conduct. The EIR was fully funded with the help of the city's donation of $825,000 and Getty's generous donation.
"The Hollywood Central Park is all about building community and celebrating our commonality in a natural environment – an imaginative urban park built atop the Hollywood Freeway," said the wealthy granddaughter in a release. "The Park will allow people of all ages to connect to each other and to nature. I am energized by the opportunity to support this project. I believe it is a vital link in creating greater quality of life in our city."
Over 28 years ago the idea for the park was thought of, but has since progressed with the help of the FHCP nonprofit developed in 2008 and a Hollywood Chamber of Commerce initiative to a Hollywood Community coalition in 2006.
According to a release, here are benefits and strategies of the park:
By adopting efficient alternative and innovative land use plans and integrating strategies in order to transform the community and create long term prosperity, the Park will produce more than 45,000 direct and indirect jobs, create a sustainable community which promotes equity, strengthens the economy, protects the environment, promotes a healthy and safe community and serve as a national model for the creation of new green space in a dense urban environment.
We look forward to great support for the park. In fact, just this past March, U.S. Transportation Secretary Ray LaHood gave a big thumbs up to the project.
Like Haute Living Los Angeles? Join our Facebook page or follow us on Twitter @HauteLivingLA. Want Haute Living Los Angeles delivered to your inbox once a week? Sign up for our newsletter.
Subscribe to discover the best kept secrets in your city