Shirley MacLaine celebrated 40 years in the film industry by accepting AFI's Life Achievement Award last night at Sony Studios in Culver City.
The 78-year-old star was surrounded by a bevy of her famous friends as snippets from her most iconic films were aired. She was flanked on either side by Meryl Streep and Julia Roberts; Jennifer Aniston, Sally Field and Melanie Griffith rounded out her Who's-Who of haute Hollywood.
After dining on an heirloom tomato salad with goat cheese panna cotta, Wolfgang Puck breads, wild striped bass with Santa Barbara spot prawns and dark chocolate pave with caramelized banana and sipping on wines from Frank Family Vineyards, guests got down to the business of paying their tributes at the sold-out event.
She was first honored by brother Warren Beatty, who took home the same award in 2008. Roberts, her co-star in 1989's Steel Magnolias, came next, recalling a story "Shirl" had told her about playing cards with mob boss Sam Giancana. She also said that they both featured in Ocean's 11, though 41 years apart. While Roberts played a major character, she noted that MacLaine was credited as "Tipsy Girl" in the 1960 version.
Dakota Fanning paid her respects as did politicians such as former Rep. Dennis Kucinich and former Senator and 1972 Democratic presidential candidate George McGovern, AFI President and CEO Bob Gazzale, Downton Abbey star Elizabeth McGovern, Carrie Fisher, Katherine Heigl, Sally Field and Morgan Freeman; John Travolta also made an unexpected appearance.
Don Rickles and Jack Black gave amusing tributes – the former in person, the latter via video message. Stephen Hawking also sent his pre-taped respects, sweetly saying that he fell in love with MacLaine when he first saw her in Sweet Charity as a child.
Just after her Terms Of Endearment co-star Jack Nicholson spoke, saying that 'both your body and body of work have awfully long legs", her Postcards From the Edge daughter Streep presented her with her hard-won award.
In her heartfelt speech, the Oscar winner said: "We fell early and we fell hard for her then and now for the rest of our lives. Like all of the great performers she's really grateful to just get up on stage and give it to us. She likes difficult women like I do. She likes prickly women. Shirley, you cut the path for all of us. You have done all of your greatest work in what we call middle age. You are writing the template on how to create a lasting career."
In her own speech, MacLaine, who was the seventh woman ever to have won the AFI honor, said: "Keep you feet planted on the ground and your head in the stars. For all of the over-achievers we should just relax and enjoy ourselves. If we don't do it now, we'll do it next time around."
She also acknowledged her brother "the man I've loved the longest", told Nicholson "I longed to see you nude" and her many male co-stars including "those I made love to on screen – and off" before heading to the event's afterparty on the Sony lot.
All stars headed off into the night in Audis; the luxury car company sponsored the AFI gala.
TV Land will broadcast Shirley's tribute ceremony on Sunday June 24th.
Like Haute Living Los Angeles? Join our Facebook page or follow us on Twitter @HauteLivingLA. Want Haute Living Los Angeles delivered to your inbox once a week? Sign up for our newsletter.
145937611085954--300x300
Dakota Fanning
th_1308df194835791
628x471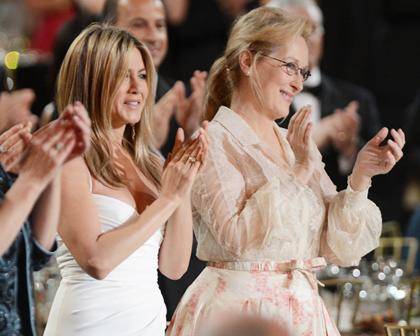 maclainex-wide-community
Jack+Nicholson+40th+AFI+Life+Achievement+Award+8-MHVtEyA0Ol
afi-lifetime-2012-060712- (17)
streep-maclaine-40th-afi-life-achievement-award-01
shirley-maclaine-40th-afi-life-achievement-award-01
145931243_688840g
Subscribe to discover the best kept secrets in your city