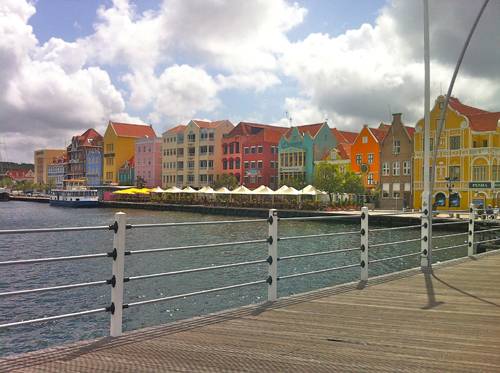 A newly launched direct flight by Insel Air makes the southern Caribbean island of Curacao totally accessible to travelers flying out of Miami International Airport. We left on an early Friday afternoon flight, landing at Hato International Airport 45 minutes ahead of schedule. Our taxi driver, an elderly woman with an inviting grin, drove us through a few small towns on the way to the Hotel Kura Hulanda, where we dropped off our bags and began a weekend adventure that was anything but ordinary.
Dinner at Equus
Located on a side road of Caracasbaaiweg, Equus is a hidden dining gem that many locals don't even know about. It's also the site of a horse stable, and has been around for 17 years. Equus opens only on Fridays for dinner, serves only chicken, meat and bread, and the only utensils allowed are your hands. There are no plates, no forks, and definitely no knives – but there are plenty of napkins to go around. Beef and chicken skewers, all the length of a human arm, are cooked over a large barbecue pit in the center of the restaurant. The skewers are then brought to the table, where they are suspended from a bar a few feet above the center of the table. Pull off a chunk with your hands, dip it in one of two remarkable sauces (a hot sauce and a garlicky white sauce), press the meat onto a piece of crusty French bread, and devour. Repeat. Because Curacao is just off the Venezuelan coast, we washed it down with ice-cold Polars.
Back at the Lodge
With our bellies full, it was the perfect time to go for a walk around the Hotel Kura Hulanda. At first site, skeptics may interpret the lodge, as well as the entire town, to have been built for tourists with its brightly painted colonial buildings. The quaint boutique hotel, however, was founded by Jacob Gelt Dekker, an author, entrepreneur, philanthropist and explorer, to restore and preserve the site's rich architecture and history. Today, the hotel is home to 18th and 19th century Dutch colonial Caribbean buildings that are bound by unruffled courtyards, pools, and al fresco restaurants.
My room, in its sizeable splendor, was lavish and homey at the same time. Every room at the Hotel Kura Hulanda is distinctively decorated with hand carved furnishings, antiques, art, and hand-painted walls, with all of the necessities that you would expect from one of the Small Luxury Boutique Hotels of the World, yet never compromising its Caribbean charm. The room was cool, the comforter was plush, and I was ready for a good night's sleep.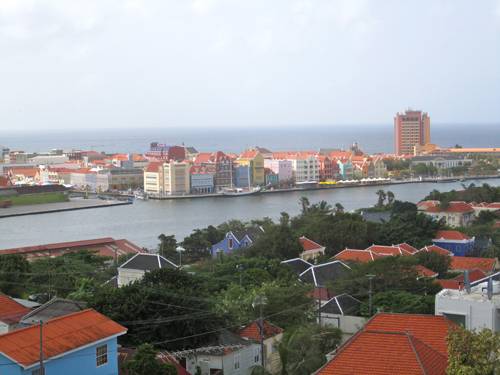 Exploring Willemstad
The Hotel Kura Hulanda is a very short walk from Willemstad's historic center, which is divided into two quarters by the St. Anna Bay: Otrabanda is to its west; Punda to its east. The quarters are connected by the Queen Emma Bridge, the only working pontoon bridge in the western hemisphere. Vibrant Dutch Colonial architecture aside, Punda really sang to me. The Floating Market, along the Sha. Caprileskade, is said to be one of Curacao's must-see sites. The market is run mostly by Venezuelan merchants who make the journey to and from Curacao on small fishing boats, which double as living spaces, bringing with them fresh produce and packaged goods from Venezuela, with some of the biggest and brightest fruits and vegetables I had ever seen. Along the path is the Plasa Bieu Curacao, where warehouse-meets-barn and houses six eateries that serve up authentic local food: stewed salted pork tail, salted mackerel, cactus stew, and pumpkin pancakes. Caught just between breakfast and lunch, I now regret not stopping for a bite.
Painting My Chichi
Walking through Punda, our interest was piqued by a sculpture of a plump woman with large breasts and a bottom to match. These sculptures, found in various sizes all around Curacao, are called "Chichis," a name given to the eldest daughter, sister and caregiver in the family. The sculptures are the work of a very special and passionate artist named Serena Israel, who created the Chichi in 2007 after arriving in Curacao with nothing but a dream. After creating the Chichi, she began recruiting women from a local church to help paint the sculptures; these women were transformed in the process, discovering their identities as indispensable cultural artists. Serena invited us into the Chichi Factory where, against the beautiful tropical landscape, we learned the history behind the precious Chichis and painted our own.
Sunday at the Lodge Kura Hulanda and Beach Club
The next morning, we traveled to the Kura Hulanda Lodge and Beach Club located on the West End. It's a 45-minute ride from the Hotel Kura Hulanda in Willemstad, which offers free shuttle service to and from locations. It was on the way there that we visited Shete Boka National Park, site of the island's rocky, wave-exposed northern coast. Warning sign noted, we followed a jagged path that led us underground to a cavern where huge waves crashed into. With "what if" thoughts clouding my mind, I stood there humbled as I watched, listened to, and felt the power of the ocean.
We pulled into the Lodge Kura Hulanda and Beach Club just shy of noon. Nestled in lush vegetation and located on the coast of a very pretty stretch of turquoise-colored water, the Lodge whispers beachfront retreat with panoramic views of the water that are adorned by the Lodge's rock art and vibrant tropical trees. The Lodge's oceanfront villas elude Caribbean elegance, with modernly furnished patios where I could have sat for hours in the Lodge's radiance.
The Lodge is also home to Go West Diving, which offers dive courses for all levels of experience. With a lifelong mild phobia of ocean life, I was hesitant, but decided to put on my big girl mask and snorkel, and venture out. Among thousands of colorful fish and corals, I semi-gracefully kicked my snorkeling fins as I marveled at this whole new world. When a barracuda passed me by, I remained calm and composed. How? I'm not exactly sure. There must be something about Curacao.
Farewell Curacao
After an authentic Dutch dinner at Gouverneur, located just across the street from the Hotel Kura Hulanda, we all returned to our rooms to find complimentary cheese trays as a farewell token from the hotel. And so we spent our final hours in Curacao hanging out in true island fashion — drinking good wine, eating gourmet cheese, having many laughs and enjoying the great company at Jacob's Bar and Terrace under a starry night.
A fishing boat awaits an opening at the Floating Market in Curacao
A fishing boat awaits an opening at the Floating Market in Curacao
A large Chichi outside of a Chichi shop in Punda
A large Chichi outside of a Chichi shop in Punda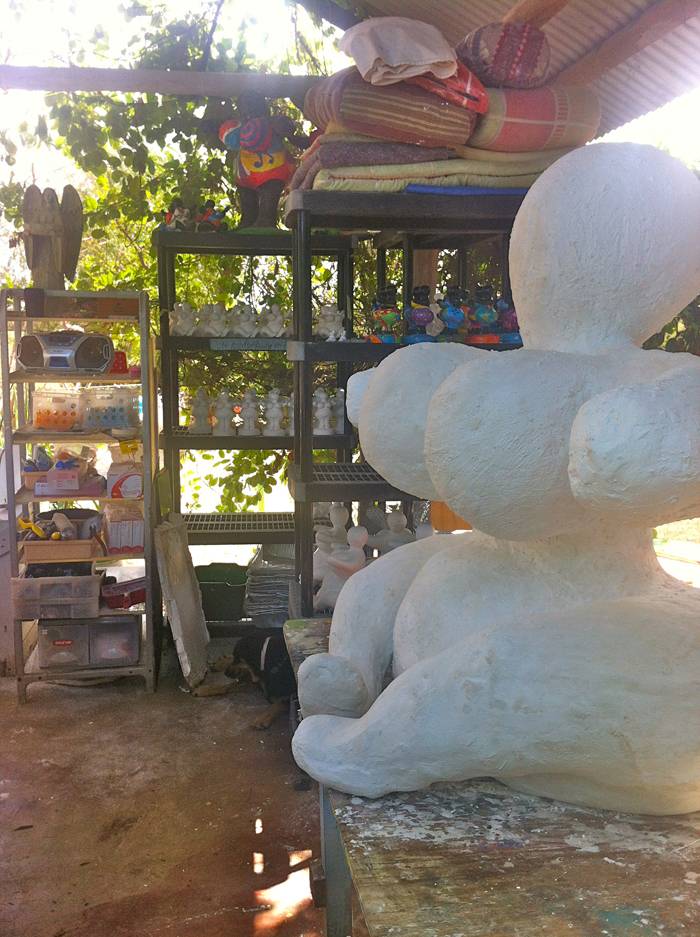 A very large Chichi at the Serena's Chichi Factory that will be displayed at a bank in Curacao.
A very large Chichi at the Serena's Chichi Factory that will be displayed at a bank in Curacao.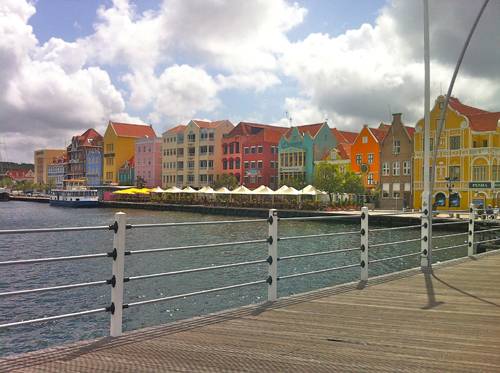 A view of Punda from the Emma Bridge in Willemstad
A view of Punda from the Emma Bridge in Willemstad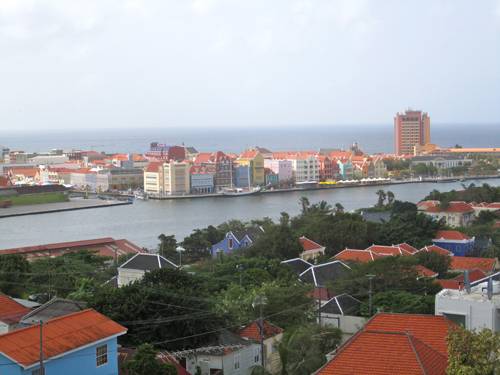 A view of Willemstad. The St. Anna Bay divides Punda and Otrabanda.
A view of Willemstad. The St. Anna Bay divides Punda and Otrabanda.
Dutch Colonial Lodging at the Hotel Kura Hulanda
Dutch Colonial Lodging at the Hotel Kura Hulanda
Jacob's Bar and Terrace at the Hotel Kura Hulanda
Jacob's Bar and Terrace at the Hotel Kura Hulanda
Local cooking at the Plasa Bieu in Punda - Fried Mackerel and Pumpkin Pancakes
Local cooking at the Plasa Bieu in Punda - Fried Mackerel and Pumpkin Pancakes
My very own Chichi, painted at Serena's Chichi Factory
My very own Chichi, painted at Serena's Chichi Factory
One Bedroom Suite at the Lodge Kura Hulanda and Beach Club
One Bedroom Suite at the Lodge Kura Hulanda and Beach Club
The Lodge Kura Hulanda and Beach Club
The Lodge Kura Hulanda and Beach Club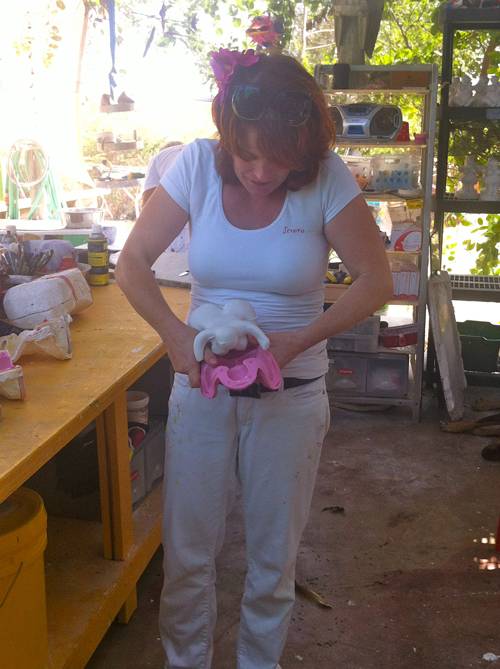 Serena Israel explains how Chichis are made at her Chichi Factory in Curacao
Serena Israel explains how Chichis are made at her Chichi Factory in Curacao
The Plasa Bieu in Punda
The Plasa Bieu in Punda
Tropical vegetation at Serena's Chichi Factory
Tropical vegetation at Serena's Chichi Factory
Subscribe to discover the best kept secrets in your city