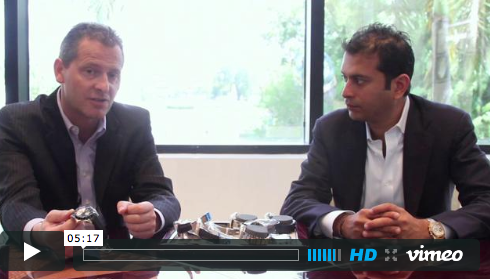 Haute Time recently had the pleasure of meeting with Patrik P. Hoffmann, CEO of Ulysse Nardin at the company's United States headquarters.
Mr. Hoffmann was gracious enough to give us an inside tour of the gorgeous space. As we roamed the halls, we caught a glimpse of the logistics and advertising teams hard at work. One area of the headquarters we visited was completely dedicated to the product- a large space for shipping, which housed an enormous vault and another for the six watchmakers on staff. In this space, the same watchmaking techniques used in Switzerland is practiced and the staff here is dedicated mainly to after-care. These Swiss trained watchmakers are able to repair 95% of the timepieces they work on- any Ulysse Nardin model, from any year.
After the tour, we sat down and discussed some of the outstanding Ulysse Nardin timepieces from Basel World 2012. Mr. Hoffmann said his favorite watch right now was the one he himself was wearing- the prototype for the new Sonata Streamline in titanium gold. It features the in-house Ulysse Nardin movement, which was introduced nearly 10 years ago. It received an amazing response at Basel World and deliveries will start in a couple months.
We also took a look at the Lunar One, a new timepiece which has similar components to those featured in the famous Ulysse Nardin Moonstruck model. It boasts a very accurate moon-phase with a sleek and classic look.
But the real pride of Basel this year for Ulysse Nardin was the new Caliber 118. It is the first time a timepiece has a base movement produced in a more industrialized way. It is also an iconic piece- a marine chronometer with the in-house movement and dial which was also created in-house.
Check out the video on HauteTime.com above to see Part 1 of Haute Time's tour of the Ulysse Nardin U.S. headquarters with CEO, Patrik P. Hoffmann.
Like Haute Time? Join our Facebook page or follow us on Twitter @hautetime.
Subscribe to discover the best kept secrets in your city