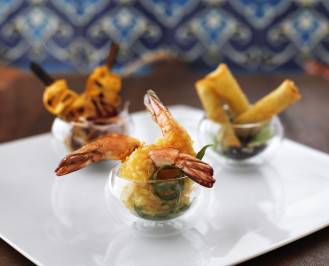 The iconic Legends restaurant at Dubai Creek Golf and Yacht Club has recently been transformed into a sleek modern venue. The new décor features floor to ceiling glass windows as well as a terrace with a floating VIP table which can seat up to eight people. Guests can enjoy their meal amidst the sparkling waters of the Dubai Creek. My guest and I entered to this newly transformed eatery to delight in a hearty meal incorporating cutting-edge recipes and innovative concoctions.
We sat down in the dimly-lit interior at a table next to the window with a beautiful view of the Dubai Creek. Our appetizers soon arrived and we were immediately impressed by the presentation. Our appetizers included dainty bite-size versions of Tempura Shrimps, Smoked salmon Wrap and Mini Crab Cake placed in small convenient squares.  Also presented were Olives & Crudities Parisienne, Quail Scotch Eggs and Lobster kibbeh. Our immediate favourites were the Smoked Salmon which featured a delicate smoky taste and silky texture and the Mini Crab Cake which was crisp and tender and slightly on the sweet side.
Our palette was pleasantly wetted after our appetizers and we gracefully proceeded onto the mains. An elegant Scottish Organic Salmon was soon presented alongside a Pan-Fried Fillet of Sea Bass with Roasted Artichoke and Mashed Potatoes and Sweet Peas. Both the Salmon and Sea Bass were definite hits; they were fresh, richly seasoned with a smooth and creamy texture. Zesty, slightly bitter, rich and creamy, the Roasted Artichoke was perhaps our favourite dish of the night. Upon tasting, the artichoke almost melts in your mouth and is at once slightly bitter, sweet and salty — a unique combination cooked to perfection.
We were next served an Angus Beef Tenderloin with Black Pepper Sauce and Seasonal Vegetables. The Steak was smooth and succulent with the sauce turned into an almost buttery consistency – rich and indulging. And lastly, our dessert arrived in the form of a Crêpe Suzette. This sophisticated French dessert a sauce of caramelized sugar and butter, tangerine and Grand Marnier and was served in the typically French manner  – flambé or "flaming." A deliciously sweet as well as light way to end the meal. We left our table wonderfully fed and with a little space for more.
Legends, Dubai Creek Golf and Yacht Club Tel. +971 42956000 www.dubaigolf.com
Subscribe to discover the best kept secrets in your city