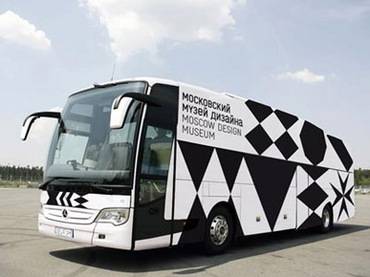 Image: RT
Moscow's new Design Museum is transforming the way art reaches the masses by introducing a mobile display that will involve a bus bringing the collection through Russian cities.
If you can't make it to the Design Museum in Moscow, don't worry, they are now willing to come to you. In order to have the ability to easily transport collections while showing them off to as many viewers as possible, the Moscow Design Museum is introducing a mobile display – a bus that will travel through the country with exhibitions, lectures and master-classes.
The bus is specially equipped for the purpose of a 'mobile display' and is organized by the city's ArtPlay Design Center, World of Buses festival and Cine Fantom film club. The concept for the mobile display, developed by the Dutch Lava Graphic Design Studio, was introduced at the London Design Week on February 10.
Of course, while on the move, the Design Museum has to keep its permanent display safe from damage and theft, so they will be moving it underground, in a former bomb shelter located in central Moscow. The museum will open later this year.
Today is the first airing of the mobile display at the ArtPlay Center.
Source: RT
Like Haute Living Moscow? Join our Facebook page or follow us on Twitter @HauteLivingRU. Want Haute Living Moscow delivered to your inbox once a week? Sign up for our newsletter.