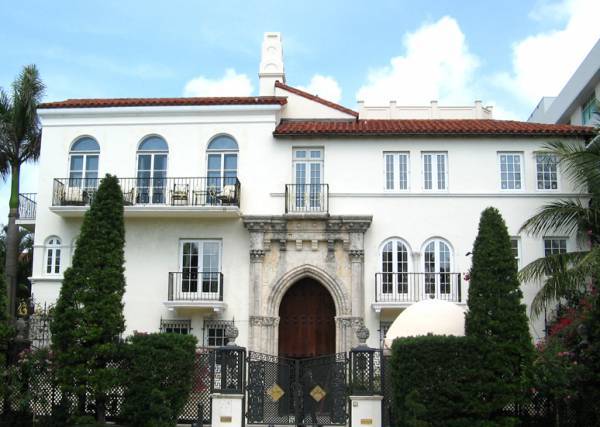 Jordache Enterprises seems more and more interested in the former South Beach mansion owned by Versace. In fact the fashion icon has already moved to seize the legendary fashion designer's mansion. On December 23, 2011, an affiliate of Jordache, called VM South Beach has filed a foreclosure lawsuit against Casa Casuarina, the current owner and Peter T. Loftin, a managing member.  The federal lawsuit is based on the mortgage that the plaintiff purchased of $25 million from WestLB, a German bank on December 16.
However, Casuarina and Loftin had already anticipated the action taken by VM South Beach and decided to file a lawsuit against WestLB earlier in December. It seems that the actual loan documents had a discrepancy, where the documents did not reflect their final agreement, leaving WestLB to later alter the agreement.
Versace's mansion was originally built in 1930 with 23,462 square feet of space at 1116 Ocean Drive and has been well-known as the place where fashion icon, Gianni Versace was shot dead back in 1997.
We all know Jordache as one of the best fashion lines, especially for jeans, but some had no idea that it's a major investor in real estate. Another affiliate of Jordache just foreclosed on another property, the Hotel Victor in South Beach for $25.8 million.
For now, Versace's South Beach mansion has been converted into a boutique hotel known as Casa Casuarina by Loftin's group and VM South Beach seeks to foreclose on the property, because of failure to make payments for the $25 million dollar mortgage, a debt that has increased since January 2011.
Source: South Florida Business Journal
Like Haute Living Miami? Join our Facebook page or follow us on Twitter @HauteLivingFL. Want Haute Living Miami delivered to your inbox once a week? Sign up for our newsletter.