by Annabelle Hood, www.luxuryjournalist.com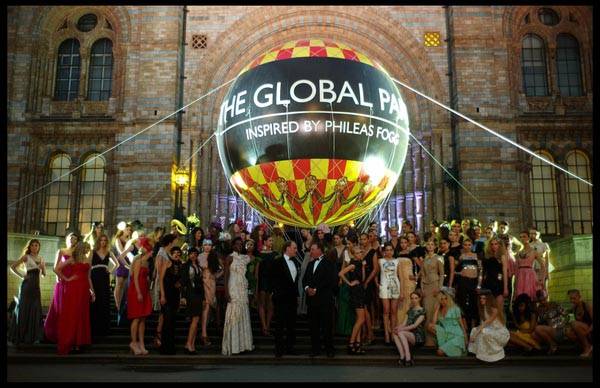 Over a thousand of London's elite were out in force on September 8th at the Natural History Museum to celebrate the launch of The Global Party, a 24-hour event that will see a staggering 80 parties staged worldwide on the 15th-16th September.
This hugely ambitious event – the brainchild of philanthropist city tycoon Lord Stanley Fink and David Johnstone, the founder of Key2Luxury.com – will involve in excess of 80,000 revellers. The best part? All proceeds go to charity. A multitude of different charities in fact, including Nelson Mandela's Children's Fund, Scholar Rescue Fund, Tusk and Virgin Unite.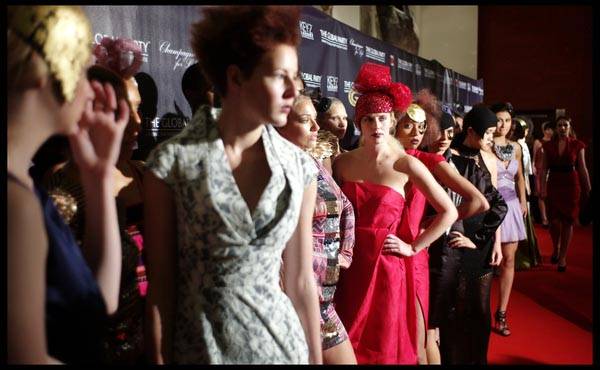 At the glamorous black tie event, high-profile socialites and celebrities that included Prince Harry's former flame Chelsea Davy, models Saffron Burrows and Lily Cole, and singers Katie Mehlua and Simon Webbe, presented their heavyweight silver invitations (tickets cost £1,000 each) before striding along the red carpet towards the Central Hall. On entering the building we were led, Laurent-Perrier champagne flute in hand, through the Museum's finest collection of gemstones, rare birds, and cabinets showcasing exquisite Mikimoto fine pearl and diamond necklaces, around which were draped an entourage of elegant models.
Entertainers and violinists serenaded our route, with Isaac Ferry spinning cool tunes on his DJ decks as guests circulated. Later his father, Roxy Music legend Bryan Ferry, delighted the crowds with a punchy set of his most famous hits including Avalon and Jealous Guy, on the Central Hall stage. Supporting performers included Eddie & the Robbers, with a catchy Beyoncé a cappella debut by the all-girl band Duchess kicking off the party of all parties.
Waiters from London's top catering company Rhubarb passed round exotic canapés from every continent to match the international theme of the evening. Rhubarb never fails to impress with its charming staff and delicious fare. No coincidence that they were also the caterer of choice at the Monaco Tourist Authority's cocktail event I'd attended earlier on, aboard the dapper Silver Sturgeon).
A champagne bar of fast-flowing Laurent-Perrier Magnums and trendy Voss water flanked one side of the vast Central Hall, whose iconic central feature is the towering skeleton cast of a Diplodocus dinosaur. A sushi bar growned with Maki rolls and uber-fresh sashimi, counterpointed by a mouthwatering display of fine patisseries.
The Global Party certainly knows how to throw one hell of a party to launch all 80 parties. And if last night's London fundraiser was a taste of the 24-hour parties happening on the 15th and 16th September at party venues across the world, expect the globe to tremble. As Phileas Fogg (Around the World in 80 Days) said: "This is what happens when you leave home. You meet…people." Revellers of the world, I urge you to join a participating party near you and do the same, all in the name of charity.
For more details of The Global Party's worldwide 24-hour charity party being hosted on 15-16th September, visit www.theglobalparty.com
For more information on Annabelle Hood's articles, visit
Subscribe to discover the best kept secrets in your city